Go to the makeup department and get yourself a set of inexpensive makeup brushes. These are your new dry brushing friends. They're great: big round soft bristles down to little filberts. As a bonus, the handles come in all kinds of bright colors and might even have glitter! (Ironically hobby companies are now marketing their own dry brush sets that look just like makeup brushes…no glitter, though.)
I also keep a set of these in my "Show kit." I always pack some brushes, CA glue, tweezers, and toothpicks if I'm ever going to a model show. The brushes are great for getting dust off a model for a show.
Also,
- Lead roof flashing from a hardware store is great for adding weight to models or bases. You can cut it with scissors.
- Airgun pellets are another good source of weights (Use the lead pellets, not BB's.)
- Magic Erasers can be good when doing washes.
- I keep old decks of cards for paint/epoxy mixing palettes
- Plain white ceramic tiles are awesome as paint palettes, or for cutting masking tape. You can scrape them clean with a razor blade without scratching.
- Paper hole punches are great for cutting holes in sheet material, or punching out little disks. Or, you can get other shapes. Check your local craft store.
- Make a painting stand out of corrugated cardboard and alligator clips. You can get clips already on sticks or use bamboo skewers. Cut strips of cardboard against the "grain," and glue it together.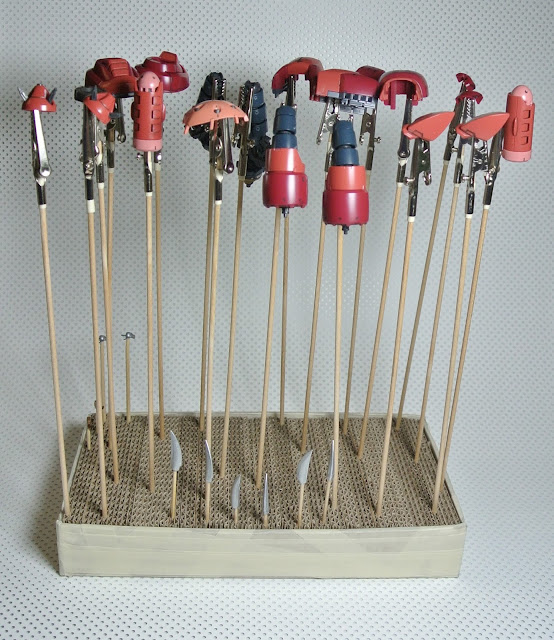 Last edited: