Well-Known Member
RPF PREMIUM MEMBER
This is an open and unlimited run with stands made to order with a 2-3 week turnaround
This first post is an introduction to the stand. The second post covers pricing and order details
An introduction to the piece​
Since first seeing Blade Runner in the early 90s I, like many of you, have been fascinated with Deckard's iconic sidearm.
For me, my Tomenosuke embodies all of those years gaining knowledge from studying the film, images and info from online forums; plus the many hours of work that went into finishing the kit.
Having finally made the replica I'd always coveted, it felt essential to display it in a way that reflects how highly I prize this object. Nothing available was quite right, so I set about designing something new.
My goals for this project were :
Create an artifact that felt like it belonged to the world of Blade Runner.
Include lighting, as it is such an important part of the visual language of Blade Runner.
Feature the iconic tile pattern from Deckard's apartment.
Be able to easily display either side of the Blaster.
I'm really proud of the finished result so please find below images and details about the piece.
Info on pricing and how to order your own are in the following post.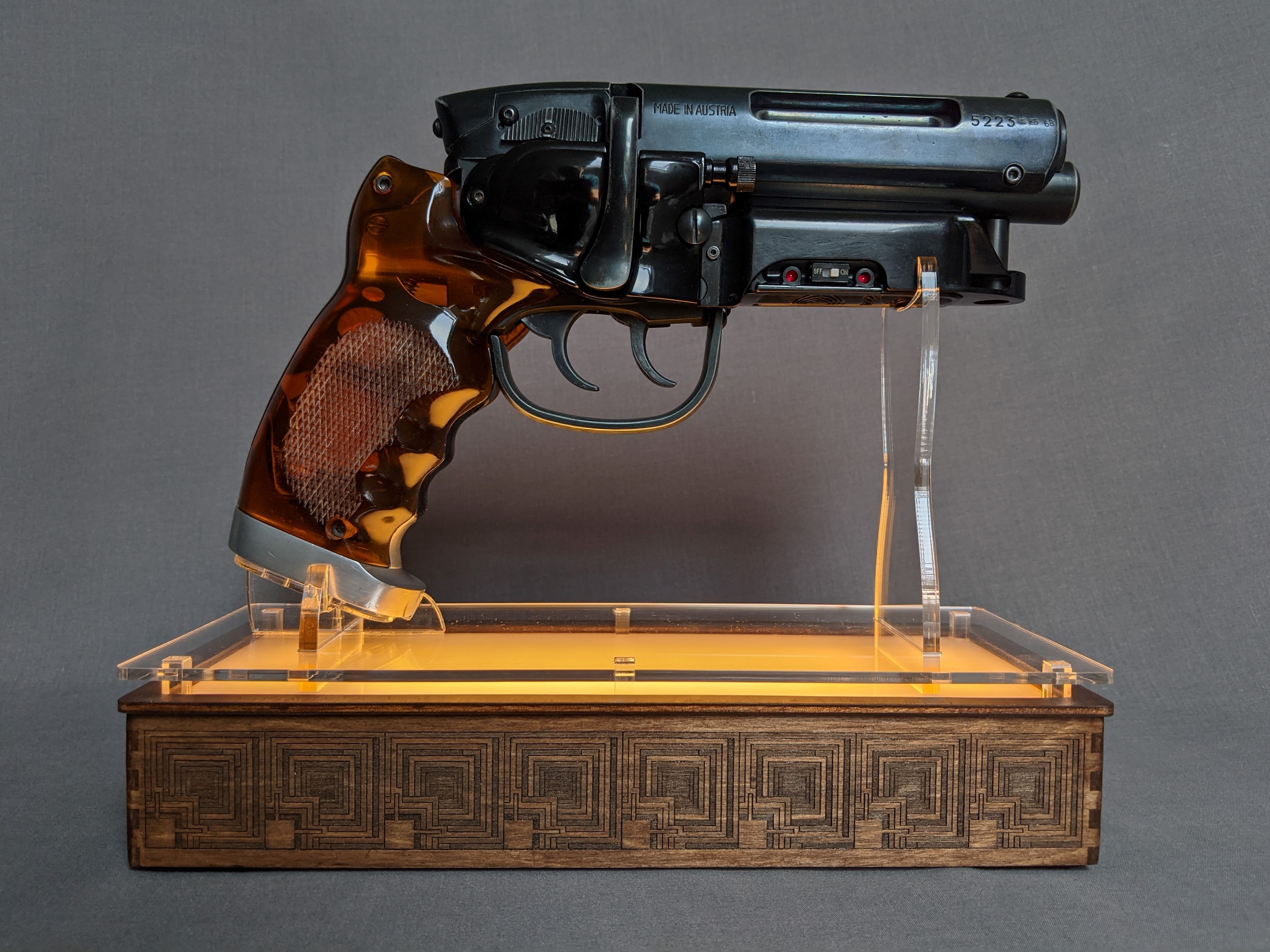 The stand features a wooden plinth decorated with the tile design from Deckard's apartment.
This pattern is laser etched into the wood at varying intensities giving a stepped 3D effect.
Floating above the plinth is a clear acrylic panel supported by six acrylic pillars.
The supports for the blaster extend out of this panel resting under the grip plate and mag housing of the Blaster.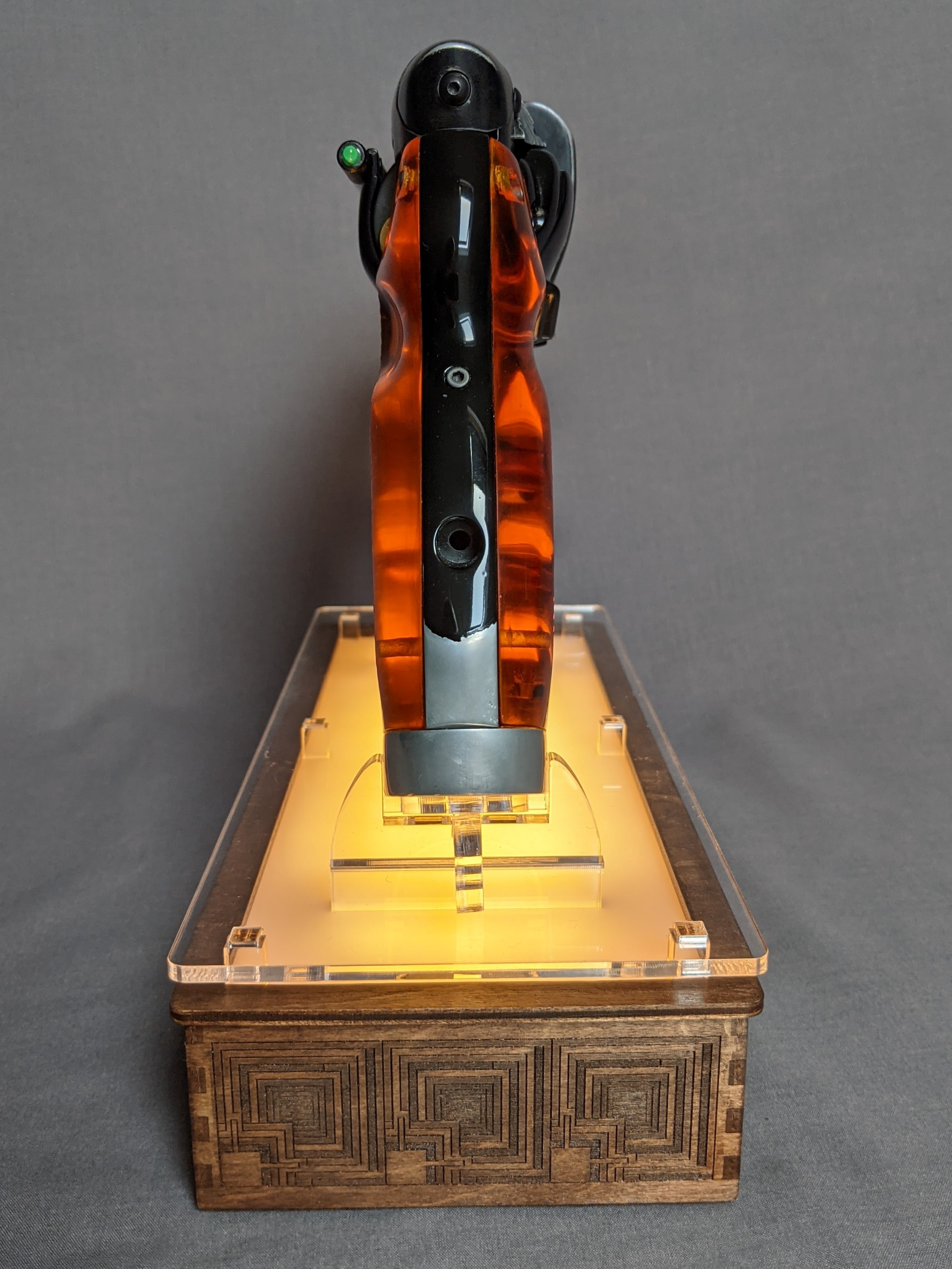 The four sides and bezel of the base are finished in an American Walnut wood stain and coated with protective wax oil.
A diffuser panel filters light from LED strips built into the base, casting a warm glow onto the underside of the Blaster.
The lighting is activated via a push button switch on the rear of the base.
This has been cleverly integrated into the tile design; a detail I'm particularly pleased with!
Power comes either via 3x AA batteries installed in the base or a 5V/1A micro-USB charger plugged into the socket on the rear (these are not included in the sale).
A slide switch located in the battery compartment selects between USB or battery power sources.
The stand is constructed from thirty-five laser cut pieces of birch ply and acrylic plus the various electronic components and hardware.
It's sturdy internal construction of interlocking cross braces and double layer walls are all bonded with wood glue to form a solid base.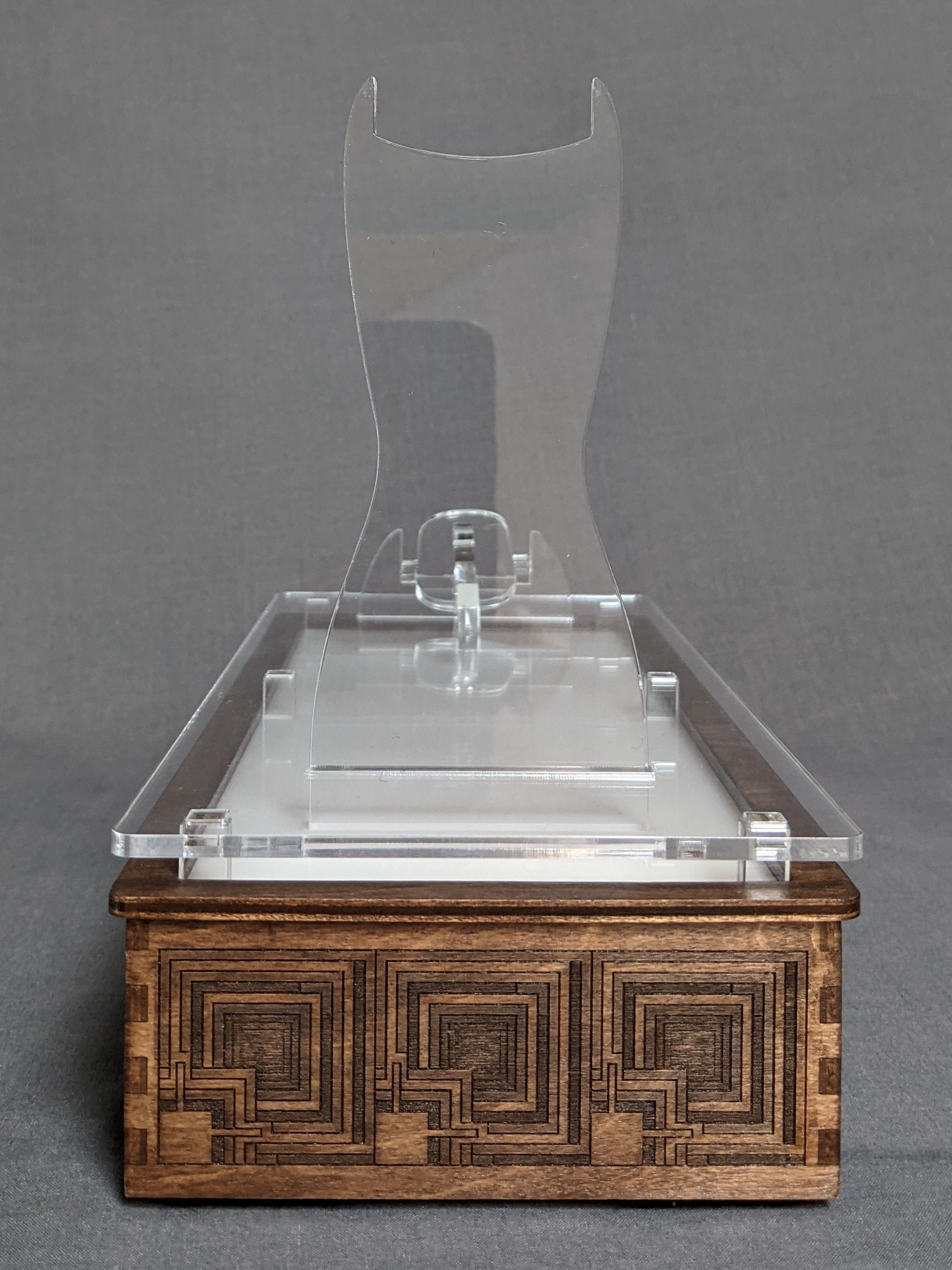 The Blaster supports are easily removable and work in either of the two slots. This allows them to be swapped over so either side of your Blaster can be displayed whilst keeping the switch and USB socket/cable hidden at the rear.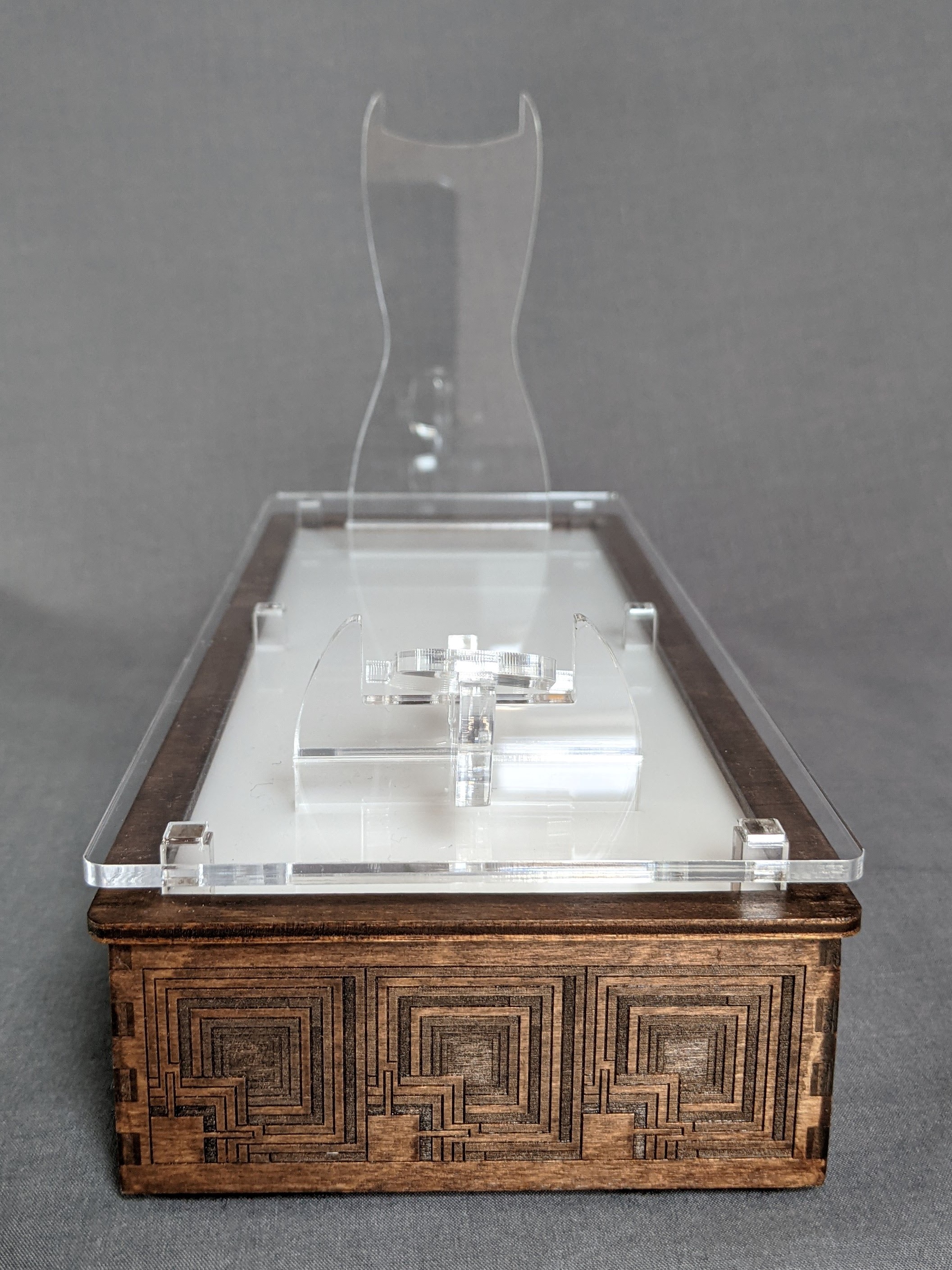 The battery compartment is accessed via 2x screws with a 2mm hex/allen key.
But, the most important thing... it looks great on display!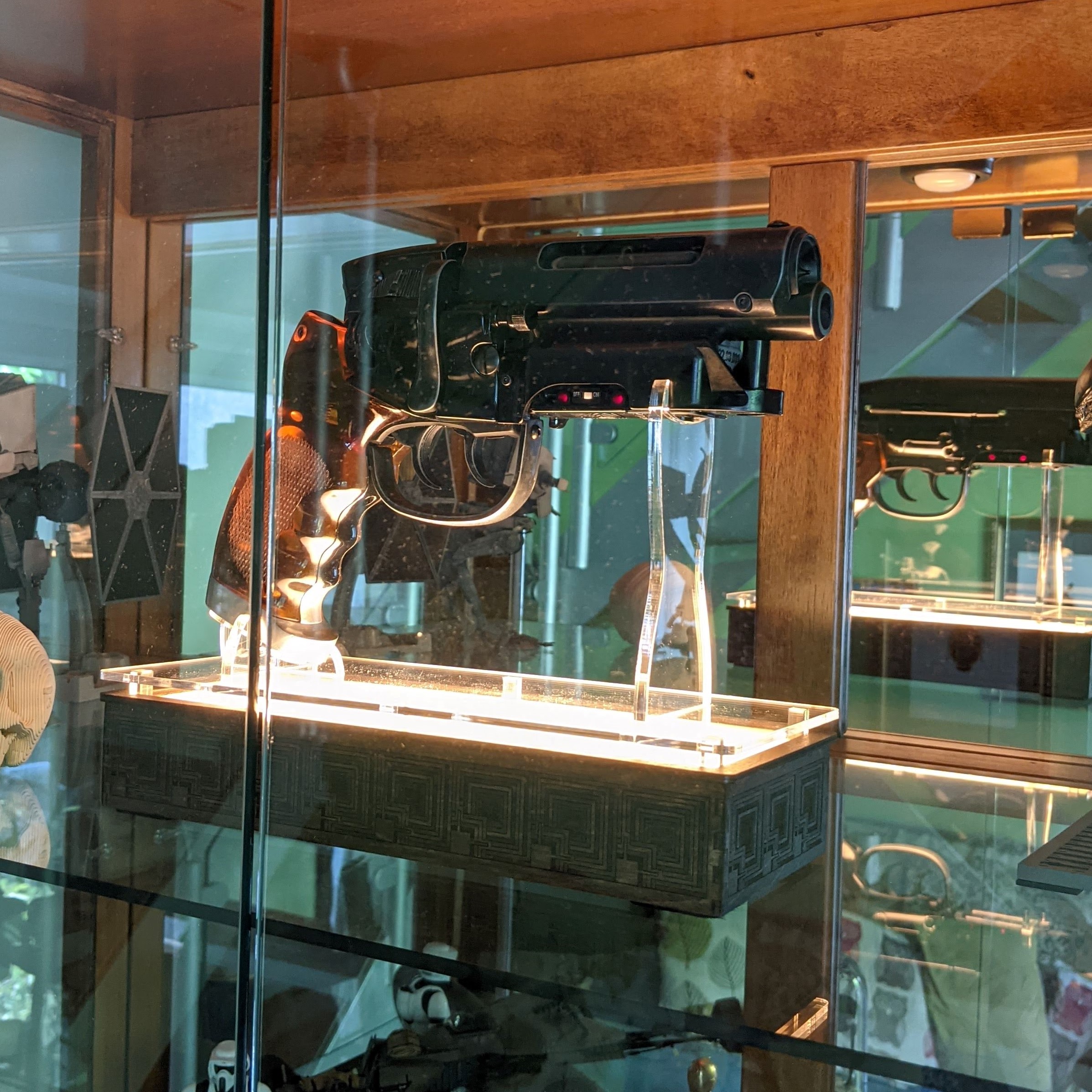 Each stand is cut and engraved on my Epilog laser before being hand assembled, sanded and finished.
They are then packed in bespoke laser cut cardboard packaging alongside an instruction/care leaflet. This is then wrapped in a card slip case featuring my own vector art.
I've probably spent way to long putting the packaging together, but the way I look at it, If you're generous enough to support me with a purchase, then I want your experience of receiving this piece to feel as special as possible!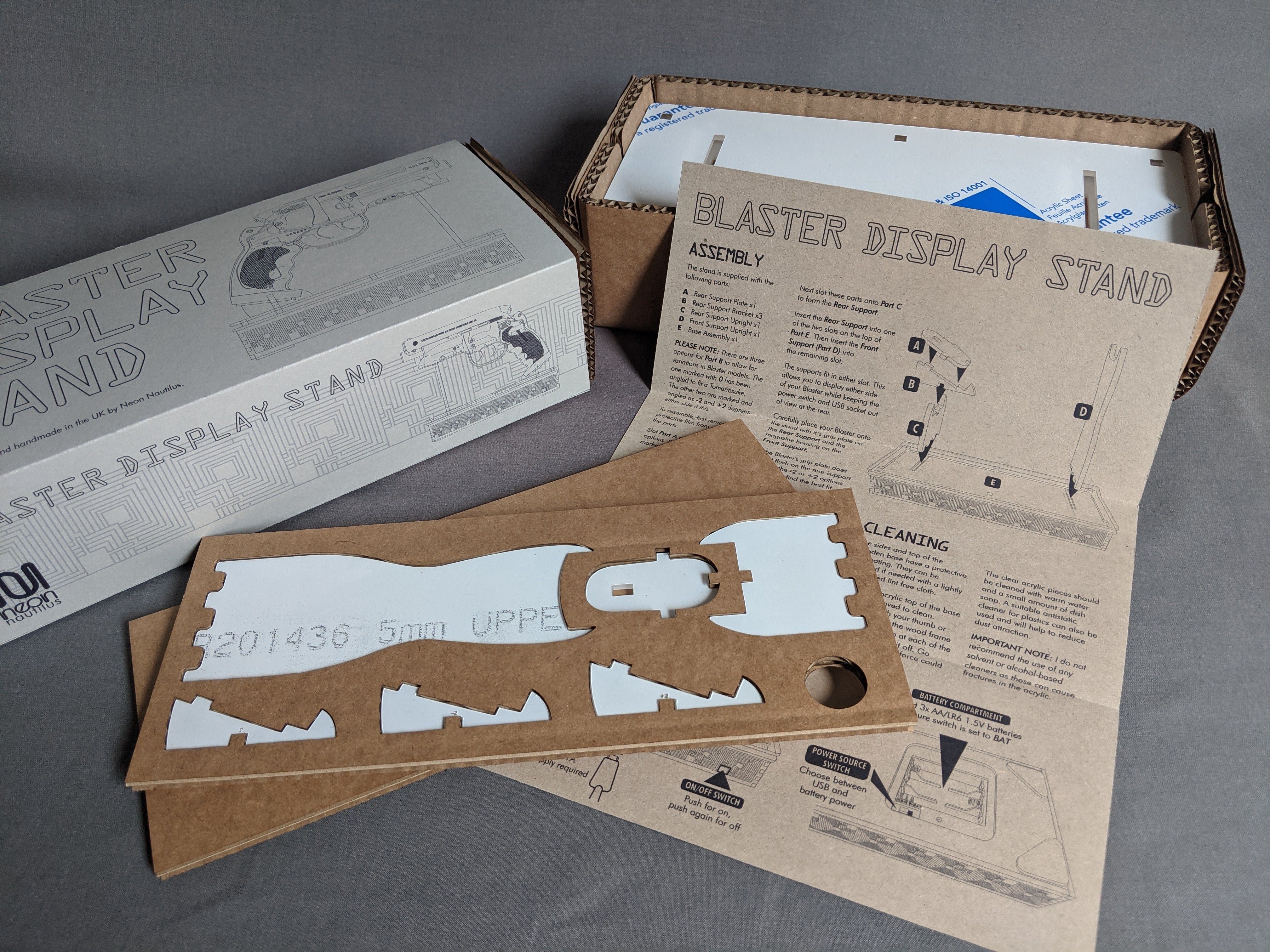 What's in the box​
The main base assembly
Front mag housing support
3 parts for the rear grip plate support
2 spare wedge parts for the rear support (+2 deg and -2 deg options to accommodate different blaster models)
Please note: I've intentionally not included a USB power source to save on waste, weight and cost. Plus you've probably already got one stashed in a drawer somewhere!
Vital specs

​Materials:

3mm birch ply, 3mm opal acrylic, 3mm clear acrylic, 5mm clear acrylic, 2mm 100% wool felt, electronic switches, wire and battery box

Dimensions without blaster:

Width 255mm, Depth 105mm, Height of Plinth 53mm, Total Height inc. supports 165mm

Approx. dimensions with blaster:

Width 257mm, Depth 105mm, Total Height inc. Blaster 217mm approx.

Weight:

505g approx. (stand only no batteries)
So, you think you'd like one for your Blaster?

​

I'm offering these for sale as an unlimited run with stands made to order on request.

All the details relating to the ordering process can be found in the following post.

If you have any questions at all regarding this piece that aren't covered in this or the ordering post then please give me a shout.
Oh, and one more thing...

​

If anyone knows Dan Lanigan, could you share this with him; It would be incredible to see a pic of 'Little Rick' on one of my stands!

Luke (

Akwalek

)

Neon Nautilus
Last edited: