Master Member
RPF PREMIUM MEMBER
Hello guys,
Here is an interest request
for aluminium conversion kit for Nemrod Galeons, to make the cloud city blaster, Relby K23
I'm very excited by this blaster and this project, I hope you guys will like it!
Interest is now finished and the run is proceeding as a
limited run
. Interest was a bit low and slow and we got 18 people signed up in the end. I'll be doing 26 kits (including 12 with V8 cone part), when they are gone, they are gone.
All of the kit parts are based on a lot of back and forth with
Pedro
to create a really accurate 3D model of the muzzle and gears and with the great help of
Cantina_Dude
measuring his vintage V8 parts for the back parts of the kit. thank you so much guys! I'm confident that the parts are very accurate to the real blaster, although the materials here are obviously a bit idealized
As usual, all the parts are handmade with great care by me in my small shop in the south of France. Sign up for this interest thread, pay for the part only when they are finished, and support a small passionate builder so I can bring more cool projects to the community in the future
more details on the research and creation for this blaster can be found here:
Hi folks, There is one public shot of this gun with some actual greeblies showing, not a cast of the gun with the greeblies included. I dont have a good res shot but, its this one from google Anyway - it got me thinking that the gears might be found parts, though the muzzle might not be...
www.therpf.com
the kit will allow you to assemble the complete barrel + the back cone part all threaded to a rod going from one end to the other.
here is what the full kit will look like:
it will contain:
- 1 40cm long 5/16"x24TPI rod (above is a M8 prototype)
- 1 threaded muzzle part
- 2 gears
- 1 barrel sleeve/tube
- 1 front sight piece
- 1 threaded back washer (based on the vintage V8 part with added threaded part)
- 1 back cone piece (based on the vintage V8 part)(optional by popular request)
detailled assembly help here:
Sell me a set! I've had that speargun in my basement for nearly TWO DECADES! Sell me a set!
www.therpf.com
a few detail photos: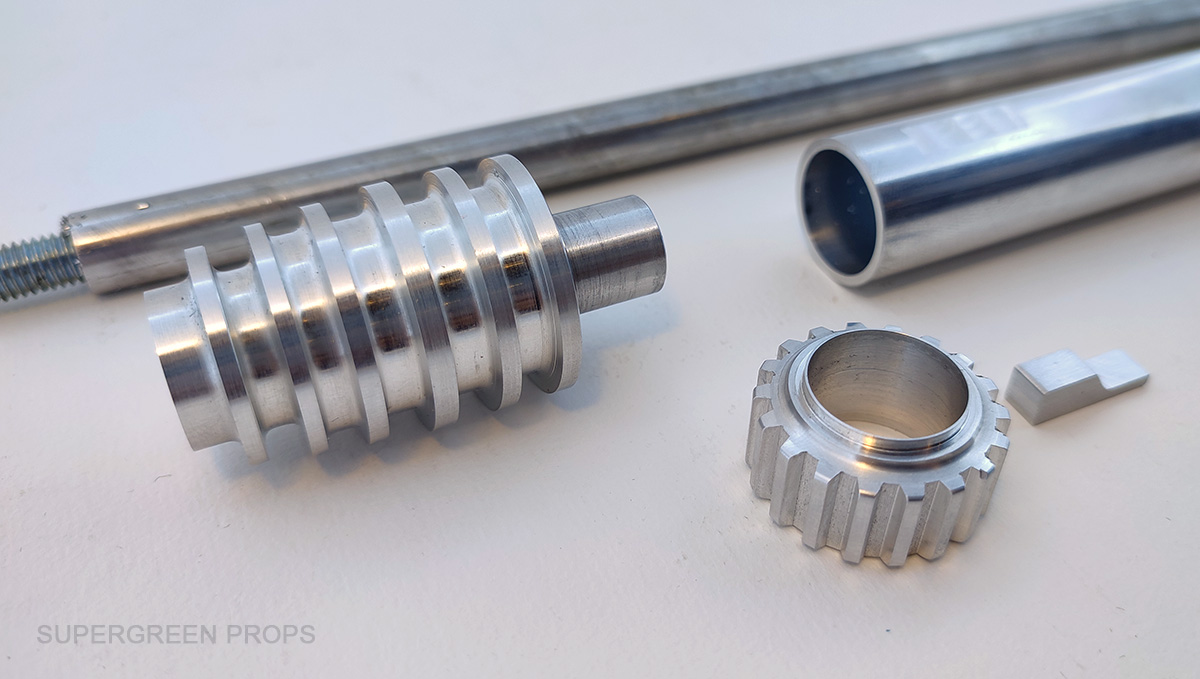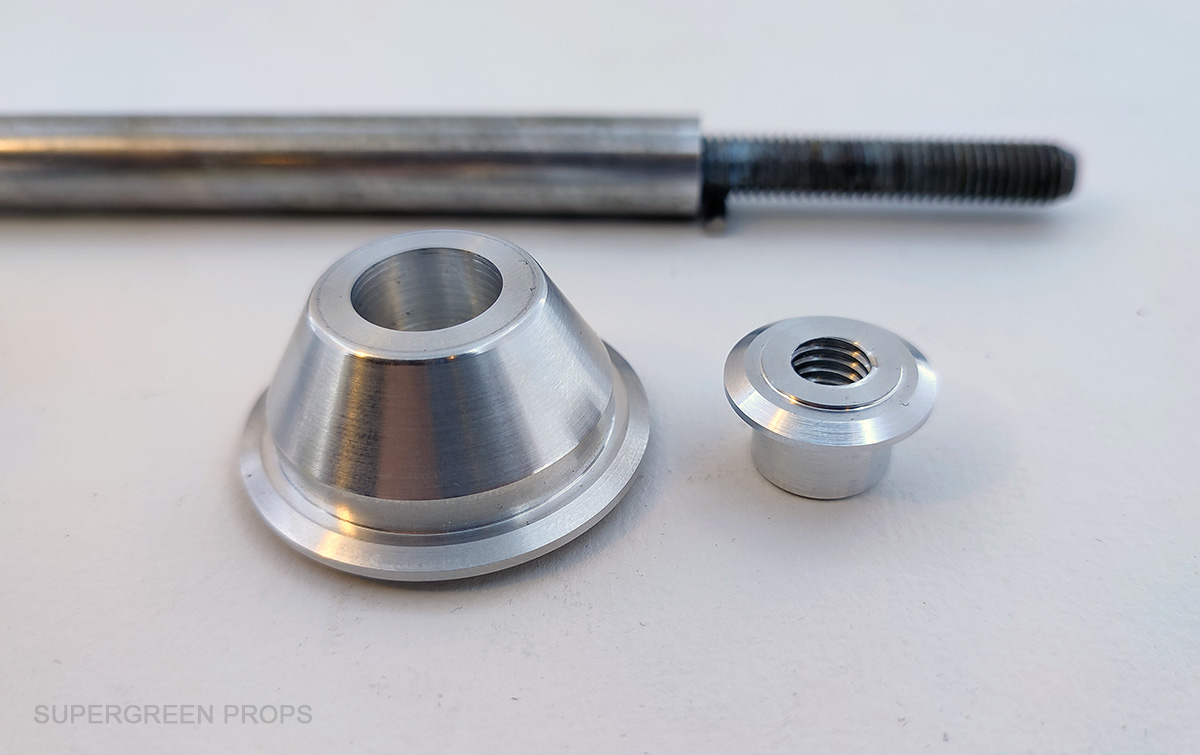 to assemble the kit, you'll need to cut the barrel of the Nemrod to a certain length that I'll provide later on (if your barrel is too short, the kit will still work, no worries), cut the back tube as flush as possible to the back of the gun, then slide the threaded rod inside and assemble all the parts to it.
notes:
- shown here with a placeholder for the second gear piece to win some time to start the interest thread
it will be the same part as the front gear
- the front sight is secured with a piece of double sided tape here, adding some thickness, hence the visible black line under it.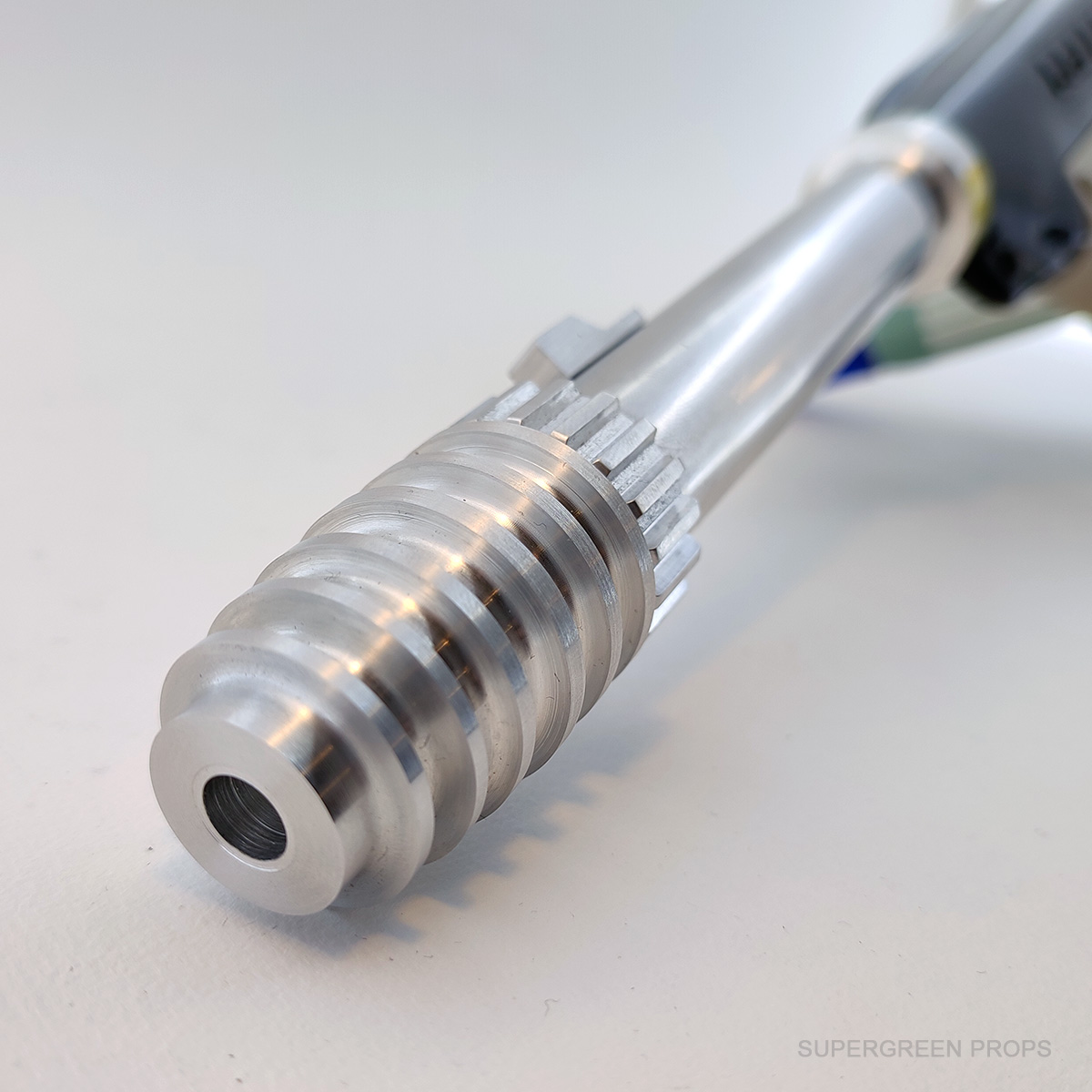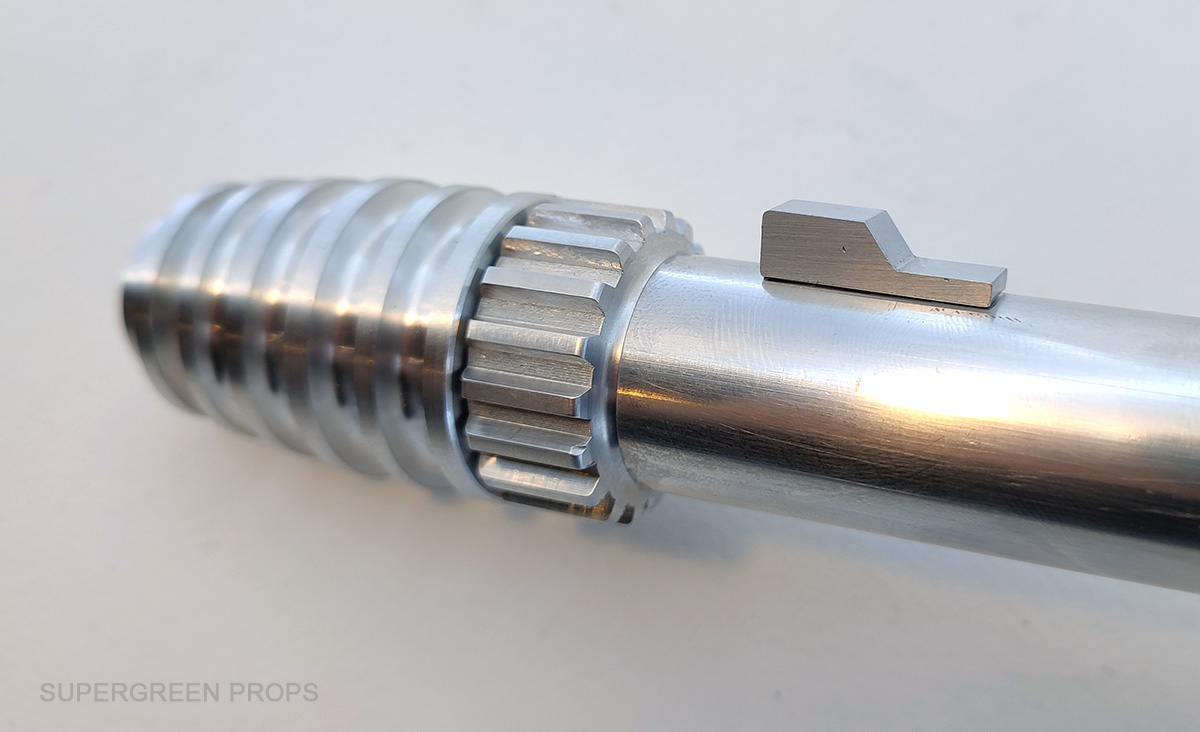 Price:
The whole kit will be 150€ + shipping.
Kit without back V8 cone part : 138€ + shipping
(for people that want to use their plastic V8 part, the threaded washer will still be included)
I'm thinking the shipping should be affordable worldwide as I should be able to squeeze that in a 3cm thick box and offer my normal less than 3cm low shipping price.
This is an estimate for 15 kits at least. If we manage to get interest for more than 25 kits, i'll try to lower the price around 135€ and 125€ without the cone part
18 people signed up so the final price stays at 150€, sorry, I hoped this would get more interest.
Timing:
NOW LIVE!
final note:
my wife and I decided (meaning, my wife mainly) that for my own sanity I would limit a bit the number of options I would offer. I'm not doing the Delrin parts in the end as they are probably not as interesting. I now added an option with removed back cone though by popular request
that's it guys, I hope you'll be as excited as I am for that blaster and kit!
Please post your interest below to make this happen run is now proceeding
thank you very much for your interest in my work
below are all the official usual details on how I proceed
How/Where to buy when the kits will be ready:
As usual, everything I sell can only be purchased on my website, supergreenprops.com:
Supergreen props - Handcrafted collectibles
I am obligated by the French law to edit an invoice for any money that goes into my bank account and the invoices have to be sequenced. The only way for me to handle that is through my website. It is easy for you, the website is fun and bilingual, it is perfectly secured and the payments completely handled by Paypal. You just need to register, enter your shipping address and the shipping costs will be calculated automatically. Make sure to enter your address as soon as you create your account as shipping costs are shown for France by default.
I know that some people might feel uncomfortable with a website, but please understand that I have no choice and that, even though there is a website, it's still me, eethan/Matthieu, behind everything and you can reach out anytime for any question here or by mail
contact@supergreenprops.com
I'll always be happy to help or have a chat; really, you know I'm a friendly and talkative guy and love to talk about cool props, so, don't hesitate!
Payment:
As explained above, I am obligated by the law to edit a sequenced invoice with all my sales, this goes exclusively through my website. The payments are completely handled by Paypal checkout, with buyer protection, and you can choose to pay directly with paypal, credit cards through Paypal (even if you don't have a Paypal account), or even local payment options like iDeal, Sofort, Bancontact, Giropay, MyBank, P24, EPS... At no time will I have access to your payment information or bank details, never. When the order is paid, you'll receive confirmations by mail for every step of the order and an invoice.
Shipping:
When you are logged in and have created an address, shipping costs are automatically calculated in your cart. There are two options, less than 3cm in thickness or more than 3cm. I encourage you to take the less than 3cm option when available as it is much cheaper and still tracked
All shipments are shipped with the French post service and tracked; you'll receive the tracking number by mail when the package ships. It can be tracked directly on your local post website, usps, royal mail and so on. No need to use the French post website link included in the shipping notice mail if you are not in France. If you didn't receive a tracking number, please check in your spam folder or don't hesitate to contact me, it's important to get it
Shipping time varies greatly and we all know it has been pretty unreliable lately, however, to give you an idea, it should usually take between 5 to 12 working days to get from France to the US, there can be some rare wild exceptions that I sadly can't foresee, however, so far, I have never had a lost package, so fingers crossed, it continues that way!
Customs taxes:
All orders are shipped from France. If you are outside Europe, it is possible that your country collects customs taxes or fees, I can only let you know that this is a possibility and encourage you to know how your country deals with international packages and know if you have to pay taxes and how much they are. Please understand that this is out of my control.
Always eco-friendly whenever possible:
As I explain on my website, I try to be as eco-friendly as possible. I live and work in a farm in the south of France, I have all kind of animals around me and we try to respect nature as much as possible. We have a hedgehog in the garden and a lot of bees coming back lately, so hopefully things are taking a better turn!
This kind of work, let's be honest is not by definition eco-friendly since it's purely for our enjoyment and not something we all need to survive (or do we?). That being said, I do my best to always use recycled and recyclable shipping materials or even clean re-used materials sometimes. I also try to do as much as I can for the projects themselves.
By the way, the French post service that I'm using is 100% carbon neutral since 2012 that is only for France obviously, but that's already something I guess
All right! I hope that I didn't forget anything. Please don't hesitate to reach out to me for any question, I'll be happy to answer them or have a small chat with you as usual
Last edited: