Hello fellow finheads, prop enthusiast and other people who are just bored and have nothing better to do
After a few requests, I decided put together a quick tutorial / costume guide to help fellow finheads to figure out what is the best option for them to fulfill their dream of becoming a hood ornament. Please pay close attention because I will be posting a few helpful links that will help you along your way
I will show basically two guides…..first guide will be a "close" to screen accurate rocketeer costume….this isn't for the faint of heart and this is a very very costly process….Time to play lotto kids because this one is a doozey…..a close to screen accurate costume will run $3,000 to $6,000……..yes, the same price as a used car or even feed a small country for a few decades…….so be prepared to pay an arm and a leg….
I say "close" to screen accurate because I highly doubt a 100% screen accurate costume can be put together…………it's just not going to happen….unless you ditch the replica route and pursue screen used props……If you already own screen-used costume pieces, remember one thing…………..I hate you with a passion………..
The second guide will consist of a budget rocketeer and give many different options on how to put together a decent looking costume without breaking the bank (aka the best way to not upset the significant other)
First off the screen accurate costume!!!!!!!
The helmet:
There are many options out there since the rocketeer helmet has been recast sooooooo many times....finding the most accurate replica helmets aren't that hard......just knowing where to purchase them is the key....
The top 3 most accurate replica helmets are the
Acme helmet, HMS helmet, and ER helmets.
The Acme and HMS are available to the general public.
The Acme helmet kit runs about $200 and the HMS is $300
( both not including shipping and handling).
Acme Helmet Kit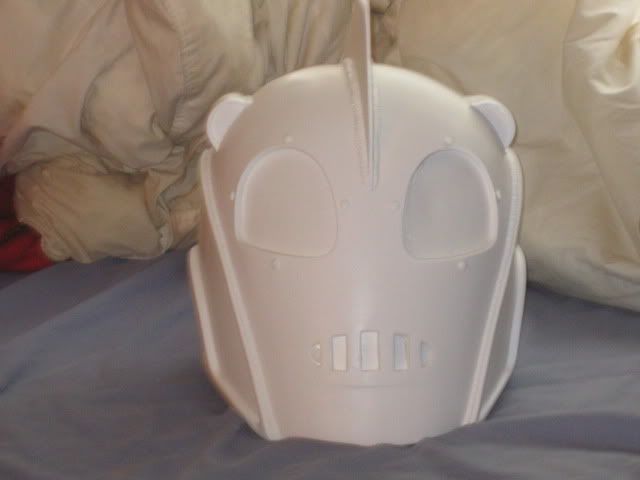 HMS helmet is on the right
Remember the helmets are in kit form, so dremeling and painting are separate. You can either finish it off yourself or hire a fellow prop maker to complete the helmet for you. It is cheaper to do it yourself, so be prepared for some blood sweat and tears.
There are a few members that offer their services to complete the helmet for you, but the best of the best is Dualedge. He owned a screen-used helmet and he studied the helmet very carefully. His helmets are a work of art and he gets the weathering done correctly. No one else has come close.....
Helpful Links:
Check out his threads how to dremel and polish your own helmet.
http://www.therpf.com/f9/rocketeer-were-gonna-need-helmet-77607/
see the last post for info
http://www.therpf.com/f9/rocketeer-helmet-hood-ornament-2-0-a-120666/
Where to Buy: For the ACME........Contact me! The maker of the kits is not a rpf member and doesn't have a website to reach him. I do not receive compensation or a percentage for how many people I refer to him. The same kits are offered through Monsters in Motion and another website, but I prefer you guys to skip the middle man and go straight to the source………….
The Helmet Liner:
The best helmet liner on the market was the Irish Jedi Helmet Liner. These were sold several years ago and very hard to come by.
The Cirrus X-3 aka the Rocket:
The next item on the list is the Cirrus x-3….This one will really make you cry because it is an expensive and long process. On record, the fastest time to put a pack together was less then 48 hours. Unfortunately, that was only one crazy and amazing finhead. Other packs estimation for completion range from a few months to a few years and counting……It really depends how motivated and dedicated you are……
The best and only kit available is the
Acme kit
. The kit will run around
$1,000
not including shipping and handling. Like the helmet, this is only a kit. Paint, dremeling, and other accessories are required for completion.
Helpful Links: A guide How to complete the rocketpack and places to find accessories:
http://www.evan.org/jetpack/
Where to Buy: Contact me. Same as above
Rocketpack kit estimate 1, 000 not including shipping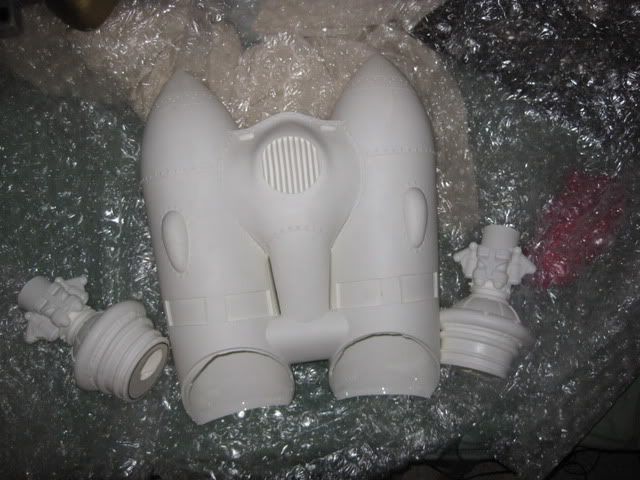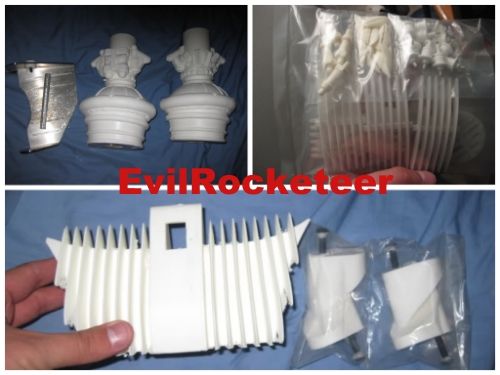 A finished rocketpack (mine)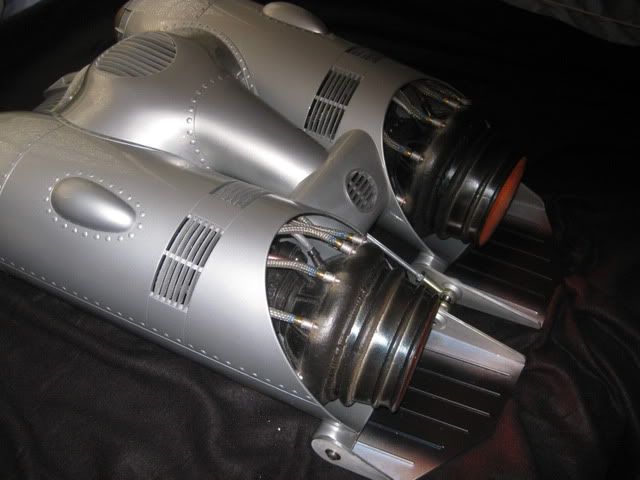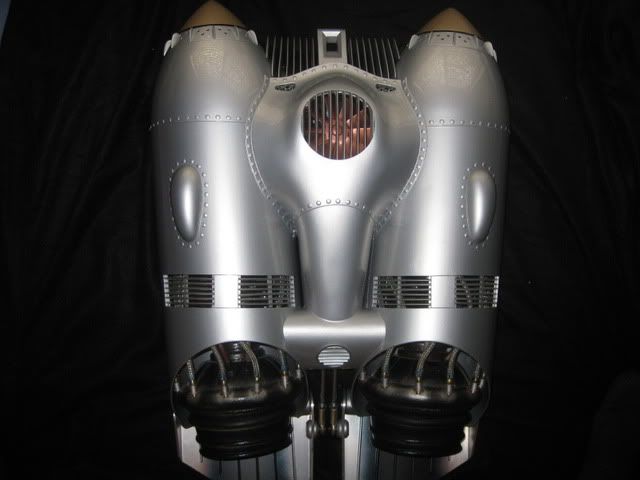 The Jacket:
Here is the tricky part.
The best jacket on the market is the Predicta Jacket.
After comparing it to other jackets and the hero jacket, this jacket is by far the most accurate jacket. It is the king of all jackets. Nothing comes close to it's beauty. Unfortunately, the jacket is hard to come by. Finheads who own them refuse to sell them and the maker is no longer a member of the forum. The jacket cost
$800
and it was definitely worth every penny. The jacket cost a lot of money to produce, so taking individual orders is too costly. They would have to be made in a few batches. Kinda difficult finding 5 or so people willing to pay $800 for a jacket, so I would consider this item retired. You can try looking on ebay, but they rarely ever pop up.
Predicta Jacket: I'll Post more pics later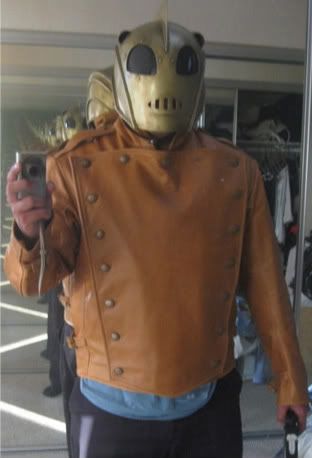 Other Jackets: Since the most accurate jacket is hard to come by and somewhat not available anymore, you have to look at the other options.
Unfortunately, price doesn't necessarily mean accuracy or quality.
My second recommendation is trying to find an
abbyshot jacket
. The jacket is no longer available on the site, so trying to find this jacket is difficult as well. There were two versions available: the rocketeer jacket ($675) and the jet jacket ($550). The jet jacket was their basic jacket that lack several details.
Helpful Links:
Jacket Pics
http://www.therpf.com/f24/abbyshot-rocketeer-jacket-review-17621/
http://www.therpf.com/f9/abbyshot-s-rocketeer-jacket-pic-heavy-5315/
Abbyshot website:
http://www.abbyshot.com/index.php33
Abbyshot Jacket:
Pants:
Chances of finding old WW2 flame retardant jodphurs are slim……so there is a company that custom makes the pants for you. Most finheads use this company for their pants. However, the material they use does not match the screen used pants. The pants run about $100….Not sure if the price went up or not…..They even call them the rocketeer pants…..They are easy to work with and very friendly….
Where to Buy:
http://www.1aiel.com/
Pants:
Boots:
The rocketeer boots are Calvary riding boots/ german ww2 boots / equestrian boots/ etc etc other known as
Dehners.
Be careful on which company you purchase these from.......I recommend purchasing the boots through Dehner. The boots are about
$800-$1,000. These are the most accurate boots
…..They receive great feedback.
Ebay is a helpful site as well. You can find old ww2 calvary boots for about $100.....only difficult part is finding them in the right size...
I
DO NOT recommend Motorcowboy
…..the coloring is off and the customer service isn't that great. Sometimes, the boot is smaller than what you order. When you contact them with your concerns, they ignore you. Buyer Beware.
The second boot I recommend is the
magnoliclothiers field boots
. They are
$595.00
. They are not as nice as the Dehners, but they are still great.
Where to buy:
The Dehner Boot Company
Field Boots
Helpful Link: One of our member's purchased the dehner boots. Checkout his thread for pictures and his 1:1 scale rocketeer costume display
http://www.therpf.com/f9/1-1-rocketeer-display-new-pics-post-26-a-114776/
Harness:
Probably the biggest pain out of the entire costume. The leather can get costly and trying to commission some-one to make one is costly as well. I been quoted from $800 to $2,000. Insane prices, but the harness is time consuming. I recommend trying to do this one yourself. I see several finheads make their own, and they turned out great.
Helpful Links: Leather Company
Tandy Leather Factory - Leathercraft and Leather Craft Supplies
Check out a fellow finhead's leather harness. Absolutely amazing!
http://www.facebook.com/media/set/?set=a.247596083852.137717.247587933852&type=1
Gauntlets:
too much to write on these, but check this thread for information. Utinni did an amazing job crafting the gauntlets. There is a ton of helpful information to help you out. This thread comes in handy because Utinni shows off his completed Rocketeer Costume: One of the best costumes in the finhead community.
http://www.therpf.com/f24/my-rocketeer-project-updated-3-30-09-replica-buckle-29351/
Last edited: