Master Member
RPF PREMIUM MEMBER
Hello everyone.
I've been finishing up a few semi completed 3D projects lately, and I'm
VERY
excited to finally put this one out there as an interest thread, having received the final quote from the machining shop!
What we have here is my take on Obi Wan's ANH saber.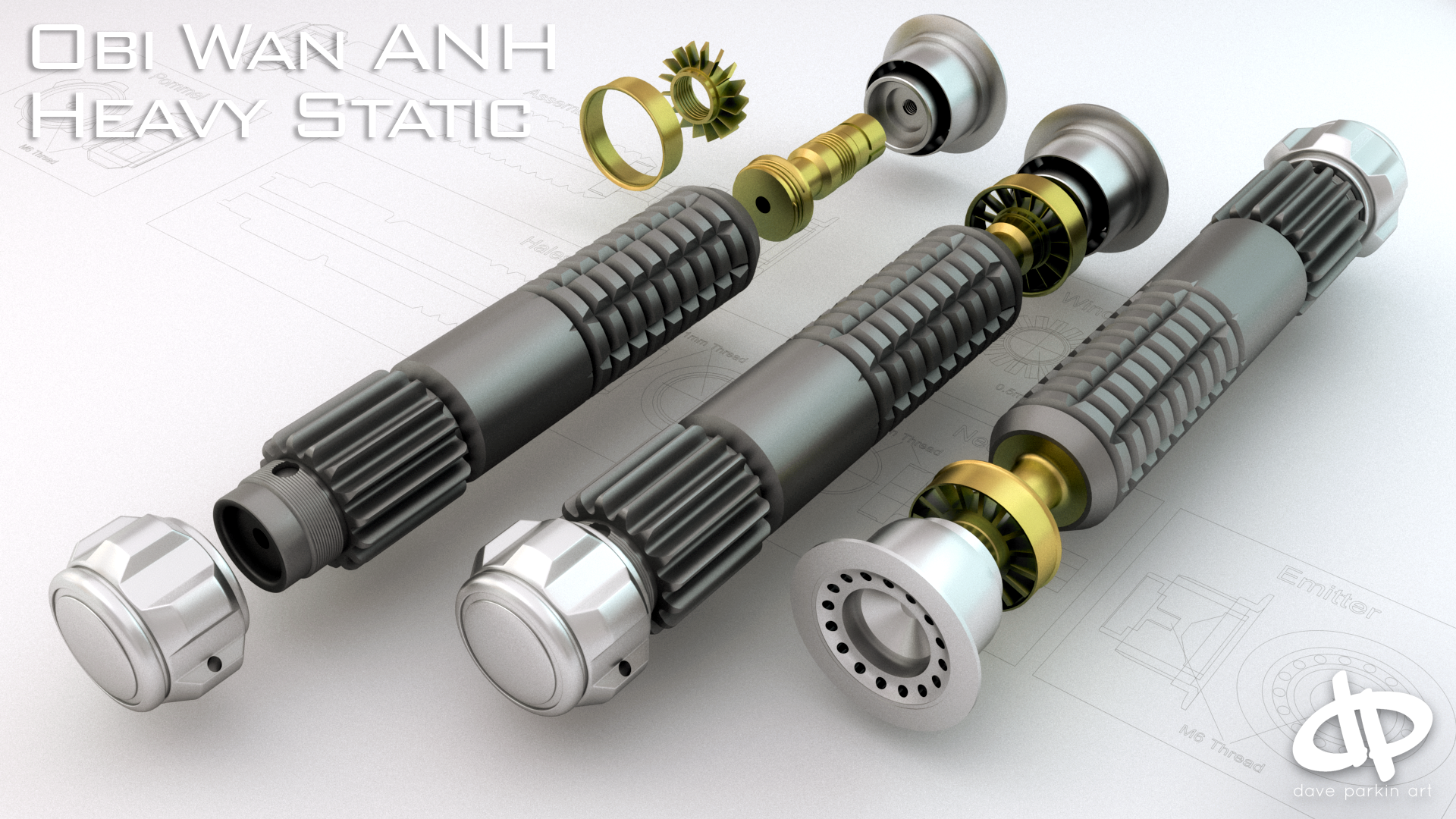 This is not a replica of a real parts hilt. The way I see it, there would be very little point in producing something that has been perfected already. This is something a little bit different, that you'll hopefully find as exciting as I do!
What I've tried to do with these parts is to make them as visually accurate as possible on the outside, in both dimensions and material characteristics, but as
HEAVY
as possible on the inside!
**With regards to the weight**, this isn't intended as a belt hanger. It is intended as a relic/curiosity. I believe that the additional weight adds a feeling of power and gravity to the object and imbues it with an air of importance. Holding this should be a tactile experience. The electopolished stainless steel pommel is a feature that I'm particularly excite about. It should set this prop apart from others and make for a great talking point.
The booster, Graflex spacer and grenade section have been combined in to a single, solid, heavy block of mild steel!
The pommel will be manufactured from solid
*stainless*
steel and electropolished to give it it's chrome like appearance.
The emitter will also be stainless steel, and comes as a single, solid piece. These aren't the original materials for these two parts obviously, but they will have the same visual aesthetic, whilst being much heavier! The Emitter wont be electropolished.
The neck and wind-vane will be manufactured from solid brass, in three parts. These have been modelled to look like a genuine WW1 grenade neck, but with a simpler, solid construction.
There is a 6mm core running through the middle of the hilt to take a threaded bar. Both the pommel and the emitter are threaded to hold everything together. There is a thread to attach the neck and grenade also, as well as a thread holding the wind-vane in place.
As with
my other active project run
, this is a DIY kit, and
*doesn't include clamp, bubble strip, or transistors*
.
People have their own personal preferences when it comes to these parts, and it seems wasteful and costly to order parts from the USA to the UK, only to potentially send them back. Also, I wouldn't feel entirely comfortable selling someone else's parts as part of my kit (obviously). Any replica Graflex clamp should fit perfectly over the centre of the grenade/booster section.
What you will receive is basically any part that has been manufactured using my 3D models, As seen here:
The 3D models themselves have been painstakingly created using real part references, to ensure that the exterior is 100% accurate to the original prop.
That being said, I'm very much open to suggestions and will continue to refine these models right up to production! It's very important to me that this is as visually accurate as possible.
As with the grenade section on
my Yuma run
, the grenade section required extra precision machining due to the grooves being tighter than standard tolerances. I believe this will always be a price worth paying, rather than altering the model.
Where appropriate, parts will have an additional surface smoothing operation applied to decrease surface roughness (Ra) down to 1.6μm (63μin).
The parts will arrive assembled on the threaded bar, which will also be included of course.
I'm really excited about the prospect of holding one of these! Hopefully you are too! This thing is going to be
HEAVY!
This project needs a minimum of 24 people in order for it to be cost effective (25 including me).
If it's looking likely that 24+ people are on board, I can get a prototype made at the bulk price, but this requires a commitment from me to the machine shop that I will be going ahead with the order. I'll be doing that before I get a solid commitment from anyone, or taking any payments, obviously, so you'll be able to see the product before putting any money down. I can't commit to the full order though (or the prototype) until I have a fairly good idea that we'll have enough people.
So, no commitment at this stage. Just gauging interest.
Assuming we can get enough people interested, the cost of each kit will be:
£230 (Roughly $298 USD) plus postage (£20 UK/£30 International)
The project will require upfront payment before it can go in to full production (Through Paypal so you'll be protected).
As with any of my projects, this is very close to the cost of production. My reward is having one of my models produced at the reduced price of a bulk order. The cost of having a single one of these produced is well in excess of £900 unfortunately. £230 is much more like it!
If you think so too and would like to get involved, Please express your interest in the comments, or drop me a PM.
Cheers,
Dave
Interested:
DaveP

ventuoguy
bostonfin










































Last edited: