Sr Member
RPF PREMIUM MEMBER
Having been working on a lot of comic book and tactical-style costumes lately (as much as I love those) I wanted to go in a different direction for my new concept piece.
I've always been a fan of RPGs, fantasy and games like World of Warcraft, Elder Scrolls, Dragon Age and similar. So, I decided to create a new rogue costume. This costume design will also become a new pattern set on my
Etsy shop
.
As usual, I gathered some images to use for inspiration.
With some inspiration gathered and some ideas rolling around in my head, I decided to get started and see where things went. I started by working up a hooded harness that will, eventually form a base for partial armor and a cloak.
I used a vest/harness pattern that I originally created for
Dr Doom
with some slight modifications. I cut the back and shoulder pieces out of headliner foam and used Super77 to mount it to the back of a distressed green chenille.
These pieces were assembled and then the edges finished with a dark brown faux leather. Next, I created some wings for over the shoulders. These were also cut out of headliner and covered in chenille. Then I cut stripes out of 2mm craft foam and covered them with a medium brown faux leather. These stripes were also edged in the dark brown leather.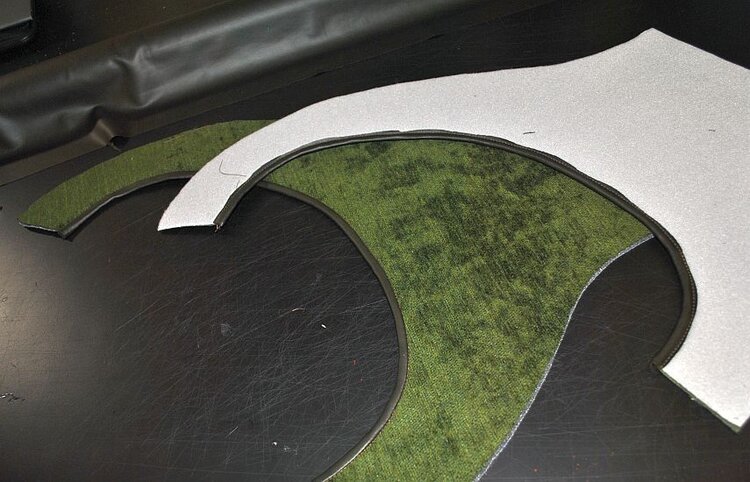 The edges of the wings were finished and they were added to the harness. Next, the hood was created out of the green chenille, lined in a bronze gauze, edged with dark brown faux leather and attached to the harness. Details for the front of the harness were cut out of 2mm foam and covered with faux leather.
Once all of these pieces were assembled, the sings and front panels were detailed with bronze screw-back studs.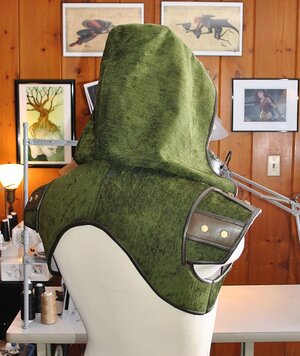 The next layer for the costume I wanted to create was a short leather 'armor' vest. For this piece, I modified another vest pattern I recently created and drew out the new patter. This was also cut from headliner foam and covered with the same medium faux leather that was used on the hood/harness.
I also knew I wanted to stitch ribbing into the vest pieces, so I started thinking about the direction of the stitching and sketched some lines on the back of the foam (though, I ended up going a different way on many of the pieces). The pieces were all ribbed separately and then assembled. The bad on the front was also reinforced with 2mm craft foam to support the grommets that would be added.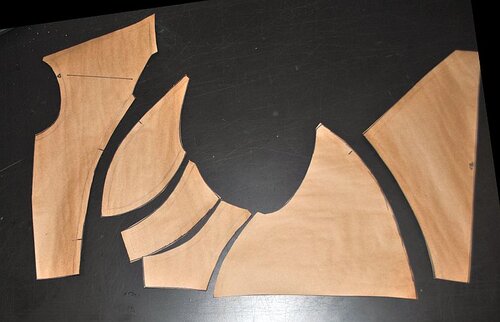 I then created a collar for the vest, finished all the edges and added the grommets. Here's the vest by itself and with the hooded harness.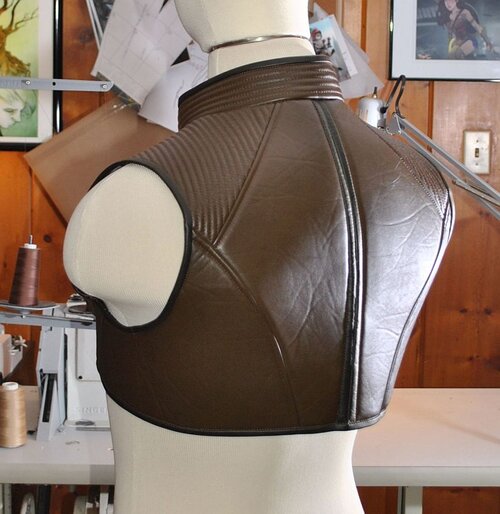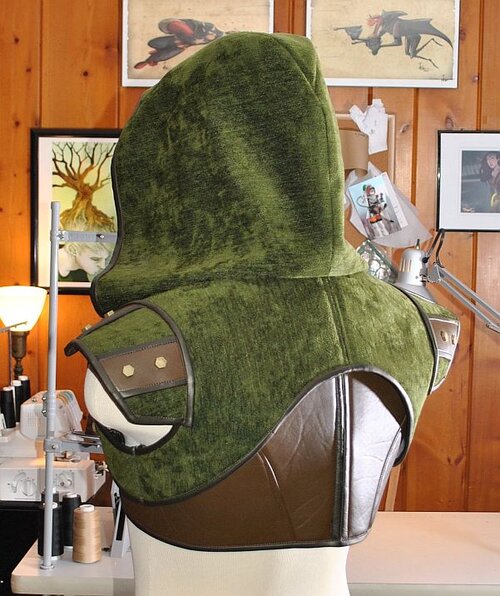 Coming up, the gambeson/jerkin and armor gets underway. Stay tuned!