Qui-Gon took several years and multiple attempts. My hairline was very similar so I figured it was worth a try. My first attempt was simply borrowing my son's costume. It was very tight but I wanted to wear something special to the movie. This has started builds several times. I did my hair, shaved appropriately, donned the costume and added my all too versatile Doc Martens calf high boots. The place was filled with costumes but they were all going to a private showing of the movie and I was not. I was the only costume in a packed theater and of course walked in late. As we left, a young man asked me to pose with him and snapped the following:
I was bursting the seams on a child size costume and was still having fun. It did convince me to really go full out and try the build. It also taught me how scary facial recognition is when Facebook told me this guy posted this pic and he never got my name, I was not tagged and I had long before turned off approval of facial recognition in my FB account.
Years later, I actually won the base Jedi costume on an online game through Wish.com. After several poses, I knew I would need the nose and a better background.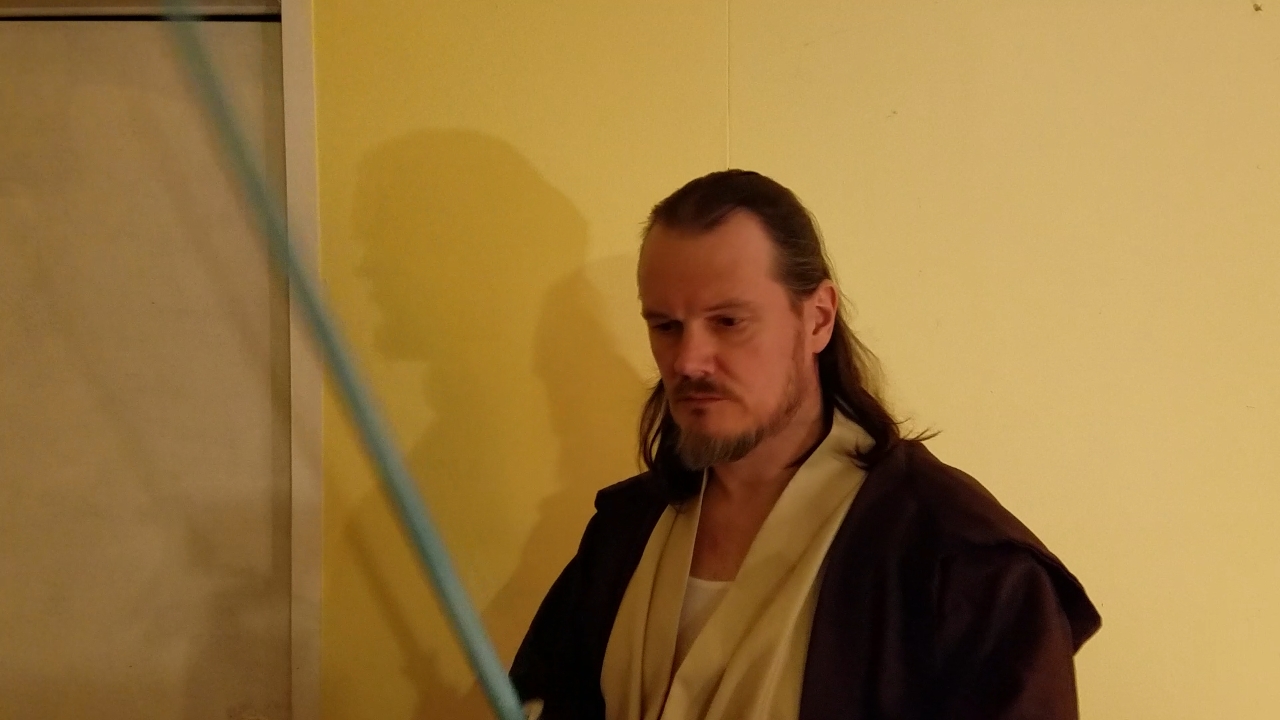 I decided to go green screen on backgrounds and set up my green sheet on my porch. I had also recently signed up for Stan Winston Scool of Character Arts and was learning to do the prosthetic nose by face cast, sculpting and molding.
First you do a cast of your face. I needed only the nose so I was able to do an alginate and plaster cast while still leaving my mouth open to breath. When this is set, you do a reverse, filling it with plaster. When the plaster sets you have a positive of your face. This process is much more technical than I am explaining and I would advise checking several tutorials on this prior to trying it. Stan Winston has pro level instruction on the process. DO NOT APPLY PLASTER CAST MATERIAL DIRECTLY TO YOUR FACE. I have seen videos about doing just that and they don't end well.
Now you sculpt Neeson's nose onto your plaster face with a removable molding clay. I believe mine was called Chavant.
When this is complete, apply a release agent. I used spray on vegetable oil. Pour a new negative plaster mold off of this new custom face and nose. When set, remove the mold and remove the clay from your facial positive cast. Now there is a positive and negative that can be put together to get Qui-Gon's nose fitting to my face. I am going to leave this here for now because my son wants to go to the game store.... back in a few to finish the build post.
Last edited: