After seeing the latest Mad Max, I thought: "Boy, I sure do love Fury Road. Wouldn't it be cool to make a model of the War Rig! How hard could it be? I'll just kit bash a couple of models together."
Five years, seven individual model kits, hundreds of reference photos, and an incalculable number of mistakes later...
For all the heartache this has brought me, I've never been so pleased with anything I've built. It is my favorite thing.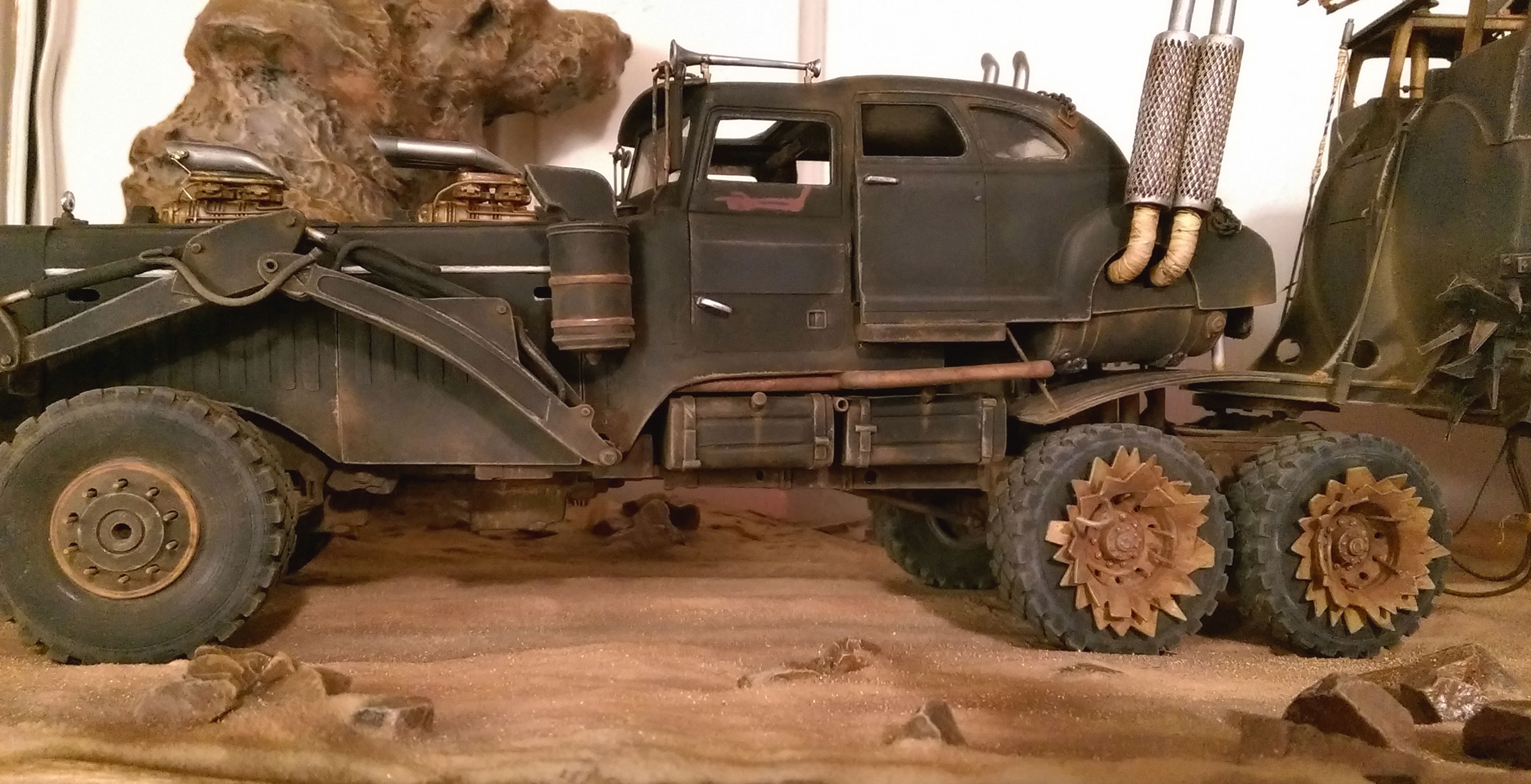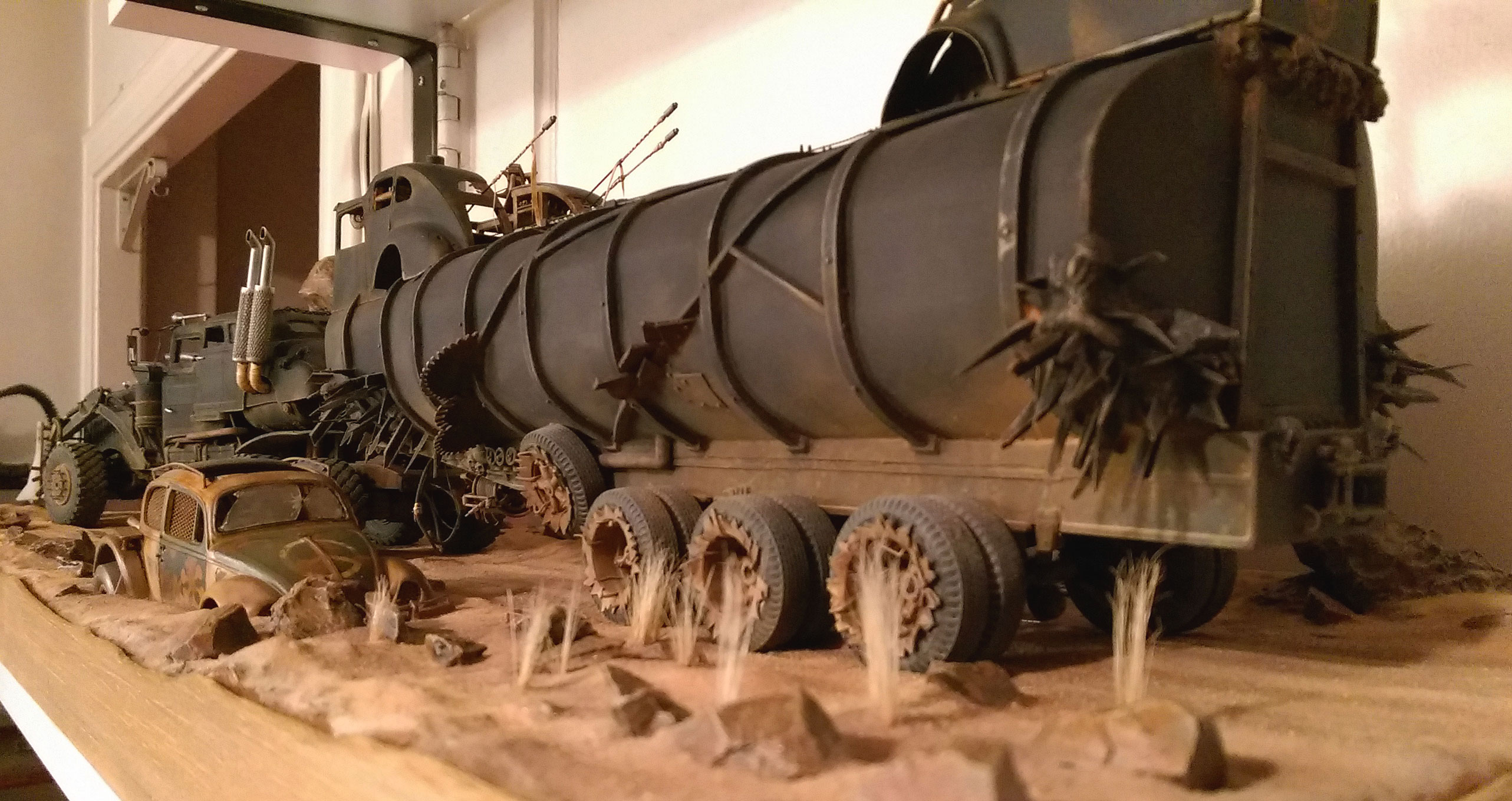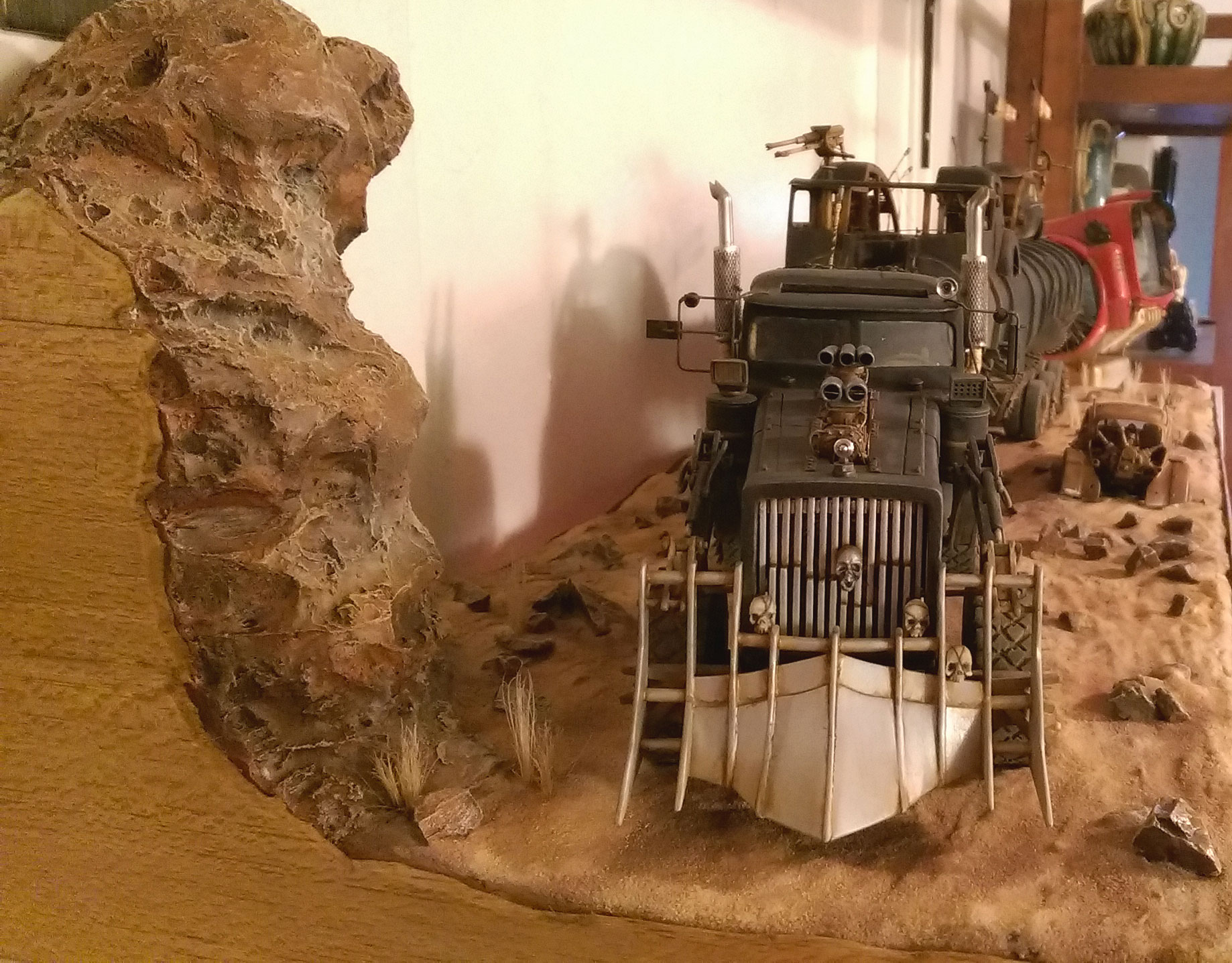 Of course, all I can see are the flaws.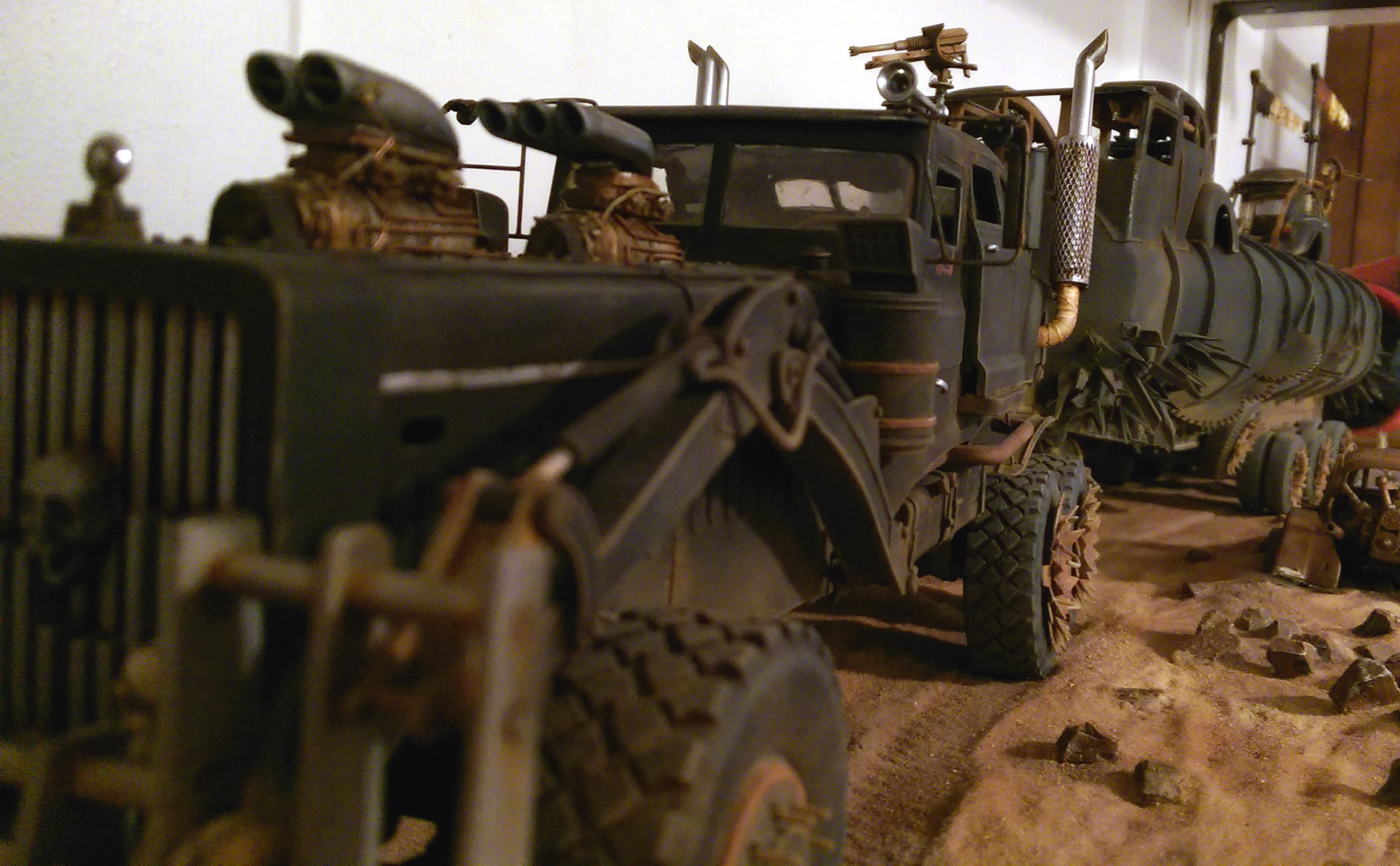 War and Peace
Now here's some poorly lit detail photos:
Everything is either kit-bashed or scratch-built, with the exception of the big tires on the rig. I couldn't find the right tires in the right scale, so I watched a bunch of Autodesk 360 tutorials and modeled the tires myself (PM me if you'd like a copy!) and sent them out to be printed (I don't own a printer myself).
And now for some build pictures:
How it began
Back when I thought this would be simple, I had three kits. None of which are correct. In fact, the main body of the real War Rig is build out of an Eastern European truck called a Tatra. I couldn't find a 1/25 scale model of a Tatra. One reason this was such a huge undertaking was because there wasn't a single piece of the rig that didn't need to be cut apart and put back together in a slightly different configuration.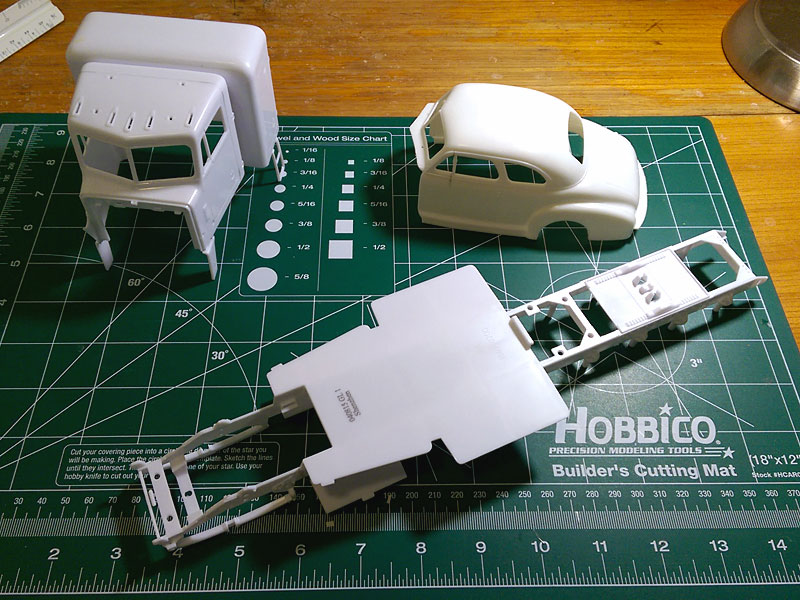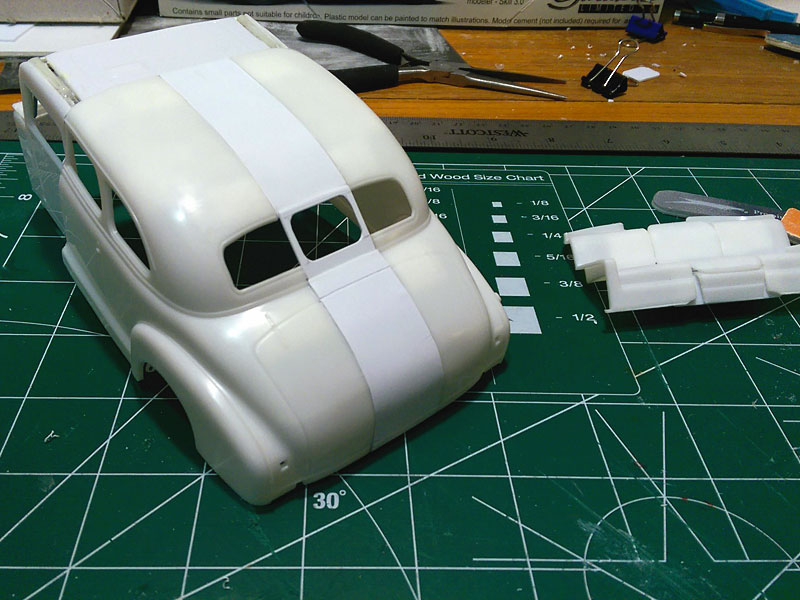 Widen EVERYTHING
The War Rig is very W I D E. I discovered that they didn't just use a 47 Chevy for the back end. They cut it in half and added an extra bit in the middle.
One of the coolest things about this project was that by building with existing kits, I understood how the real thing was put together: how things attached, the relationship between parts, materials they used, etc.
Adam Savage said in a recent video that a project like this turns you into one the the world's few experts, and that's exactly how I feel. I could totally build a real War Rig (if I first got an additional 30 years engineering education and experience).
The console and seats, also extra wide.
Two semi engines squished together.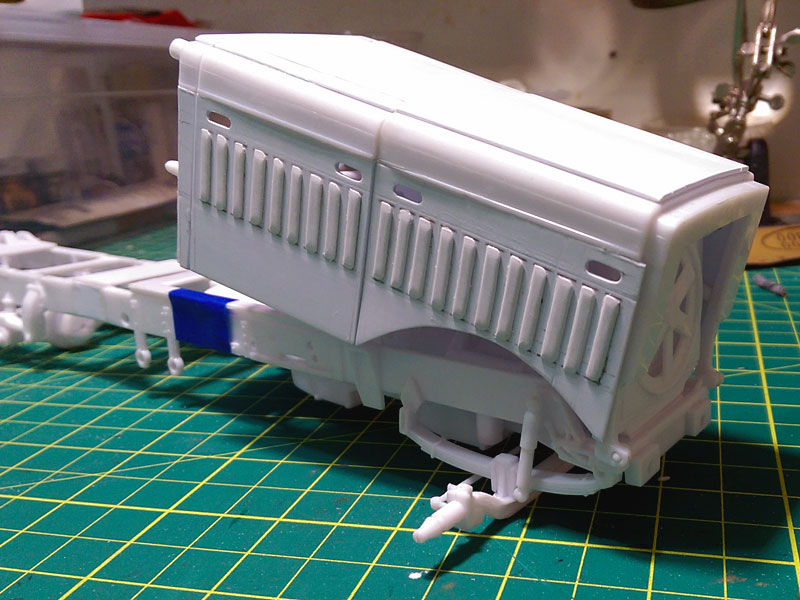 Double long nose to fit two semi engines.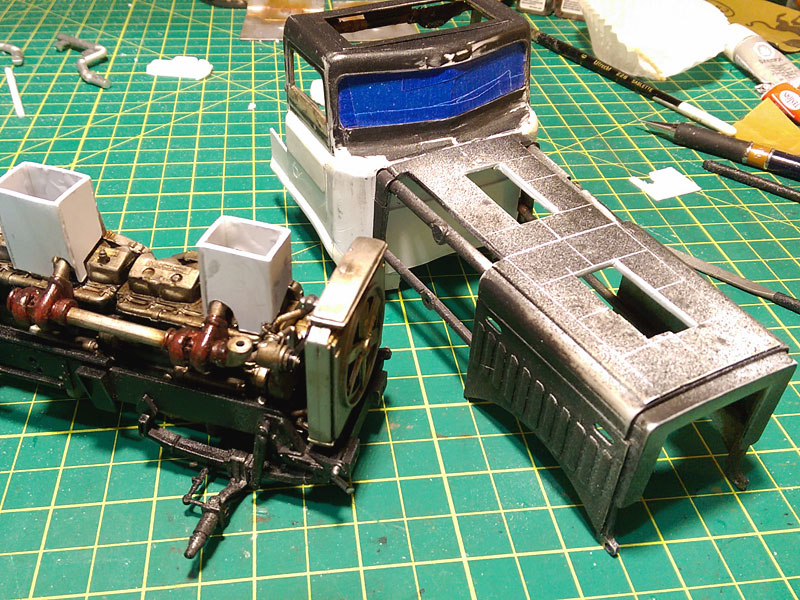 If you look closely at reference photos, the iconic turbochargers that stick out of the top of the hood are just welded on top of a couple of steel boxes. They're not actually functional (movie magic).
I got the turbochargers from a hobby shop that sells 1/25 scale kit mods.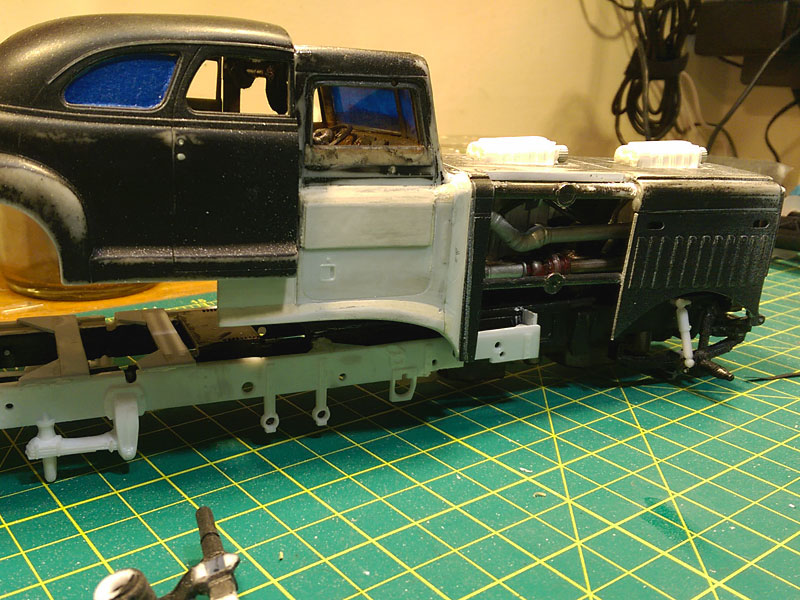 Of course, the engine covers had to be removable, although I eventually changed the magnet placement.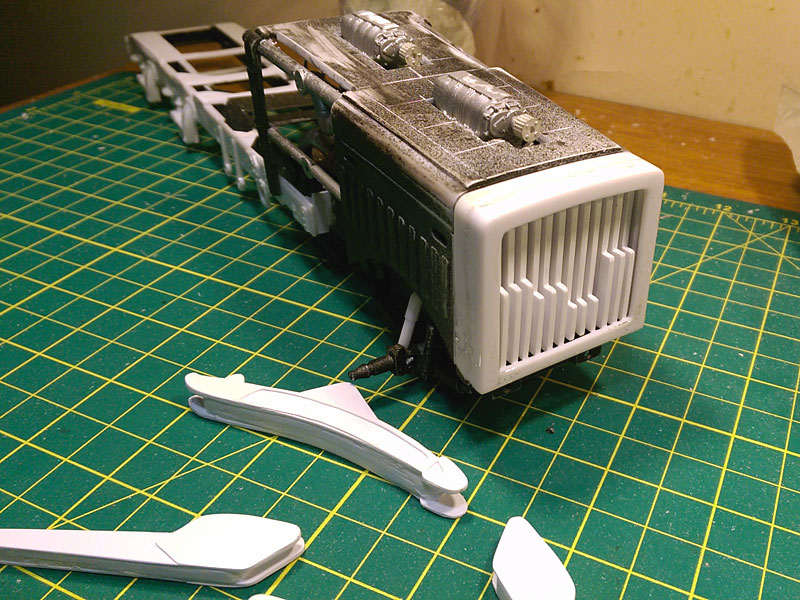 The front end involved a lot of scratch building. I made blueprints in Illustrator and cut them out of sheet styrene layer by layer. 3D printers didn't exist back in the distant past of 2016, right?
Yes, the cow-catcher is too long and sharp. No, I'm not going to re-build it.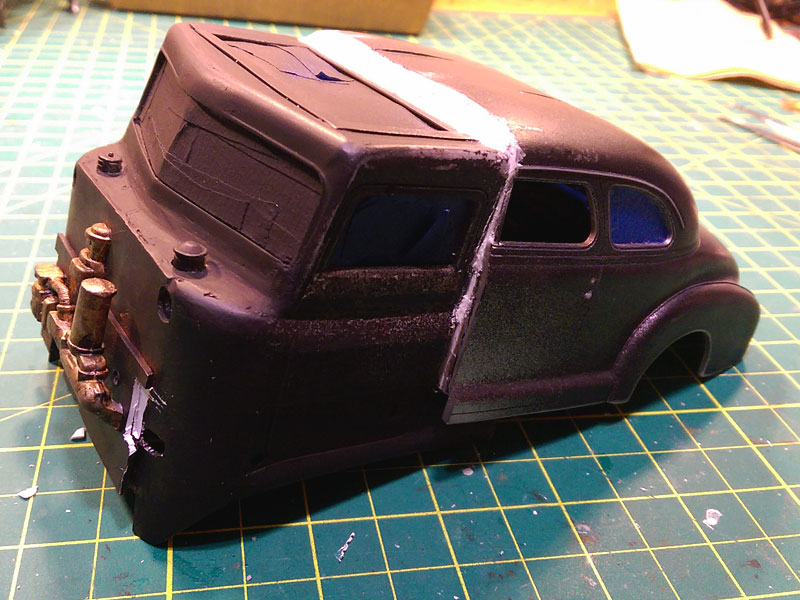 Seal it up. I won't see the interior again for two years.
So many greeblies and tanks and such get stuffed beneath the cab.
Shiny, not chrome enough.
The nightmare begins
I had a dickens of a time finding a tanker. Nothing was ever going to be large enough, but I at least needed a tank that was the correct shape. This was the closest I could find. The kit yielded a lot of great parts, but getting the tank to be the right size and shape was a ton of very sweaty, messy work.
Can you see the problem?
Even after sculpting a new front end and adding a narrowed waist section, the tanker is still too short. There should be one additional rib section. I decided I could live with it.
It fits
Sometime after that picture was taken, the mostly complete rig met with an accident. It fell off of a shelf and shattered into many sad pieces. It took me months to put it back together, but also gave me the opportunity to fix some parts that I didn't like. I'd learned a great deal over the course of the build, so some early efforts just weren't up to standard.
So... yay?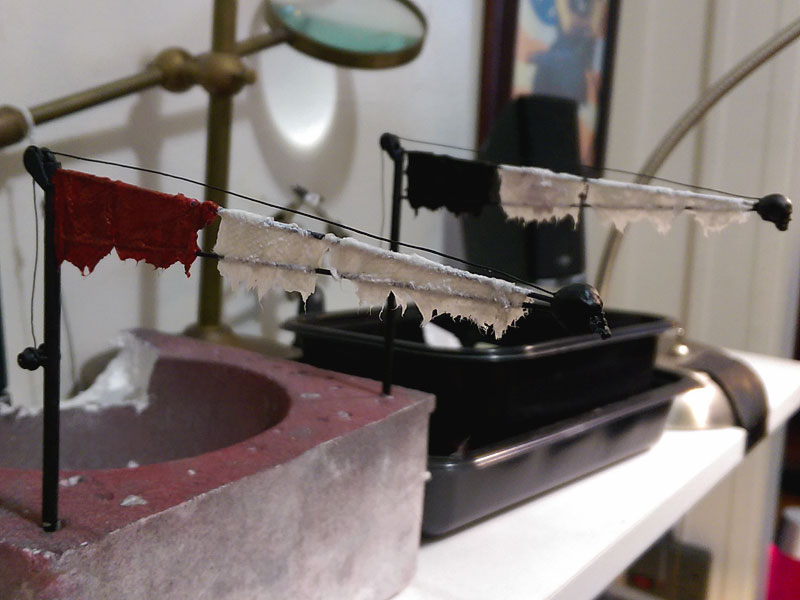 Flags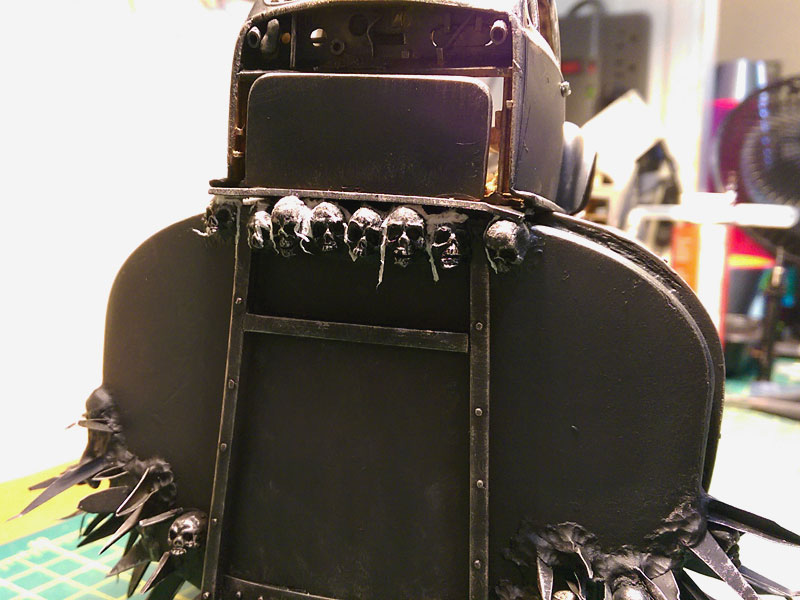 Skulls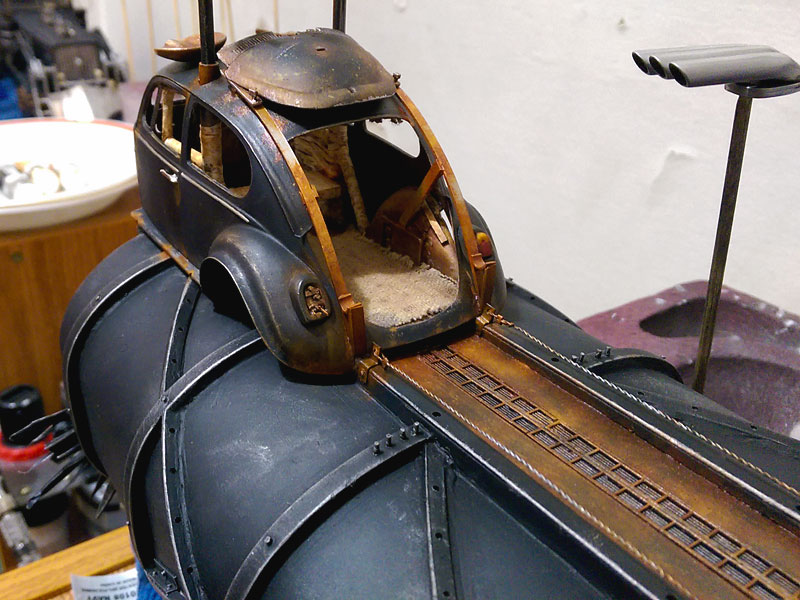 Rust
???
I decided I wanted a simple diorama for display. I had an extra VW bug lying around, so I Mad Maxxed it. I wanted it to be broken down and buried in the sand.
Love bug
Panel highlights, dry-brushed paint chipping, and rust streaks
Oil paints take forever to dry. AmIRight? After the rust coat went on, I gave it another matte coat and then used earth tone pastels to simulate dust.
Foam rock, real rocks, sand, and horse-hair grass.
I loved building this, but would never build another, so don't ask.
And that's all.
Last edited: