Master Member
RPF PREMIUM MEMBER
I am editing this first post as this thread is long and I think I can tell the story with this first revised edited.
Almost done
Long story short: Like many, I've wanted NIKE MAGs since they appeared in BACK TO THE FUTURE PART II in 1989. I have always been a fan of the NIKE and the hi-top and owned many pairs of NIKE and Jordans over the last 25 years - I was already wearing NIKE hi-tops before the film came out.
In 2010, I bought a pair of the Mark Poon MAGs and whilst very well made, they are not my size so I could not wear them.
Last year I found a Chinese made version which I was able to buy in my size [US10] in January this year. These shoes are known on these forums as "K-MAG (K stands for Knock offs) and there is a long thread discussing them and everything MAG. They K-MAGs are comfortable and I thought they would have to do until NIKE released something more affordable (if ever) than the 2011 MAG.
Like many, I felt the K-MAG needed corrections. Until very recently, I had thought I was not skilled enough to do a full tear down and rebuild, so I initially planned on simply modifying some of the parts only. What I planned was some modifications that would include:
Change out the Ankle Straps [I don't like the stitching and think it is only a matter of time before the hook and loop comes away]. After watching Jedifyfe's tutorials, I thought I would have a go at this, so thank you Jedifyfe for posting those most excellent videos.
Ankle Strap Buckle. It is cheap, flat and needs to go. The replacement part I have created is slightly larger than the current one on the shoe and is much closer to the actual part. This turned out to be a project on its own and I ended up building a Vac Form to make them and the Heel Cups. Mine have that padded look like the ones on the real shoe.
Mod the collars. This was as close to a rebuild as I was prepared to go at the time. As it turns out, I have been able to make complete new uppers. To do this, I had to make patterns and then learn how to sew. The patterns were made from images of the real shoe and using the K-MAG as a last.
Add clear soles. I already have another thread on this so won't bother discussing that much more here. LINK
I also have a
BLOG
about the build.
So on to some images.
A diagram of the real shoe. Note the position of the 'finger pull hole' in relation to the ankle strap.
The Original Shoe
The K-MAGs come in 4 different colourways and I chose white with black soles because it seemed to be the best of the bunch and the most wearable right out of the box.
Painting Them Grey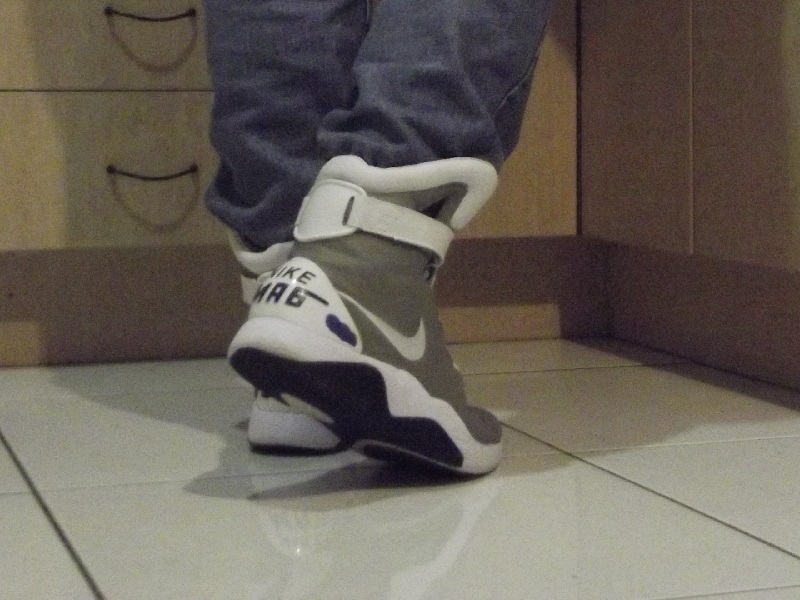 After some time, I realized white was just wrong, so after finding a spray paint made for upholstery, gave them a paint job and added some white SWOOSHES.
Adding Clear Soles
The creation of the clear soles was a huge learning curve and whilst they are far from perfect, they will have to do for this project.
Creating New Uppers
I've always wanted a leather pair of MAGs and these uppers are made from a kangaroo hide I was given. Also shown is the new Ankle Buckle and Heel Cups I made from scratch.
Almost Complete
I am still yet to glue the soles, so this is how the shoes should look when I am wearing them. I am almost hi-top complete
Anyway, if your still reading this, feel free to read through the rest of the thread. The good stuff starts about Pg6.
Last edited: