Master Member
RPF PREMIUM MEMBER
How much time did you spend on those, though? When you're evaluating the cost of the part, don't forget to include union rates for your labour.
A friend cut the pieces out and did the rough forming in an afternoon. I did the planishing and finishing work. Between the two of us... maybe fourteen hours? Granted, that's for the stuff mounted to the plate-carrier vest: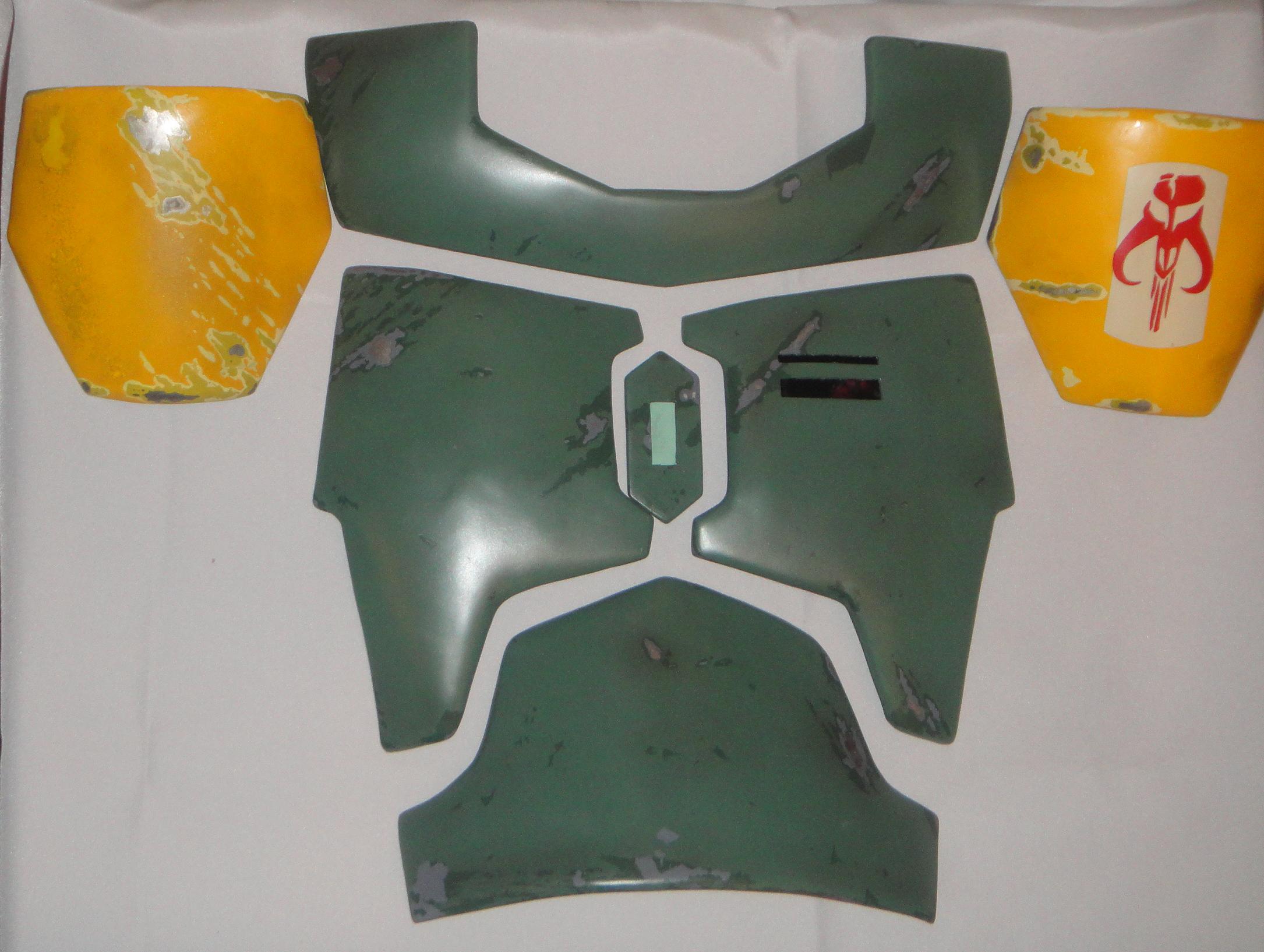 Vambraces and knees are much more fiddly and, for something like this, better suited to vac-formed plastic or cast fiberglass or like that. For a labor of love like a personal costume, they take ages, so not cost-effective for production. The backplate is optional for this kind of shoot, as, half the time, you wouldn't be able to tell whether he's wearing one, so that can be cast, too. And this version of Boba doesn't have groin armor. But the backplate and groin armor took about the same amount of time again to get where I am with them, and figure finishing should be comparable. It's
really
not that hard to make, and faster if one has access to more tools than I. I just have a propane blowtorch, tongs, and a couple hammers. If you've got a hydraulic hammer and an assistant, you could get it shaped out in less than half the time.
But honestly I very much doubt it's a money thing. Actors spend all frikken day in those costumes. They want the costume to be a lightweight and comfortable as possible. That's the biggest reason actors pull their helmets off whenever they can - wearing a helmet all day is super uncomfortable. I've done it for larps, and it sucked. (Consider, too, that the vast majority of historical helmets are also open-faced. The Greek Hoplite helmets that the Mandalorian helmets are inspired by were part of a set of kit meant to be worn for a few hours, tops; everyone else makes sacrifices for comfort even those it means they're more likely to get stabbed and, well, die.)
I have wicking undergarments and stay hydrated. The plates are shaped to me, padded, and fastened tight to the flak vest, which is also fitted to me. The finished plates themselves -- the ones shown above -- come to maybe six pounds, with padding and electronics and all. Strapped close and not hanging off me, I barely notice they're there.
Whenever I get around to updating my Mando helmet thread, I'll show the mocked-out cooling system. A couple of small noiseless laptop fans behind the back vent, ducts around the brow band, reduction plenum along the top of the visor to blow fresh air down over my face. Also, padding around my head. The two factors to avoid sweltering in a helmet are: Not allowing room for hot air to circulate around the head, and fresh airflow across the mouth and nose to prevent CO2 buildup. Yes, that adds time and complexity, which equal cost and risk of breakage, but it's certainly not insurmountable.
Heck, how many of us pull our covid masks off the second we get a chance? Three steps out of the store and I'm bare-faced again.
I usually forget I have mine on. Even with having to breathe through multiple layers of fabric. *shrug* Individual experience varies.
Anyway. I expect the show made the paudrons out of plastic to save weight, not money. I'd've prefered it if they'd used a silver plastic and painted it yellow, but I really can't blame them for not making a costume out of actual metal;.
Now you're getting somewhere. Jango's armor was cold-cast resin, polished. The intention had been to paint it like Boba's, but when George saw the buffed pieces being test-fitted on Tem, he liked the bare-metal look and told them to stay with that. They also made aluminum-infused rubber stunt armor. Between that and the urethane resin armor they used for the First Order Stormtroopers in the Sequel Trilogy, they very much have the capability to make opaque armor out of a variety of metal or metallic-looking materials, and didn't. Even painted vac-formed ABS would be more opaque than that. It's unnecessarily cheap. And by now they
know
how obsessively we pore over the minutiæ of the costumes and sets.