This is my first attempt at a Predator suit so bare with me. I have tried to document as much as I could on this.
Starting off with the Mask and Celtic Bio Helmet.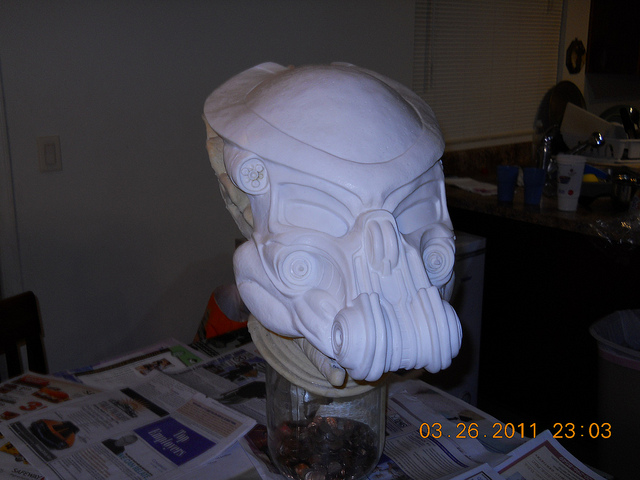 Prepping for and Airbrush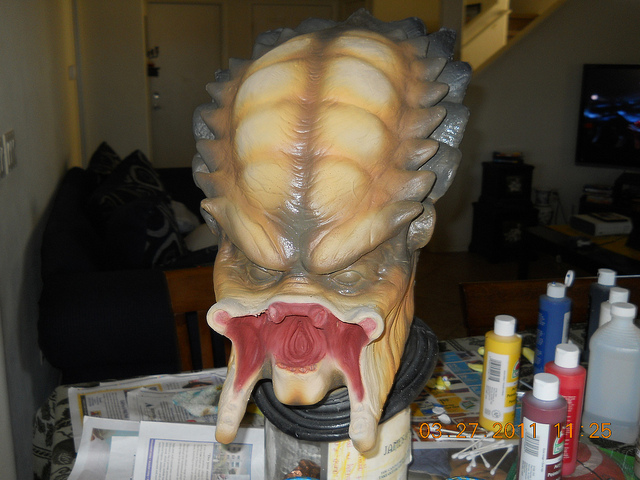 I altered the mouth opening as this was originally a Open Mouth cast and modified it to be a closed mouth to allow for the BIO.
Latex and Painted Dreads
Making Dread Beads
I used Air Dry Soft clay purchased from Michael's got a small tub for about $4. Used a high-lighter marker to mold around. Made the basic shapes. Now it takes about 24 hrs to dry and get into place. However what I did is had my ceiling fan on high while I was making them. By the time I got to my last one I wanted to make the first ones were already starting to harden. So at that point I got a wooden Chisel and then used that to carve into the clay the shapes and designs I wanted. It was hard enough to carve and yet most of enough to not flake or dust away, it was just right. If you wait till they are completely dry, YOU WILL HAVE A MUCH HARD TIME CARVING THEM. Found that out with the first one made as a tester.
Keep in mind it is clay so it has a slight weight to them. Its not as light as resin by no means, but its not that much weight and it does make your Dreads swing a bit easier and flow easier. Just my Opinion and how and what effect I wanted. You may be looking for something different. Just a cheap way if your on a budget and have plenty of filler time.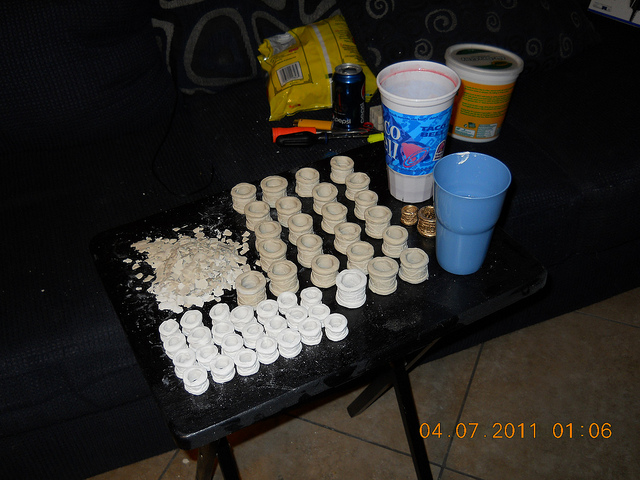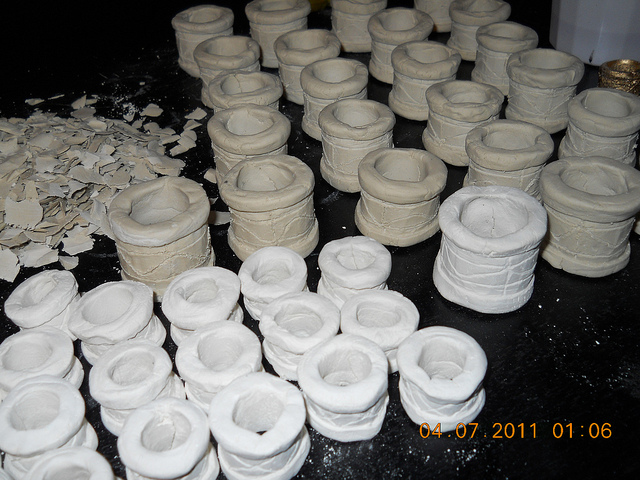 Close up of almost finished mask with Closed mouth and dreads, beads and some quills installed.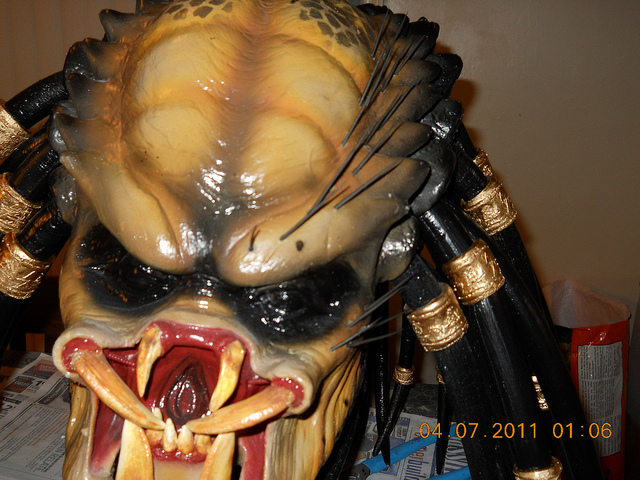 Side shot with both colored beads on now.
Bio first coat of paint.
ARMOR TIME - FUN WITH FOAMIES!!!
Most of the Armor, was provided by templates used from Vinmanmac at his thread
http://www.thehunter...showtopic=10450
Thigh Armor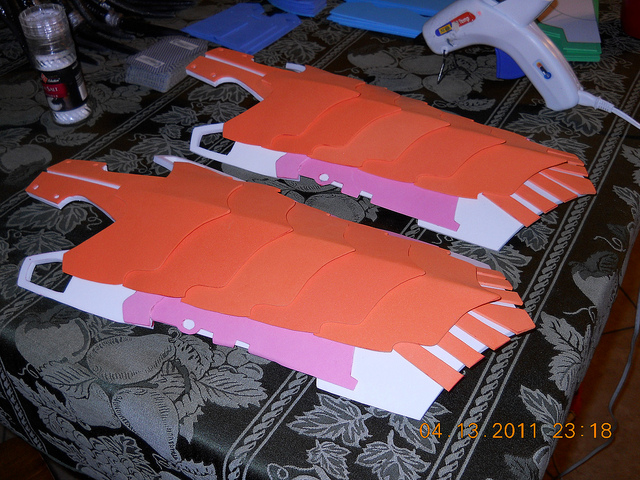 Various other pieces.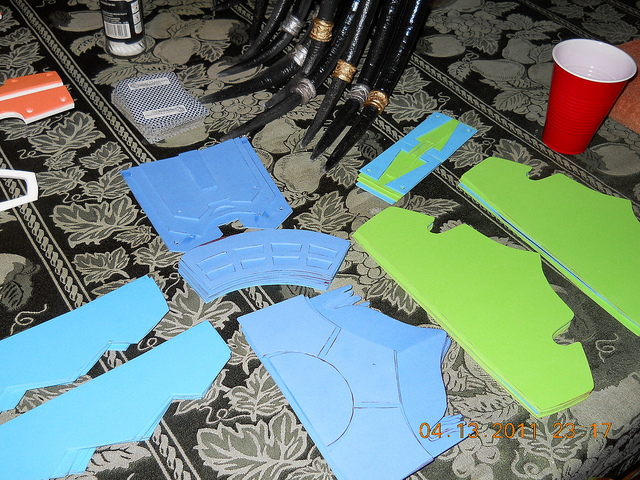 Thigh and Shin Armor
The Shin armor was probably the most difficult part as I couldn't find any decent posts or searches for any of these done. I seen others AVP Shin pieces they have made, however I felt they were not right. Looking at reference pics and the AVP movie over and over again and pausing. I noticed they were actually quite bigger than what others have made. So I began making mine and used foamies alont with Gym Mats purchased at Walmart. I took one of the 6 pieces of the Gym Mats ($19.99) and used it as a base. I have large calves (martial arts since I was 3 years old will do that to you) to begin with so I had to mold these around my my bottom half of my legs.
Because of the thickness on the foam mats. I had to place them in the oven and used the setting to Broil. heats up to a nice 500 Degrees fast. Placed them on a Pizza Pan. and into the oven they went, lef tthemin there for literally about 35-40 seconds, they will be HOT. I had a fan near by on full blast. MAKE SURE YOUR WEARING PROTECTIVE GEAR AND PANTS! As soon as I pulled them out of the oven, I wrapped each piece around my leg to get the shape and immediately had fan blowing to cool into place. Once that was all done. I was able to do the rest. The end results below.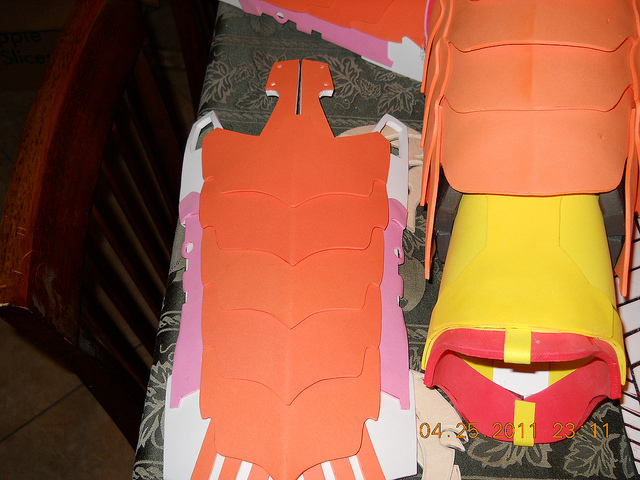 Chest Armor
Gauntlets
For these I used reference pics with a combination of Vinmanmac's bottom Gauntlet template.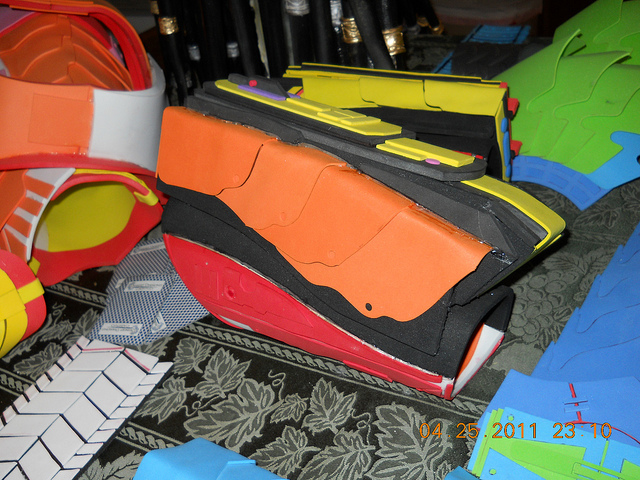 I had to Eye ball this as I only had 1 reference picture at the time.
Shoulder Cannon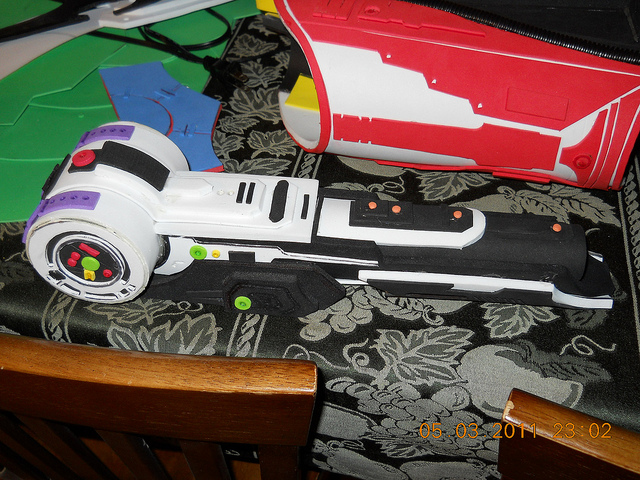 Backpack/MediPack
I referred to Vinmanmac's backpack build for this, and used a lot of his ideas for my build. He doesn't have any templates for this so Eye balling played a major factor.
On my backpack its 75% Foamies. I used:
* 3 inch bent PVC curve pipe
* the bottom of a Tupperware bowl
* empty Acrylic Paint Bottle
* 2 small pieces of Split Cable Tubing
* a piece of 1/4 inch Plywood for the base pieces
A soldering iron was also used to burn in the writing and fine details.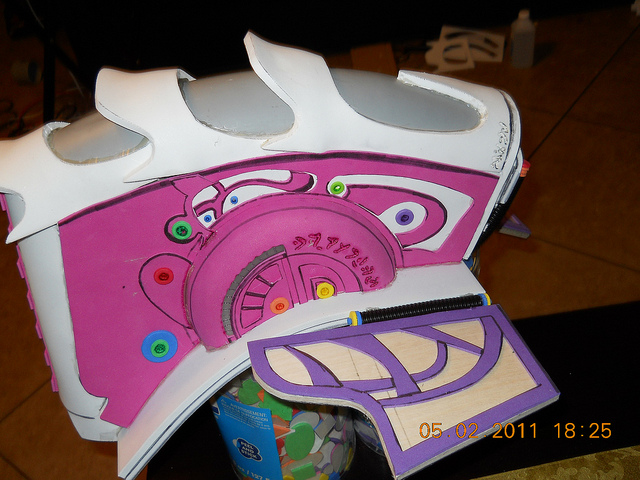 Please let me know your thoughts. Good or Bad.
-James