Okay, i'm firing up a build thread/journal on some armor i've began working upon.
for those unfamiliar, the source material is from a series of mostly portable games which play like your typical mmorpg, crafting, gathering, farming monsters for pieces to do additional crafting, and fighting huge monsters usually on your own, or with a group of upto three other players.
but the game has a very strong level of action, and difficulty.
fighting the big monsters isn't easy, but really satisfying beating them, and i've always enjoyed how varied all the different suits of armor and weapons there are in the games, i'm fairly sure the number of different weapons and armor are numbering the thousands now.
there is no lock on feature, and all the different weapon types have very different play styles, some letting you dodge around, others letting you block some incoming blows with well timed button presses, and others which focus on damage to the max, and trying to crush the monster you are hunting before he crushes you.
i own a few of the artbooks (there is a US release by UDON of one of them which is significantly cheaper than the japanese hardback versions, and if you find the art style interesting, you wont be disappointed) and i've played my fair share of the US released games, and now i am set on trying to make some high detail armor from the game.
this is new ground for me, i've never tried organic armor, or anything like bone, but i'm feeling pretty confidant and i'm off to a good start.
i had a look at the female version of the same armor, in a japanese statue that i already owned (yeah, told you, i'm a fan, i have quite a few monster hunter knick-nacks)
and really liked the texture of the bone plates, so i'm using that as the basis of my design.
first up is some bracers,
Sintra, three different pieces, each slightly differently sized.
Heat gun, and then sharp bends
more sharp bends
add some organic curves
cut some slits into the surface to give a slightly more craggy, textured look
then come the horns, green floral foam, i learned this trick from one of Volpin's more recent builds, keeps the weight down, and is cheaper on what i'm going to cover the foam with.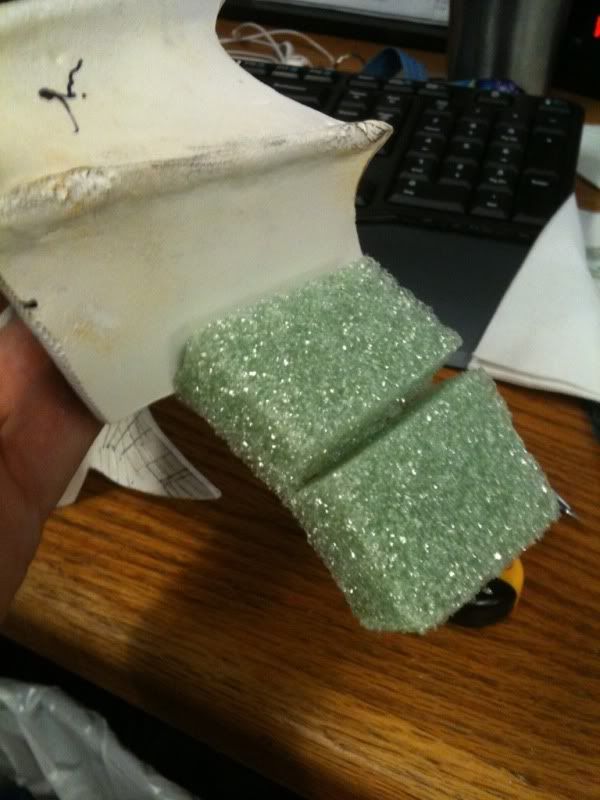 shave it down.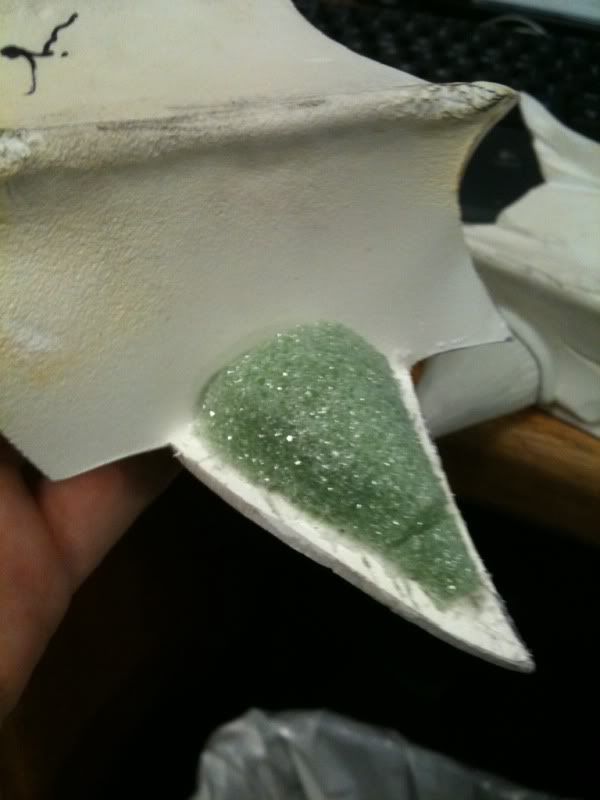 then build it up with apoxie sculpt.
then carve in some horn like texture (you can, and i have done this while the putty was still soft, but i had a few set on me in the nice california heat, as i was working with the others, and that is when i decided to take a few shots for this log)
next up will be the shoulders!