Master Member
RPF PREMIUM MEMBER
OK, I know what you're probably thinking - "WHY use a real Mauser for a Greedo Killer?!"
Well... first, a bit of backstory on the gun...
Way back in 1991 (in the Before Times) I was enamored with
The Rocketeer
. And I REALLY wanted a Broomhandle Mauser because of that. Unfortunately, I was young and not so knowledgeable, and I didn't realize/understand that it was a Bolo model that was used in the film. Remember, this was before the internet - I couldn't just google it and find that info out within a couple of minutes (accompanied by a plethora of pics).
Cut to 1992, where I'm at a gunshow in Denver and I find a dealer who is selling Broomhandle Mausers. And they were all in pretty rough shape. Again, I was young and not so knowledgeable... and also poor. So I bought one that was rough - but not a complete piece of crap - and it was within my limited budget. It was pretty much shot-out and a virtual smoothbore. In conversation with the dealer (who was very nice and really helpful) I began to gain a smidgen of a clue...
Following his suggestion, I picked up a copy of Shotgun News and discovered resources that could potentially help turn my sow's ear into not exactly a silk purse, but perhaps into something that was actually functional. I found a company in Washington (that is still in business today) that did barrel lining and reboring. So I fired off a letter to get more info...
Remember, this was back in the days before email - snail mail or a phone call was it (the horror!) I ended up sending the barrel/receiver to have it bored out to 9mm. At the time they also offered a few replacement parts and springs as well as new grips, all of which I gladly ordered in addition to the barrel work.
The surface finish of the gun was an entirely different problem - a fair percentage of the bluing remained, but it had gone kinda' brown. It was also completely covered in moderate pitting, with some areas more severe. In consultation with a gunsmith, it was suggested that any attempts to take down the surface would quickly become very expensive and could very likely result in the loss of many (if not all) of the markings. It was then suggested that the probable best course of action would be to just bead blast it and then re-blue it - this would result in a finish sort of like Parkerizing (but not quite). Not ideal, but not the end of the world either. So that is what I had done. Unfortunately, the guy blued *everything* (which isn't correct for this gun). But again... young and unaware/not that knowledgeable.
Anyway, with the gun finally refinished and put back together, I took it to a gun range to try it out. And that turned out to be less than ideal as well. As I recall (vaguely), every other round jammed in one way or another - it had a serious feeding issue. After putting only 10 rounds through it (with difficulty), I'd had enough.
Feeling rather dejected that I had fallen short of attaining my dream gun, and had instead ended up with something which had mechanical problems on top of a less than ideal finish, I put the damned thing away in a closet. I would drag it out and look it over every couple of years or so, but it has pretty much languished in storage for about 27 years.
Until now.
And here it is, in its current state: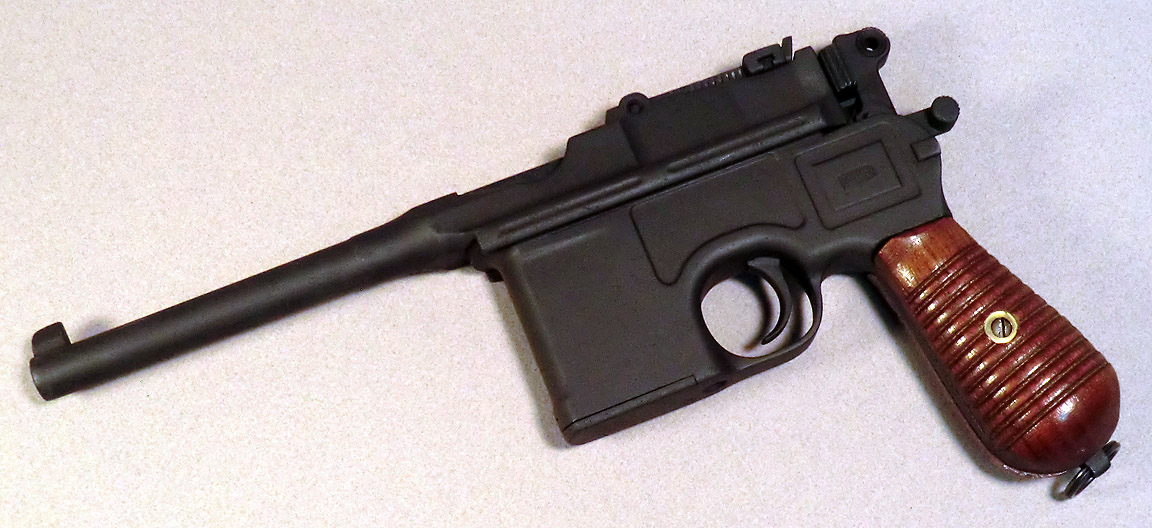 I could possibly figure out the feeding problem with a bit of tinkering (or an actual gunsmith), but I'm not really inclined to do so. Also, I've had serious doubts all these years that I could get rid of it, since no one would probably want it, with its cosmetic and mechanical issues. So I've decided that the next best thing to do (the only thing to do?) is to turn it into a blaster. Not sure yet if I'm just going to leave it as-is, or if I should go the crazy route and try to sand it down and re-blue it.