Here is mine.
Since the outfit needs to look sleek and I had it when the shirt starts to become untucked from movement, I had mine made as a one piece jump suit.
The main piece is made froM 100% worsted wool gabardine suiting material.
Early 2001. This is when I first received it. I had it made and sent to me. For not having an actual fitting, it turned out pretty well. I made the belt myself. It does have the gray panel under the flap. The boots are actually women boots. I wear a size 8.5 so a size 10 fits. I noticed there were a lot of cheap priced leather boots out there that for women. It was just a matter of finding a pair with unisex style heel and sole. The nice think about these is that they had an inside zipper so it helped give that fitted calf look without having to go to an expensive riding boot.

This is later in 2001. I had the vest made by JK2 (remember them?) from 100% raw silk. I am told this is what the real one was made from. It looks very good in person. You can't tell but I had the suit fitted to tailor closer to my frame (chest, shoulder, arms, etc..)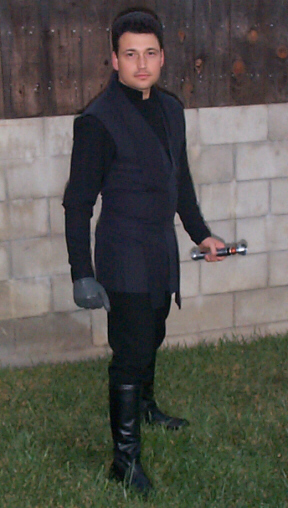 SDCC 2002. By this time I had also had the collar replaced. It was not laying right against the next. I had it replaced with one cut on the bias to allow it to wrap to the natural curve of my neck. I also was able to pick up a pair of clearanced rubber riding boots. I think I preferred the ladies boots better. I probably need the obi shortened. Not sure I did not wear the belt. I guess I felt I needed to wear the hilt and the only hilt I had was the hero. The tri-ring is on the same side as the control box and that will dig into the leg. Plus that tri-ring and and that hook do not go very well together.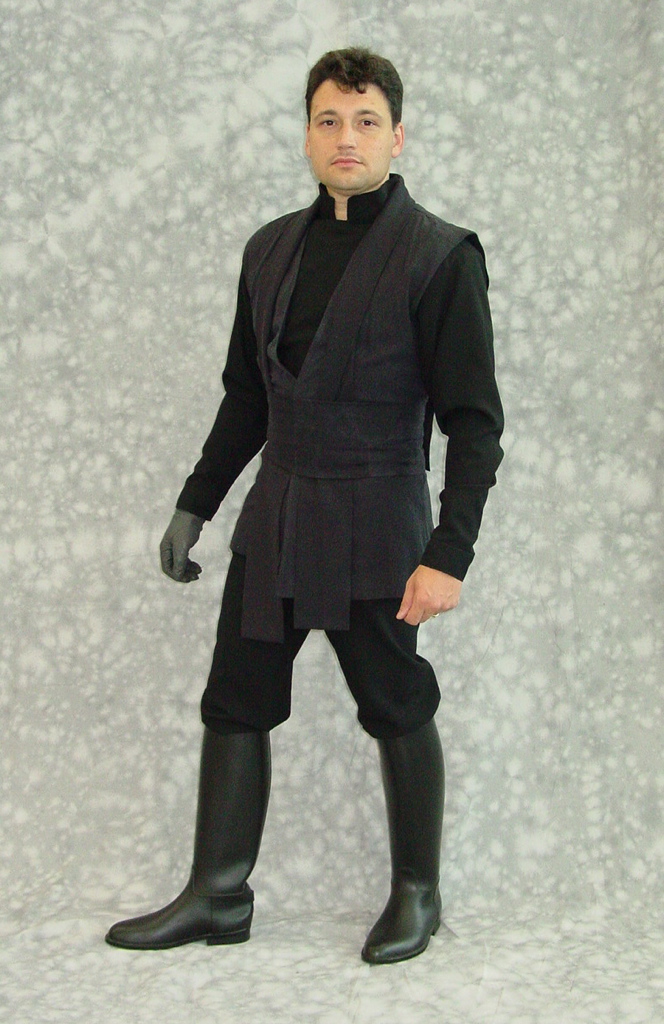 I still have the outfit but 2002 was the last time I wore it. I have a cape I made around 1995 but it before we knew about the brown color and it's just main from a common found cape pattern. Nothing really special.
Last edited: