Hello to everyone reading my first post on THERPF,
Today I will be sharing with all of you my version of the Pip-Boy 2000 MK VI, using the base kit made by
The Wand Company
, and highly inspired by both
YourGeekFix
(Jeromy) and
Esso Bregor
(Roger Bosse).
This project started out after seeing a random video online for the
Pip-Boy 3000 Bluetooth Edition
, to be more specific, what caught my eye was a video about the USB Holotape that came with this collectors edition Pip-Boy, which got me to then investigate the actual Pip-Boy and "re-spark" my interest in the Fallout Universe and wanting to "own part of it". I have always loved the Fallout universe, I started with Fallout 3 in 2008, and ever since then I have been hooked to the Post-Apocalyptic setting of Fallout.
Now, I could go on for quite a while about my love of Fallout, but thats not what this post is about (and I feel that it would be way too long). Aaaanyways, getting back on track, after looking around at the Pip-Boy 3000 Bluetooth Edition, I saw that many people reported the same issue, that the screen stopped working after a while, or that it would just stop turning on, some of the reasons that it stopped being sold. Seeing that I couldn't, and didn't really want to risk, buying this version, I decided to look around at other options, and that is when I found The Wand Company's version of the Pip-Boy 2000 MK VI.
I investigated the Pip-Boy 2000 MK VI, and started looking at modding videos on Youtube, people that took the base kit and decided to make it their own, adding custom paint-jobs, including bluetooth speakers, flashing screens, etc. (The video I watched quite a few times was from
Punished Props Academy
). Until I finally found YourGeekFix's video, specifically
Part 1 of his Pip-Boy series
. After watching the video "religiously", I finally found an unopened kit second-hand and bought it straight away, along with a BlackBerry Passport (specifically SWQ100-1 model).
After anxiously waiting for the BlackBerry Passport and Pip-Boy kit to arrive, I receive the BlackBerry Passport in the mail. Now, luckily the seller mentioned previously about the "
BlackBerry 10 Services being shutdown
". In theory you would think "I am not going to use any Blackberry Services, so I should be fine", and in some specific cases you may be right, but... if you so happen to receive a factory reset Blackberry Passport, you will most likely run into an issue when trying to get through the quick-setup. Cutting a long story short, when you get to a certain point, the phone tries to access BlackBerry servers in the background, and seeing as they are shutdown, it "locks" the phone in the quick-setup menu. Luckily, there is a relatively
easy solution using BlackBerry Accesibility
options.
So I now had my new BlackBerry phone, and shortly after, my Pip-Boy 2000 MK VI kit, so it was time to get started, after a photo session of me opening up the kit:
After the photo session, I decided to first start working on the BlackBerry Passport, following YourGeekFix's guides, managing to get the following:
Success... or so I thought, little did past James know, that there was sooo much more waiting ahead. So, after getting to this point, I started working on the actual Pip-Boy 2000 kit, and eventually got the "Monitor" part to the point where I could try inserting the screen, and I found that the BlackBerry was slightly too big in order to fit the back plate on the Monitor: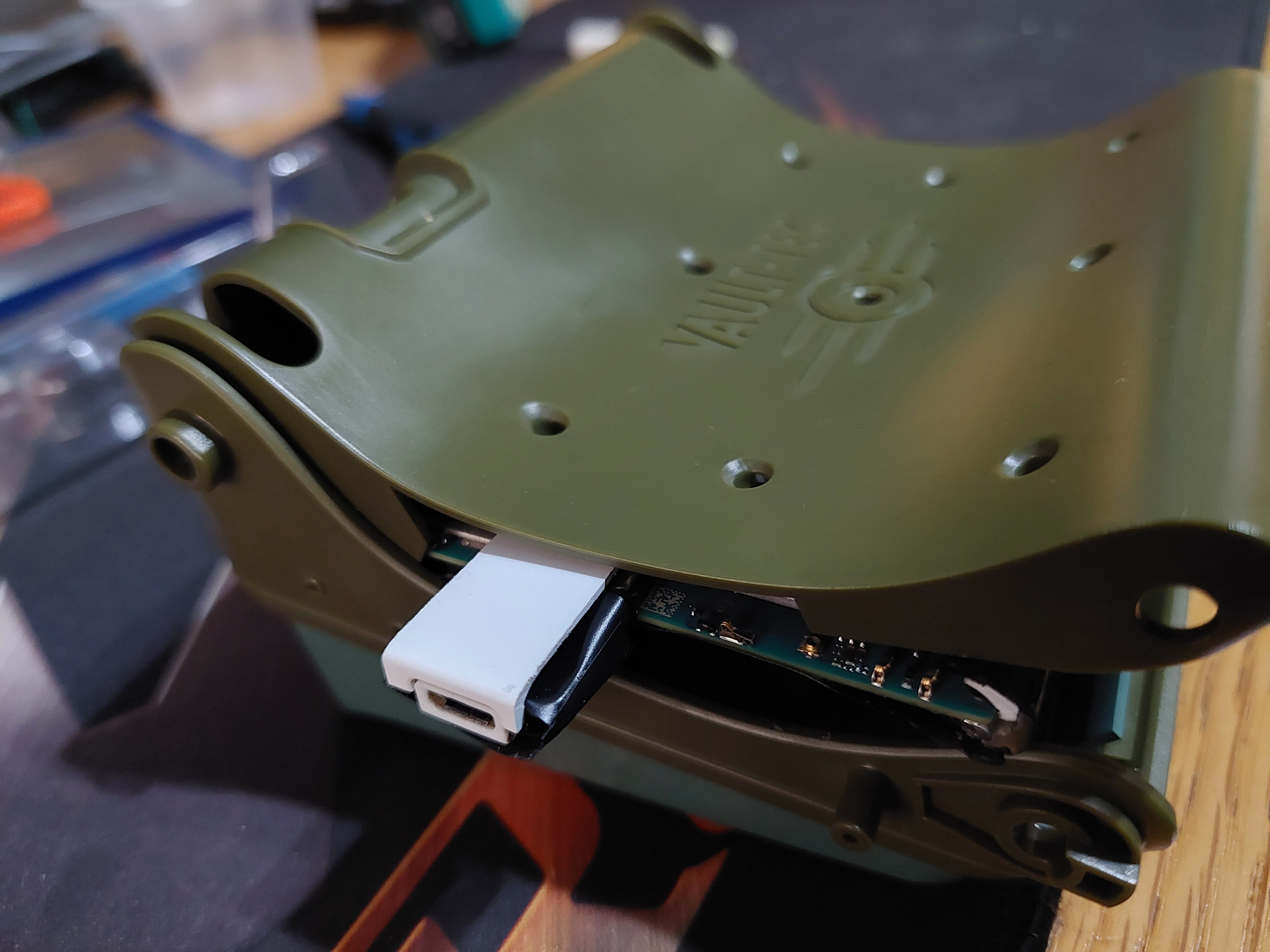 So, at this point in time, I was deciding to make my Pip-Boy 2000 slightly different from YourGeekFix's, I thought I could leave the original screen on the BlackBerry, turn it such that the USB port was out the right instead of the left (going through the right-side modules), after seeing the following
project from Vinz
. Vinz managed to get the Pip-Boy app to rotate using the
Rotation APK
, so I thought I could make use of this for my idea to avoid buying a second screen.
After cutting away at the BlackBerry's metal frame, the motherboard (slightly) and the Pip-Boy plastics, I managed to get the phone to fit inside of the Monitor (although it was an extremly snug fit):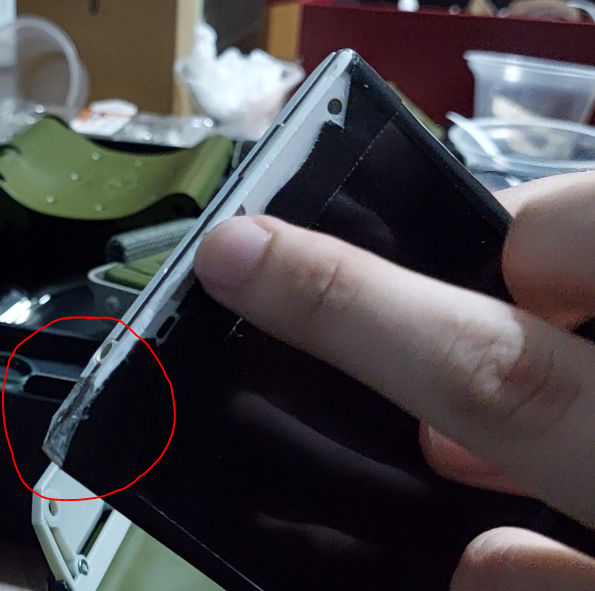 Once I managed to fit the phone inside of the Monitor module, I sadly started to face the reality about the issues of having the USB facing the other modules, meaning I would need to really cut through most every module. So I decided to plan how to connect a second BlackBerry Screen just like in YourGeekFix's videos, and in the meanwhile, try moving on to the radio module, my thought process being "if I don't manage to get the phone working, I at least want a working speaker module to bluetooth my Fallout Playlist to".
So I managed to find an old small Bluetooth speaker laying around the house and started taking it apart. It was slightly larger than I thought, and just barely managed to fit inside the radio module, but I did manage to do so without making any major modifications: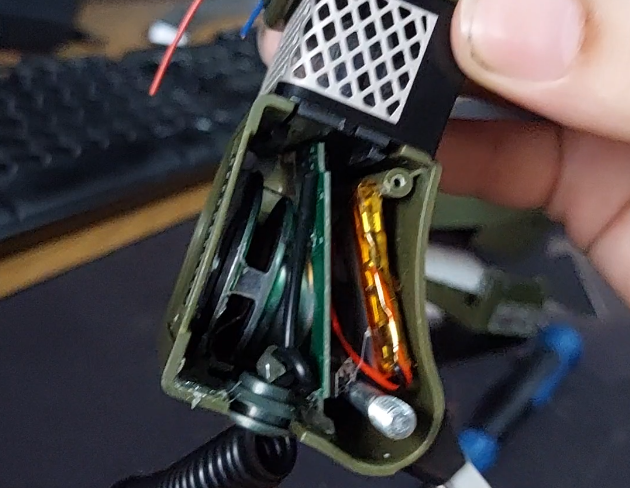 Once I managed this small win, I decided to try going back to the screen, and my hot streak took a sharp turn.
I managed to find a cheap-ish BlackBerry screen online and ordered it. After 2 weeks of anxiously waiting for it to arrive, I receive the screen, the only thing is that it wasn't the screen advertised (if anyone else has seen YourGeekFix's videos, you should know that there are two types of Passport screens, one with a "back-plate" and one which is only the screen). I ordered the "only screen" and got the back-plate, which meant using a dremel to cut down the plastic around the ribbon cable until it was long enough to move around.
After finally getting everything ready, I take a moment to sit down and look at connecting the new screen to the motherboard, and I sadly make a slight mistake and fry the motherboard...
So, BlackBerry screen replacement 101, the ribbon cable on the screen can go on "the correct way" and "upside down". If you connect the screen correctly, all is good, if you connect it upside down, you break a perfectly fine phone and get extremly upset with yourself...
After going down a small downwards spiral, I manage to pick myself up and decide to take the phone to a repair shop to see if anything can be done (even though I was fairly sure it was quite dead). While the repair shop was looking at the phone, I decided to finish the Pip-Boy build with the bluetooth speaker mod, to see what the final project would look like (and try to cheer myself up)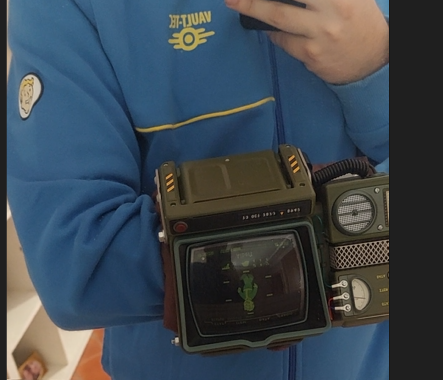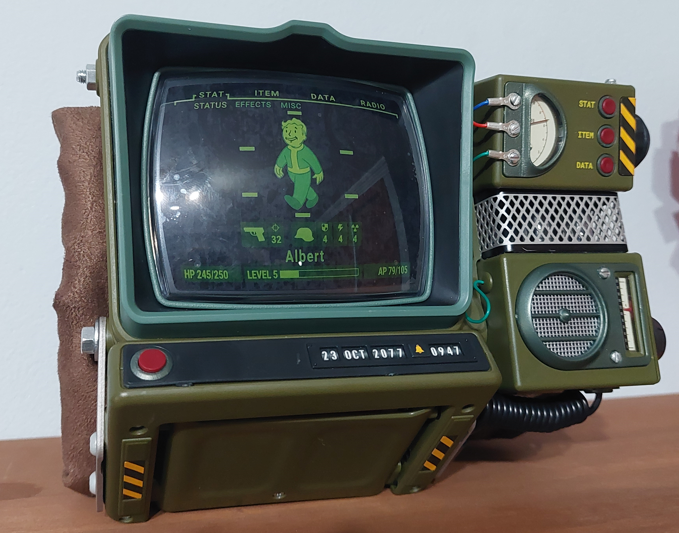 And I will leave you all on this Cliffhanger for now..., or at least until tomorrow when I should have enough time to finish writing up this small novel it seems I am preparing.
Thanks to all who read this far through, stay tuned for part two!
- James
Last edited: