Master Member
RPF PREMIUM MEMBER
Hi,
Since the discovery of Elstree saber, the discovery of the 4 mystery rivets on the bottom of the ANH Graflex hero saber and the resulting confirmation that the promo images saber being the hero saber, I've been asked by several members to determine the accurate position of the grips, D-ring and rivets. By perspective matching a 3D saber model with various photos from various angles, I've been able the come up with a configuration of the grips which is reasonably accurate. Based on this, I will create a new WannaWanga blueprint for this saber, which requires urgent updating!
Here is the first result. I have given each T-track a separate color for easy detection: cyan, blue, magenta, yellow, maroon, red and green.
The front of the saber is in the promo pic configuration and is also slightly rotated from one pic to the next. I left out the D-ring itself, because it's rotated differently all the time.
I will soon post the updated blueprint here as well, together with a brand new grip guide for an accurate install (STL-file for 3D printing).
Please let me know what you think!
UPDATE (October 25):
I updated and finished the perspective matching for the grip positions and lengths. This is my final result. So accordingly, I also created the new blueprint for it.
And I designed a grip guide which I'm currently testing. It features:
6 rivet hole positions (the 4 newly discovered rivets and 2 for my D-ring clip)
dimension of each T-track
reference indication for the clamp position
accurate placement of the T-tracks (even with the side rivets first installed)
I am also thinking of adding another ring for straight fixation of the grips. I'm not sure this is needed though. And I want to include an option for 30 degree cutting of the corners.
This guide will go in production and I will offer them on my website soon (with the usual free shipping worldwide!)
Thingiverse / STL download:
This is the Accurate Grip Guide for a extremely accurate Luke ANH lightsaber build. It is reverse engineered from various promo & BTS images of the screen used hero prop. The guide part contains the location and lengths of the 7 grips (fits WannaWanga grips) and it also contains a drilling guide...
www.thingiverse.com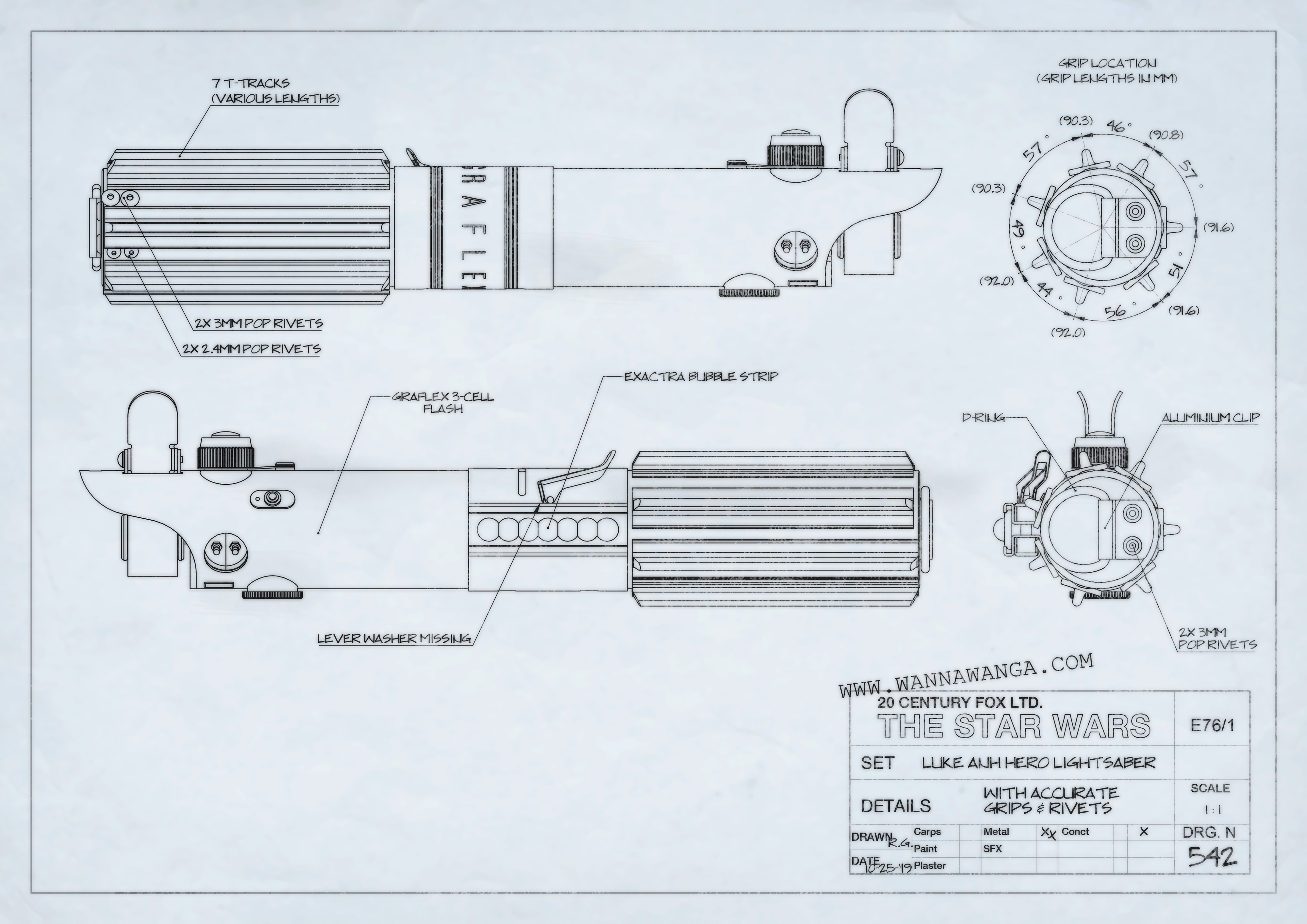 Last edited: