Master Member
RPF PREMIUM MEMBER
I decided to start a new thread for this project: WannaWanga accurate (unidealized) ROTJ Darth Vader's stunt saber parts.
Rather than adding to my 2014 thread (
Various OT lightsaber WannaWanga parts (new ALU MPP shroud)
) I think it makes sense to start a fresh one for updates, feedback and discussions.
Since 2015 I have received many requests for the development of accurate parts for this lightsaber. Back then I tried it, but I gave up quickly when I started to realize how complicated this saber was and the quantity of all the unique parts in this saber.
It's a fascinating and weird saber!
Design
Last November, 2021, I finally had a fresh restart after I was challenged by my Dutch friend
Sym-Cha
who asked me to re-examine the known template for the holes in the Graflex top. I jumped on the challenge and made a new reverse engineered 3D model and refined it based on many reference photos, most of them taken at the famous MoM exhibition.
Here is a screenshot in Rhino3D where I combine and match the perspectives of the 3D model with the images and refine it. I keep on iterating until I feel that I'm done. It's a painstakingly slow process, but the result is a very accurate 3D representation of the prop.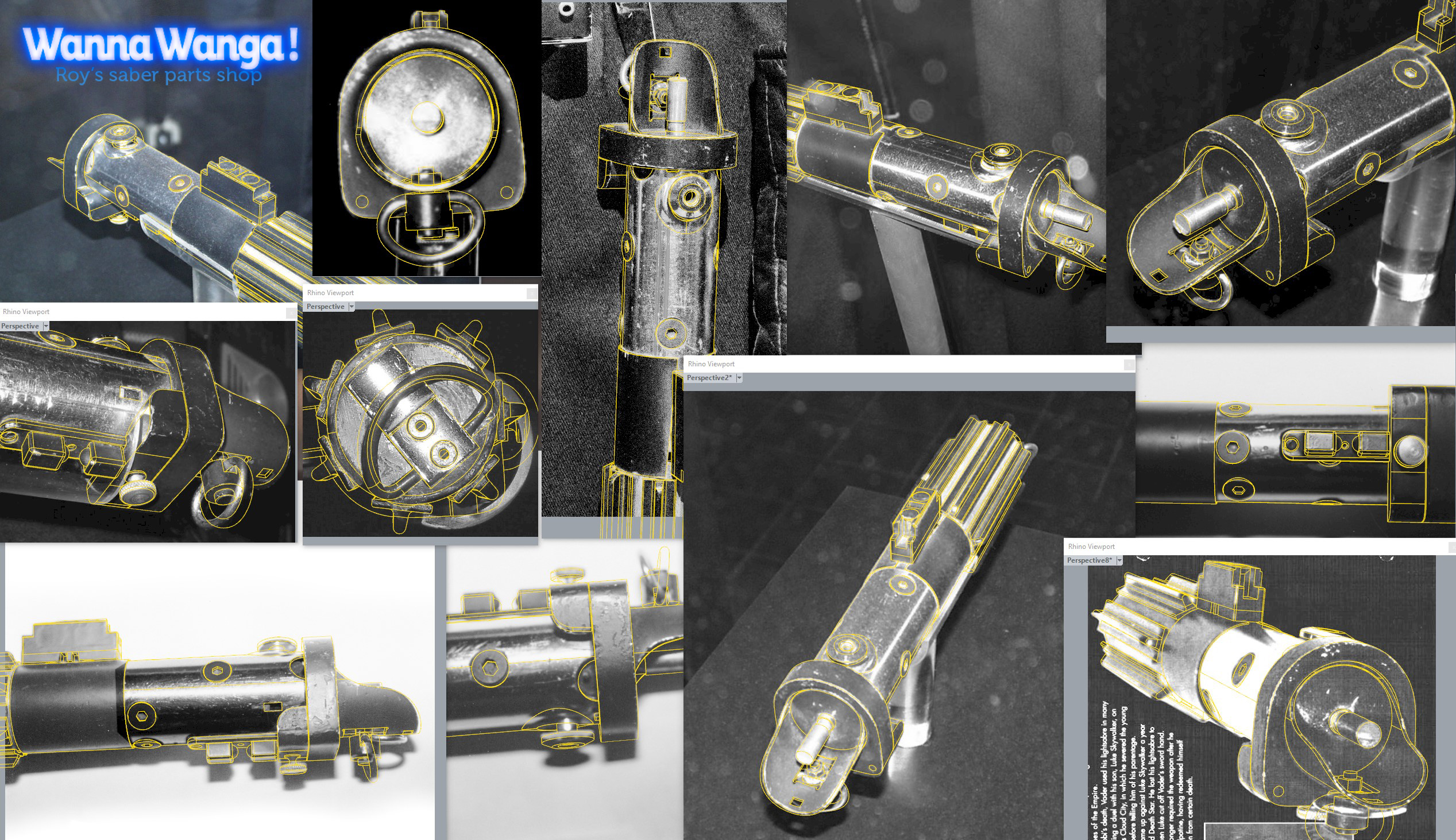 After that I use another CAD program (Solidworks) to actually engineer all the part for manufacturing. I also posted some images of these results on my Facebook page and got some good feedback. Thanks to
teecrooz
thd9791
and
Sym-Cha
for their feedback and insights.
I took a new approach on the way I see that the shroud was assembled: two separate metal parts, connected with two rods and 4 set screws holding it together. I agree, that's a lot of work for a custom made prop part, but it makes sense from what you can see in the images.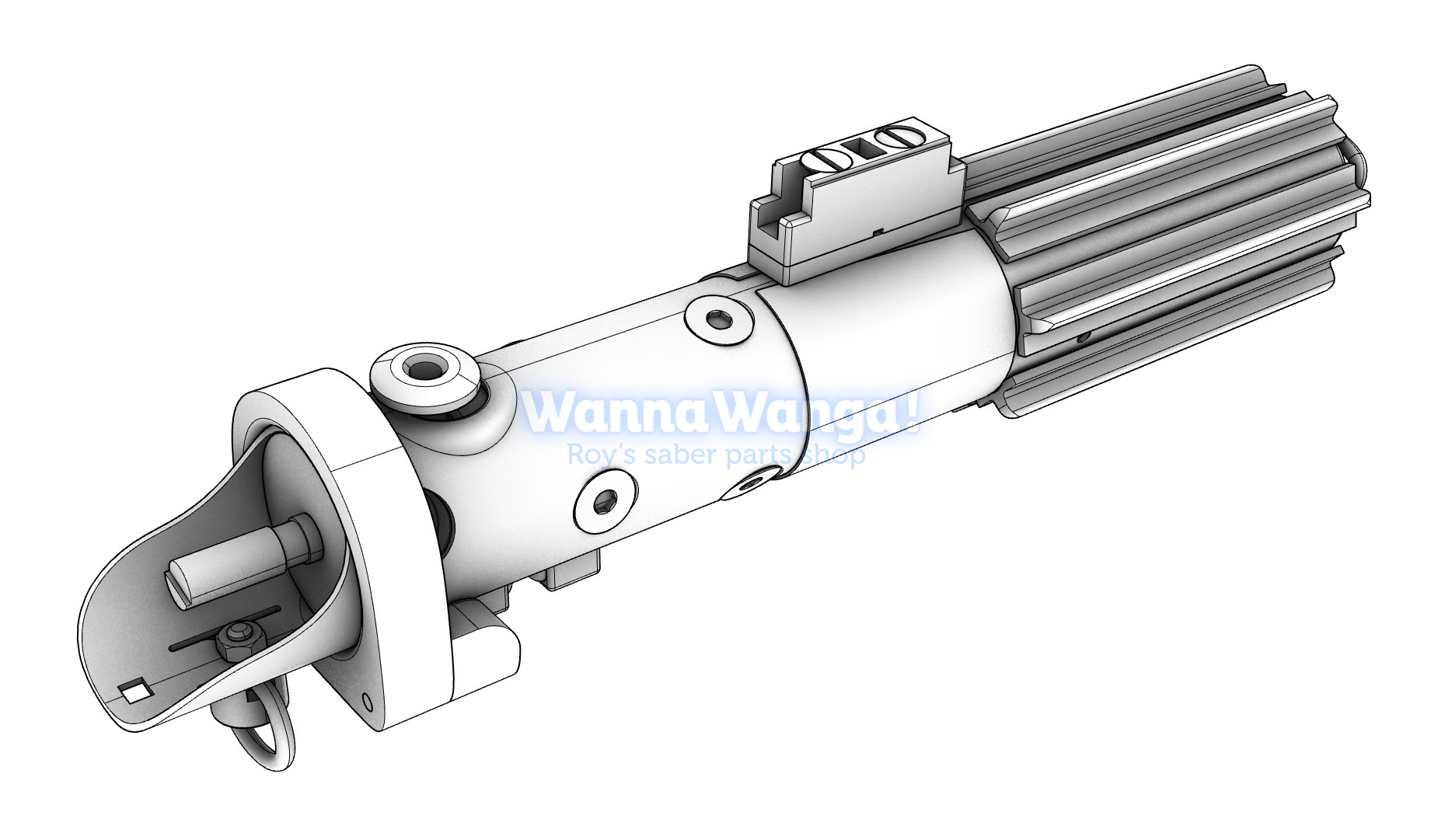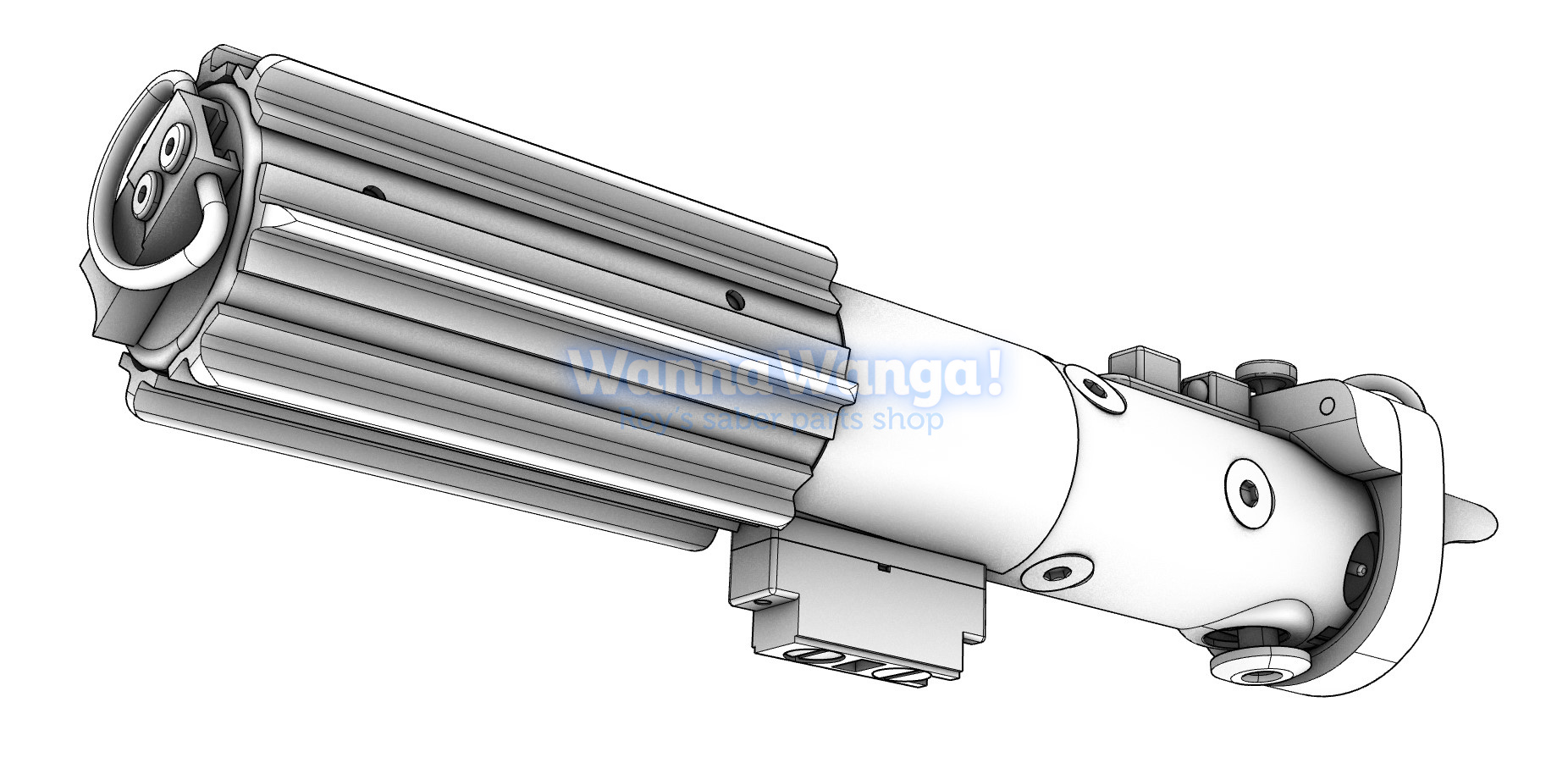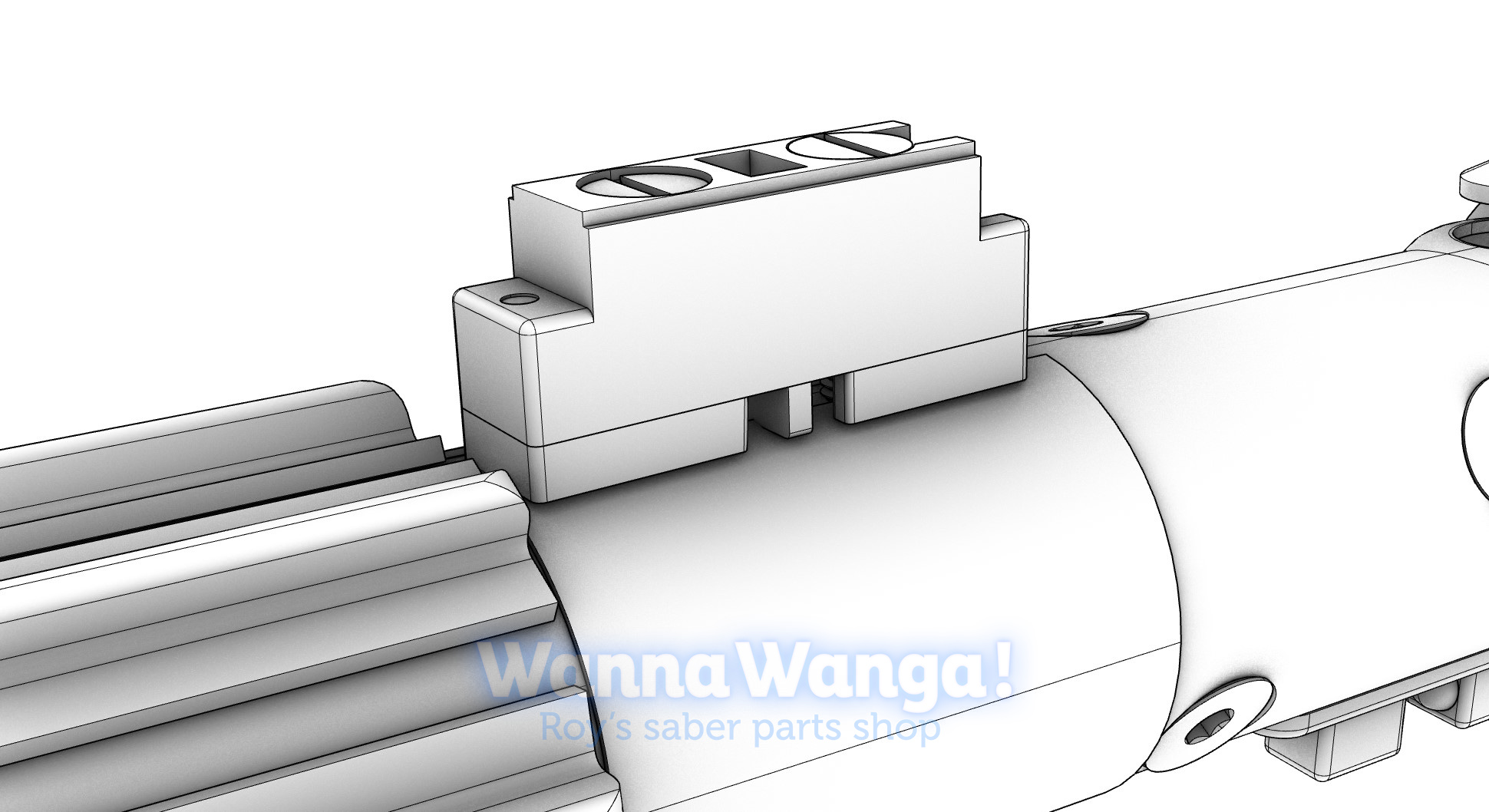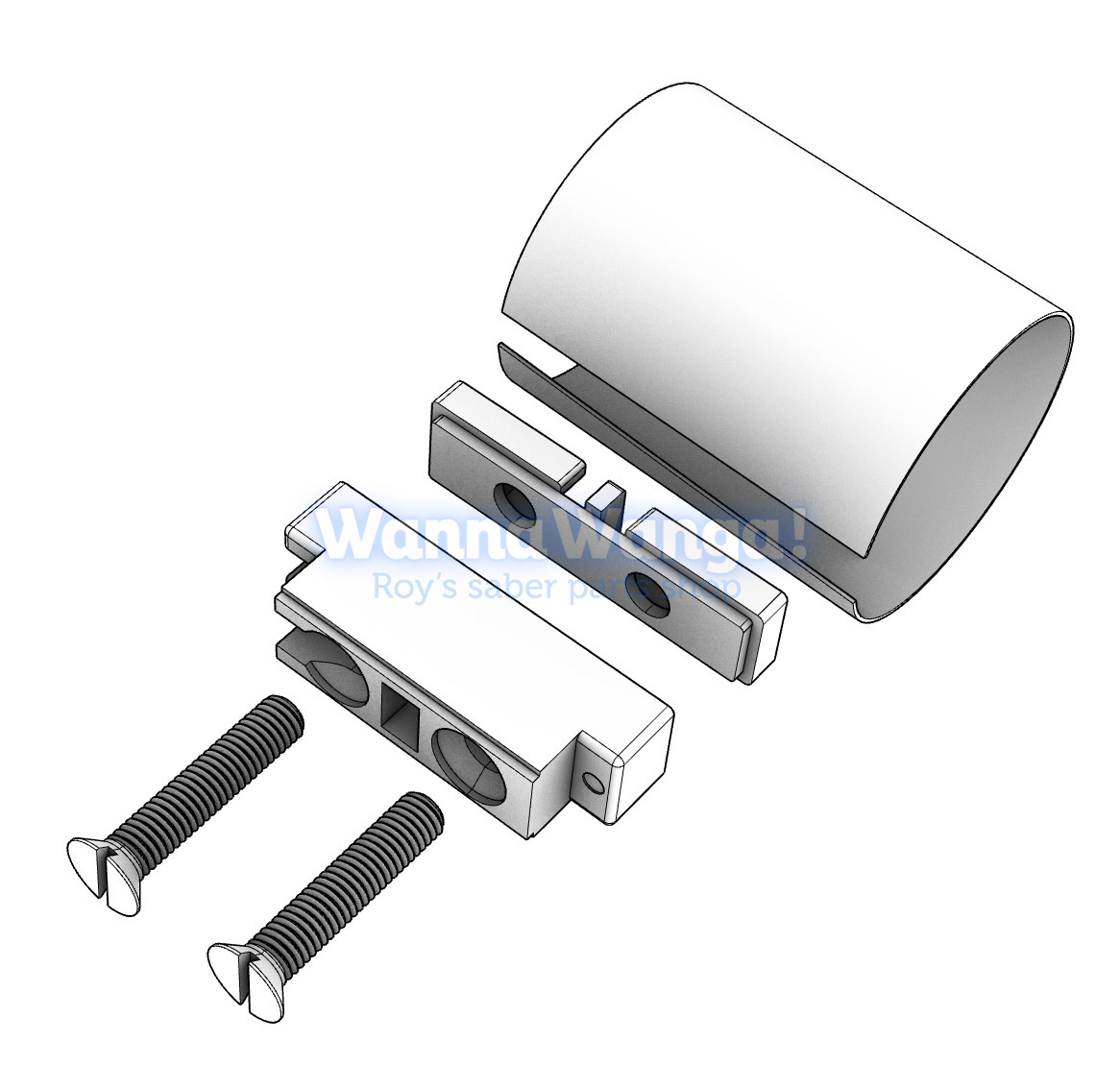 The saber is based on a (vintage or replica) Graflex top and bottom. Those will not be included in what I will be offering. I have thought a lot about including the Graflex part, but so far I haven't been able to source them. So for now these need to be prepared and drilled with my new templates.
I created a new blueprint:
https://wannawanga.com/wp-content/uploads/2022/05/Blueprint-DV-ROTJ-Stunt-scaled.jpg
And I made two templates, one for the top and one for the bottom:
Templates – WannaWanga
With the design ready, I took the decision to start manufacturing the following parts:
Shroud assembly: aluminium parts assembled with rods and screws plus knurled thumb screw
Control Box: two resin parts and two flat head screws
Clamp band: sheet metal part, rolled in the correct shape.
Front D-ring assembly: red button (resin), D-ring, a steel screw, a washer and a nut
Kobold clip with D-ring: the same as my existing Kobold with D-ring (mat chromed brass)
Valve: the chrome steel part that sits in the Graflex lens socket
Hex screw: black countersunk screws without any marks or numbers on them.
Interior parts: a connecting core part with the front disc and a pin sticking out in the front
Grips: 7 T-tracks (I happen to have these already! )
Double Ball Catch: initially, I hadn't included this part in the list, because I was kindly asked by a RPF member to skip development of this part to give him and his girlfriend a change to give it a go in actual pressed brass sheet metal. Unfortunately the trials were unsuccessful and now I will include it. For the time being it will be a resin part. I don't see how I could make it as a pressed metal replica.
Here is a small video of how it all assembles: