I'm a HUGE HUGE HUGE fan of Rian Johnson's first two flicks ("Brick" and "The Brothers Bloom," for those who haven't heard of him. His new movie "Looper" is a time-travel flick with Joseph Gordon-Levitt playing a young Bruce Willis.
Ain't It Cool just posted the first pics of Joe in Bruce make-up, and while I'm super excited to see stills from the flick, I'm even MORE excited seeing those awesome guns that Joe's wielding. Anyone have ANY idea what gun the futuristic revolver and the odd-looking shotgun are based on? I wanna get a head-start (despite the fact that I won't be able to do any sort of real work until it's out on Blu Ray and DVD).
Wacky Revolver: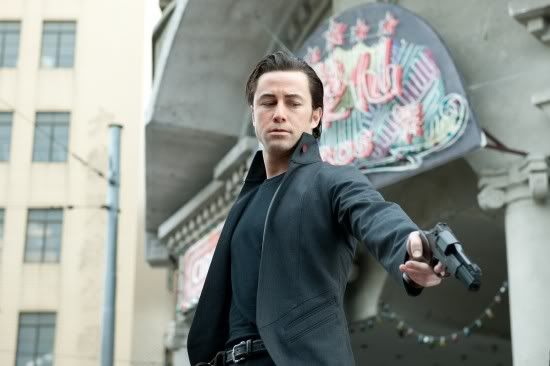 Shotgun
Also, I didn't want to start a separate thread for this...but I TOTALLY want a replica of the jacket he's wearing in the first pic as well. I. Can't. Wait.
-Jonaas
Last edited: