A member here asked me to make a countdown timer for his
P2 spear
. So, he sent me the spear and I got to work.
I made the countdown timer using the same LED arrangement that I've been using for my gauntlet countdown timers, but I'm using the Arduino Pro Mini instead. It's a lot smaller than the full-size Arduino boards, but it also doesn't have any connectors soldered into place. Here's how the Arduino fits into the cavity: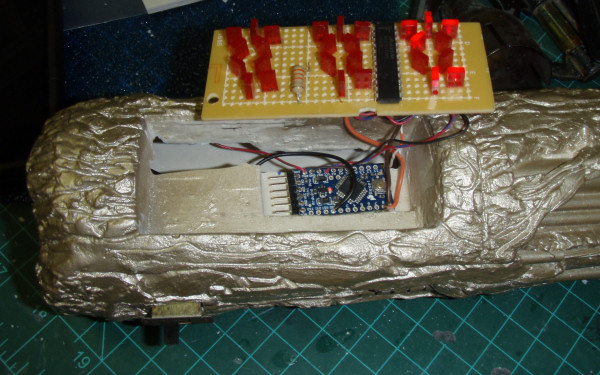 I probably Dremeled out a lot bigger slot than I really needed to do, because I was trying it with an Arduino Pro instead. (That was the board I killed with the wrong battery polarity last week.) The circuit board is just big enough to get 9 LEDs into the shape of each digit, plus the MAX7219 chip and the brightness adjustment resistor. There isn't enough room in the cavity to get the 9 volt battery into place with all the circuitry, so I'm putting the 9 volt battery on the end with one of the spear tips being removable:
Here's what the result looks like, with a tinted Plexiglas window in place over the digits:
And here's what it looks like with the lights off:
I think I might need to put a black piece of paper in there to hide the circuit board, with cutouts for the individual LEDs. I'm also debating whether I need to put a window frame on top around each of the three digits, as the original model had.