A few years back I built the
Fujimi 1/24 scale Spinner kit
, my favourite movie vehicle. Since then, I've always wanted to build a companion piece for it of the other iconic vehicle from the movie, Deckard's coupe 'ground car'. Even though it's not seen nearly as much in the movie it still makes a mark in the scenes it's in, and it's a wonderful example of the incredible designs of the great Syd Mead and the engineering skills of Gene Winfield, who built the cars for the movie. Luckily, Fujimi do this model kit too, and I recently picked one up and built it over the course of about a week.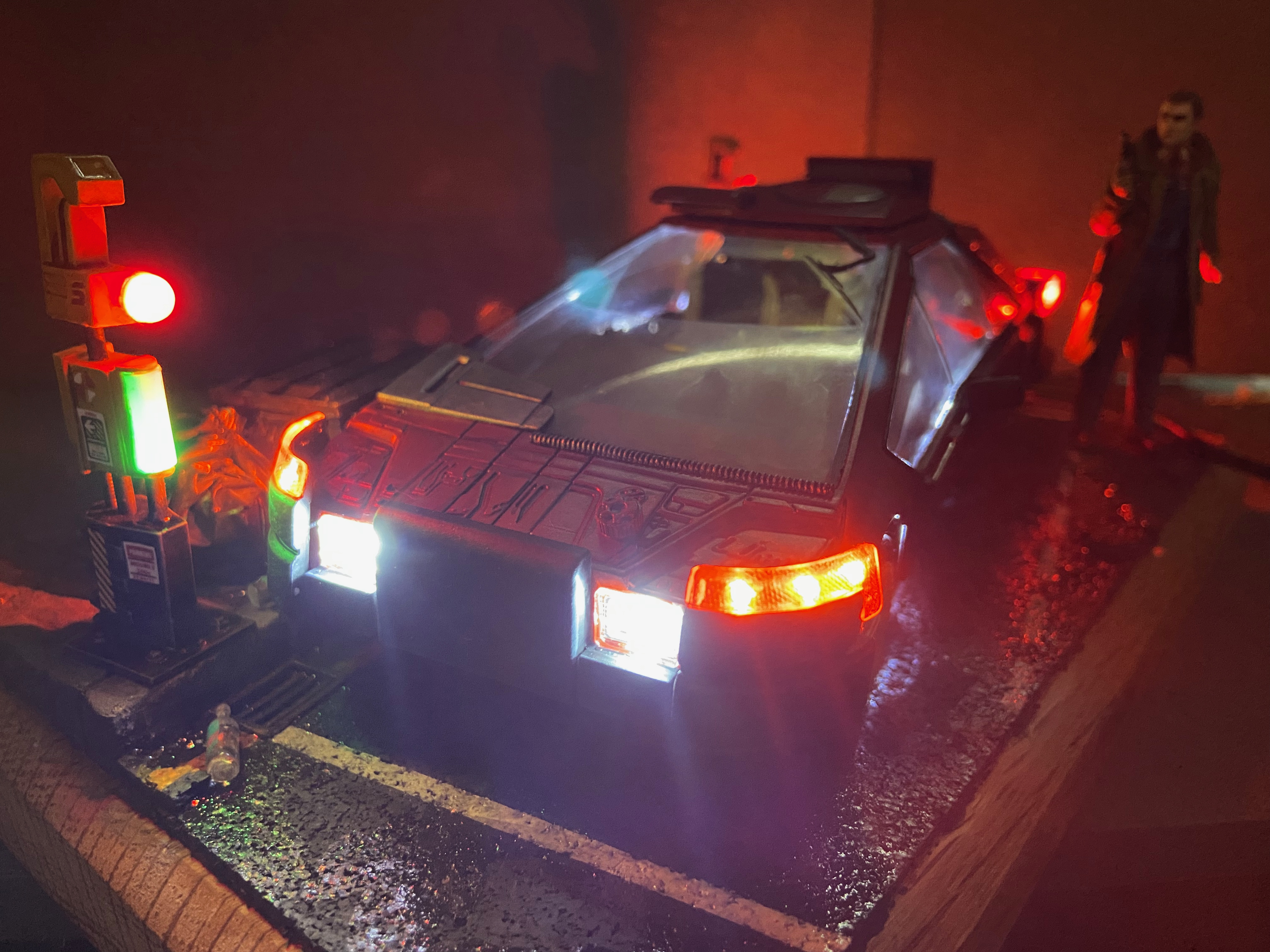 The utilitarian but futuristic design was used not only for Deckard's coupe but also the ground-level police car(s). These had a black-and-white paint scheme. Deckard's personal vehicle, from the (admittedly quite limited) online research I did, was a 2-tone bronze-red and copper, contrary to the bright red shown on the box art. After the film was completed, the car was repainted at some point for display and other changes were made to it including the addition of 'police' markings and a flashing beacon, none of which appear on the screen car and which I chose not to use despite their inclusion in the kit.
I'm afraid I haven't done a full build log as I did for my spinner. I used much the same techniques and strategies on this build as I did on that one, including adding lights using SMDs and LED strips, and using the excellent Paragrafix photo-etch detailing set for the interior consoles and displays. I elected to build the car with the 'hero' car interior. The lighting was certainly simpler than the spinner with all its flashing beacons and strobes, but it was quite a challenge to get even micro SMDs into the thin light clusters at each corner of the car since they are designed as separate elements and don't sit flush to the main body of the car to allow easy wiring.
Like the spinner model, I placed the completed car on a simple diorama base of a section of road and added the distinctive movie parking meters (
bought from CGTrader
and printed on my Elegoo Mars printer) as well as Deckard himself, also 3D printed.
I'm quite happy with the way the model came out, although inevitably there are a few areas where I messed up due to advanced age, bad eyesight, impatience and general incompetence! Hopefully, they're not too obvious.
Here are some more pictures of the finished result, lit and unlit.