So I know I'm not exactly really far along but I wanted to get some feed back and see what I might do to improve my technique. I started with the Pepakura paper model, and just discarded all the tabs. Cutting out the basic shape from cardboard inserts I got from work. Then I started hot gluing these pieces together. Once it was built I just coated it with Joint compound I had laying around the house.
This was the end result after a bit of sanding,
I ended up having to coat the whole thing again and cover it in mat finish and sanding it again. Then I painted it black, and found out their were still a lot of fissures and grooves in need of filling.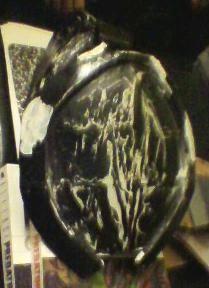 Still more sanding and filling and sanding I finally painted the thing bronze and clear coated that to help cut back on any possible chipping. I chose bronze because that seems to be a popular theme in the comic books so I wanted to go that road instead of using the same movie predators over and over again.
I ended up having to sand it yet again before adding a second coat of bronze and once that dried I began the aging process. When complete I added yellow mirror lenses from a pair of dollar store sunglasses, these were held in by Hot glue.
The end result is now my avatar and the beginning of my Pred suit. I'm now using some of Vinmanmac's tutorials to complete the body armor, which will also be done in the same fashion as the mask for sake of my budget.
I've got one side of the chest plate cut out right now and am struggling to glue all the cardboard pieces together. I modified it a bit so the whole thing would not look so flat and just edged all the successive layers so they will stand up a bit more. I hope to have pictures up when I finish the first side so I can make it more clear what I'm doing.