For the recent New York Comic-Con me and Error put together my Zombie Spider-Man outfit. Which consisted mostly of her doing everything and me surfing the web. So I really gotta thank her cause well she does most of everything minus me buying the supplies.
About a year back I bought this
Zentai Spier-Man
suit to wear at PAX East. Was really the only time I got use out of it until a month ago when we started work on making it suited for the undead. The process of detirorating really came down to us bring it to the Haunt we were working at in October, throwing it on the ground and making it match what you think a **** stained never cleaned floor of a Haunt would look like.
A day before comic-con I put the suit on and Error went over it with Blood Gel and some black grease to make it look like fresh and dried blood. Using sand paper Error tore up the outfit to give it wear and with scissors cut out some select sections, especially the mask, fingers and the chest.
I bought some Dr Scholls Gel inserts and put them in the feet portion and some holes were cut. This gave me traction and helped keep my feet somewhat comfortable walking on granite floors all day.
As strange as it seems, using Model Magic Clay, Error sculpted the chest bite and colored it with eye liners, blood gel, black grease and foundations. Reason we used this clay was it doesnt dry and crack like normal clays and stays to a degree flexible enough to conform and stay to the body without breaking off.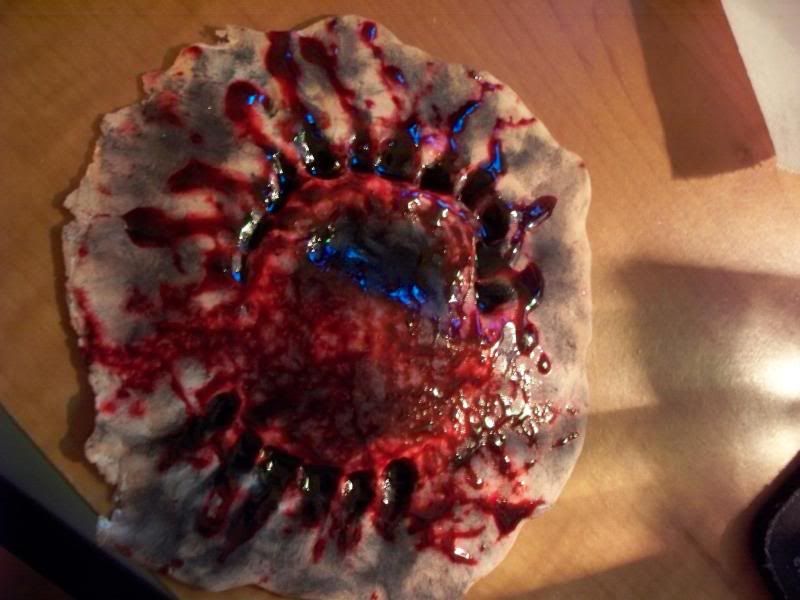 Before the makeup was applied I put in my zombie contacts and wore these things ALL DAY. Honestly, after a while it's just friggen annoying. Got these from
youknowit.com

The prosthetic was then attached to my chest with Spirit Gum and liquid latex was applied over the piece with layers of 1 ply toilet paper layered on top with additional layers applied until it looked right. Then using foundations, eyeliners, blood and black grease, the prosthetic was blended onto my body.
Lastly liquid latex was applied to the exposed side of my face and 1 ply toilet paper was layered down. After drying Error pilled some parts of the latex back to give the open wound effect you see on my face and like the chest piece was colored with foundations, eyeliners, blood gel and black grease....oh and lots of saliva. The teeth were then colored in with teeth colors black, yellow and nicotine. Pulled my hair out through some cut holes in the mask and well, there you go. Finished.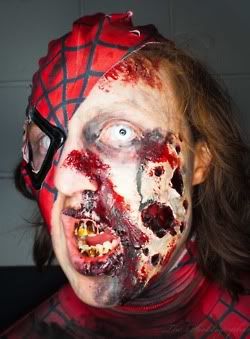 Here are some photos taken from New York Comic-Con 2011.
A few funny tidbits of the day.
1) I was mistaken for Deadpool
2) A majority of the time I was thought to be a woman
3) Some dude came up to me and this ensued.
Guy- Wait a sec, I just need to take this in. What an awesome costume. Do you like games?
Me- of course I do
Guy- I just assumed cause I see the poster you're carrying. You like Gears of War?
Me- Sure, just beat it last week in fact.
Guy- Well, I play the voice of Dom.
.........
..........
So I walked up to him, put one hand on his shoulder and said "sorry to hear that"