Hi all,
Some of you blaster fans may remember a build from years ago from (I believe) the Dewback Wing site where a member built up a really cool looling custom blaster that he called the SE-16D.
Here's a pic and a link to his build:
Rebel Hardware Competition - BlasTech SE-16D Heavy Blaster Pistol
It's been a long time, and I can't remember who built this up. Is it a member here???
Recently, Obi-wan Coyote had a parts kit for sale in the Junkyard to make a variation of this blaster. I had always thought this SE-16 really captured that "Star Wars universe" feel and never had any luck finding anything resembling the base parts. I snagged the parts kit and I've been working on it over the last week.
Obi-wan Coyote's parts kit looked like this when it arrived to me.
It's based on the same carbine design as the original build from 2002, complete with a real M38A2 scope! There was a bag of greeblies, too. Some really interesting looking stuff that I tried to incorporate into my build.
Here are some shots of the completed blaster, along with descriptions of the build.
Overall right side: I began by applying some gun bluing solution to Lynn's custom-machined scope mount piece. This darkened it up nicely and brought the metal tone closer to that of the rest of the blaster.
I also added a small copper strap with 2 button head hex screws above the trigger area, and 2 weird looking brass pieces to the front of the magazine box. I have no idea what these are from, but they were just too cool looking not to use! They remind me of the piston halves on Han's DL-44, too.
There was a slight gap where the barrel was welded onto the lower receiver, and I covered this area (on both sides of the barrel) using brass tube which I darkened with Blacken-it, a metal weathering solution.
All greeblies were simply glued in place with a couple of dots of super glue.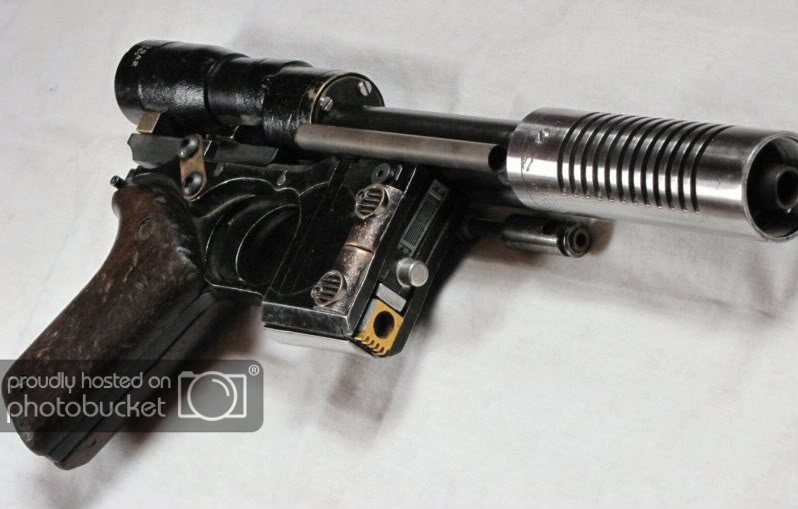 Front face of magazine: I glued on a couple more greeblies just to give some visual interest. The golden piece at the bottom is a little piece of what looks like anodized aluminum. It has some tiny vanes at the bottom. Maybe this was a heat sink from something? Closer to the top, I added an engine piece from a 1/12 Tamiya race car. It fit nicely into the existing slot.
Barrel: The very nicely blued barrel and real-steel compensator are excellent. However, the slots in the sides of the compensator made it easy to see there was nothing inside. I used a small length of aluminum rod from my spares box and wrapped it with tape to fig snugly inside the blued portion of the barrel. I then used the small brass pipe fitting that Lynn supplied and blackened it as well. It fit perfectly over my aluminum rod, and now there's a visible inner barrel with muzzle.
Here's a closer shot of the magazine area.
The left side of the blaster looks like this.
Left side: I blackened a transistor from the greeblie bag and added it close to the bottom of the magazine box. Just a little call out to another SW blaster. I also blackened and attached a very strange looking machined brass piece. It looks kind of like a miniature brass version of those aluminum pieces on Vader's chest box. I positioned it as if it's some kind of laser sight.
Above the trigger there was a larger hole, which must have been for a selector switch or safety lever on the original carbine. I covered it with another part from that Tamiya race car and topped it with a small button head screw.
Here's a close-up of the left side.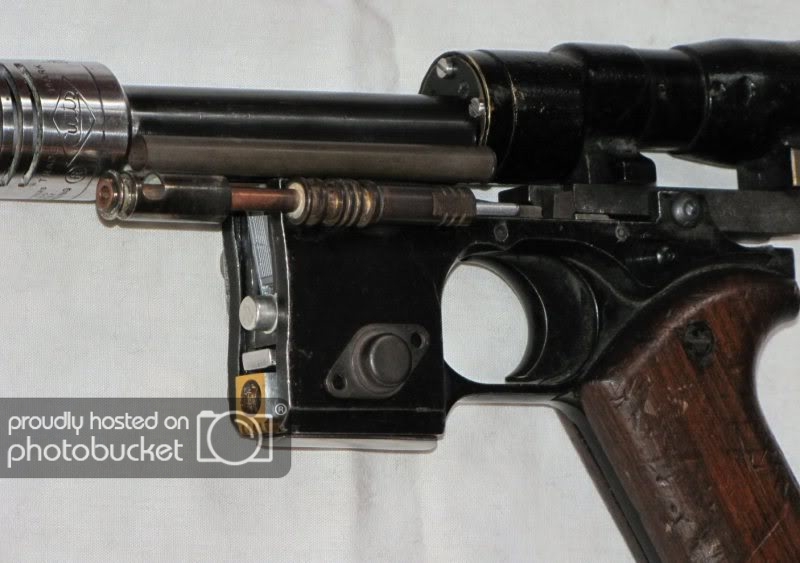 I didn't want to alter the finish of any of the original gun parts. They had such a nice, used appearance.
Nothing looks more like an old gun than an old gun! :thumbsup
This was a fun build and it'll be a nice addition to my blaster collection. Thanks to Obi-wan Coyote for making this available!
I've always been curious what this receiver came from. If anyone knows, please post.