Master Member
RPF PREMIUM MEMBER
Wanted to document, discuss, etc. the replacement for the M19 scopes in ROTJ.
They are found on the MGC Sterling E-11 Blasters and the Han DL44 Blasters. Parts of Star Wars already confirmed a couple parts and some are still unidentified. After going through ROTJ the other day, looking for repeat greeblies, I noticed how many live action Stormtroopers there were in the hanger or on Endor. Some of them had cast blasters from ESB but there were quite a few MGCs, which means there were quite a few of these scopes. Originally, I thought just Han's DL44s and the Stormtroopers that captured Luke had them.
Anyway, this past year I learned the knurled cap was a Japanese scope adjustment knob cap (ala the 4x20s on Fett's rifle.. maybe the bowcaster and the Deck Gun on the Skiff). The front is a plastic cap, and it's riveted to a piece of tubing that acts as a spacer for the
3/4"
scope tube. Some of the rear cone is slid into the 1" scope ring too, it doesn't just sit where it's supposed to. That is... on some of the scopes.
Most are totally fake. They have the plastic cap and a lathed Derlin scope bell. Note the smooth no-detail surface and flat lens area. I don't know if these needed a spacer or if they were lathed to fit the 1" scope ring.
but I believe some have a
real
piece of a scope. You can see the lens retainer on the edge, most likely a lens, and different weathering. Thankfully it fell a part so we can see how it works.
I don't know if the Ripley's blaster back-half is real or not. If not, it's much more detailed than all the other fake ones
I tried to find black plastic end caps that matched. See here with the classic 1" scope ring. I did buy a cheap 3x9x28 or something and fashioned my own scope with a replica front - I replaced my 4x32 piece, seen on the side
They are not the 4x32 scope size, and they are not 4x20 size... I don't think. Closest I've found is a Webley 1.5x scope - which also happens to have the right adjustment knob caps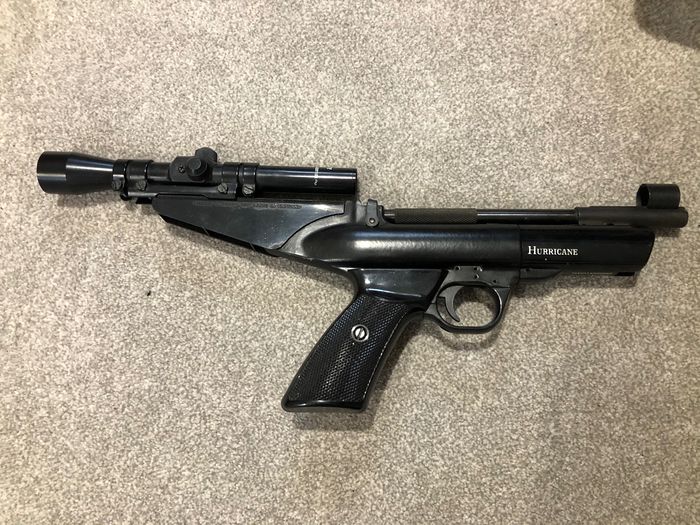 Interesting right? There was an auction for resin/fake pieces leftover from ROTJ possibly from Bapty? Someone made a replica blaster with them, and told me the scope was original, and the back was solid Derlin
Still can't find the original scope though. The brass front seems to have a countersunk tip. I almost want to say they dremelled a countersunk bolt with cross-hatch and used it to screw everything to the tip of the scope. See the retaining ring line at the rear? Much more detail than they did with all the other fake scopes.. if it isn't a real found scope bell.
Last edited: