Hey everyone!
Back with a new project!!
Small intro, since last year I have been doing a course/school to re-educate myself and switch careers. The education center has a 3D printer that 'students'(in this case adults) can use. Its a
Raise3D pro2 plus
, a very expensive printer, industrial grade but a beast!
I didn't have any experience 3D printing and always wanted to do a 3D printed 'kit'. My main goal was to see how it can be used for model making, either for details or full kits. My plan in the future is a resin printer to print small details for my custom builds.
Now back to this project, being a huge fan of The Mandalorian and especially his ship the Razor Crest, I went looking online for files to print. I came along the gamebody website, bit the bullet and bought the STL files for the razor crest. (
gamebody link
).
After tinkering with the settings, learning about supports, rafts and so on I started the first print.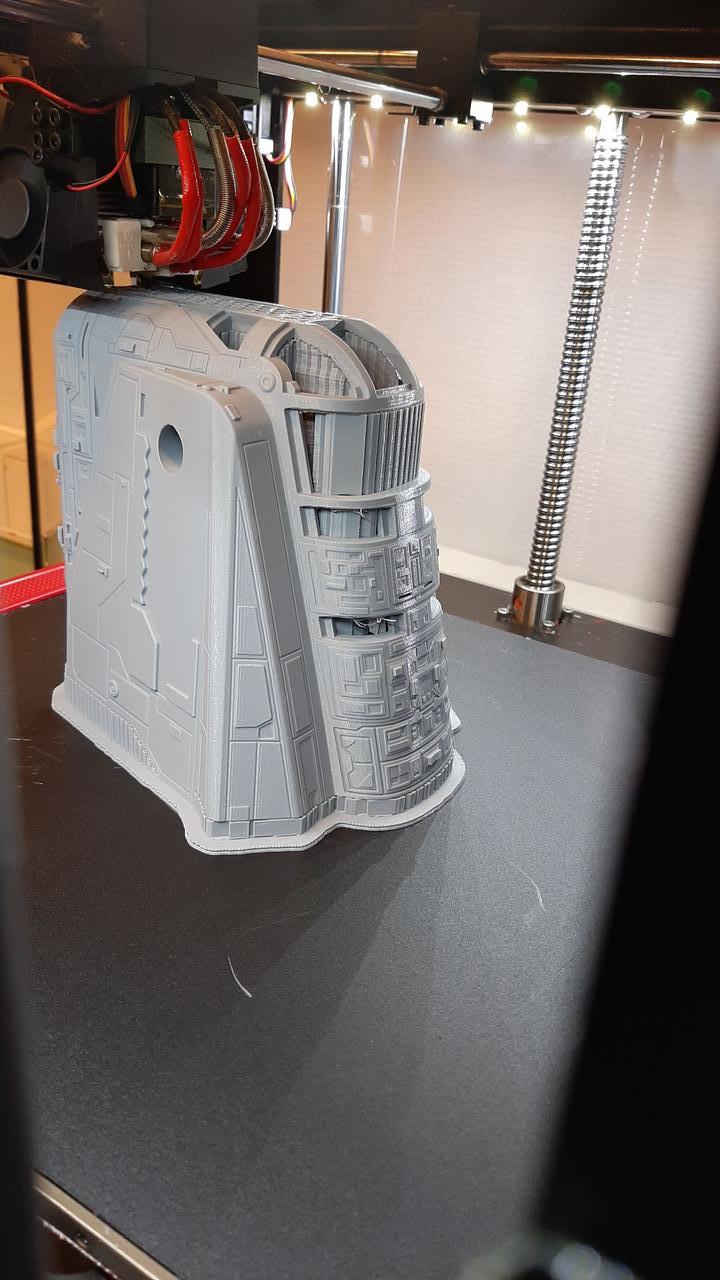 This learned me the following important things:
-Yes 3D printing takes a huge amount of time this cockpit alone took 104 hours.
-This is going to be a huge model!
-MDF printing with the right settings, 0.1mm layer height and a good sturdy printer results in BEAUTIFULL QUALITY. Almost no build lines, very sharp details.
Now I am not going to let you wait the countless days, weeks to print all this stuff, or post pictures of every part on a printer. Basically this all happened in the 3 months prior to this post. Some numbers:
1003 Hours (42 days, but it took me over 2.5 months)
4.250 kg Filament (I used Polymaker, Polylite PLA 1.75mm Red and Grey)
0 fails (the Raise3D printer is amazing)
This is the result of these numbers:
So a quick word about the Gamebody model. Its modeled to be a
'snap kit'
opening doors on the side and back
cockpit interior
room for lights
retractable Landing gear.
My plan with this one is going to be waay more than this. Being blown away about FDM quality a good printer can push out this project hatched.
I am going to heavily modify some parts of this model:
-Landing gear: being retractable the details are simpel and not screen accurate. I'm going to build this model in the landed position so the complete landing gear will be detailed and altered to fit what is been seen in the series.
-Lights, I'm going to add lights to all the correct places and add a few more that don't have space cutout for them
-Cockpit: the cockpit has an interior but it lacks allot of detail. I'm going to remake the cockpit and instruments and add fiber optics to make it pop.
-Top : The top especially between the wings has no detail at all and is the wrong shape. I'm going to cutout this shape and alter it. For reference I'm going to use the scene where the Crest is lifted from the water after crash landing on the moon of Trask (s2e11)
-Overall: some extra greeblies along the whole model, especially the engines.
-Closing up: All doors will be closed and only used to acces electronics so no interior apart from the cockpit will be made.
-Other: I will sand and fix any problems the 3D printing left behind so after finish it will be impossible to tell the thing was printed.
I will show a detailed picture of every part I'm tackling and also plant to make this build log as complete as possible just like i did with my previous projects (see bottom of post). For me as reference, and for you to enjoy and follow!
Step1: Making blocks
I started yesterday evening by glueing up some parts that form a whole. This model is a puzzle and I want to join up any parts that already can be joined without hindering any of the modifications and changes I am going to make. Also to reduce the amount of parts laying on the table.
As a first I glued up the wings. These are printed in 4 blocks attached to each other with printed 'keys'. I also used super glue. When these are dry i can fill up the seam and sand flush.
Note: the red looks very reflective and shiny but in reality its way duller than perceived. Also the detail is hard to show on this material but will become more apparent after a primer coat.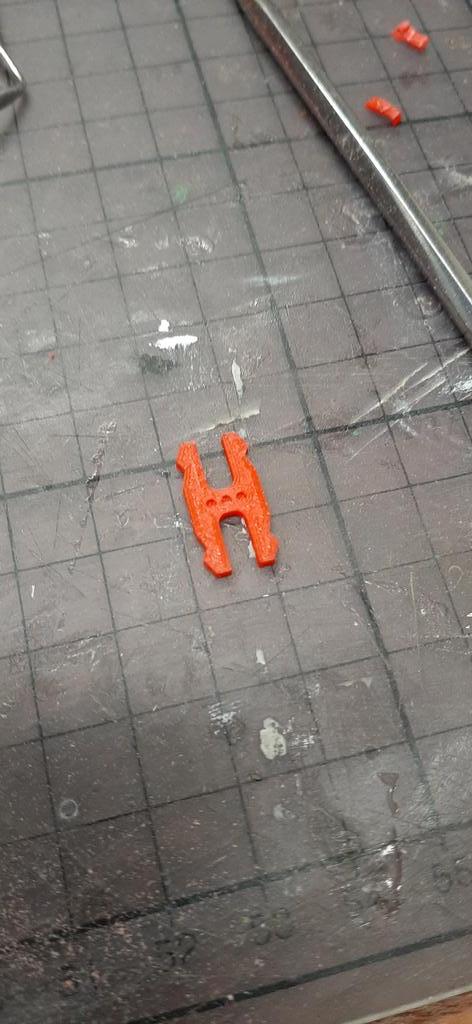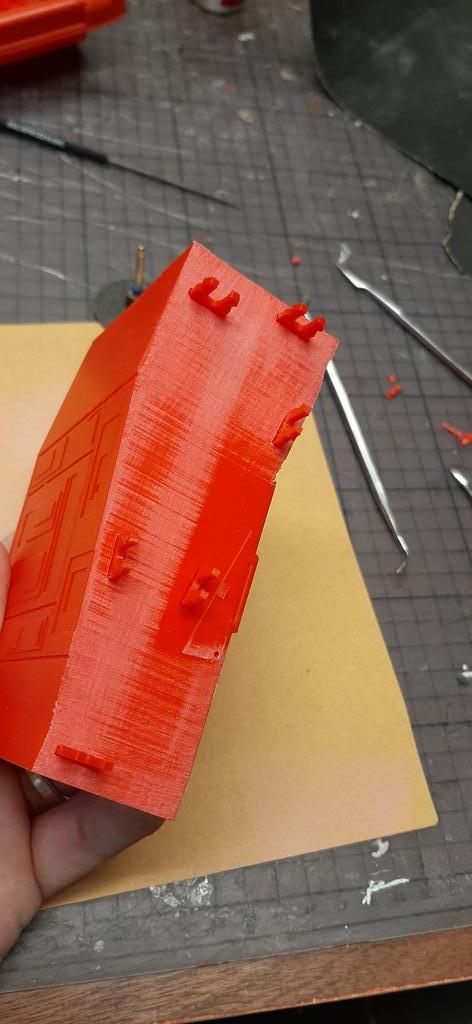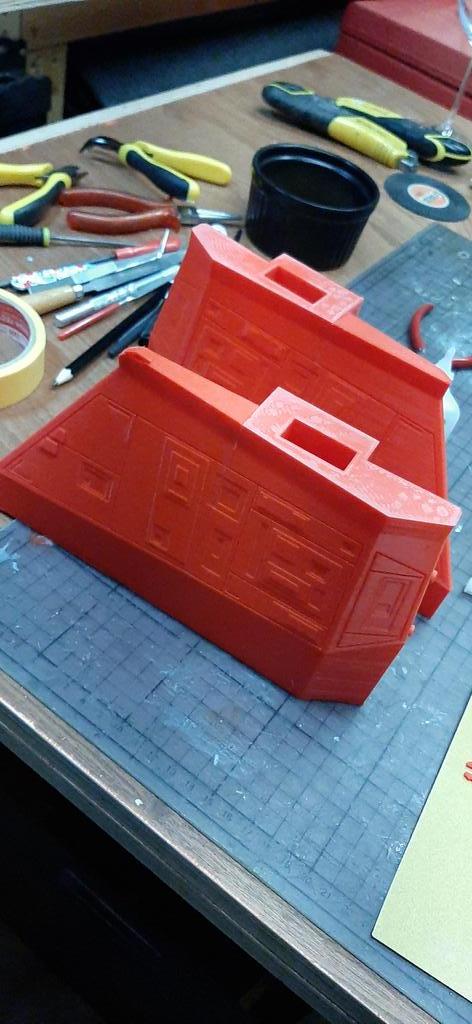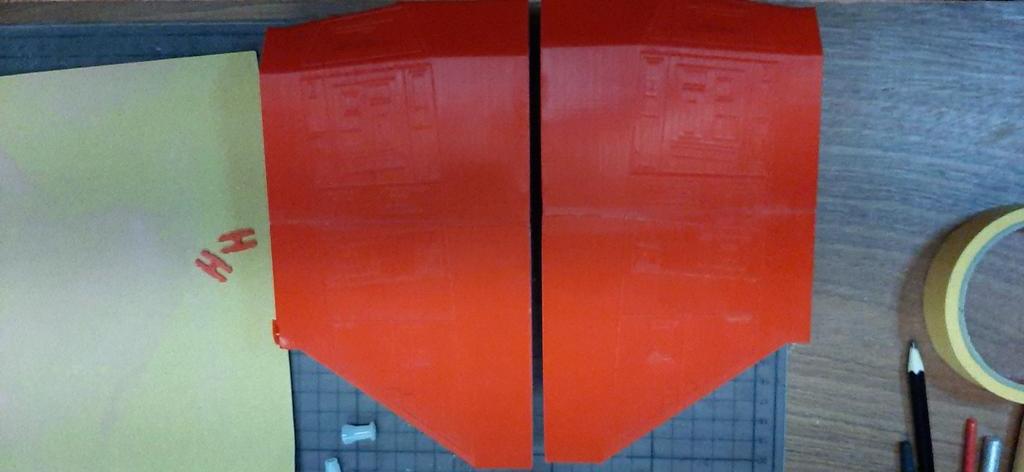 This is all I have done so far. I waited 3 months to start this thread, because waiting for prints is the most boring thing ever. But I couldn't wait longer to start the post
.
Stay tuned for more! I'm planning on working allot on this now that all the prints are done.
Thanks for watching!
-Hopli
EDIT
OMG I forgot the best part
. Before starting I did a dry fit to get a sense of scale and looks: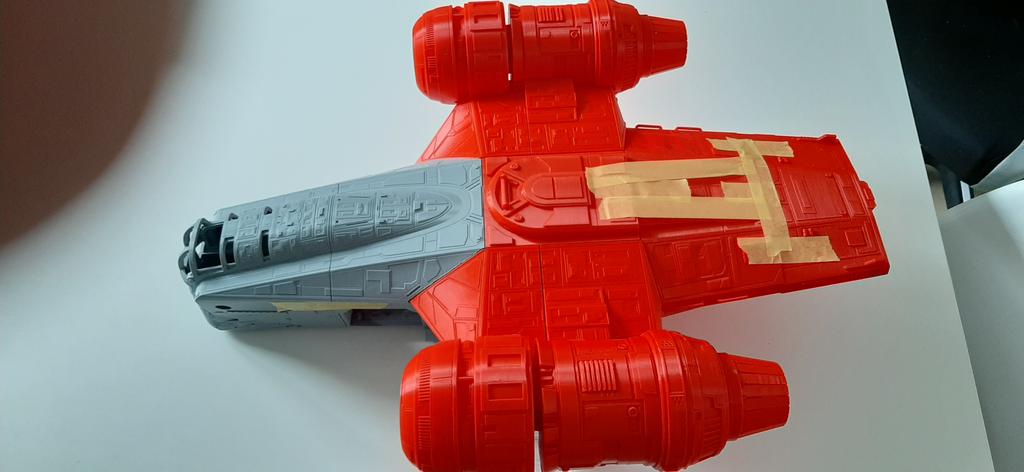 My previous projects on the RPF:
Volvo FH16 truck. (sci fi kit bash)
Modded Revell Venator class star destroyer
Last edited: