RPF,
I'm a fairly new member here, aside from commenting on a few Falcon threads here and there, I haven't really done a whole lot.
To briefly introduce myself, I'm Master Tej, although people also call me Tej and Nick, my actual name. I'm into LOST, Star Wars, James Bond, Indiana Jones, and Back to the Future. Those are my favorite 5: LOST and Star Wars compete for the top spot and rest are in order (although I've only seen through Season 4 of LOST). I'm currently working on a NovaTrooper Elite to join the 501st, and I'm a member of the Spec Ops Forum over there.
However, I'm not here about Star Wars, I'm here about LOST. I recently found a model airplane site that makes Oceanic Airlines 777s.
Boeing 777 Oceanic Airlines - Lost TV Oceanic B777 Model Airplane - $199.98 : Model Airplane Factory, Mahogany Wood Model Airplanes, Wooden Model Helicopters, Military Wall Plaques in Wholesale and Retail.
I'd really like to buy one, but that model is very much sadly inaccurate in terms of the paintjob. The website says that the model is made to order, so I'm hoping that I can give them directions to adjust the paintjob for me if I order one. If I'm wrong about that, please, somebody correct me.
Now, when I say accurate, I'm referring to accuracy with regards to the physical and digital models used on the show. This isn't to say that they all agree, but the original Lockheed L-1011 that they used for the set, its paintjob on the beach/jungle of Oahu, and the few digital models they had for a few shots combined are what I'm using.
For reference for those who didn't see the show, Oceanic Flight 815 left Sydney International Airport on September 22nd, 2004, bound for Los Angeles. 6 hours into the flight, they lost all radio communication, and so turned back to land at Fiji. They were 1000 miles off course when they hit turbulence and crashed on a mysterious island, the plane itself splitting into 3 separate pieces of the nose, the fuselage, and tail section. For the show, they used a retired L-1011, N783DL, which they cut the tail off of, and then transported to Oahu for filming.
Warning: the upcoming will be pic heavy.
To start out: here's what I have of N783DL, before it left California.
Note the gray underbelly of the plane.
The L-1011 they used had previously belonged to Delta Airlines. So, here's a few pictures of Delta Airlines L-1011s, because they, for the most part, left the paintjob alone with the exception of adding Oceanic logos and a light blue stripe on the side of the fuselage (more on that later).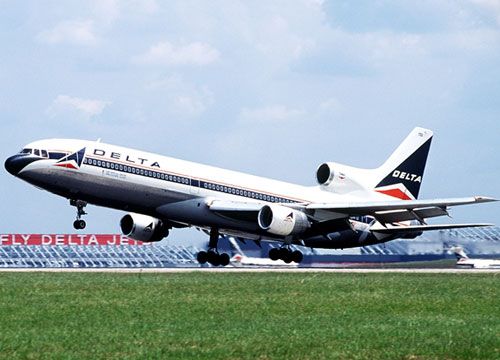 You can see here how the dark blue pinstripe broadens at the tip to encompass the nose and meet up with the gray on the bottom of the plane. You can also see how, at the wider point where the wings connect to the fuselage, the gray seems to stop until the belly has thinned back down to its original size. Did that make sense?
This is not N783DL, but I posted this because it shows the tip of a Delta L-1011 nose section very well over on the far right of the pic.
I'll post more later, with some pics of the actual plane in Hawaii, but other than that, enjoy! I hope this wasn't too much, and thank you for reading!
- Master Tej –
4 8 15 16 23 42
Last edited: