Master Member
RPF PREMIUM MEMBER
Edited: 04/27/22 - More readings about my findings and experiences (and a little more photos) are logged here in my build and research thread.
-----------------------------------------------------------------------------------------------------------------
THE ROOTS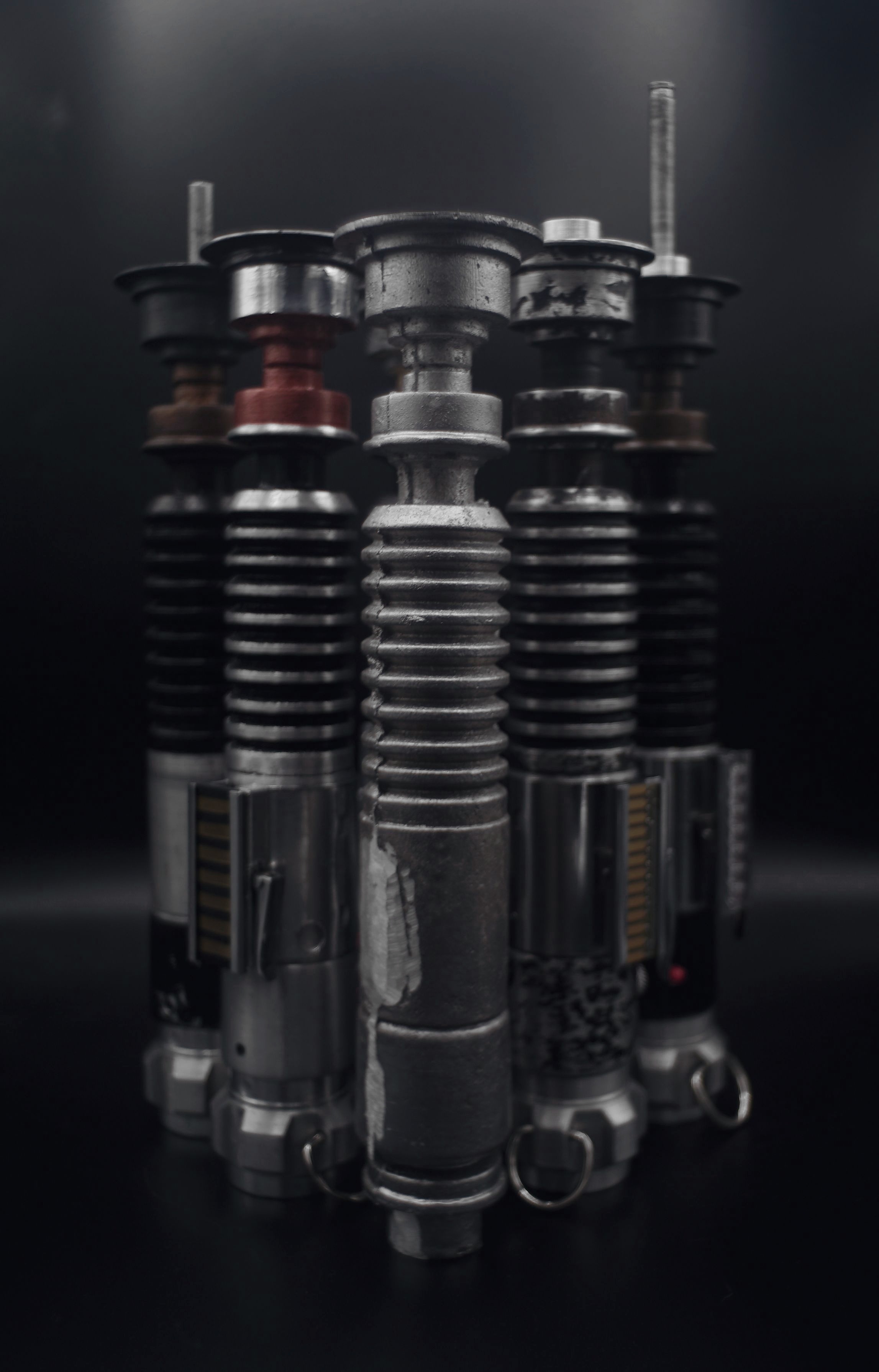 This idea originally grew from my thread where I was experimenting with sand casting and what started as a "living history" idea had quickly escalated into 3D-printing my own buck based off of the original, casting numerous trials before finally achieving my first prototype as a proof of concept.
The whole point of this project was to create the closest facsimile of the original prop. However, with the friendly participation of the RPF's own
vadermania
--who provided me a 3D scan of his production-made cast--I can now produce lineage casts as they would have been.
A lot of effort went into restoring his 3D scan, stripping away the 40+ years of work that had been done to it, and resetting it back to the original wood buck's specifications.
Some concessions had to be made (casting alloy instead of brazing wire) but I've gone through all the trouble of following the same steps the original prop guys did when they made the stunt props all those years ago: making the master, sand casting, and then machining and cleaning the casts. In lieu of what we don't know about the construction of these props, I have filled the gaps with how I think they would've been constructed given the extant information and what my trials have resulted, slap-shod method and all.
While I'm more interested in creating something faithfully and authentically, I believe this project has become the most accurate replicas ever offered
.
I wanted the original stunt hilts used by Alec Guinness during the filming of STAR WARS and, with some great luck, I believe I have accomplished that goal. Not only just replicas, they're pieces of film history.
The Plan
The general construction is four separate pieces for the V2, and three separate pieces for the V3, based on what has been said by the owner of the V2 prop, as well as details recollected in
Jon Bunker's diagram
of the original sp/fx hilts.:
Emitter nipple (V2): A separate piece that seats the stunt/effects blade(s) and secures the emitter to the hilt.
Emitter: A near solid piece that held the nipple.
Hilt: The body on the V2 is partially hollowed out to make the "chamber" (as our own B. Alinger puts it) that once housed the motor assembly. I believe that the V3 may not have been bored out as extensively for this function.
Pommel: Also partially hollowed out to make room for the wire(s) that connected the motor assembly to an external battery pack, specifically for the V2.
The Run​
The purpose of this run is to give something back to the community, something that hasn't been done before, and something that many have wanted for years. However, considering it's just me making these things, to spec and every component by hand, as labor-intensive as this method has proved, there's only going to be a limited number made depending on how many people are signed on. Previous casts showed a turnaround time at around a month or a month and a half per run.
Blank "Raw" Cast
-

350 USD Shipped
As it's pretty much explained in the name, these are essentially "as-is," straight-from-the-mold pulls. They may have some light cleaning on my part if there is excessive flash, but these are essentially the exact same as the ones made for production of STAR WARS in 1976. These will carry all the idiosyncratic details that the originals have, carried over from the wood master. By the very nature of making these,
there will be slight variations in every cast
. Some will be a duller grey in color, some will be lighter; some may carry more or less pockmarks/blow-holes on its surface. Whether for display in one's collection, or if you want to try machining it yourself, they will be as close to perfect as can be.
**** I will caution those who are interested in machining these on your own, that you have to be a fairly skilled and competent machinist. I recommend that you take the risks if you are an advanced machinist only!****
V2​
Kit:
78
0 USD SHIPPED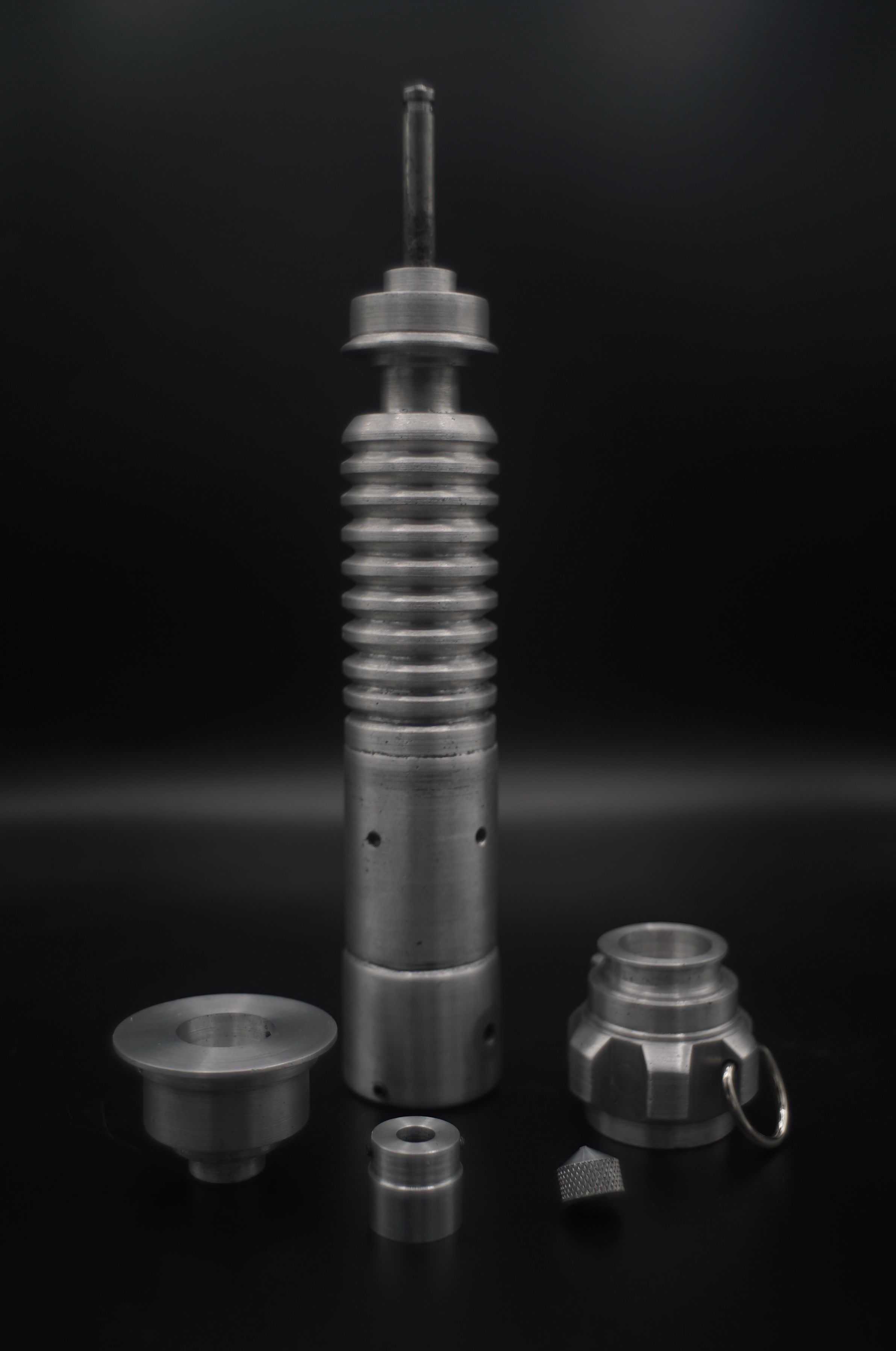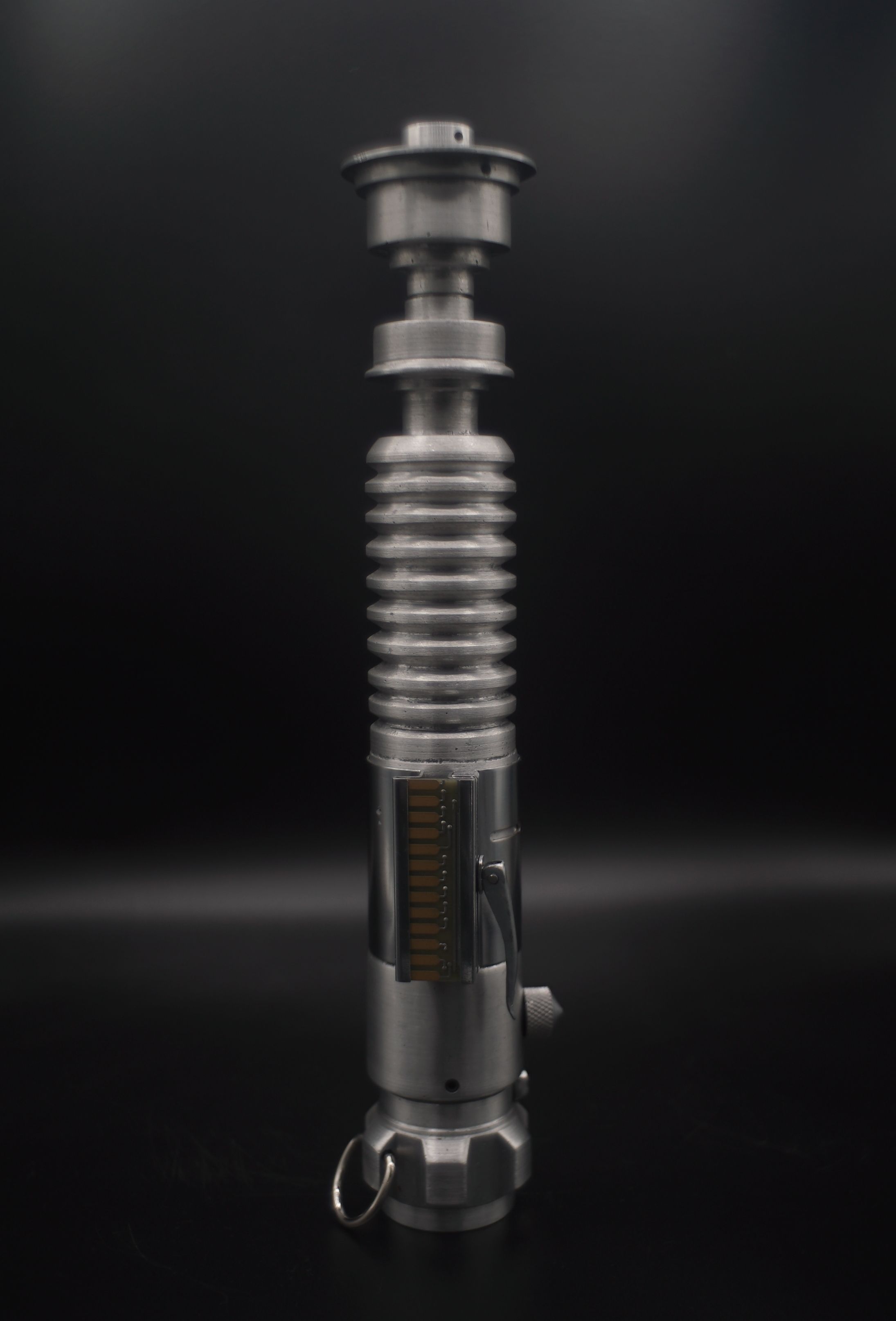 These kits will come with separate pommel w/ d-ring, emitter, and nipple; along with the steel rod, a machined transcriptor knob (made as the vintage ones were: cone knob with grub screw). Grub screws and appropriate holes will come ready-in-place. These come as they are so you may choose to finish it as wither an ANH motorized stunt hilt, or a RotJ belt-hanger.
As this is a kit version, you will need to source the boot stud, clamp, clamp card, and clamp lever.



Finished: 980 USD SHIPPED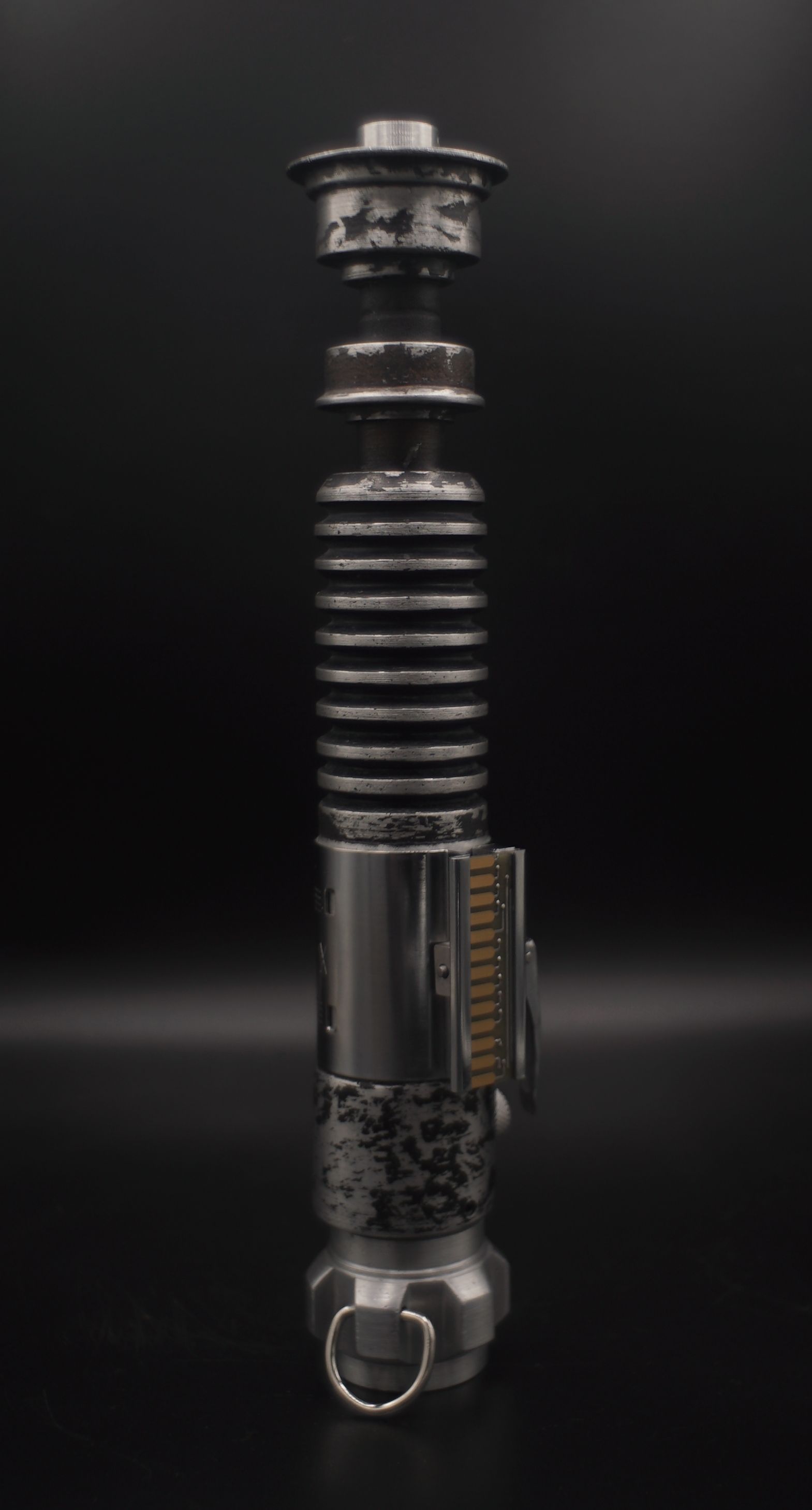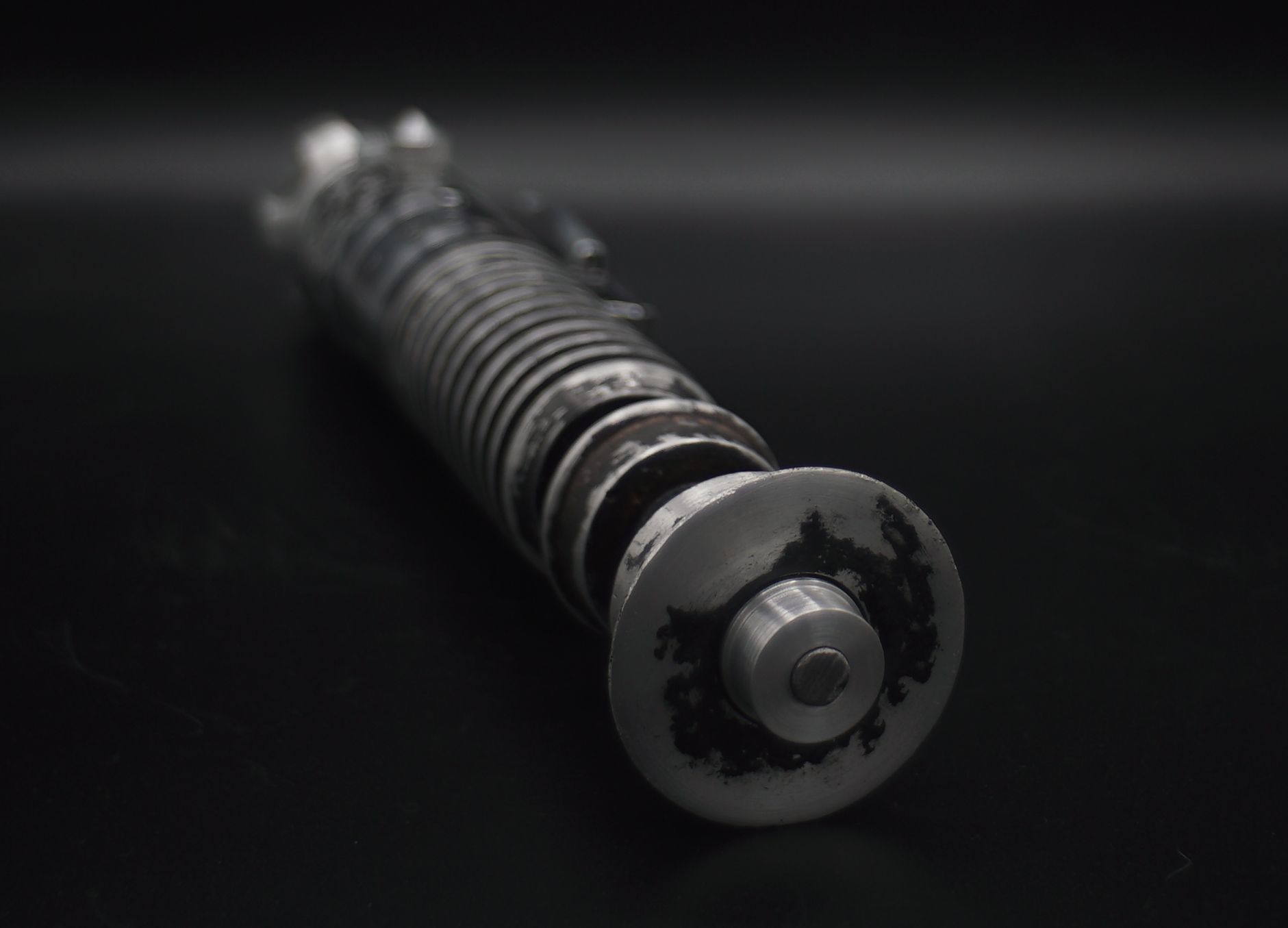 Close to a "holy grail" for me, the V2 is something I'm serious about making as dead-on, balls-accurate as I can make.
The "Finished" option is just that: I will personally oversee the completion of each piece from beginning to end. From casting to painting, I will create each hilt commissioned to the highest standard possible to create a hilt that is as close to the real-world prop. These will come with everything with the "V2 Kit" and, in solidarity with other replica parts makers, these will come with replica boot studs by
roygilsing
, clamps by
Romans Empire
, clamp card by
slothfurnace
, and a custom stamped-steel V2 lever (with custom steel thread and square nut) that I have created custom dies to produce. These will also be painted as close to matching colors as I can acquire and hand-scuffed based off of
Trooper_trent
stencils to resemble the real-world paint chipping.
The only concession here is that the aluminium casting alloy used to produce these hilts is not as mechanically strong as the cnc'd offerings other makers provide and the emitter therefore cannot be stressed enough to bend to the proper angles without surface cracks or completely breaking off. I do ding and rough them up some but I cannot bend them completely without ruining the emitter face.
V3 ​
Kit ("Stunt" or "Exhibit")
:
680 USD SHIPPED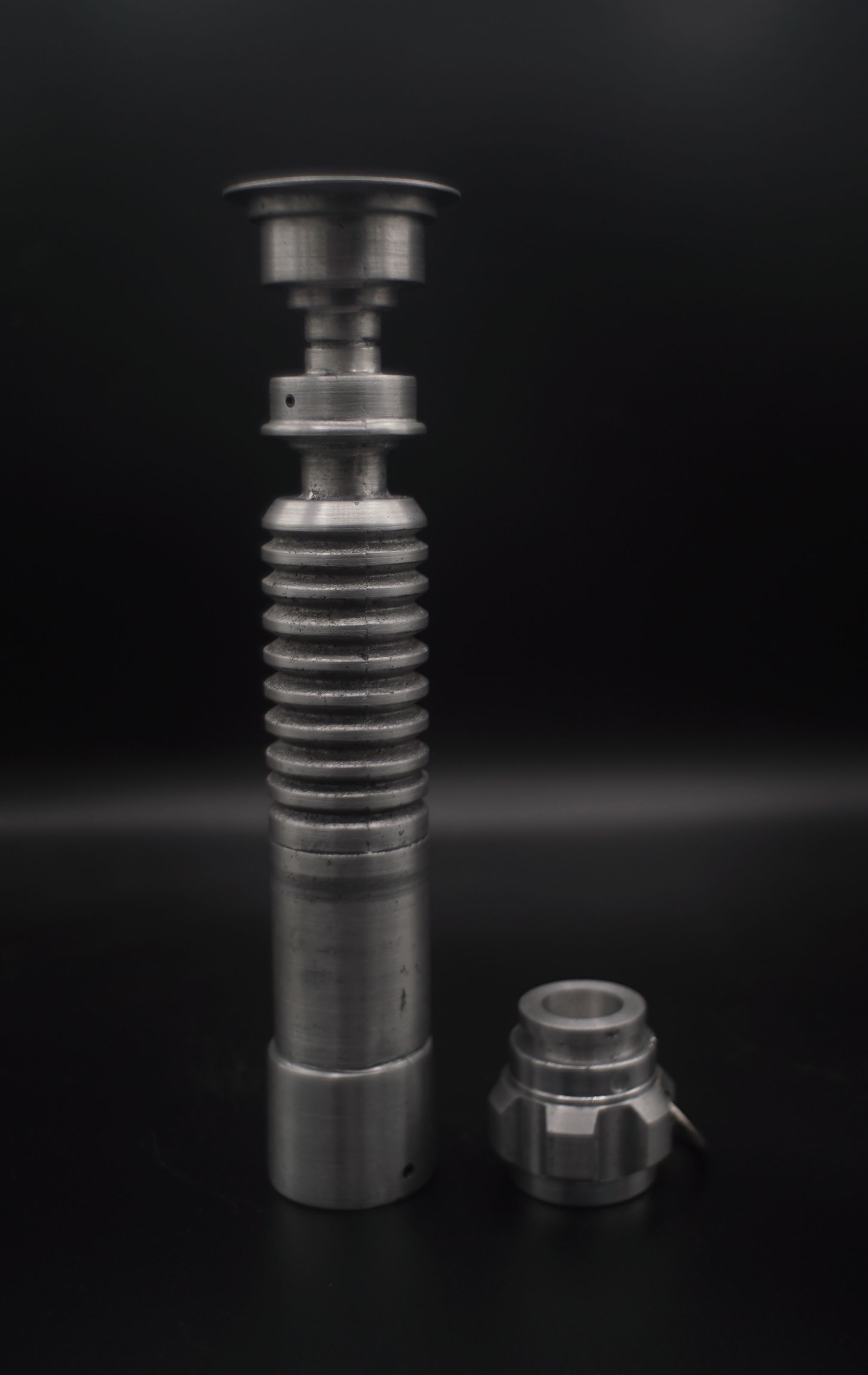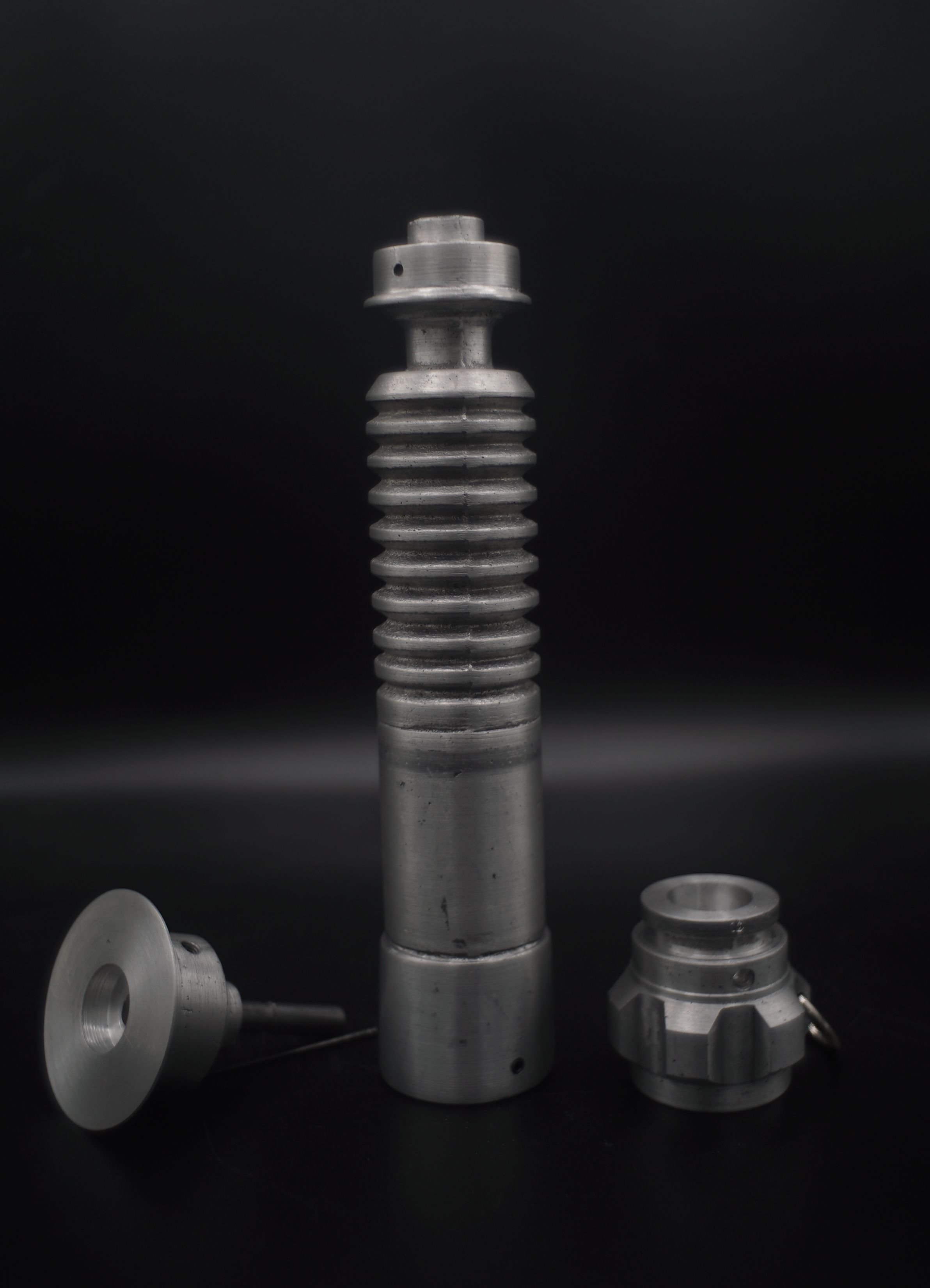 Left: V3 - "Stunt" Kit, Right: V3 - "Exhibit" Kit
It's up for debate as to how the V3 was ultimately constructed but based on what is currently known, the V3 started out as the "Stunt" kit shows: a mostly intact hilt with attached emitter. Sometime during its life, the emitter was replaced and was later modified for museum tours in the early 1990's; this is what the "Exhibit" kit entails. It's not clear whether or not these were ever hollowed out to be set up with a motor like the V2, but what information available suggests maybe not. So these hilts are mostly solid with space bored out for the fencing rod and the pommel to fit. Should anything new come out regarding the construction of these things, I'll be sure to update accordingly.
The "Stunt" kit will come with separate pommel w/ d-ring, grub screw in the windvane and booster; and a metal rod to attach a fencing blade of your choice.
The "Exhibit" kit will come with everything that the "Stunt" kit has, with the exception of a separate, slightly rougher emitter with accompanying grub screw, and truncated steel rod to secure the emitter the hilt body.
Finished ("Stunt" or "Exhibit"): 780 USD SHIPPED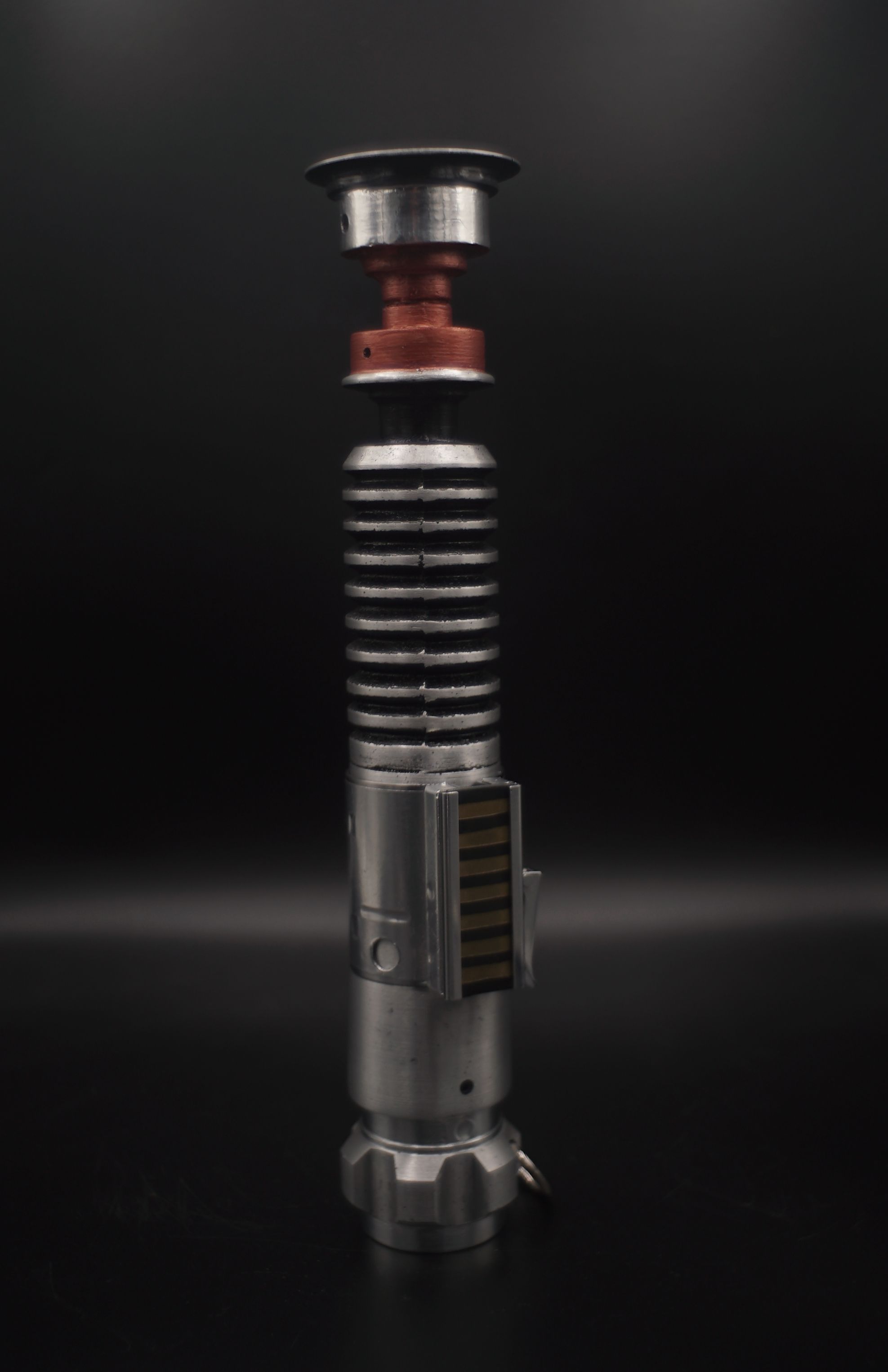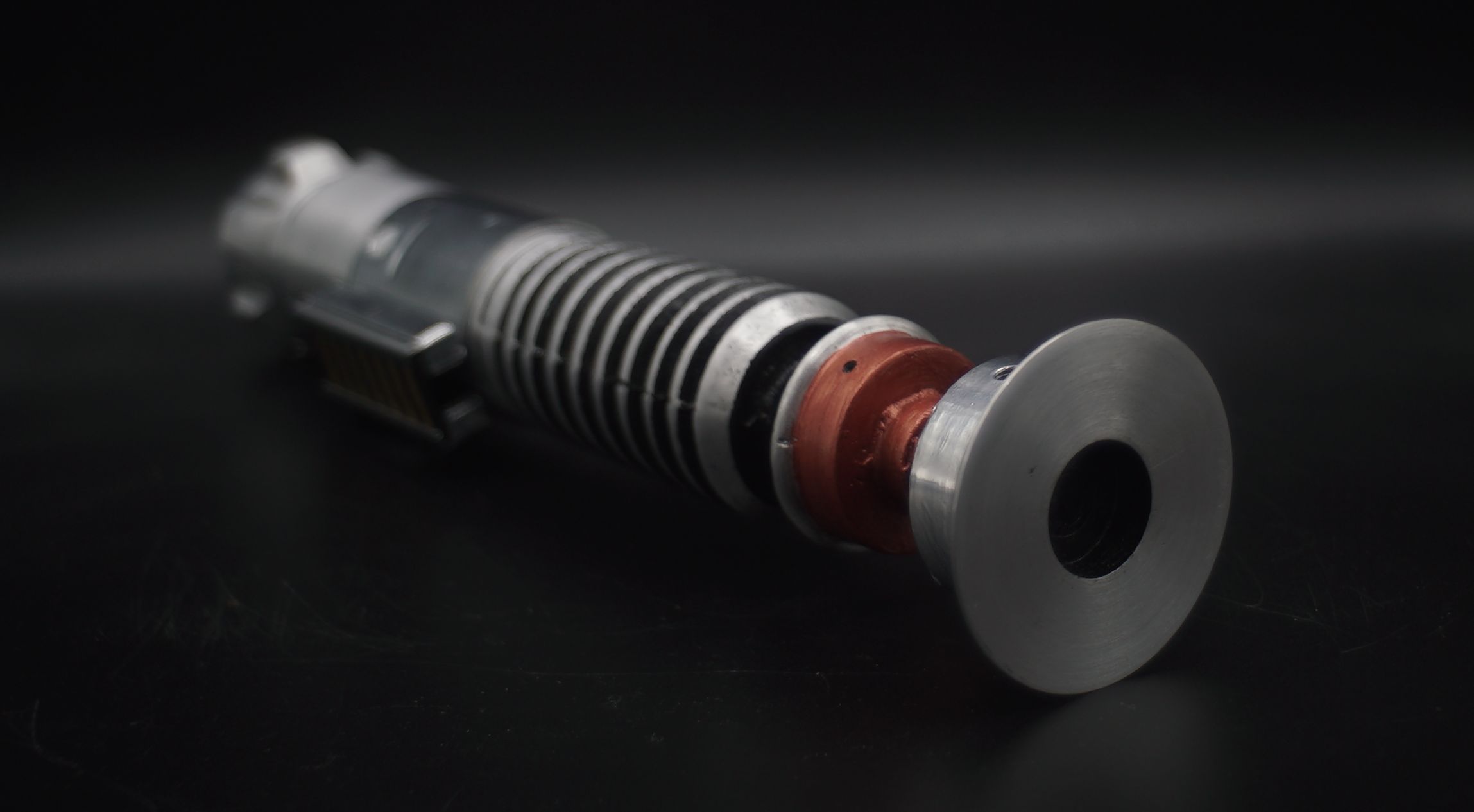 Like the V2's finish options, I will personally oversee each of these hilts to completion: casting to painting. These hilts will come with everything listed in their respective kit options, with the appropriate clamp and brass card for the V3 "Exhibit" version that I produce myself. These will come with the appropriate paint schemes and foil tape where necessary.
The "Stunt" variant will come with an optional clamp and card if specified. In many of the behind-the-scenes photos, this stunt hilt was often seen without a clamp (and likely clamp card).
ANH Motorized F/X Stunt: 1250 USD SHIPPED
RotJ Resin Stunt: 50 USD SHIPPED (35 USD
if purchased with another hilt
)
By request, I'm now offering these two specific finished versions of the stunt hilts. One beautiful and one terribly ugly, even by stunt-standards.
The ANH F/X option is the V2 kit, fully built, painted, and rigged with all the accoutrements to make it function as originally intended for STAR WARS in 1976. It will come with the correct speed motor, battery pack, red flip-switch, steel drive-shaft with custom bearing, my custom lever assembly, and square dowel coated in 3M reflective tape as the original F/X stunt did. The wiring isn't accurate but there's debate for what they are and as such, will be what I can source until more information is revealed (and you can replace them yourself any time, if you're willing). Batteries are not included as there's various shipping regulations about sending batteries.
The RotJ Resin Stunt is a casting of the V3 made for production of the third film in 1982. It later became the basis for the shop at Lucasfilm/ILM to produce the Yuma/Hero. The cast itself is hollow-cast out of resin and roughly painted to resemble the stunt hilts at the time. Using my own stunt hilt, I replicated the look of the real hilt as it was molded to make the resin stunt casts, based off of the photos from the Wired magazine article. The pictured hilt is based off the resin stunt piece used for the R2 air-cannon gag out in Death Valley for the Sail Barge sequence. It is intentionally made to be as rough as the real things were. These can come blank or finished by request (either with a common standard paintjob or like the Wired article); these literally take no effort to make.
The goal is to make the most accurate stunt hilts ever produced, and this run will continue to update as long as it is still running as new information is discerned and revealed.
- - - - - - - - - - - - - - - - - - - - - - - - - - - -
- - - - - - - - - - - - - - - - - - - - - - - - - - - - - - - - - - - - - - - - - - - - - - - - - - - - - - - -
I NEED SERIOUS BUYERS FOR THIS RUN TO HAPPEN
1st Run:
1)
Steven Giunta - V3
PAID
2) Thd9791 - V2
PAID
3) veektohr - V2
PAID
4) ataru72ita - V3
PAID
2nd Run:
1) Dewy - V3
PAID
2) Moet19 - V3
PAID
3) Moet19 - Raw
PAID
4) Mr. Mold Maker - V2
PAID
3rd Run:
1) Dewy - V2
PAID
2) Poikilotherm - V3
PAID
3) Skoota73 - V3
PAID
4) zachman8910 - V3 (Stunt)
PAID
4th Run:
1) Halliwax - Raw
PAID
2) Halliwax - Raw
PAID
3) Dewy - V3 (stunt)
PAID
4) thd9791 - V3 (stunt)
PAID
5th Run:
1) steven giunta - V2
PAID
2) v312 - V2
PAID
3) DannyP91 - V2
PAID
4) Skoota73 - V3
PAID
1)
Vadermania - V2 (FREE)
6th Run:
1) redbutton - Resin Stunt PAID
2) Moet19 - V3 Exhibit PAID
3) v312 - V3 Stunt PAID
4) Halliwax - V3 Stunt PAID
7th Run:
1) xwingercrash - Raw + Resin Stunt (Painted) PAID
2) el toro - V3 Exhibit (Finished) PAID
3) Crankyscorpion - V3 Exhibit (Finished)
4) ivuchan - Raw PAID
8th Run:
1) Halliwax - V3 Exhibit
2) Dewy - Raw + x2 Resin Stunt (Painted/Wired Gag)
3) Skoota73 - V2 + Resin Stunt
4) thd9791 -Resin Stunt
9th Run:
1) Corliss1 - V3 Exhibit (Finished) + Resin Stunt (Wired Gag)
2) Eruonen - V3 Exhibit + Resin Stunt (Painted)
3) ivuchan - V3 Exhibit (Finished) + Resin Stunt (Painted)
4) Halliwax - V2
10th Run:
1) Apollo IND - V3 Exhibit (Finished) + Resin Stunt (Painted)
2) Ron - V2
3) DannyP91 - V3 Exhibit + Resin Stunt
4) Ventuoguy - V2
11th Run:
1) 3251bimmer - V3 Exhibit + (x2) Resin Stunt
2) Halliwax - V3 Stunt
3) collector74 - V2 finished
4) BRRogers - Raw
12th Run:
1) Juvatwad - ANH FX
2) DaveP - V3 Exhibit + Resin Stunt
3) 3251bimmer - V3 Exhibit + Resin Stunt
4) Darth Napster - V3 Stunt + Resin Stunt
13th Run:
1) PrinzeZip - Raw
2) ScruffyLooking - ANH FX
3) JoeSheep - x2 Resin Stunt (Painted/Wired)
4) Skoota73 - V3 Exhibit + Resin Stunt
14th Run:
1) Moet19 - V2 (Finished)
2) livetoberadical - V3 Exhibit + Resin Stunt (Painted)
3) dcarty - V2 (Finished)
4) NCC1027 - V3 Exhibit
15th Run:
1) NCC1027 - V2
2) Teecrooz - V3 Exhibit or Raw + Resin Stunt
3) kurtyboy - V3 Exhibit (Finished)
4) Moet19 - V3 Stunt (Finished) + x2 Resin Stunt (Painted & Raw)
16th Run:
1) NCC1027 - Raw + Resin Stunt (Painted)
2) Moet19 - Raw
3) v312 - V2
4) steve guinta - x2 Resin Stunt
17th Run:
1) Moet19 - ANH FX
2)
3)
4)
It's first come, first serve. So, anyone interested, please comment below and I'll add you to the list.
Last edited: