Hello, new member to the site just wanted to say this site and its resources have been a great help to me. I am primarily a star wars autograph collector. However I have been moving into other behind the scenes material like original signed Original Trilogy Contracts and movie props. I am not sure if this is the appropriate forum for this and if not i can delete and move this thread. Just wanted to show off some of my collection to people who might be interested.
These first two props I got from Charlie Bailey who did work on ESB and ROTJ. The first one are screen used hard guards from ROTJ for a storm trooper. They show some scratching and a some minor smudging/discoloration on the inside tape but otherwise are in great shape.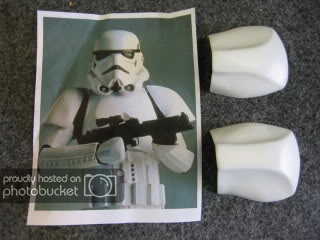 here is a shot of the reverse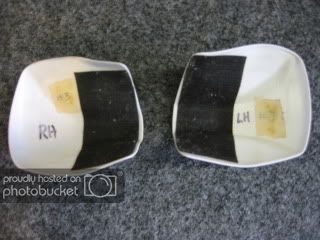 Mr. Bailey was just awesome to deal with and he wrote me a nice COA on ILM stationary. He has a new company forming actually and we talked about that as well.
The other thing i got from him were blaster parts from a ROTJ stormtrooper rifle. I had no idea how much of those guns were just makeshift parts made and attached to old actual non firing guns. The scope shows some scratching and actually wasn't made of metal like i assumed, just some sort of poly/wood material that's been painted over.
This next piece i acquired from someone who worked close to the ILM/Kerner (sp) locations where ROTJ effects were shot. its a 6 inch by 6 inch square of Death Star from ROTJ. Now this one didnt have the provenance of the other two BUT it was signed by
1.
Dennis Muren (miniature effects/optics)
2.
Paul Huston (
chief model maker)
3.
Steve Gawley (model Shop/effects supervisor)
4.
Lorne Peterson (Model shop supervisor)

and lastly, oddly, Anthony Daniels who played c-3po. Now, one thing i DO know well is star wars original trilogy autographs. And all of the autographs were perfect matches/authentic. PLUS i knew Lorne Peterson would not knowingly sign a fake prop as if it were real (as others told me) so that went for it. Finally i was able to match up this square with another previously sold/authenticated HUGE chunk of ROTJ death star. Green light for me i pulled the trigger. Have been happy ever since. No major condition issues, but i noticed there are a lot of little pits/holes at corners and in depressions in this piece of Foam/resin. Also, it looks like it is painted which surprised me.




(and the larger piece i found a copy of my section in)



Lastly, now this isn't really a prop, but its pretty cool non the less. IT is the preliminary approval contact for Mark Hamill to appear in "star wars II" as it was called back in the late 70's. It is from the law firm that handled most of the legal contract work for ANH and ESB and has been countersigned by many ILM / Lucasfilm heads at the time. Most of the autographs are printed because all that mattered was that Mark Hamill signed and authorized it (to confirm terms and dates excetera). It is 7 pages long and is in great condition. what i loved also, being an autograph guy, was that the autograph of hamill was a PERFECT authentic vintage graph. Guy who sold it had a TON of contracts from this and other companies he acquired through lot auctions in the late 90s.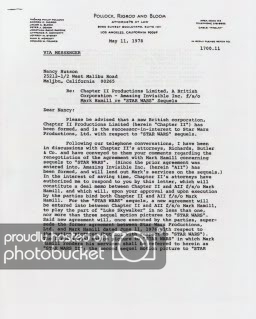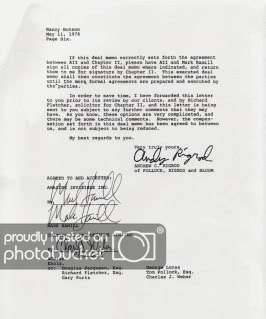 anyway, i really don't have much expertise on these fields so i dont know how much i will contribute going forward. I only buy really what I can authenticate myself like autographs, or right from the original makers/builders. And star wars stuff is expensive LOL so it might be a while before i acquire more. But i was pretty pleased with this stuff and thought i would share. Thanks for reading

James



Last edited by a moderator: