Right, so I think it was about time for someone to try and reunite all the
official
chocolate frog cards that exist out there; cards that are being sold at the moment or that have been discontinued. They've been around since 2010, and I wasn't able to find anywhere online to compare or to get any information about uncommon or even regional exclusive cards.
I tried my best to scan all the different cards that I got. Please remember that those collectible cards are lenticular, so (as long as I know) there is no good way to scan them in order to get a decent printable copy. Those scans are intended to work just as exemples of each model.
I would like to get as much information about different models as I can. I'm a bit obsessed about not missing any, therefore this thread. So, as long as I know, I got all of the different models for every different character released to date. If incorrect, please let me know. I would love to help any eventual collector or HP fan to finish this evergrowing collection.
(Sorry, as this thread will be updated with every new release, and it will be pic heavy!)
At the moment, there's only purchasable 10 characters, but there's more than 20 different cards. YUP. There's more than one Ravenclaw or Hufflepuff card out there.
The list of the characters available right now are:
Regular
Godric Gryffindor
Regular
Salazar Slytherin
Regular
Helga Hufflepuff
Regular
Rowena Ravenclaw
GOLD
Albus Dumbledore
SILVER
Albus Dubledore
Regular
Albus Dumbledore
Regular
Gilderoy Lockhart
Exhibit Ver.
Godric Gryffindor
Exhibit Ver.
Salazar Slytherin
Exhibit Ver.
Helga Hufflepuff
Exhibit Ver.
Rowena Ravenclaw
Exhibit Ver.
Albus Dumbledore
Regular
Hengist of Woodcroft
Regular
Berttie Bott
Regular
Jocunda Sykes
Regular
Devlin Whitehorn
Regular
Garrick Ollivander
Regular
Artemisia Lufkin
Regular
Merlin
Regular
Paracelsus (TO BE REVEALED)
Regular
Daisy Dodderidge (TO BE REVEALED)
(Every card of every character has been changed over time cause of quality reasons. They have improved the definition and fixed the blurriness with each edition every year. I'm just giving an example of each model, but I'm not showing every edition of each card, as it has been many without any substantial modification, as seen below)
At the very beginning there was only 4 characters and 4 models; Hogwarts founders. Those cards were clearly just prototypes, as they were messy, blurry and they've changed so much over time. Each card has changed it's colors from a dark blue to a purpleish lighter blue. The background was redesigned, stars were moved or added, and the back of the card was completely redesigned, changing it's palette and even text.
As an example, see this First edition Rowena Ravenclaw ('10) and then a modern (but not current) edition that was released some years later.
That means that there's 4 First Edition cards of the Founders that are different from the ones that you currently get from the frogs. (I'm just showing Ravenclaw's as it was the most changed one, but the other 3 founders were at the same situation).
A few months later, they announced that a Limited Golden Edition Albus Dumbledore would joint the collection. ('11). After that limited card was discontinued (as cannot be purchased officially anymore), they added a regular blue colored Dumbledore card. What doesn't seem very well known is that there is one more special edition Dubledore out there; It is a Silver Edition Albus Dumbledore card, only obtainable at Universal Studios Osaka, Japan. That makes this card one of the rarest of the whole collection, if not the most, as it cannot be purchased anywhere else. (and I can assure that I haven't seen any of those for sale anywhere. Ever)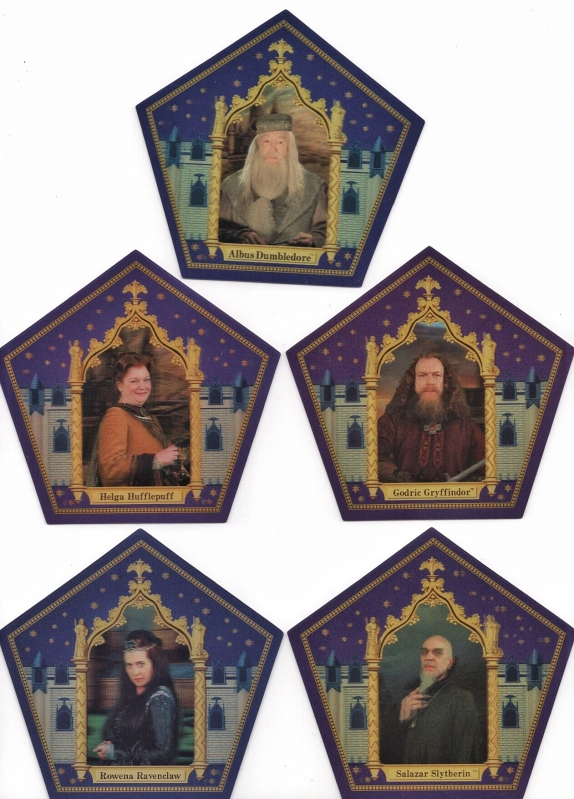 Here the special ones; the Japan Exclusive and the Limited Golden edition. (That (I'm posting a regular photo of the Silver one too, as the metallic effect was lost when scanning)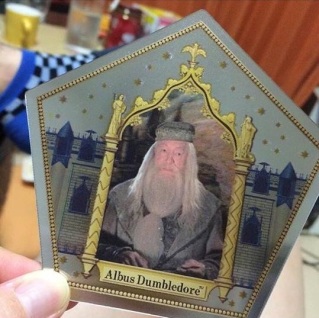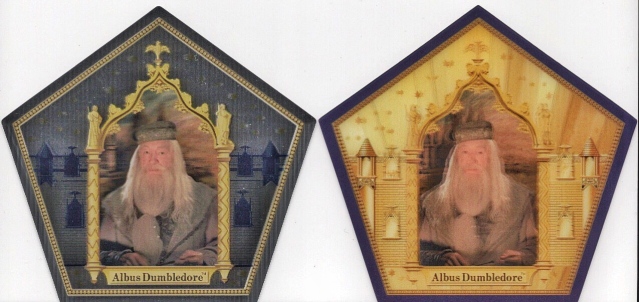 The collection then was stuck for more than 3 years without any new release, till last year, when they released a whole lot of new cards. First of all, they announced a new character to be added to the set, Gilderoy Lockhart, that was released at the HP Celebration 2017 and still can be obtained.
After that, the HP exhibit hit Madrid, Spain, and there a new batch of the first 5 characters were released to the public (Founders & Dumbledore).
They chose to use the same background for all of them, and used different poses and a new design for the pattern of the card, as you can see here. The size of the card was modified too, making them slightly smaller than the previous ones. (The Chocolate frog box was changed too, as they used a different font and changed the packaging a little bit).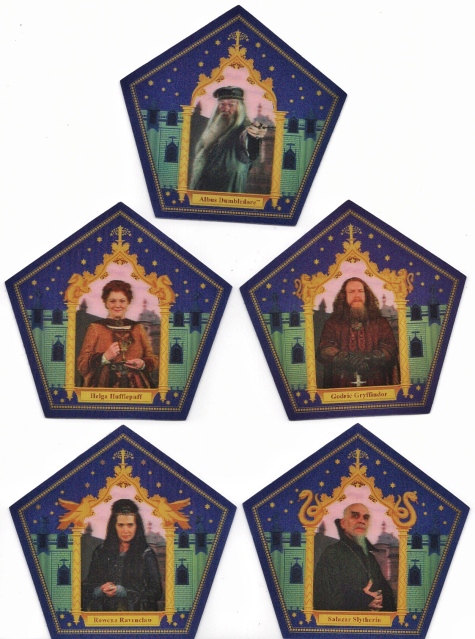 Later that year they announced the inclusion of the founder of Hogsmade, Hengist of Woodcroft. It is randomly obtainable since then.
And finally (for now), Universal Studios has shown the next character to be added to the collection; Bertie Bott. It cannot be purchased yet, and will be released late this month (Jan '18) at Universal Studios Orlando as part as the HP Celebration 2018.
After Mr. Bott, they've officially released a few more cards, both being Jocunda Sykes and Devlin Whitehorn.
Early in 2019, two more cards started to pop up online on eBay. Sellers claimed that they belonged to a not officially released batch of chocolate frogs that were not approved by WB and that were sold at Universal Studios Orlando and Hollywood for a month from November 2018. Those cards are still pending to be officially announced or released, being Devlin Whitehorn the last official card sold by WB.
EDIT: those cards ended up being official and can now be officially obtained as regulard cards in the collection.
29/09/19 -
It seems like a new card has been unnoficially revealed and sold online, being this card Merlin. This release is not official and still has to be confirmed. UPDATE: It turned out to be official and it was released on January 2020.
Shortly after Merlin popped up online, a few more cards were being sold on ebay; Paracelsus and Daisy Dodderidge. Again, those cards were not officially revealed, but the rumors are that one of them was intended to be released on April 2020, and the other one in September 2020. I got both cards already in my collection and will upload better scans as soon as I got the chance to work on it. Due to the COVID-19 situation, I guess both cards won't be released till autumn 2020.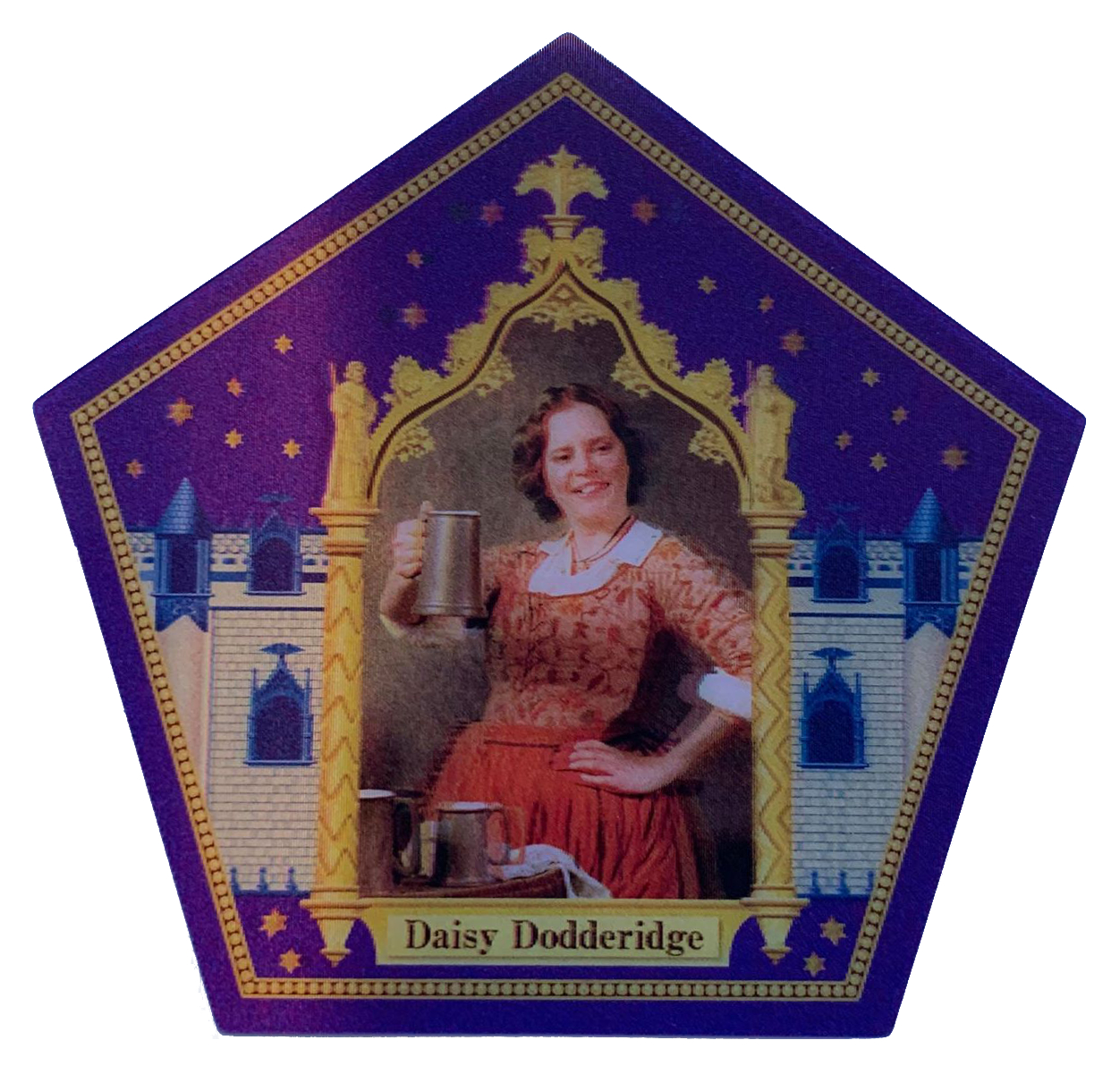 And that's it for now. I know this won't draw a lot of interest, as I don't think many people are seriously collecting these items, but I thought it would be fun to try and do my best with this list!! I'm missing any model, or any release here? Please let us all know!
Last edited: