Hey all!
I've used pep for foam work in the past and was keen to give it a shot with some resin and bondo work. So I decided, what better project to start with than Dredd's helmet?
So this thread will document my experience, from start to finish, and everything I do, mistakes I make, how I overcome them, what I use etc
Recommended watching
I recommend watching both, there is a LOT of valuable information.
Part 1 - Pepakura build

------------------------------------------------------------------------------------------------------------------------
Dredd Helmet Pepakura File
I am using the 'Dredd 3D' pep by Dung0Beetle and Blaxmyth. I don't have a link to the file but it was kindly emailed to me by Blaxmyth.
Tools and Equipment
So the journey began, I printed out the standard size of the pep helmet
(if you want to scale the helmet, or any pepakura files, HaloGoddess offers a fantastic tutorial on different methods of scaling athttp://www.405th.com/showthread.php?t=31627
), cut it all out and then begun gluing it together. I used a hot glue gun for this process and didn't have too many issues with it.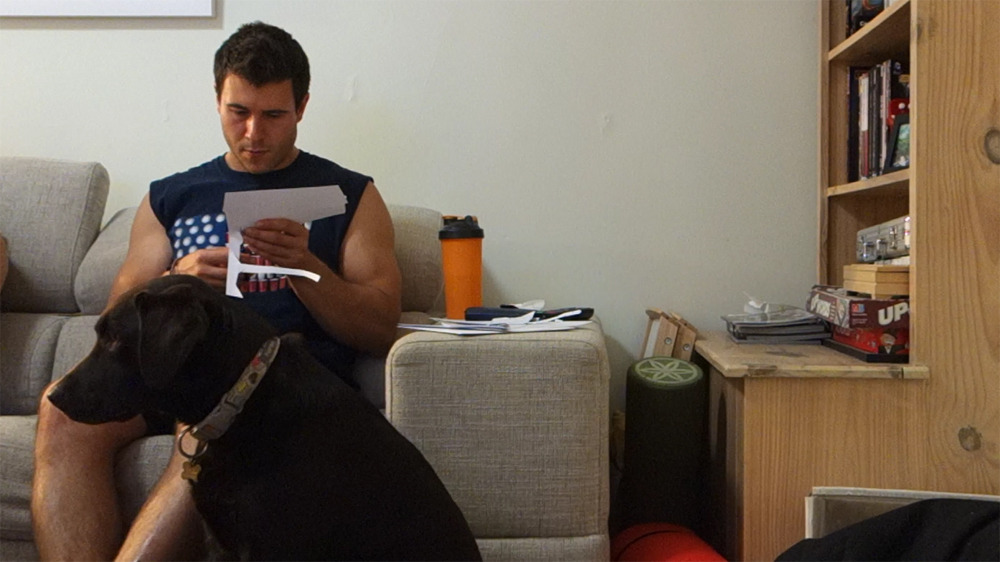 To create the different folds, I placed a metal ruler along the lines and gently ran the back of the exacto knife against the line to create an indent that would make for easy folding. Some people choose to run a pen, several times, instead of using the exacto, which can very easily cut through the paper.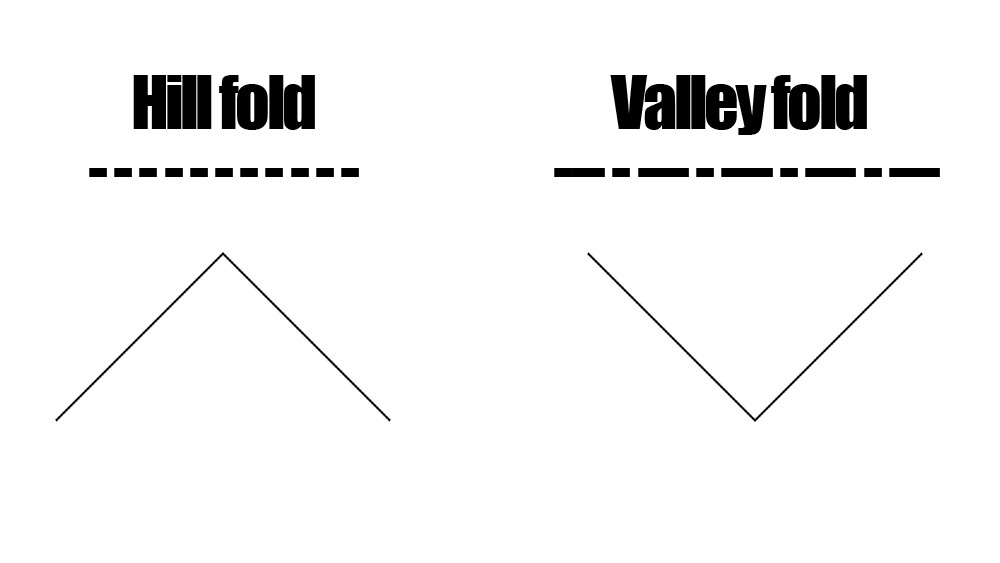 ...and then a quick test fit. Not a very 'Dredd' face but I was too excited.
The reinforcements provided by the pepakura weren't very strong, so I reinforced them with ice cream sticks (popsicle sticks), which were just cut to size and glued to the paper reinforcements.
The helmet was also a little warped in its shape, so I glued a popsicle stick to one side and another popsicle stick to the other side, then using an owl clip to join them, I adjusted their distance from each other to get the desired shape.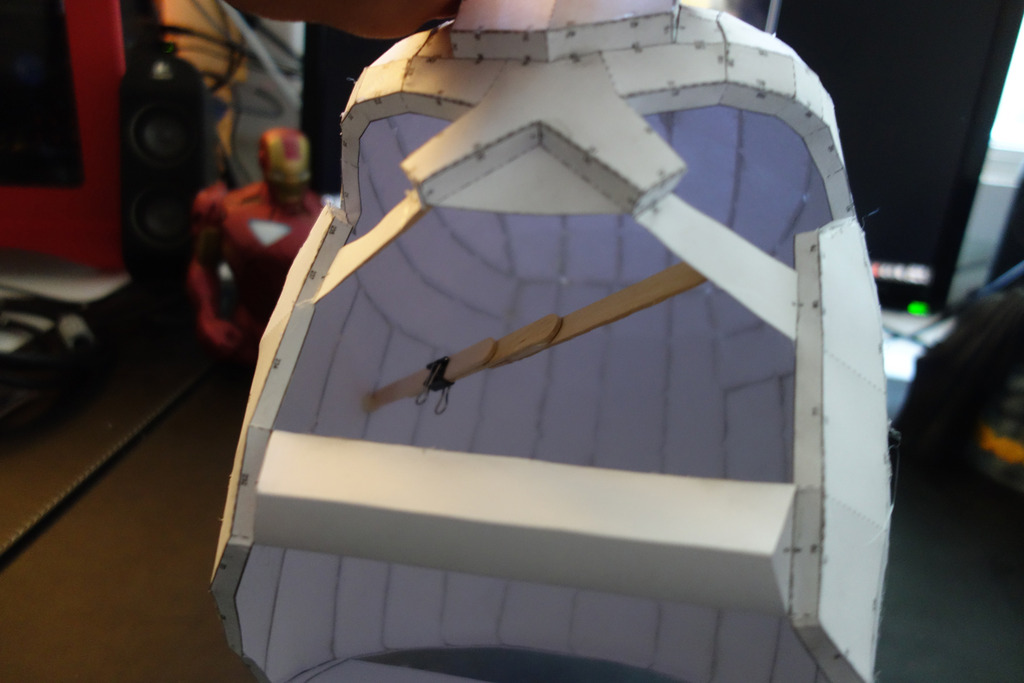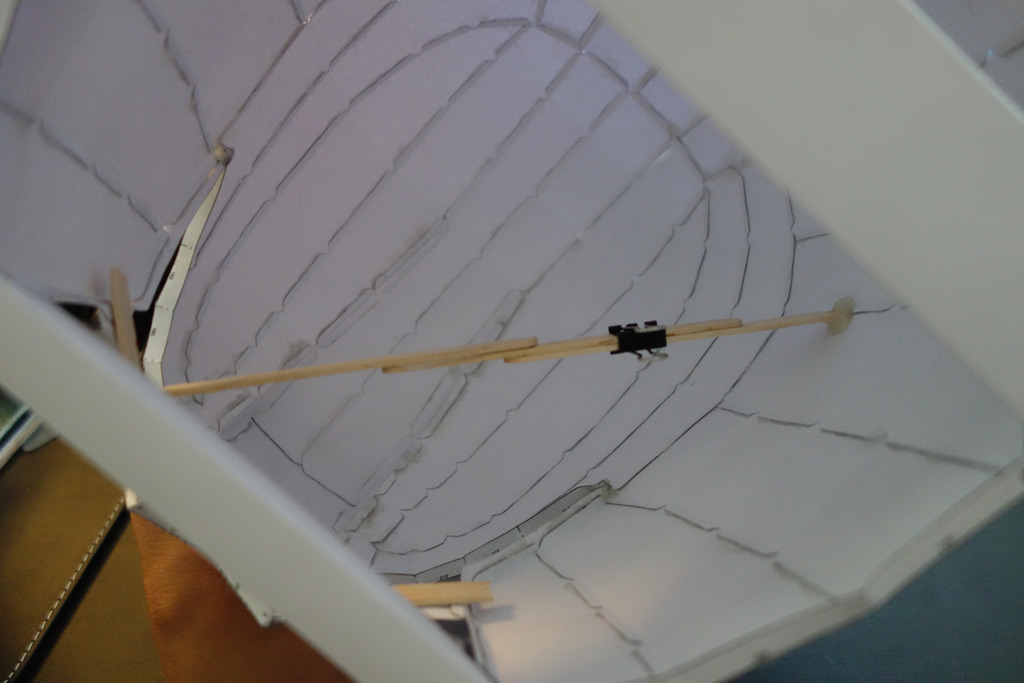 Part 2 - Resin coating the pepakura shell

------------------------------------------------------------------------------------------------------------------------
Tools and Equipment
Now that all the basic pep work was done, it was time to begin the resin work! I was both excited and scared, as I'd never done this before, but learnt a lot from Cereal Kill3r and his youtube videos (
https://www.youtube.com/user/dghezzo
) and Boochieboy's 'Iron man helmet build' series (
https://www.youtube.com/watch?v=QIHamhMdYYw&index=1&list=PL43D27B96B86684A9
).
I recommend watching both, there is a LOT of valuable information. Do it.
Please be sure to wear a respirator with proper filters for the fumes we'll be working with. The $40-50 you'll need to spend acquiring is far cheaper than dying of cancer. Don't die of cancer. Stupid cancer.
As per Cereal's recommendation, I did 1 coat on the outside and 2 coats on the inside. I did not do all these layers in one hit, as I'd read that this could apply too much moisture on the card paper and warp it, so I allowed a couple of hours between each layer. Do not remove the supports until all the resin work is done! (
https://www.youtube.com/watch?v=uTB8ZBLH39s
)
To apply the resin, I used 1" chip brushes and I simply followed the product instructions for ratios etc Keep in mind, that once the resin dries on your brush, that's it, the brush is done for. Just throw it away and you'll need to use a new brush. I found though, that one brush will last as long as you are applying "fresh" resin eg I did one batch of resin, applied it to the helmet, found it wasn't enough, immediately mixed up another batch and was still able to use the same brush.
Once it had all dried, I looked it over for any obvious warps. If there are some minor warps, you can apply some heat to it and correct the imperfection.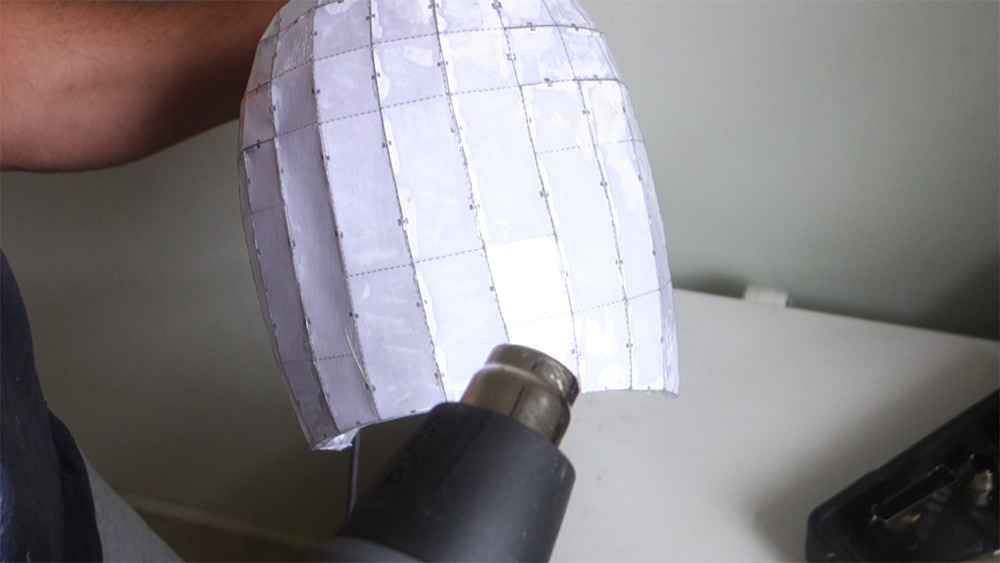 Be careful to not use too much heat, I did this and created a bubble...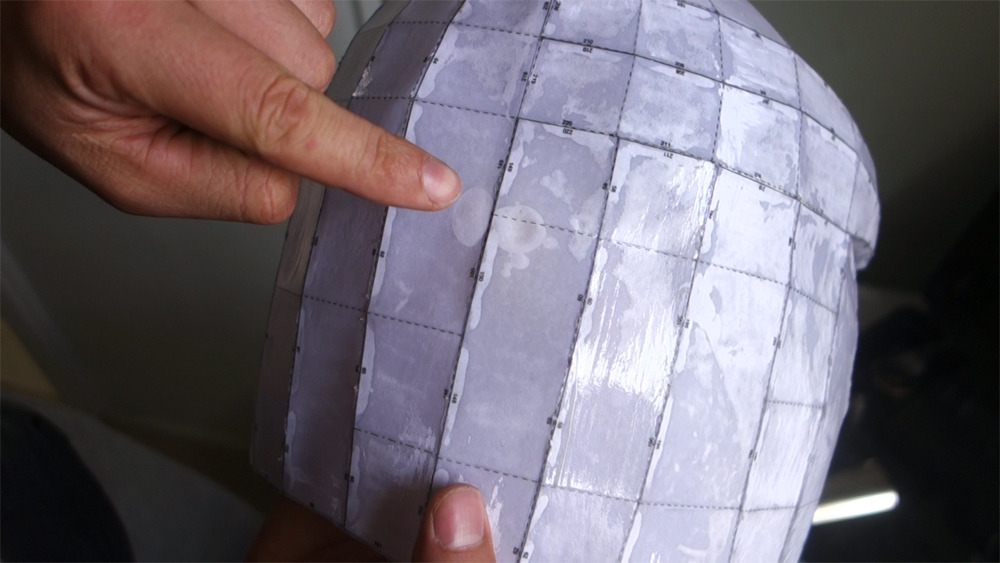 Part 3 - Fiberglass matting the inside

------------------------------------------------------------------------------------------------------------------------
Tools and Equipment
I kept the helmet stored in the shed, to avoid any fumes in the house. This little guy kindly offered to protect the helmet...
Now that the "shell" of the helmet had received some much needed rigidity, it was time to make it super sturdy. Like I'm talking, super hard. This fiberglass matting is going to make this sucker tough. I applied 1 layer of fiberglass matting on the inside but before I could do any of this, I needed to gain access to the inside of the helmet, this is the point I removed the 'supports'.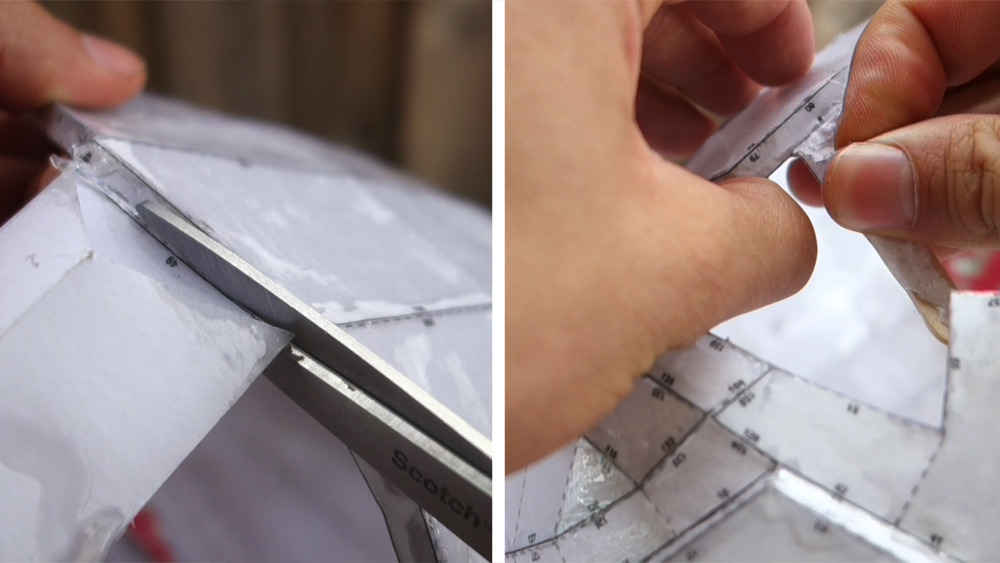 Next, start out by cutting the fiberglass matting into little squares (I used the matting that came with the fiberglass kit but I imagine it would be much easier and cleaner, to use the nicely platted fiberglass matting).
Mix up your resin (as per instructions) brush a little onto the helmet (to help the matting stick into place), apply the fiberglass matting and then dab more resin over the top of it. The matting will absorb the resin and take on the characteristics of cloth that has been soaked with syrup.
I would recommend 'dabbing' the resin onto the matting and not 'brushing' it on, as it can still be moved with brush strokes and can also cause the matting to 'bunch' up.
One other thing to keep in mind, do your best to make sure that you are dabbing the matting FLAT and not creating bulges/ bubbles. If the matting dries with bubbles, you can have problems later when you are sanding. If you sand through the helmet, you will stumble across a hole and will need to spend time filling it etc
For smaller spaces, I cut the matting into the appropriate shape, used a little hot glue to hold it in place and then resin-ed away!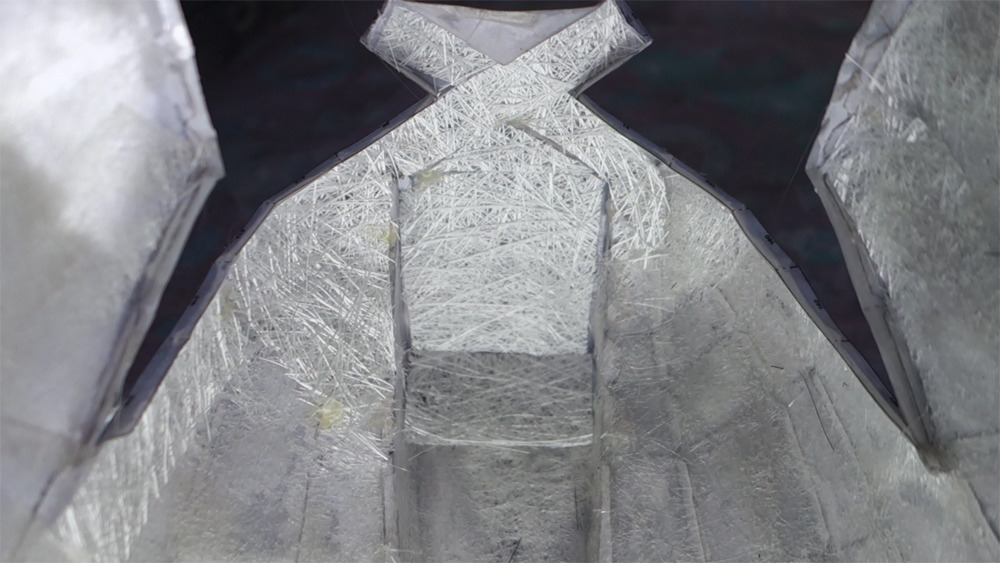 I did NOT put matting on the small edges of the helmet eg the 50mm parts that come out at 90° and represent the thickness of the helmet, as this would have been very difficult. If you look at the image below, you can see what I mean.
Once it has dried it will be solid. If you've never done this before (like me) this will blow your mind.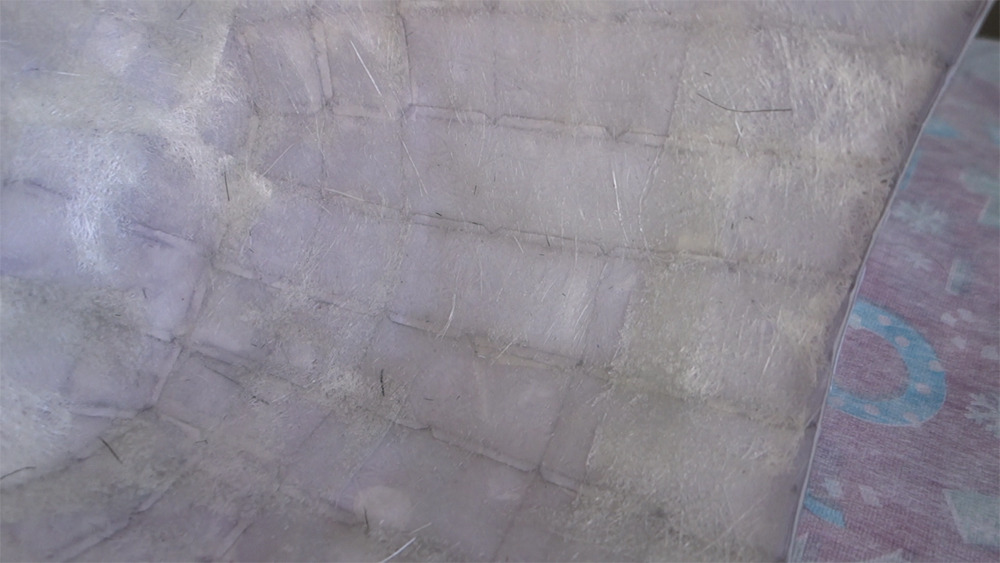 Part 4 - 'Rondo' the inside

------------------------------------------------------------------------------------------------------------------------
Tools and Equipment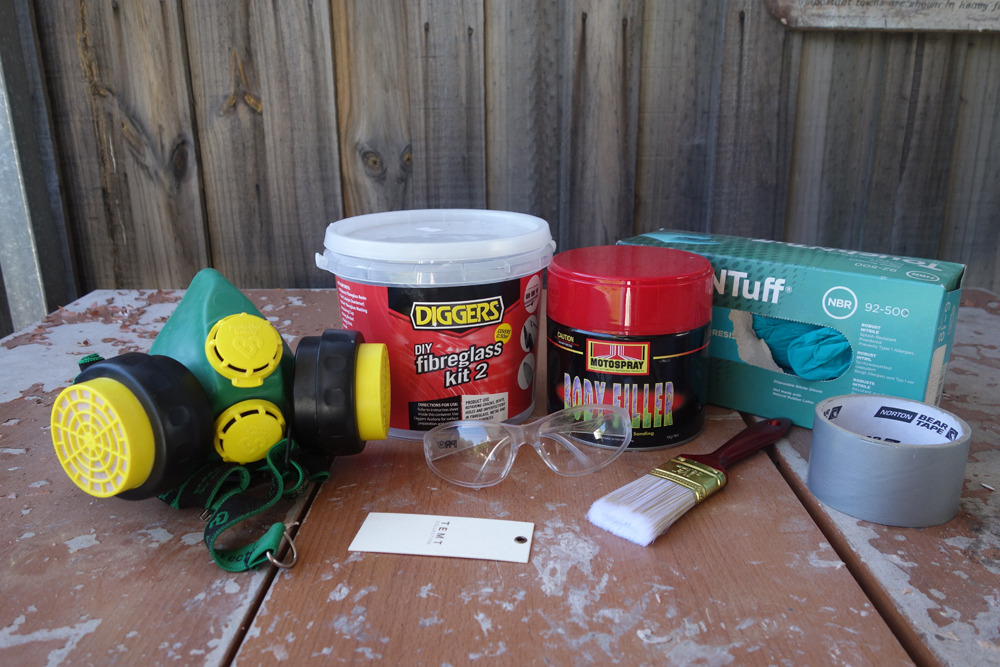 Now that all the fiberglass matting had dried, I applied a 50/50 'rondo' on the inside of the helmet (50% bondo and 50% fiberglass resin). Once this dried, I did another 'rondo' layer of 75/25 (75% bondo and 25% fiberglass resin). This allows for a thicker layer of protection against sanding and better structural integrity.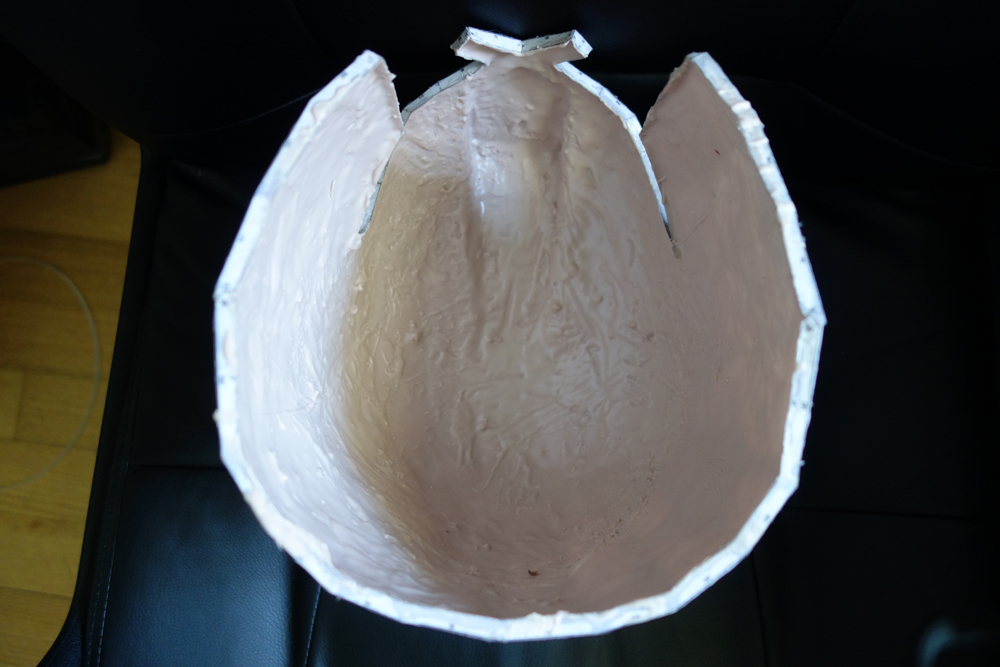 awwwwww yeahhhhhh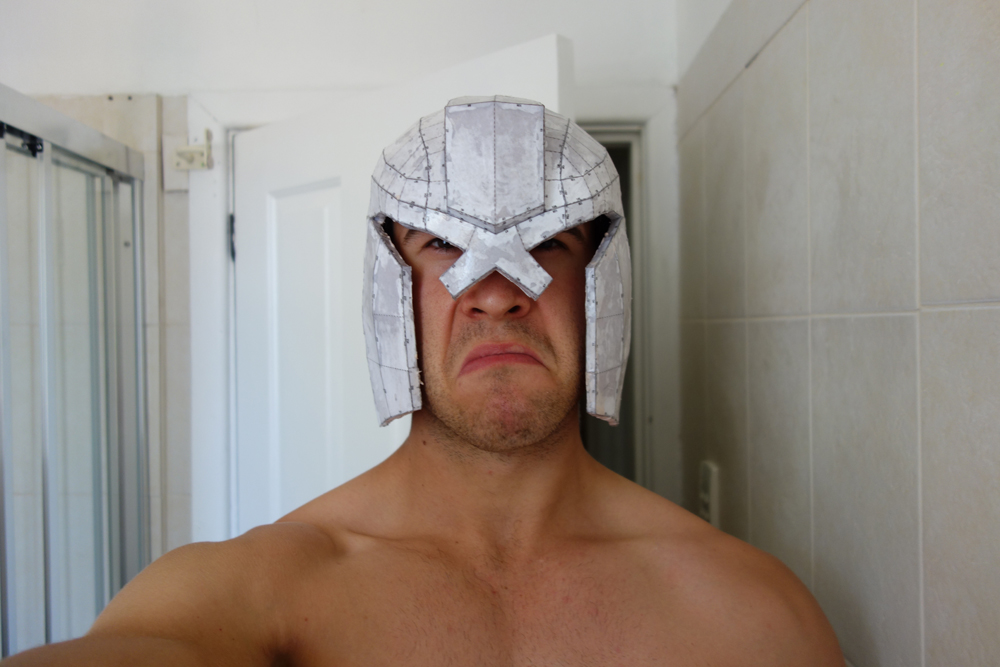 Part 5 - First coat of bondo on the outside

------------------------------------------------------------------------------------------------------------------------
Tools and Equipment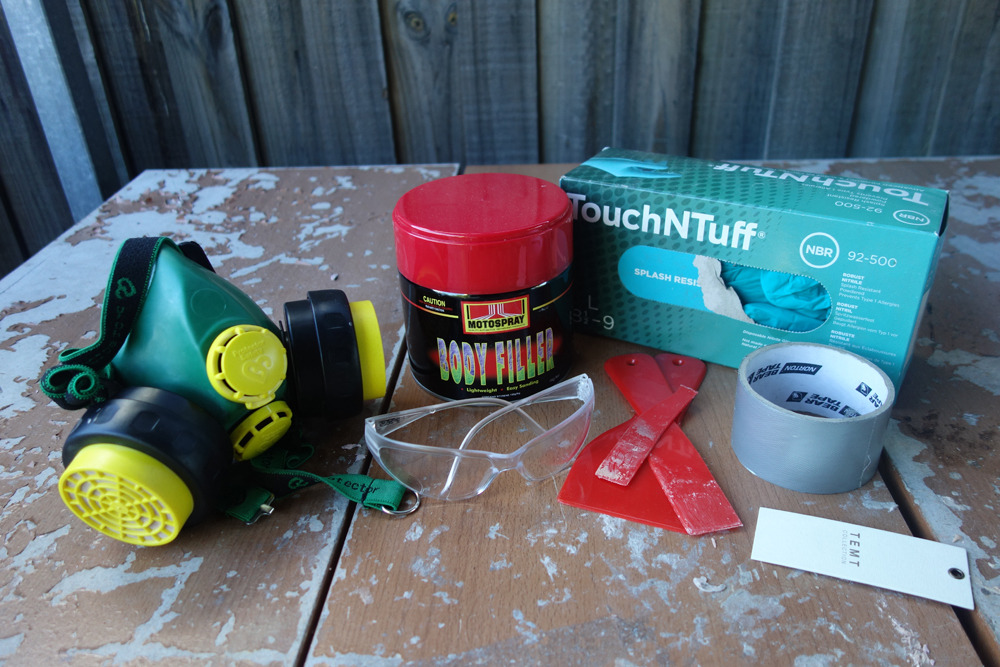 Now that that the inside was ready, it was time to start the next exciting (absolutely terrifying) stage, bondo application on the outside!
The amount I mixed up each time was probably equivalent to 4 heaping teaspoons of bondo and 1 inch of catalyst. To scoop the bondo out of the container, I simply cut up an old cereal box (you could cut old playing cards in half) like so and put it onto a few layers of duct tape, which I'd stuck to my work bench. You then squeeze the inch of catalyst on top and fold it all into each other, using your spatula/ putty knife, until you get a consistent colour. Don't take too long with this or it will begin to harden on you. I probably allowed 30sec to mix and then had 3-5 min working time, if that.
Once the bondo starts clumping up during application, that's it, that batch is done for. If you keep trying to squish it onto your piece, it's just going to create more imperfections and sanding work, especially later down the track, when you're trying to fix minor imperfections.
Bondo scooper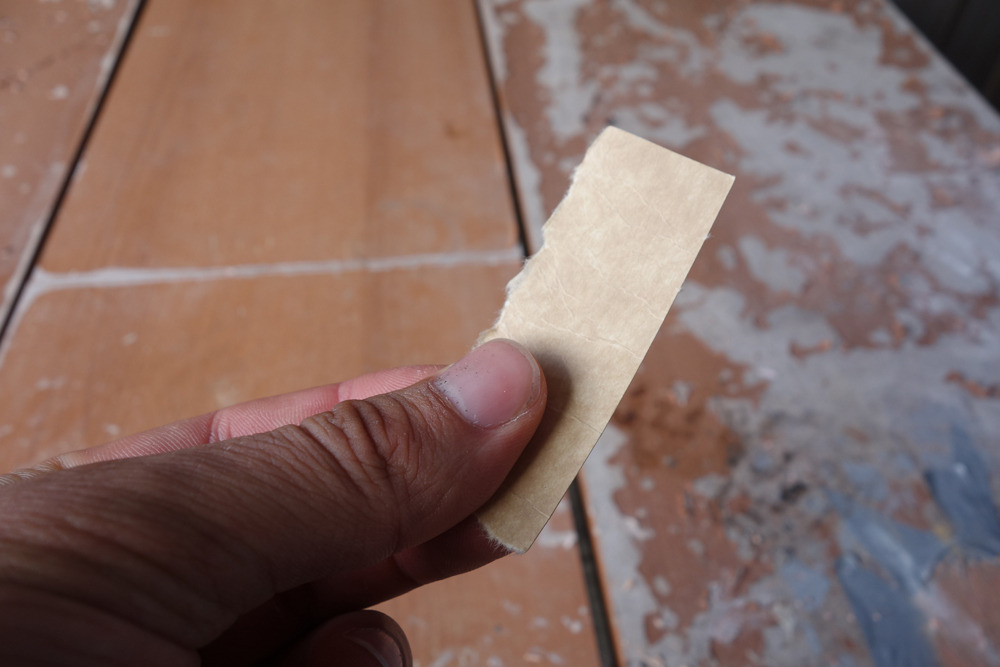 You can use a piece of plastic but I chose to use a few strips of duct tape as my surface to mix my bondo. This made for easy cleaning. You can't use a surface that is porous, such as cardboard, or so I read.
Once all mixed, I used my plastic putty knife to quickly apply the bondo on to the surface of the helmet. I wasn't too stressed about trying to make it incredibly smooth or anything, I just wanted to get as much on as possible. As you've probably read and heard a lot, it's best to do things in several thinner layers instead of just caking it on. This will help reduce sanding time and allow you to still follow the details provided by the helmet below.
First bondo layer all dried
I tried to clean as much bondo off of the putty knives as possible. If you don't, it will dry up on the knife and create scratches when you make applications.
I would scrape off as much as I could on the corner of my work bench… probably not a genius idea but you can also use a blade to scrape the bondo off, whilst it's still a bit wet.
The edge of my "lovely" work bench
Part 6 - First 1-2 layers of bondo and sanding

------------------------------------------------------------------------------------------------------------------------
Tools and Equipment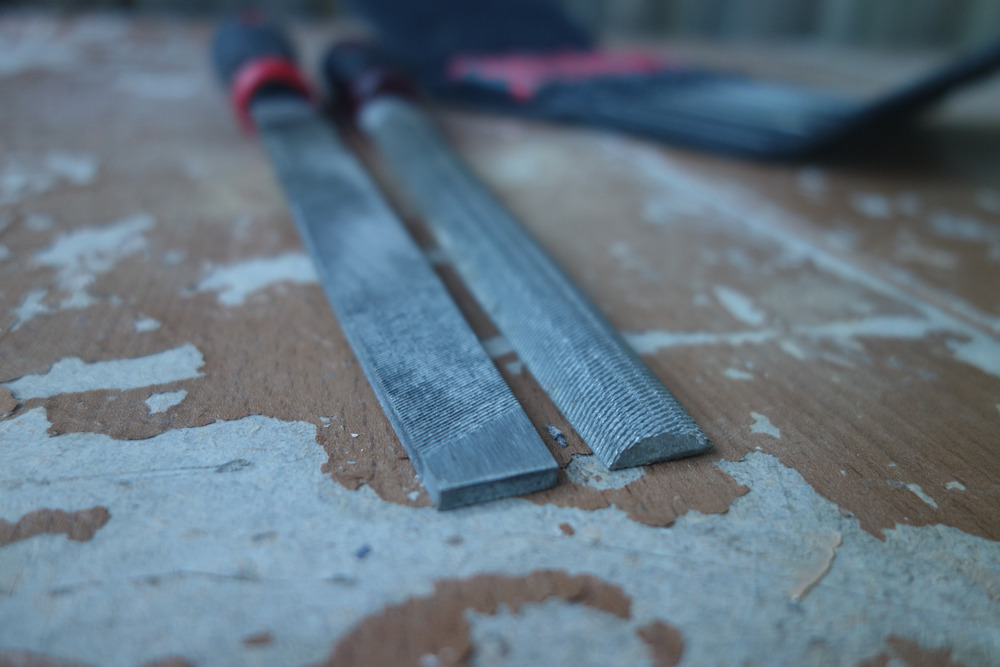 Now that the first layer of bondo had dried, it was time to begin the long, long, LONG, LONGGGGGG process of sanding, then filling etc etc into eternity.
Having read about the time consumption of this phase, I purchased an orbital sander from bunnings $49 (
http://www.bunnings.com.au/ozito-1-4...nder-_p6290396
) with 80 grit sanding disks. Uridium also made a great suggestion, stating "At this point i use a Rasp to sand down the larger bits of bondo or any large parts."
As the pepakura doesn't create round surfaces, the challenge was to apply enough bondo between the highest flat edges, which come together to make a curve, and sand them in such a way (and to such depth) that would maintain the pep shape but create the intended curves. Now, reading this back I know that doesn't make much sense but I'll try and elaborate. I was trying to apply and sand the bondo like below, to create a curve; instead of just sanding the bondo exactly to that of the pep file, which would just end up creating a geodesic dome. Basically, sand the curve into it.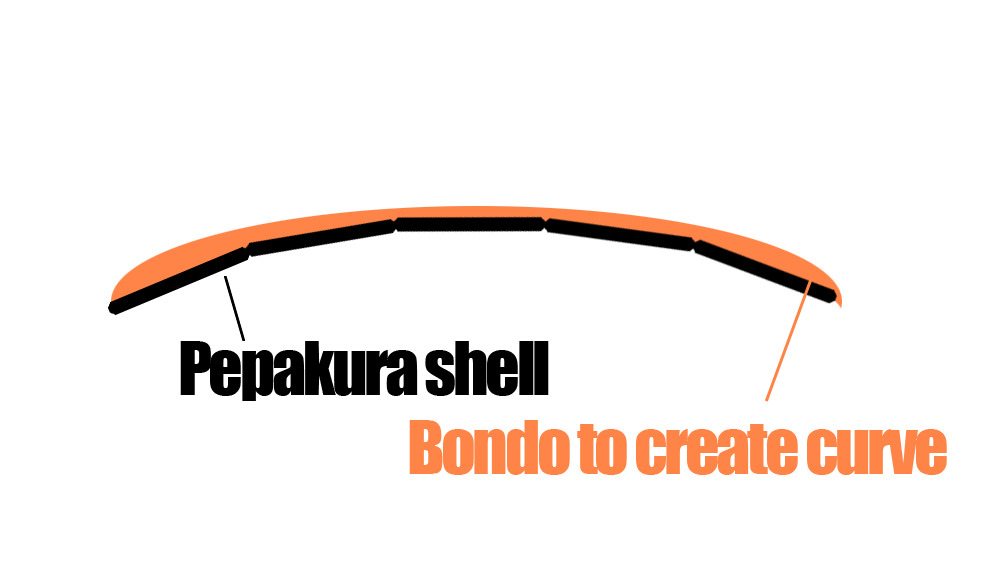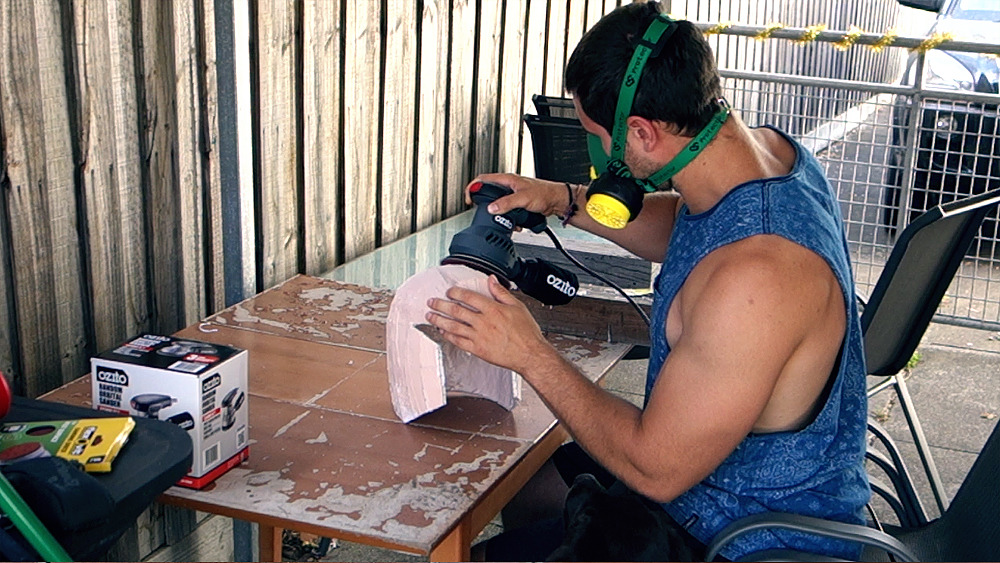 After the first sanding of the first coat
ALSO, as mentioned by 'Boochieboy' in his vids (I think), from the very first bondo layer, try to maintain all details. This means, try to keep edges, crevices, corners as neat as possible from the start, instead of letting them fill. For this helmet, that meant trying to keep the valley on either side of the raised forehead badge area and the nose and eye areas reasonably neat and sharp.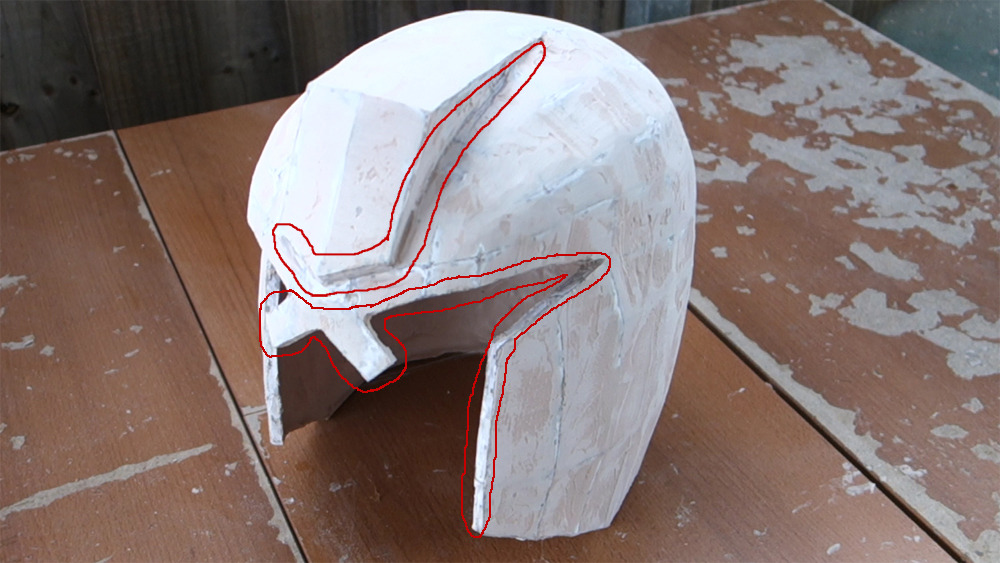 For those tight areas, I obviously couldn't use the orbital sander. I used the edge of my sanding block to gently run along the edge of the raised forehead badge support. I wasn't trying to create the final product (wasn't trying to make it super sharp) just yet, just enough so the desired shape was maintained.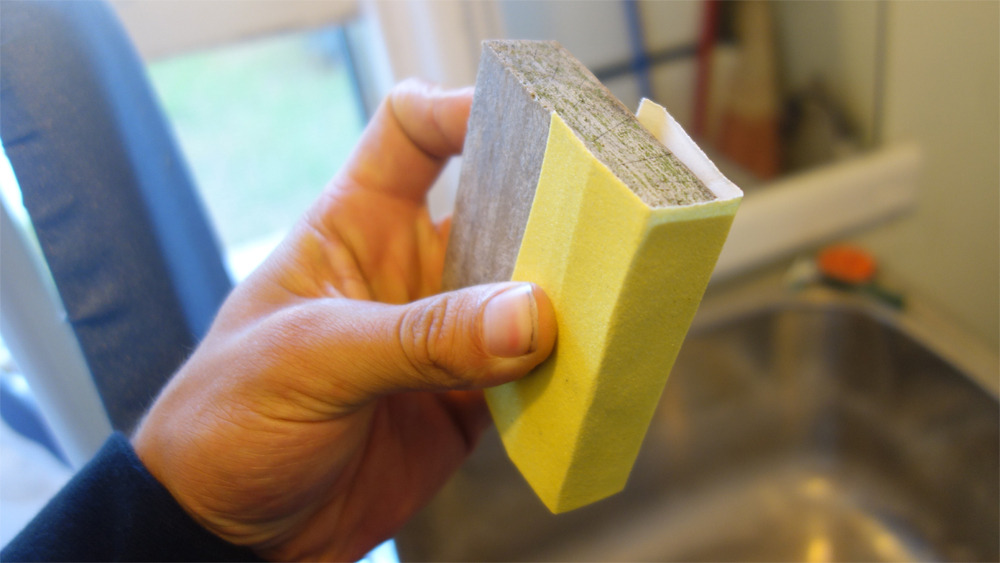 I used the files for the nose and eye sections.
As this was my first time ever sanding, I made a lot of mistakes but also learnt a lot. Probably the biggest thing I learnt was, don't expect to get the exact desired shape first time round, build up to it with mulitple layers of bondo. And once you can see the pep coming through the bondo, stop sanding that section! Otherwise you create holes, like I did.
If this had of revealed the paper beneath, Cereal Kill3r suggests applying super glue into this section before putting filler over it.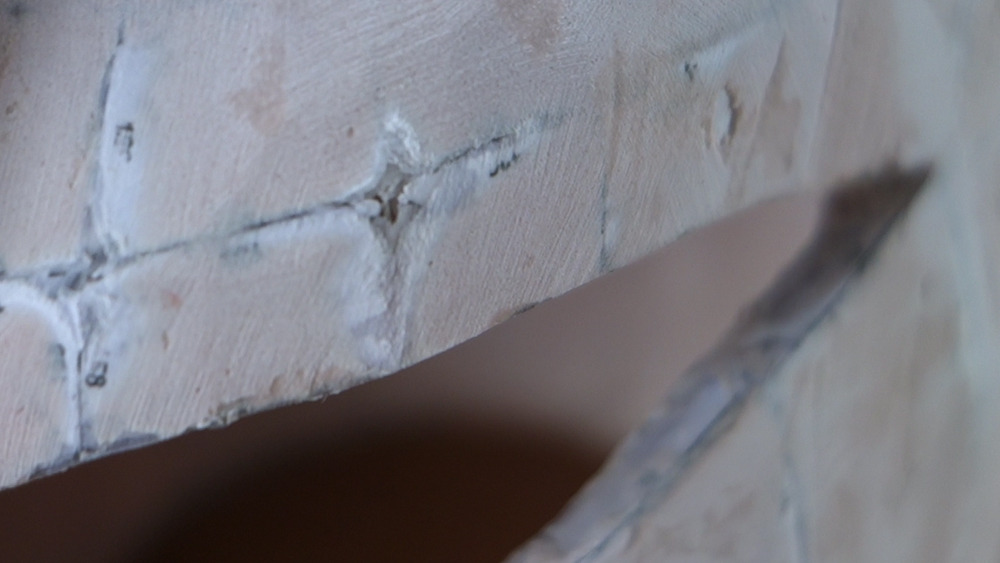 After I finished sanding, I looked over the helmet and realised it was probably a bit too soon to be spot applying bondo, so I mixed up another batch of bondo and applied it all over, a little more liberal than the first layer. Sanded this layer back (keeping in mind those points I made above about stopping as soon as you see [or preferably before] the pep) and then started identifying any warps in the design and started aiming to fill these in and to continue filling the whole helmet in, in general.
After 2 bouts of sanding and the 3rd layer of bondo applied.
Part 7 - Filling and sanding and filling and sanding and filling and sanding… FOREVER

------------------------------------------------------------------------------------------------------------------------
Tools and Equipment
At this point, I stopped counting and just started filling and sanding and filling and sanding and filling and sanding. The descent into madness had begun and the repetitive steps of sanding and filling, into forever, had begun.
Once you reach the point where the helmet has taken its general shape, it's time to start fixing the blemishes and imperfections. I am no longer using the orbital sander, I only used that for the first 2-3 filling and sandings, now I'm onto a sanding block with 120grit sandpaper and then 240grit as the helmet shape gets better and better.
To identify imperfections, I'd use a marker pen to circle them. Once all of them had been circled, I'd mix a smaller batch of bondo and start going over the helmet, filling in the imperfections. At this point, the imperfections are still large, we're talking dips in the surface, not pin holes. As this process goes on, it'll get harder to identify imperfections. What you'll want to do is hit the helmet with a quick coat of a grey primer. This will get you both, very excited and upset, as it shows how great the helmet is going to look but also how many imperfections you need to fix before you get there.
A quick coat of grey primer reveals all! Circle the imperfections and work on.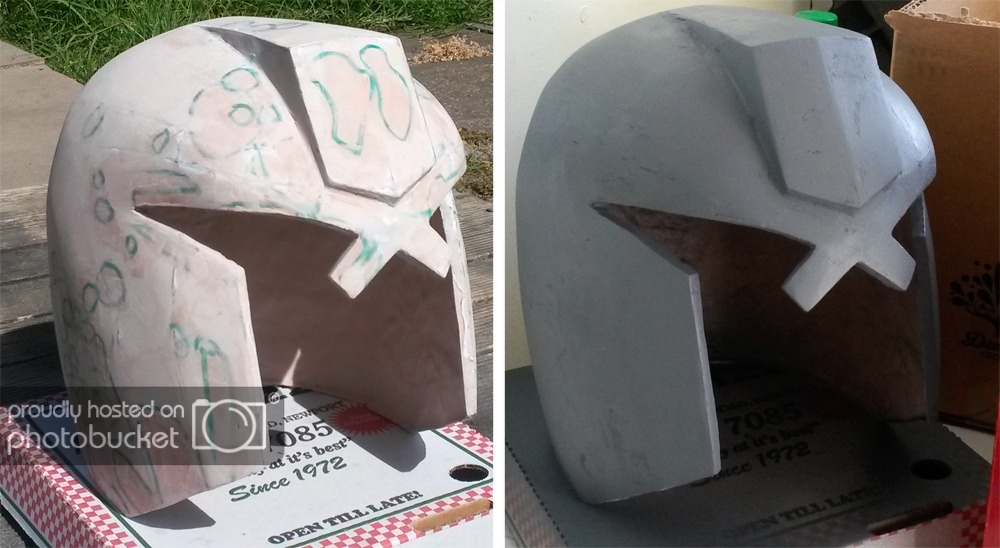 Part 8 - Making the trim/ raised parts

------------------------------------------------------------------------------------------------------------------------
Tools and Equipment
Once I was pretty happy with the helmet and dent and imperfections were to a minimum (but not yet perfect) I decided it was time to do the raised trim.
For the raised trim area of the helmet I printed off the trim in the
Dredd 2012 helmet by Dung0Beetle and Blaxmyth - Foam edit and unfold JFcustom.pdo
I then traced it onto the helmet. It wasn't imperative that both sides were perfect, as no one can look at both sides at the same time! I also chose not to do the "mohawk" raised trim as I wanted my helmet to be like the comic.
Now that the outline had been drawn, I applied the foam tape. Some of the fitters at my work were kind enough to give me this foam tape, the thickness looked ideal for how high I wanted the raised trim, so it all worked out well.
Next I mixed up some bondo, like you do, and filled in all the edges, making sure that the bondo was thick all over and not just at the edges.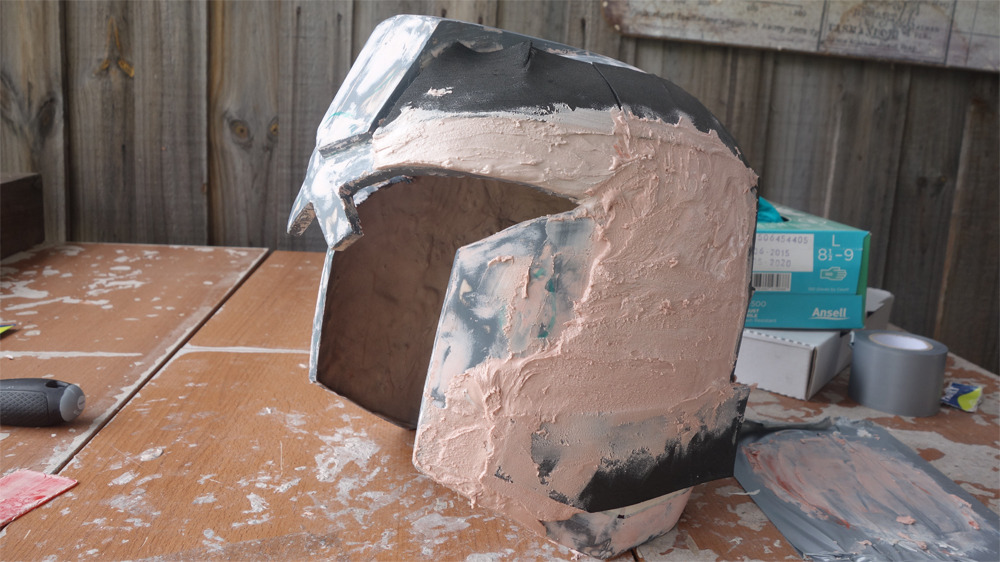 After about 10min I slowly removed the tape,
I did not allow the bondo to completely dry before trying to removing the foam tape.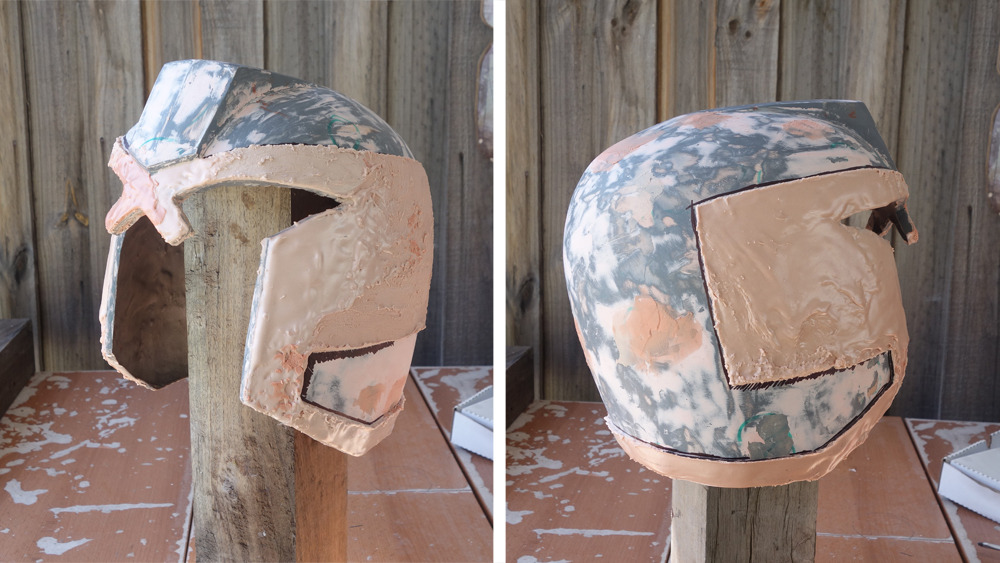 I then gave it a hit with the 80 grit sanding paper on the orbital sander and gave it a quick finish with the 240 grit, block sanding. I also used the edge of the wooden block to sand along the raised edge of the trimming, trying to make it as neat and clean as possible.
After all this, it still had some big dents and holes in the trim, with these I simply mixed small batches of bondo and filled them in.
Part 8.5 - Bad experience trying to fix minor details

------------------------------------------------------------------------------------------------------------------------
Tools and Equipment
From most of what I've read and watched, at this point in the build, when it's time to fix up little imperfections, people choose to use a 'spot putty' instead of mixing tiny batches of bondo. I could not get any spot putty from 'Supercheap Auto' but was able to find a small tin at 'Autobarn'.
Took it home, applied it to all the little imperfections and holes (it's just a tin of premixed bondo) and left it to dry. After it dried I gave it a quick hit of grey primer and stood back to enjoy the view…
It looked okay from a distance…
But then I took a closer look. Everywhere I had applied the 'spot putty' was cracking! Noooooooooooooo!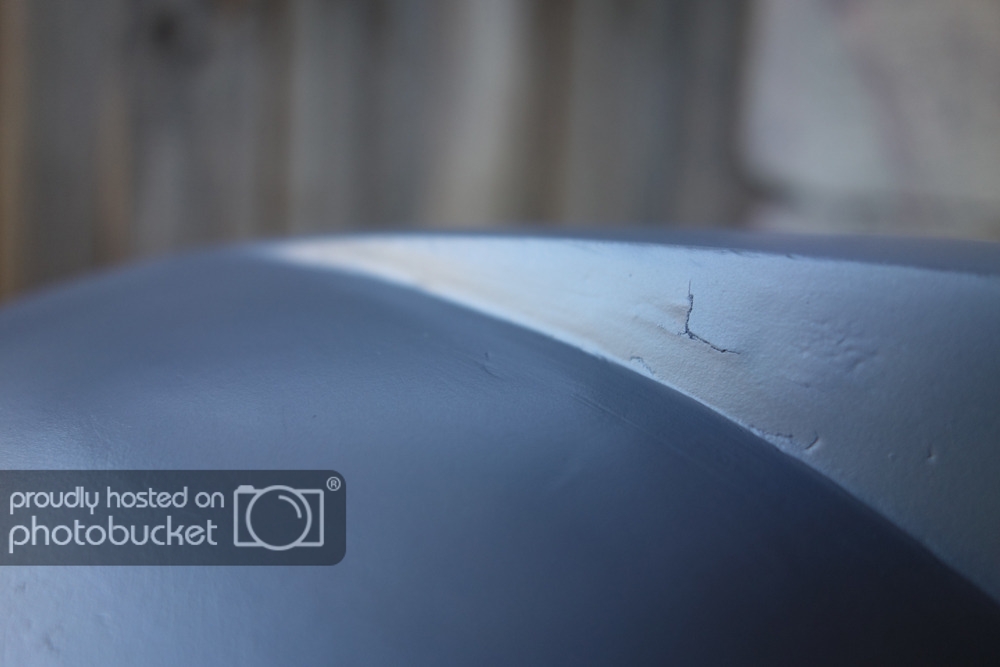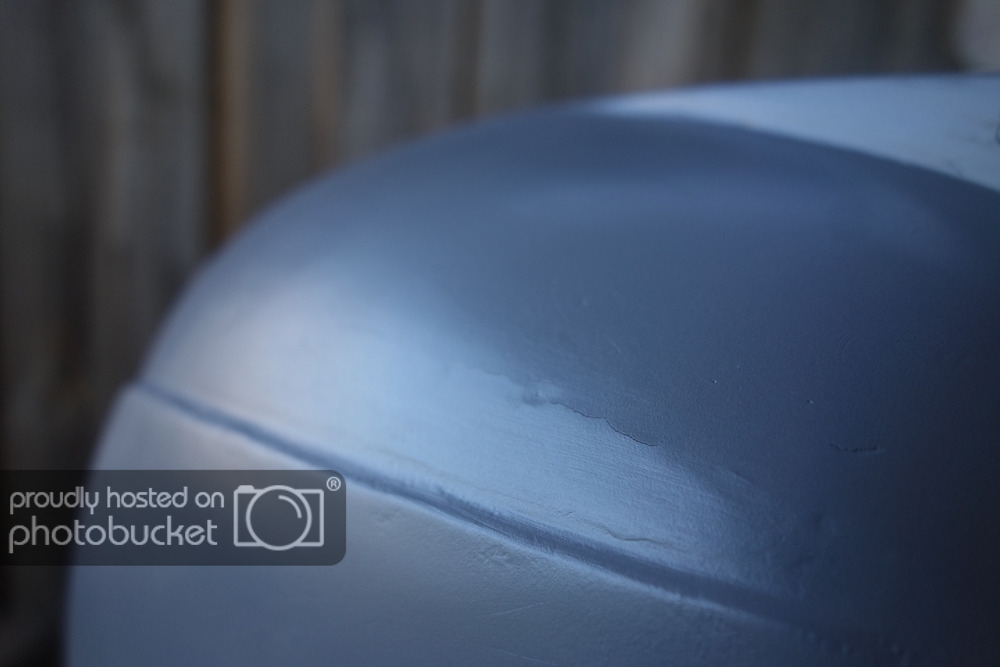 I used a small, flat head screwdriver to gently chisel out the crack and weak putty around it, used a 240 grit sandpaper to create a better surface to grip to and filled it again, using the spot putty. At the time, I did not think there was an issue with the putty itself. I allowed it 24 hours to dry and it all cracked again!
At this point, I was a bit upset, chiseled out all the cracks again and just mixed up a small batch of bondo instead.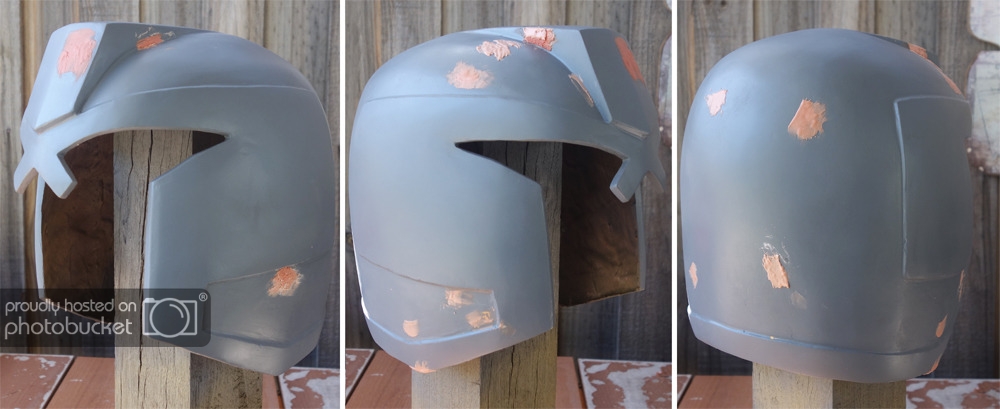 Part 9 - Final sanding and details

------------------------------------------------------------------------------------------------------------------------
Tools and Equipment
You've awoken in a daze "What year is this?", looking around you find yourself covered in a thick coat of a fine powder, you cough and a cloud of dust is blown into the air. You look to your side and, hidden beneath a thick layer of this powdery stuff, is a gorgeous looking helmet "Did I build that? It looks almost complete!?!?" Then you suddenly realise where you are! I've made it through the hell known as "filling and sanding". Congratulations but you're not quite there yet.
Since part 8.5 I have sanded down the bondo used to fill the cracked areas.
Now is the time to fix up those little pin holes and to make all the details sharp.
After my experience with the 'spot putty' I was not going to use it again!
One day, as I was perusing the shelves at my local autobarn, I noticed a 'Spray putty' and thought "Putty in a spray can? That's genius!". I took that baby home and applied it to the helmet, as per instructions. It basically puts a super thin coat of putty over the entire helmet, which you then sand back to leave all the little holes and dips filled and smooth.
I applied the spray all over, let it dry, then lightly sanded it with 240 grit sandpaper, very lightly.
Applying the spray putty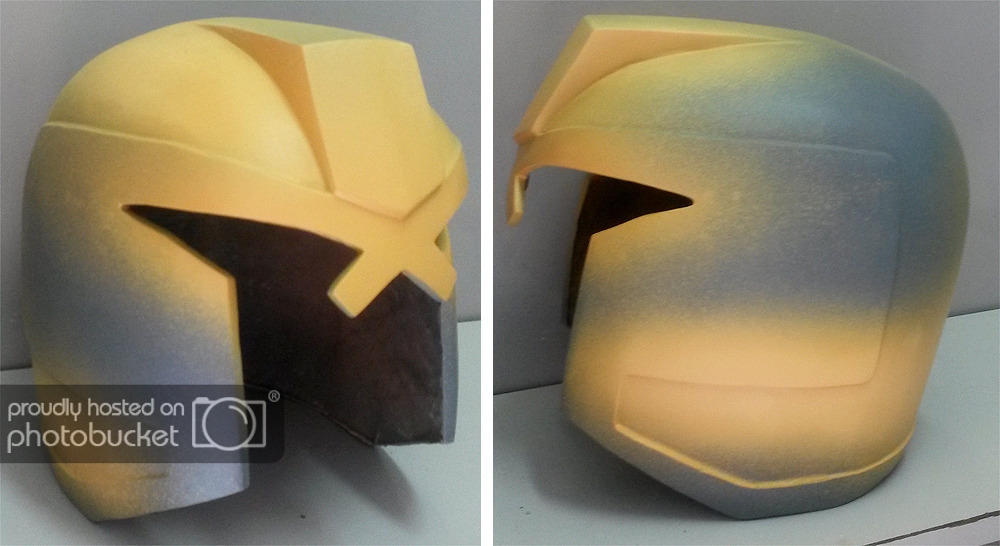 I then sanded the helmet with a 600 grit wet dry paper, this left the helmet beautifully smooth. To do this, I filled the basin in the laundry about ⅓, sat the helmet in it and dipped the wet dry paper into the water, sanded, splashed it with some water, sanded a little more etc Just beware, don't push too hard with this, I found with too much pressure and speed, the sandpaper will sand down the bondo very fast, creating more dips and imperfections!
I used some mini files to go along the edges and valleys.
*Picture to come*
Hit it with a quick coat of grey primer and BAM. So sexy.
Not perfect but good enough for my first ever try, it's been just under 3 months now.
Part 10 - Painting

------------------------------------------------------------------------------------------------------------------------
Tools and Equipment
"Is this the real life, is this just fantasy?" PAINT TIME, PAINT TIME!
So last we saw, the helmet had it's grey primer applied. To begin the painting, I appplied 4 coats of aluminium/ silver. This is painted underneath all the layers so, if you choose to, when you do weathering/ battle damage later, you can simply scuff/ scratch the helmet and the silver beneath will be revealed! Noice. Can't remember where I read this but it's a pretty good idea.
Next up, 4 coats of black. BAM!
Now all we have to do is mask off the raised trim and paint the red! I did a few test pieces of masking paint and I learned a few things which I used when painting and masking the actual helmet.
1. Put as little amount of masking tape on the helmet surface as possible
2. Remove the masking soon after the paint has been applied. Don't leave it on for days
I learned both these lessons by having the paint peel off, attached to the sticky tape.
How much surface area I allowed the tape to have.
I use the low adhesive masking tape on all areas that touch the helmet and for everything else, a cheap tape. The low adhesive tape is too expensive to waste.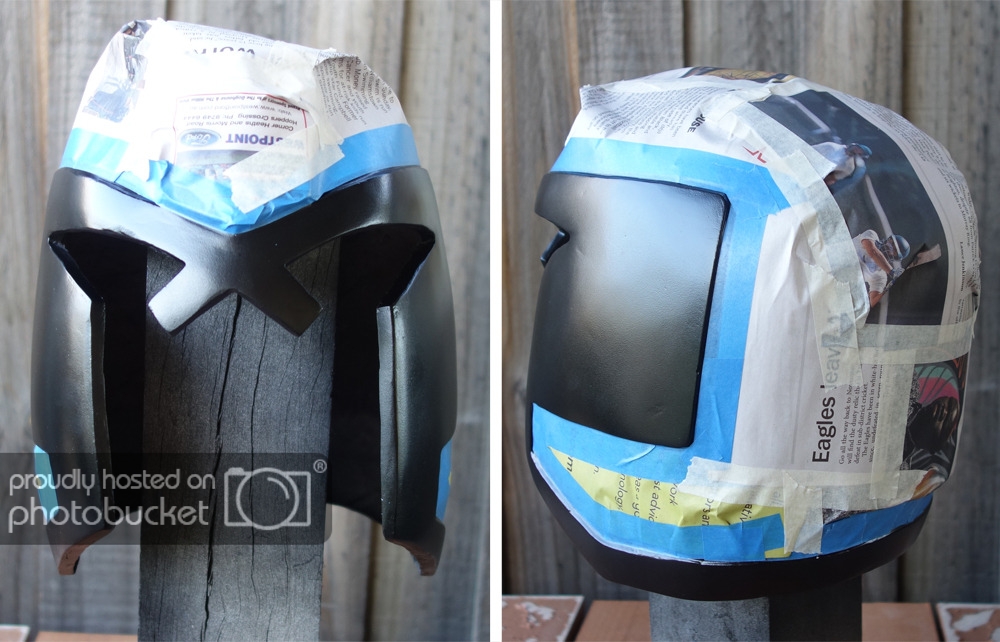 Sprayed a quick 4 coats of red. Be careful not to concentrate the paint too much or you'll get runs/ dribbles (and I'm not talking about your bowel movements after a big night of mexican food, this is much worse).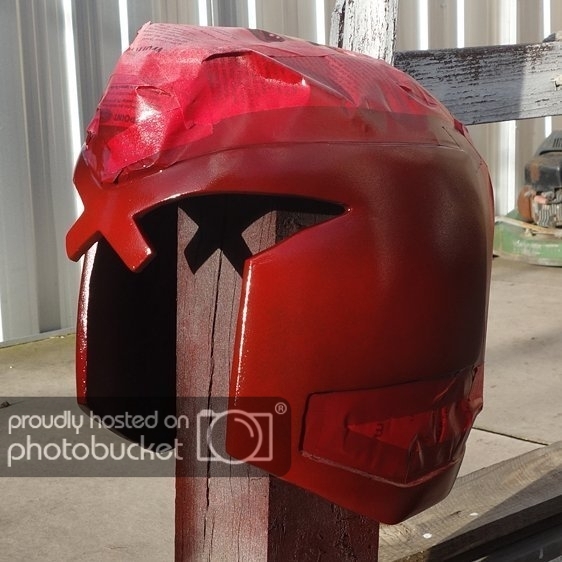 After about 5 minutes, I removed the masking… (I will upload more photos soon, if you want?)
Part 11 - Visor and Padding

------------------------------------------------------------------------------------------------------------------------
Tools and Equipment

[*=1]Drill set
[*=1]Drill
[*=1]Hot glue gun
[*=1]scrap foam (collected cut offs)
[*=1]nut and bolt (found in shed)
[*=1]$6 picture frame from $2 store with plastic "glass"
[*=1]small sheet of tint (asked for scraps from local tint store and they gave it to me for free)

​
From what I had read, the visor was probably going to be one of the trickiest items to obtain for this build. There's a fine line between splashing out with all your money to buy an incredible, professional visor and then finding something that does the job. At this point of the build I didn't want to spend much more, if any, money (I'd had to purchase every tool so far).
Lots of people said they'd used replacement visors from face protectors, like the one below, but I couldn't find any local that sold them and before I could look on eBay to see if they were available, I found an alternative!
Lots of people use face protectors like this because it's relatively cheap and easy to use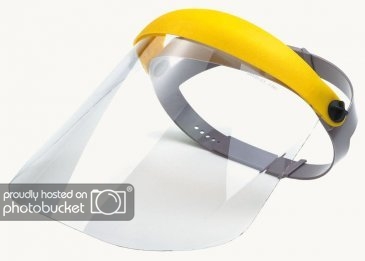 I was lurking through a $2 shop, as you do, and was looking at some cheap picture frames for the house. I noticed that the picture frames didn't use glass but instead, a thin plastic that wasn't too thin to be flimsy but wasn't too thick it couldn't be bent. How much was an A3 picture frame? $6! Bam, bought it.
To figure out the size and shape to make the visor, I simply used the template by golem95
http://www.4shared.com/folder/UNoX32FG/templates.html
Printed it, cut it out, cut out the right size plastic and test fitted it!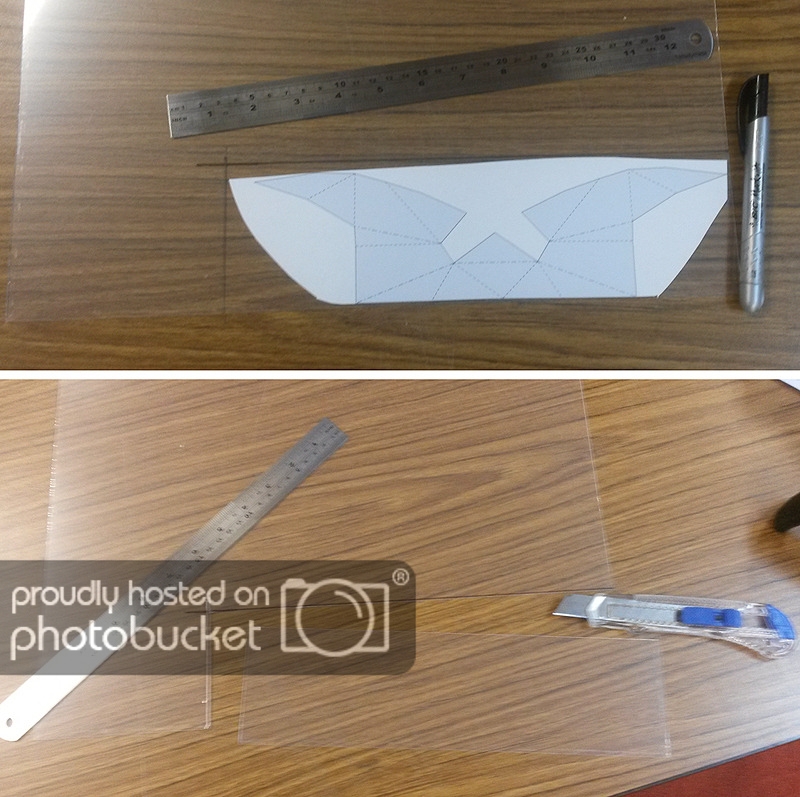 Sticky taped in place for a test fit.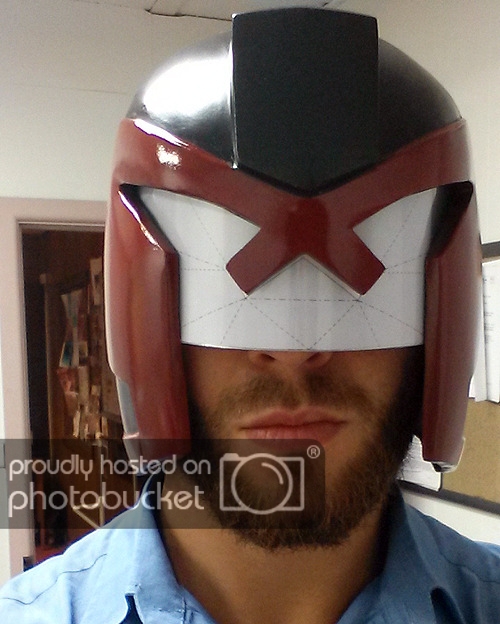 I had read many different ways of securing the visor in place but I definitely wanted the visor to be removable, so I thought the simplest thing would be to just bolt it into place.
I used a bolt to secure the centre of the visor in position and used little pieces of plastic (chopped up a plastic hook) as guides to hold the outer edges of the visor in position.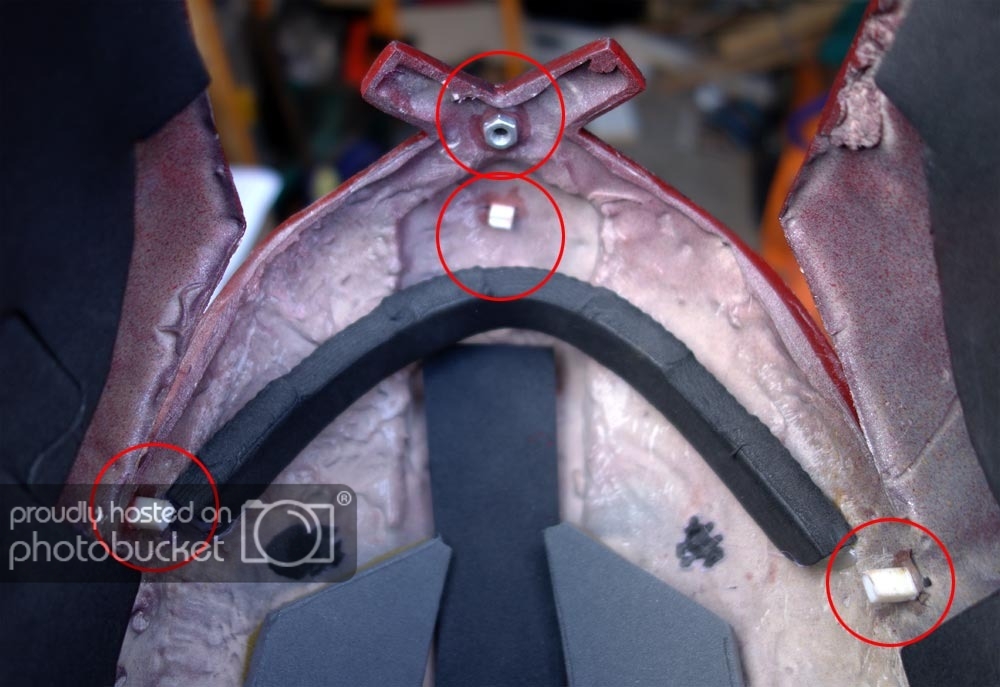 Obviously the visor cannot be see through, so I went to a local tint store and asked "what's the smallest sheet of tint I can buy?". He asked "What's it for?" to which I replied "A Judge Dredd helmet...". He said "I'll be right back." and went into the back room. He came back out with a scrap cut off of tint and handed to me, "It's on the house". What a legend.
So I got home all excited, tried to find were to peel the backing of the tint sheet, so I could stick it onto the visor, couldn't find it and realised I had no idea of how tint works... I tried watching a bunch of different videos and googling how to do it but they were all for car windows and didn't really find anything that was relevant. I ended up simply gluing the sides of the tint to the visor, by far the cheapest thing I have done this build. Not happy with the result but I don't know what to do lol Fortunately, when I figure out how to do this, I can simply remove the visor and put it a good one.
Visor in and secured.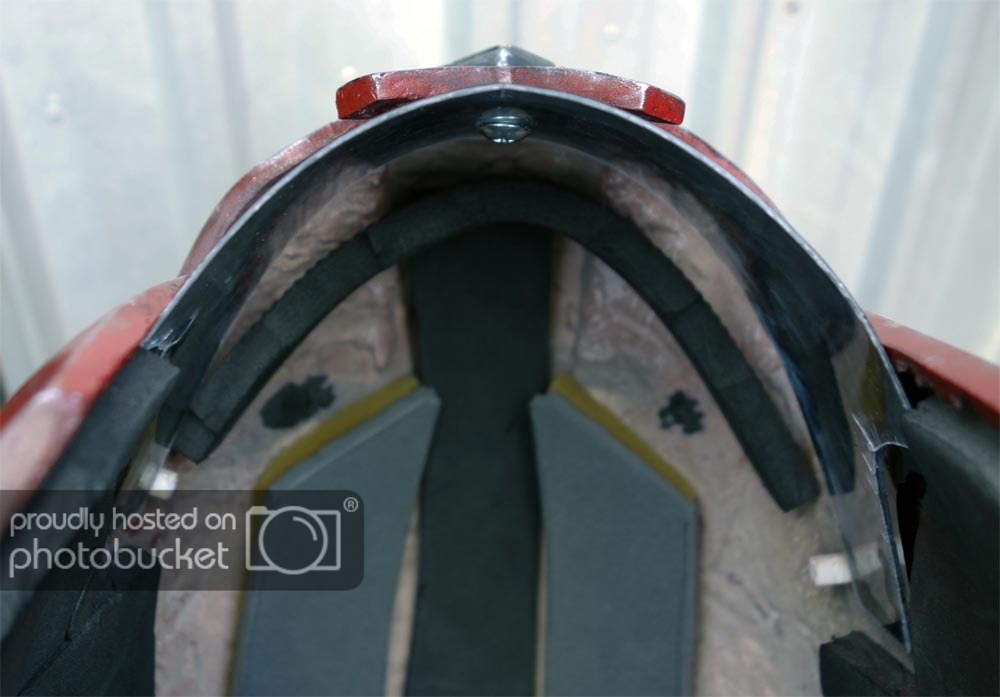 The padding was very simple. I simply grabbed some of the foam scraps and glued them in! The foam is 10mm (1cm) thick. Underneath the foam, at the top of the head, I glued in some cushion, for more padding.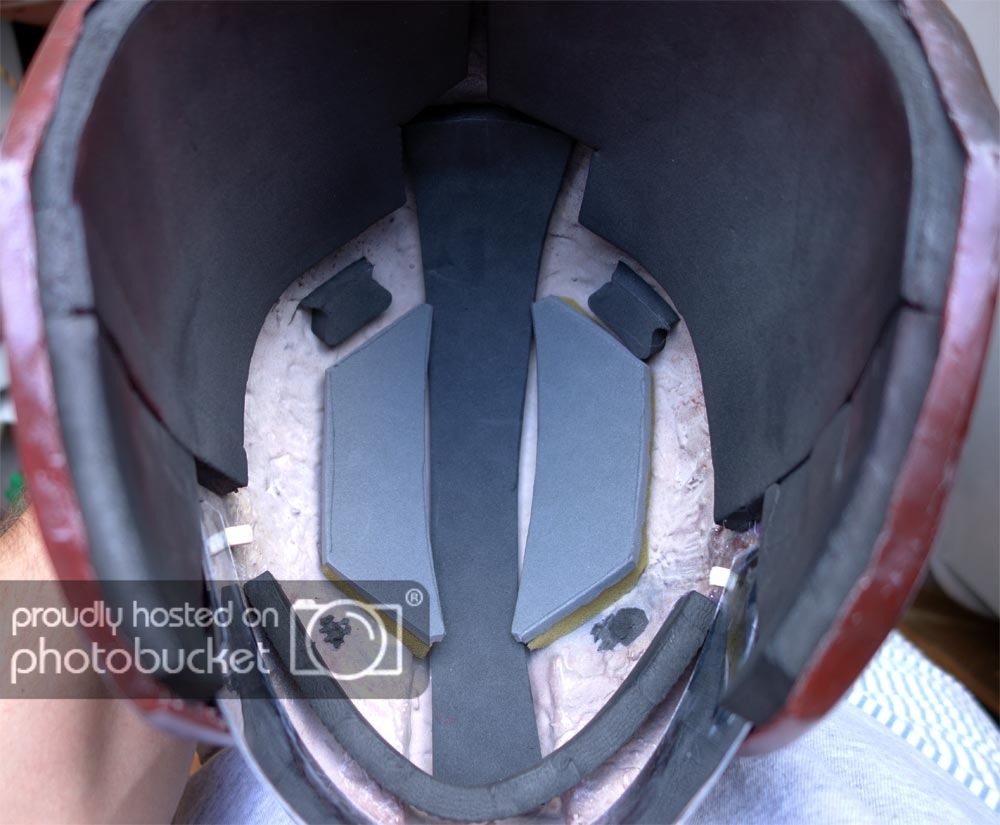 Now it's time for a test fit! Awww yeah
Part 12 - Forehead Badge

------------------------------------------------------------------------------------------------------------------------
Tools and Equipment
Motospray spray putty $16.99
Painters tape
Hot glue gun
No More Gaps
a mate with a 3D printer
My mate recently purchased a 3D printer and I kindly asked if he'd help me out, to which he kindly obliged. I sent him some pictures of the badge and he brought in a freshly printed badge a couple of days later. Here comes a little problem, the badge was flat and the area where the badge was to go was angled...
That's okay, nothing a little heat can't fix...
OMFG, WHAT? NO!!!!! I called my mate, who was kind enough to print out another couple of badges... to which I broke all of them aswell. awwww man. What to do with 4 broken badges?
Not to worry, just glue them in position and fill in the rest!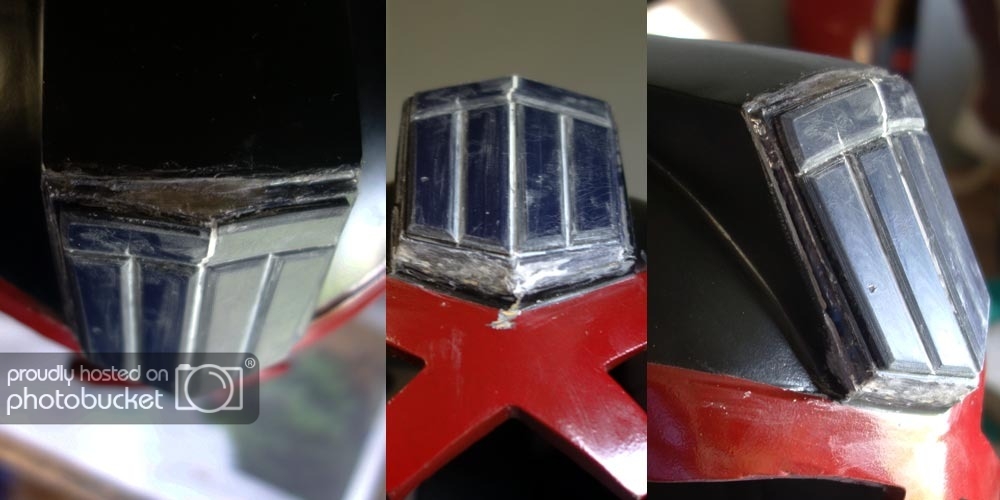 I hot glued the badge to the forehead, filled in all the back and side gaps with hot glue and then filled the gap on the badge with 'no more gaps'.
Obviously it doesn't look too crash hot so I did the best I could to try and smooth everything out. I masked off the hot glue areas and hit them with a couple layers of the spray putty.
Lightly sanded it and then hit it with some paint. Not perfect but it will do.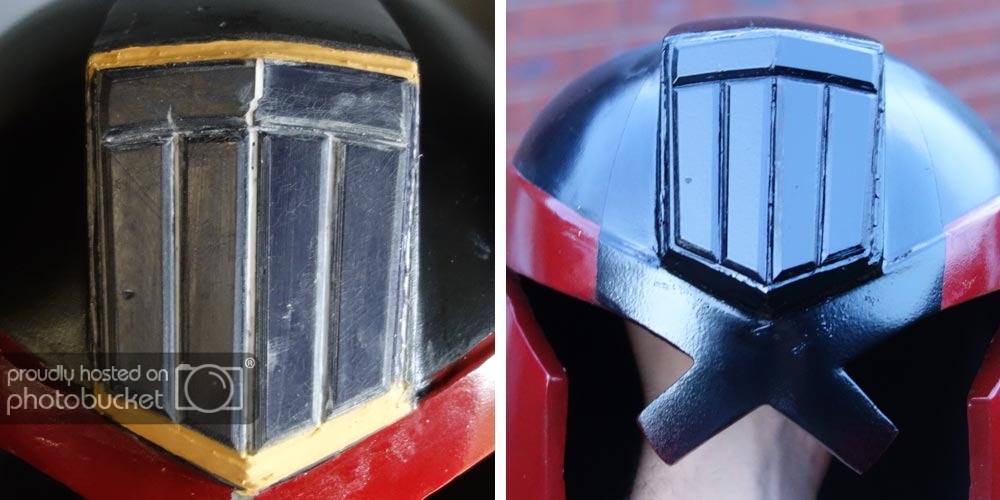 Progress shot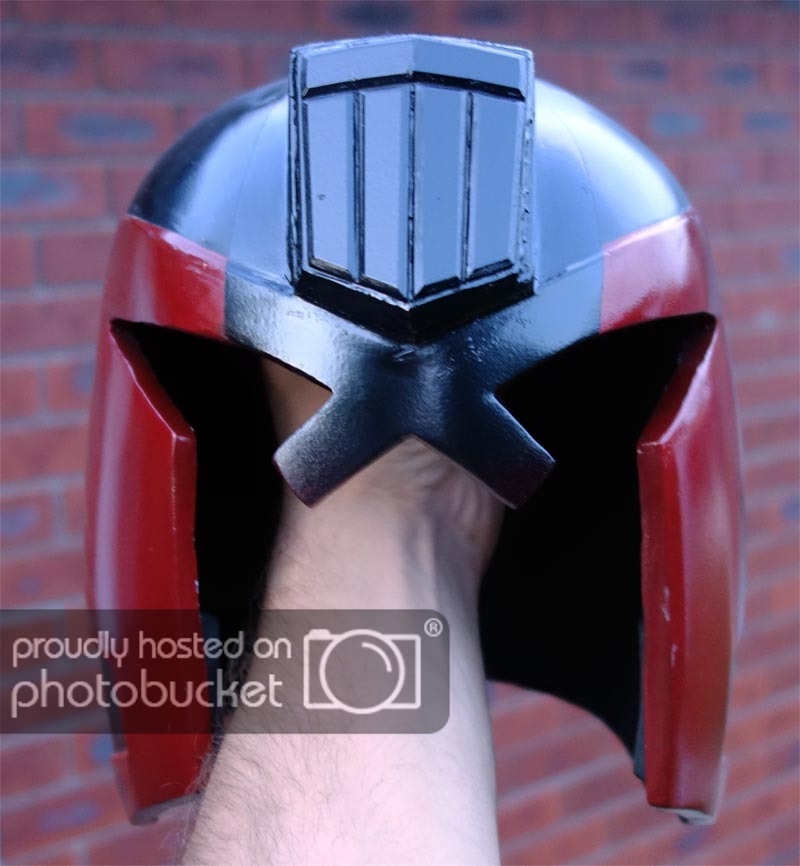 Part 13 - Weathering and Battle damage AND FINISHED!!!!!!!!!

------------------------------------------------------------------------------------------------------------------------
Tools and Equipment
Silver spray paint
Gold spray paint
black
old cloth
This part was simple, wrap cloth around finger, spray a little paint on tip of cloth, briskly scrape cloth across helmet. Learned this technique from https://youtu.be/IlO3hERG-Gc
and the final product...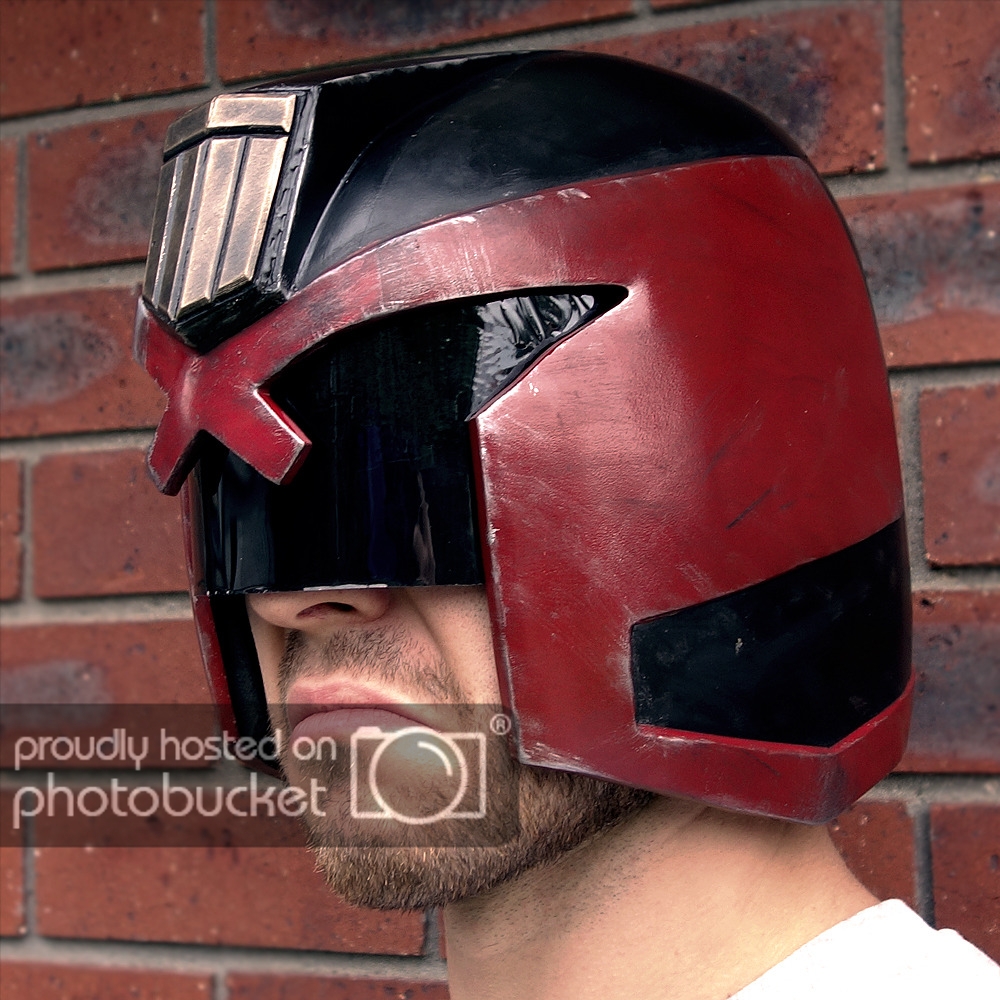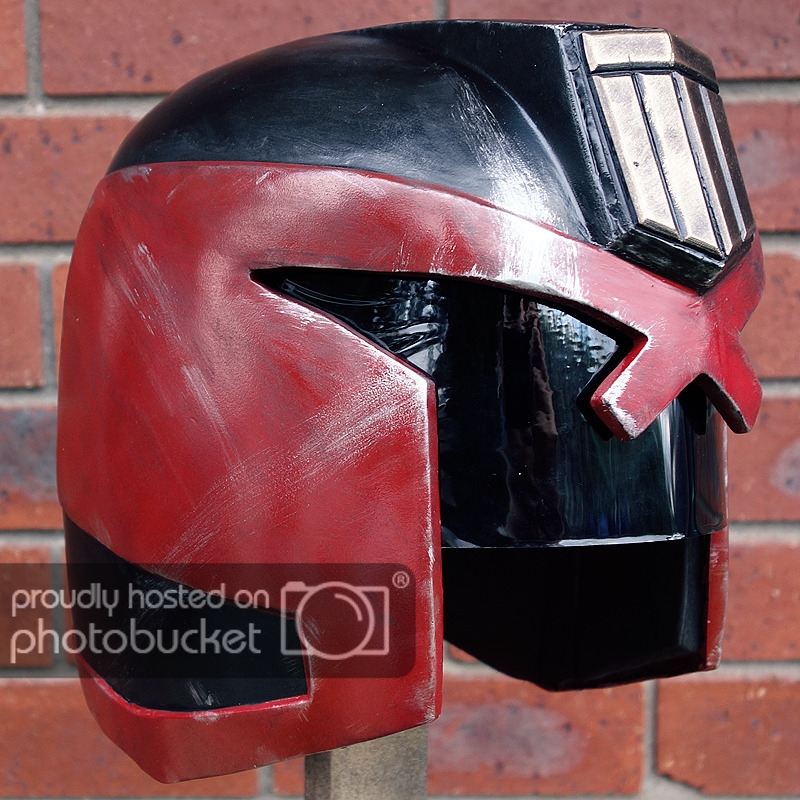 It's not perfect but I'm pretty happy with it. Thanks everyone!
Now to finish my custom body armour...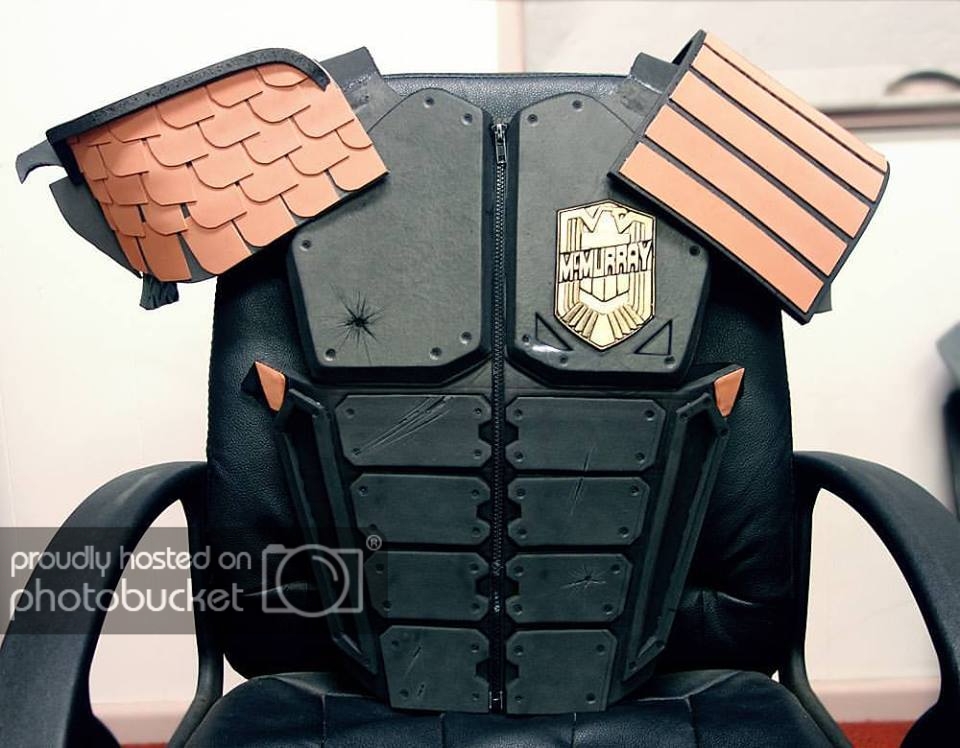 ------------------------------------------------------------------------------------------------------------------------
All materials

- 200gsm paper from officeworks (
http://www.officeworks.com.au/shop/...l-multiboard-200gsm-a4-white-100-pack-qu90346
)
- hot glue gun from $2 store
- scissors
- exacto knife
- Diggers Fiberglass kit from bunnings $22.42 (
http://www.bunnings.com.au/diggers-0-25m-fibreglass-repair-kit-no-1_p1565863
)
- Many 1" brushes
- Protective eye wear
- rubber gloves (I got a box of 100 for free from the mechanics at work)
- disposable plastic cups
- Respirator with appropriate filters for resin fumes ~$50 (
http://www.bunnings.com.au/protector-respirator-kit_p5822368
)
- Motospray filler lightweight 1kg aka body filler from Autobarn $27.99 (
https://www.autobarn.com.au/motospray-filler-lightweight-1kg-lw1
)
- *optional* orbital sander from bunnings $49 (
http://www.bunnings.com.au/ozito-1-4-sheet-orbital-sander-_p6290396
)
- Flexible plastic filling knives from bunnings. 4 pack $2.68 (
http://www.bunnings.com.au/uni-pro-flexible-plastic-filling-blade-4-pack_p1660999
)
- 80 grit sandpaper from bunnings (
http://www.bunnings.com.au/flexovit...-surface-orbital-sanding-disc-5-pack_p6330364
)
- 120 grit sandpaper from bunnings (
http://www.bunnings.com.au/flexovit-120-grit-1-3-sheet-orbital-sanding-sheet-5-pack_p6330248
)
- 240 grit sandpaper from bunnings (
http://www.bunnings.com.au/flexovit...3-sheet-orbital-sanding-sheet-5-pack_p6330258
)
- 600 grit wet dry paper from autobarn (
https://www.autobarn.com.au/motospray-600-wet-dry-grit-50-awd600-wd600
)
- Motospray spot putty $14.99 (
https://www.autobarn.com.au/motospray-spot-putty-150g-tin-sp200
) *did not like this product at all, would not recommend*
- Motospray spray putty $16.99 (
https://www.autobarn.com.au/motospray-spray-putty-400gm-sp400
)
- 200mm half round file $15.40 can probably get a cheaper one from a $2 store (
http://www.bunnings.com.au/trojan-200mm-half-round-*******-cut-file_p5760179
)
- 200mm square file $11.30 can probably get a cheaper one from a $2 store (
http://www.bunnings.com.au/trojan-200mm-mill-2-square-edge-file_p5760181
)
- 10 piece mini file set $16.98 possibly, not entirely required but it made work of details in small areas much easier. Also, possible to find at $2 stores for much cheaper (
http://www.bunnings.com.au/trojan-10-piece-mini-file-set_p5760077
)
- Grey primer spray, Fiddly Bits, $3.40 from Bunnings (
http://www.bunnings.com.au/fiddly-bits-250g-grey-primer-spray-paint_p1580057
)
- *optional* Aluminium spray paint, Fiddly Bits, $3,40 from Bunnings (
http://www.bunnings.com.au/fiddly-bits-250g-aluminium-spray-paint_p1580056
)
- Black spray paint, Fiddly Bits, $2.95 from Bunnings (
http://www.bunnings.com.au/fiddly-bits-250g-gloss-black-spray-paint_p1580052
)
- Red spray paint, Fiddly Bits, $2.95 from Bunnings
Last edited by a moderator: