Well-Known Member
RPF PREMIUM MEMBER
Hi everyone.
Over the last couple of months I have been helping out TipTopWorkshop with their latest K'sblaster offering. I am not sure when this will go on sale, but they have kindly allowed me to do a limited run of completed blasters once it is. I will make a thread in the Junkyard Interest section once we have a time frame, so please don't post any wishes for orders or such on this thread.
Over the last year or so I have been selling some completed versions of TipTopWorkshops first blaster kit. The first version was a nice kit with, but it had a lot of surface finishing to do on the parts from the mould and wasn't very accurate.
With this version I was keen to have the chromed appearance under the paint job (as it looks awesome) but I couldn't stand any more sanding and finishing the outer surfaces.
So I worked with them to get a model as close to the original as possible. So after many modifications to their 3d model, I received their first master prints, and spent a good deal of time making them ready for moulding up.
Before sending the masters back they gave me permission to make some rudimentary pour moulds to test the finish on the parts.
So I have made the first prototype from these to check the fit and finish.
I don't have access to a vacuum chamber, or a pressure casting pot, so all the parts you see on this model are strictly prototypes, hence small bubbles etc. The actual kit will be degassed and pressure cast for an even better finish.
So with all that blerb out of the way, I have some images which may help others with their builds in the future.
Here are some of the parts assembled all chromed up and "ghost" looking. There was no surface finishing to do on this, each part has been painted and chromed without ever seeing sandpaper, apart from the centre seam on the main body. I am very pleased with the results so far, obviously it can be finished further than this, but that's not the point of this first tester.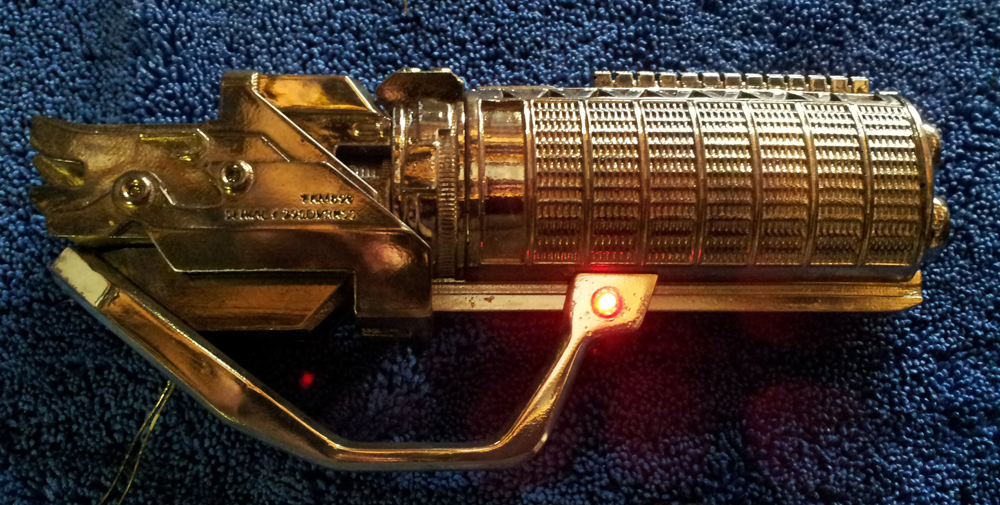 Electrics are touch sensitive, so each time the blaster is moved or feels a vibration the led's light up. The gold looking finish is from the light source in this image
Now added the grip with the magnetic cap and electrics in the grip.
Looks like a ghost version with a white and grey grip could be cool. You will notice there are still some parts missing. I will be doing the masters for these bits in the next day or so and I will post hero images when it is complete.
Now onto the painting.
Here it is partly done with satin black airbrushed enough to look black but not enough to stop the light reflecting back through it. Masking fluid is used on the barrels and silver insert details.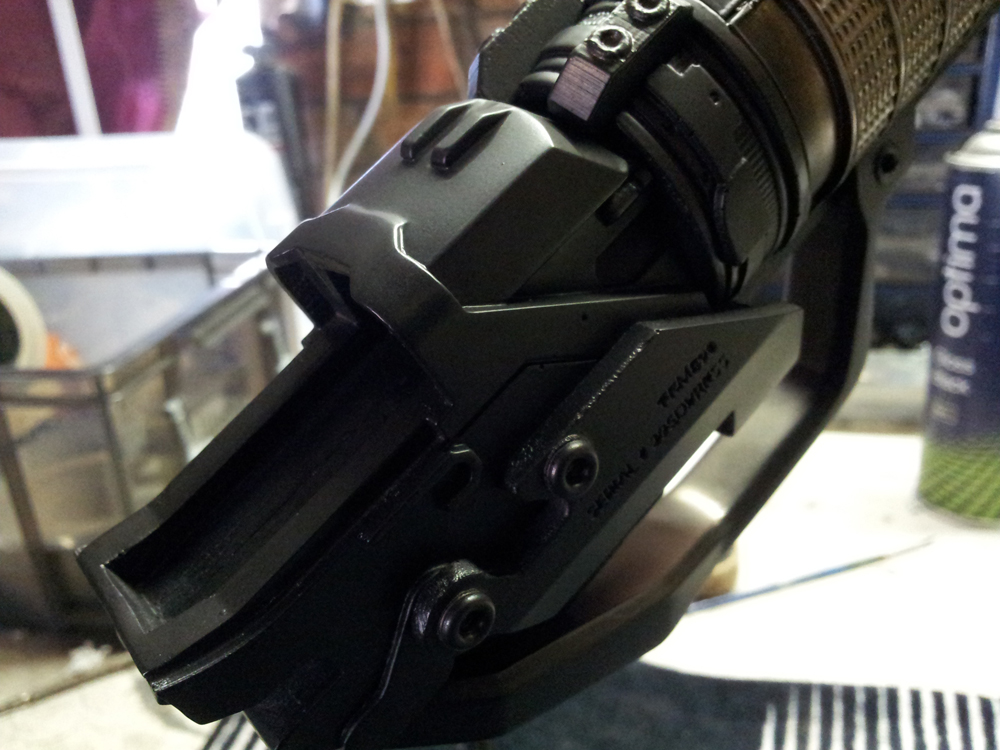 Where did all that lovely chrome go !!
Last edited: