Active Member
RPF PREMIUM MEMBER
I'm going to use my stimulus check to build something I've always wanted. Half scale ATST measuring about 15 ft tall.
I know there's a lot of ambitious projects out there that never really get finished but the way I'm going about this should make it relatively simple enough to finish.
These are some plans I drafted up. I'm not going off of any of the standard or the graphic drawings of this you'll see on the internet, the proportions aren't to my liking, I'm going more towards the physical full-scale props proportions than the stop-motion scale models.
My plan is to weld a steel skeleton out of 1' x1' square tubing 1/8th thick ( That's the darker lines with angle stripped in the top illustration) and welded to a reinforced square frame that will keep it grounded that'll be about 10'' x 10'' with room for added weights. And I'll have detachment points so it can come apart like patio furniture.
The cockpit however is going to have a frame made out of PVC piping so it's not too top heavy and I can save a little bit of a buck.
98 percent of the good looking bits are going to be made out of different thicknesses of pink insulation foam layered on top of one another. Bulk pieces can be assembled in reassembled using bolts and T nuts.
To start I'm making a model out of foam core so I can figure out exactly how much pink foam I need to order. I scaled it out so one piece of foam core will equal a one inch thick piece of pink foam.
To save money I'm trying to figure out where I can cut corners and chop up the inner parts of the walker So I can get more parts per foam sheet. Here's an example of the inside of the ankle Just to to help me weigh my options to see if it's worth buying more sheets to get complete parts or just pieces them together like a puzzle.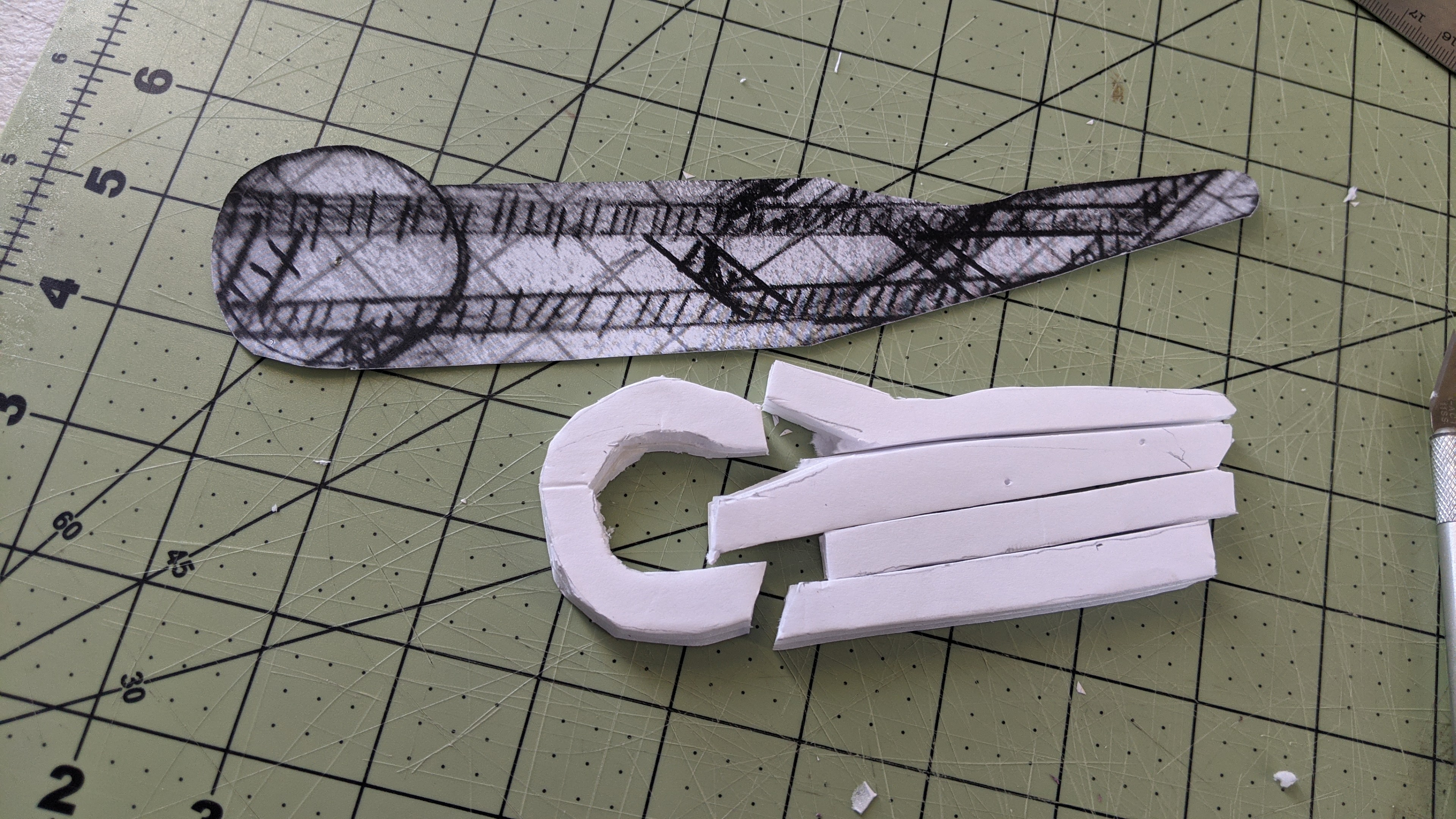 I ordered some 3/16 square dowels online that I'll use to make a mock-up of the welded frame but until then I'm just taping up this assembly just to get an idea of how much it's going to be.