Greetings, I am a long time causal lurker (so casual that my account expired and I had to make a new one for this post.), first time poster.
I am working on replicating the lantern worn by Joachim von Gratz form the Carnal Sins mission in the Witcher 3.
I am a full time artist and maker. I have a small CNC shop and I work primarily in wood. Prior to 2020 I participated in several festivals where I sell my work, some of which are quiet immersive productions and if you come in just jeans and a t-shirt you will stick out and probably have less fun, and I really enjoy dressing up but I only enjoy functional costume and tend not to adorn myself needlessly. So what I really appreciate about this project is that it is based in function and has an analogue in history. My desire is to clip this onto my cloak or top wear and have it hang from my chest, emitting a small amount of light during the night and looking awesome while doing it.
Research:
At first I wasn't even sure what this kind of lantern is called. Finding images of this character where you can see the lantern is challenging. After some time on Pintrest and Etsy, the closest type of lantern I found was a Pierced Tin Lantern. I continued to learn about the history of pierced tin lanterns and found the most traditional
style is referred to as a "Paul Revere Pierced Tin Lantern". When searching by that name I was repeatedly linked to a website where I hobbyist describes picking up these plans from a gift shop on the east coast. The plans are Copywritten so they are not freely available. I called up the gift shop and turns out they haven't sold these plans for a long time. I searched high and low and almost gave up but then I found another website selling Pierced Tin Lantern Kits which includes plans by James J. and Marie C. copywrite 1981. I purchased the kit so I had a starting point.
In my research it seems that another builder found that the candles would melt unusually fast in this lantern design. In his research he learned that these kinds of lanterns were not used for light or warmth as their primary function but as a vessel to transport the lit candle say from the main house to a barn, where then you would use that candle to light your main oil lamps or lantern or candle. This guy discovered if you paint the inside black, that the heat is absorbed and a one hour candle will then indeed last one hour. So for both looks and function, getting the right finish on my tin plate was going to be the first step.
Tin Plate Finish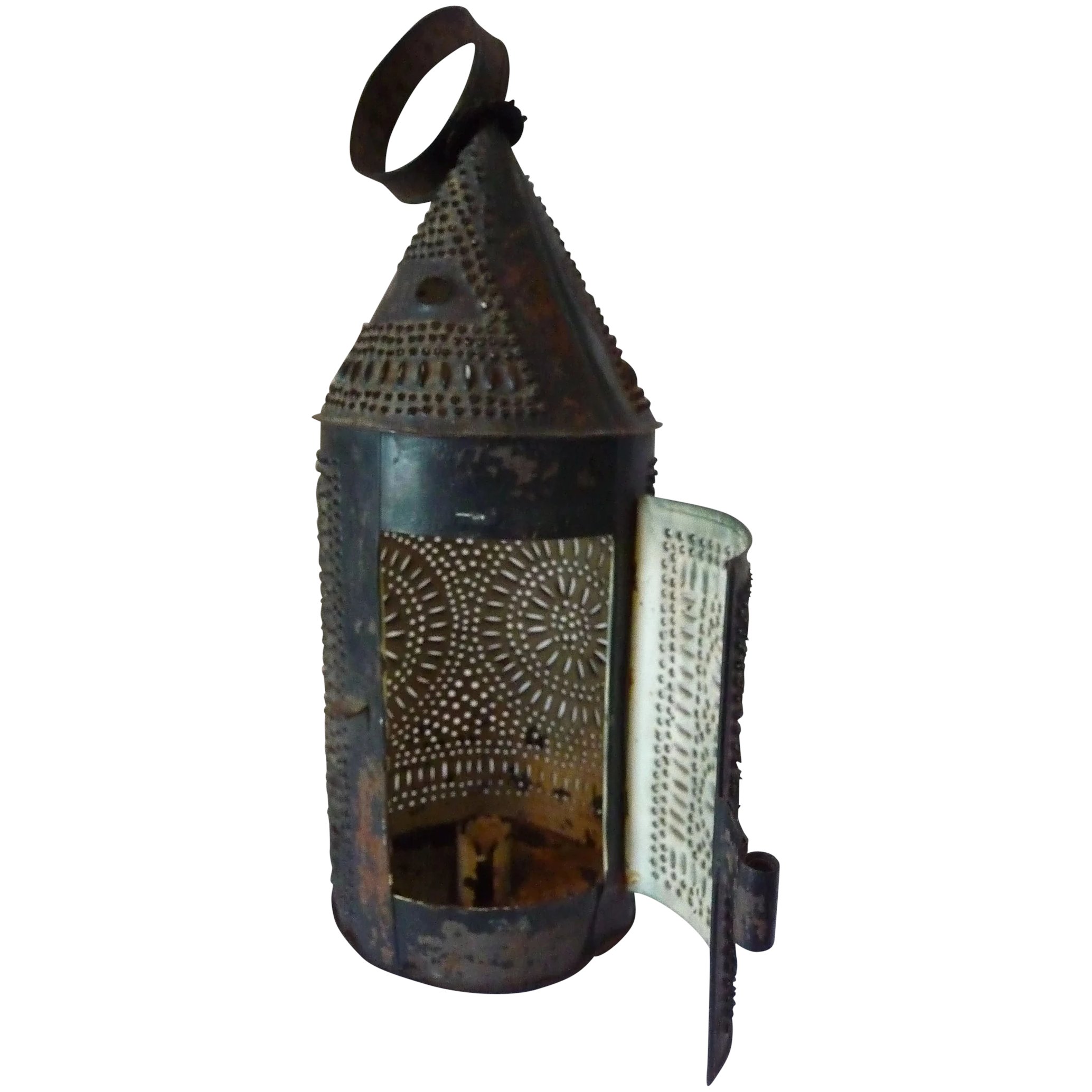 I really like the look of this black antiquing and it might be dark enough to absorb the excess heat. Tin plate is not solid Tin and is instead Steel coated in Tin (Please correct me if I am misunderstanding.) and the tin is often further coated in a protective layer so it does not corrode. I used steel wool to remove the protective coating and alcohol to remove the oils, then I sprayed a mixture of 4 parts Vinegar, 1 part Hydrogen Peroxide and .5 parts Salt on to the metal. The Tin Plate seemed to just rust and not turn black so I will either find a non-toxic way of painting the metal or find another product to antique the metal, more research is needed.
Cutting and Piercing
The kit included two metal punches, a round one and a slotted one about a half inch wide. I first tried a vertical band saw to cut the metal but switched to tin snips.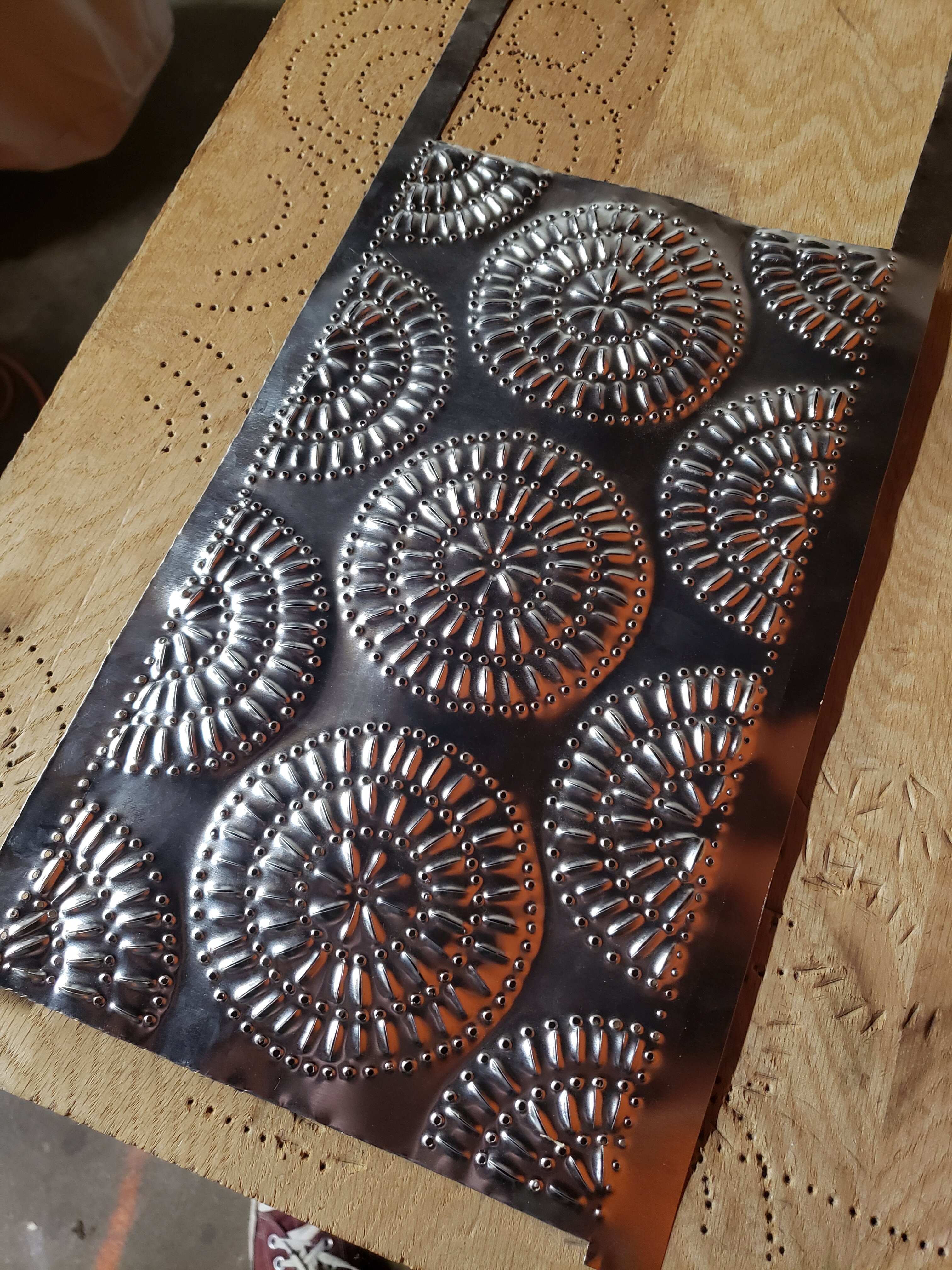 The edges are folded over. I first tried the round punch to mark the boundaries of each fold and then switched to the slot punch. It made a great thin, mostly straight line, but in a couple places I used too much pressure and when folding, the metal split causing a rough edge. I used the edge of a block of aluminum to hammer the folded edges. I tried folding the edges 90 degrees away from the punch marks so they ended up on the outer edge of the fold as well as folding the edges first away, and then flipping the tin plate and then folding the edge back, enveloping the punch marks on the inner edge of the fold. I liked the 2nd method as a finished product though it it take more effort.
The design is pierced from the inside with the two punches. I used a claw hammer because my new shop is sparse but it was heavy and I took several breaks because of the weight. Also the metal hammer deformed the head of the punch so next time I will use a more appropriate tool. I used a template for the design but it didn't line up with my folded edges perfectly so a few punch marks landed on the folded edge. I plan to re draw the template more precisely. As I worked my way through the design, the metal warped and would rotate on the point under the slot punch which I struggled with, maybe next time I would use blocks on the corner.
I will update as the job unfolds. The plan is to follow this kit and then use what I learned to make the prop.
Differences between prop and kit:
Prop has arched door frame
Prop door is half or or three quarters tall
Prop handle is triangle shaped and maybe has wooden grip
Prop is smaller, maybe 6 or 8 inches tall, the kit is 12 or 13 inches tall.
Things to research:
Better photos to work out the prop punch design
Establish the scale of the prop
Antiquing or painting techniques
Thanks for witnessing!
5/12 Edit: I am struggling with the soldering process! of all things! in addition I am seeing where I would completely redesign some of the templates as when you go through the reality of marking and cutting, they aren't precise enough to have a chance of all lining up. I am still working on this but progress is slow.
Last edited: