So I've been dark for a bit and since I stayed home sick today I thought I would get off my ass to continue with my build up untill sunday which is our trick or treat night.So prepare to be mildly amused and a bit pissed this is what I've been doing and showing off some stuff.
These hands I bought at party city and much to my hatred of the original color.A repaint makes them perfect for a predator.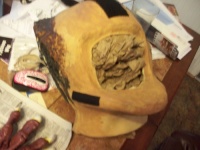 My personal favorite mask.Wont be using it Halloween still needs dreads and a "proper" bio helmet.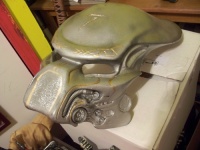 Originally was hesitant about posting my status on this but I'll be damned if I dont like the paint job I cant sculpt anything but I think I can do a pretty good paint job.
Smart disk I had made for fun.Would've painted today but was sick so couldnt go outside
Unless anything happens tonight this should be getting done.It is a wrist gaunt which for its size I pull the excuse of it being a really older model.
Ok shouldnt have to explain.You guys should know right?This wont be going out halloween.
Anyway what I've been doing for a bit.You guys have seen everything else so yeah enjoy.