This is a slightly different post to most, in the form of a short resume and the story of how a fan-made replica can lead to a Licensed product......
Jason Wilbourn is responsible for some stunning Licensed replica weapons from 2000AD comic, he started by unleashing his inner mutie.........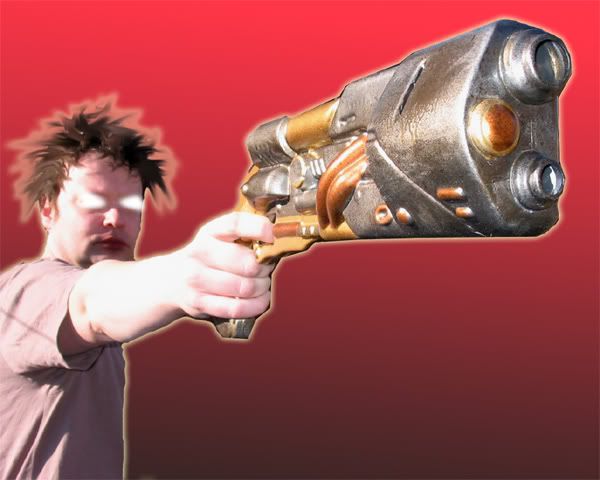 <div class='quotetop'></div>
Background

With my Father being a rocket and gas turbine (jet engine) engineer, I grew up having access to a pretty decent workshop where he and I would construct scarily lethal weaponry when my MotherÂ's back was turned.

After leaving school I studied graphic design at Leicester Polytechnic before settling down to an extremely dull corporate career with American Express as a "project manager" – a non-job if ever there was one……

Mother Amex finally saw fit to make me redundant in the autumn of 2004, to sweeten the deal I was given a certain sum to spend on a leaving gift – this would then be presented to me by the director of our department – vengeance was mine when he was forced to hand over a Darth Vader Force FX lightsaber. Looking back, I was never really cut out for the corporate life.

I began making replica Sci-Fi props in January 2005 as a way of getting some extra cash. My first items were from the 1970s BBC series BlakeÂ's 7. These were a Liberator teleport bracelet and a Federation blaster. Sold on trusty old ebay, I was staggered by what they went for.

I followed these quickly with some rare Star-Wars blasters, the Blastech T-21 light repeating blaster and the D-15 series from the last two films as well as a pretty convincing Wookiee Bowcaster.

Road-tax due at the end of September 2005, I decided on a new project to drum up funds. I had been a subscriber to the British Sci-Fi comic, 2000AD since issue 2 in 1977 and as a child had made some rather shoddy Judge Dredd bits and bobs. Now that I'd gained a bit of skill I decided to have a crack at one of the coolest hand cannons ever – Johnny Alpha's Westinghouse Variable Cartridge blaster.

While in the back garden making the prototype, I playfully waved it at a passing Police helicopter a good mile away while shouting "Number four (high explosive) cartridge."

Thames Valley's finest did not take kindly to this – the chopper began to fly in a series of tighter and tighter circles, eventually ending up hovering over our tiny little garden while I went into an elaborate mime to explain that what I was clutching was in fact a plank of wood with some hose-pipe stuck on it. Absolutely terrifying. I have now learned my lesson.

The blaster was listed on ebay and I was surprised and extremely pleased when Wakefield Carter, the Webmaster for 2000AD on-line, contacted me to tell me that there was a positive thread on the 2000AD message-board about it and he asked if I could re-produce it as a limited officially licensed item – thus began my association with 2000AD and Termight Replicas. (The prototype was eventually bought by the agent of the original Strontium Dog artist, Carlos Ezquerra, as a present for the great man.)

The Westinghouse Variable Cartridge Blaster

The Story "Strontium Dog" was first published in 2000AD's sister publication Starlord in the late 1970s – its artist and co-creator was the man responsible for the design of Judge Dredd, Carlos Ezquerra.

The main character was Johnny Alpha, a British mutant forced by society to do dirty work for the non-mutated "normal" population – along with his fellow mutants and Viking side-kick Wulf, they were bounty hunters working for the Search/Destroy agency – the SD initials being bastardised by the superior norms into "Strontium Dogs" in reference to the Strontium 90 responsible for their mutations.

Carlos drew Johnny with several different blasters over the years but all were on a similar theme. The design of Westinghouse was finally settled and I think it has become one of 2000ADÂ's most iconic pieces of weaponry.

In order to make a production run I would have to go back to the drawing-board. A one-off was one thing – it was made from what I had to hand, a proper licensed replica was quite another.

Wake got me some real artwork direct from Carlos in order to make the replica as accurate as possible and I enlisted the help of my retired Father to come up with the best possible construction method. We originally were going to do a hardwood blank with cast resin side detailing (the blaster is way too big to make a solid resin version). Dad had an old mate who owned a moulding company so we got some proper advice. He told us that most of what we wanted could be done by vacuum-forming and assured us that we could get a fine level of detail if the mould or tool was prepared correctly.

I made the mould in two halves, mostly carved sandalwood with the pipe-detailing from springs from an angle poise lamp. Holes to enable the detail to be sucked onto the tool were drilled at strategic points all over the two pieces and the three barrels were lathe-turned separately. There are only five pieces in all, the gun is weighted in the grip and midsection and the whole thing is given a nicely weathered finish with a leather-effect grip.

Carlos was so pleased with the final result that he asked that his signature be put onto every piece. A huge honour that bought a tear to my eye.

The signatures are decals beautifully prepared for me by Charlie Towers.[/b]
Thanks to Jason for mentioning yours truly.
There will be a F/S thread in the Junkyard and although we recognise that our comic props may be a little more niche than stuff from Master Replicas or Sideshow we'd be delighted to offer the RPF 10% of sales towards hosting and software fees.
Cheers,
Charlie