Master Member
RPF PREMIUM MEMBER
Because of the recently published catalog pictures of the hero ROTJ Endor rebel bunker bomb (or proton grenades) and the discovery of the boot studs (mystery chunk of Luke's V2 saber) I was very much intrigued by this prop. I've spent SO much time and effort in research, reverse engineering and 3D modelling that I now think it's about time to give it its own thread. A special thanks to
lonepigeon
(Chris Trevas) for his help and support. You can find a lot of the research and hunt for parts in this thread:
ROTJ detonator charges
I can proudly say that I ID'd the volume knob and the Ferguson record player slider knobs (although they were probably catalog items from RS Components).
At first it was not my intention, and I only wanted to build one for myself and for a friend, but then I thought maybe I might as well offer it as a kit. So that's what I'm currently working on. I'm producing 25 kits for now and more if interest is higher. I will offer them on WannaWanga.com, because that's easiest for me with regards to handling, shipping and payment.
There is no sign-up list or pre-orders. If demand is higher, I will just make more. When they are ready I will announce it here (ETA: early October).
The kit comes with industrial quality ABS 3D-printed body parts and all the greeblies will be added, some resin prints, some in metal and some are authentic parts. All the hardware will also be included. The kit is to be assembled with screws, just some small details need adhesive. The kit can be disassembled, which is convenient for FX installs or in case the real body parts are discovered the interior can be migrated without a problem. There will be a few options: a basic kit and a kit with authentic photomultiplier louver parts. Electronics (sound board, LED's) or magnets will not be included. Painting and finishing to be done be yourself.
The kits will contain:
Main body:
Body & base (skirt); 3D printed ABS, white (not orange)
Top and bottom plate; laser cut aluminum sheet
Greeblies:
Slider knobs; these are very accurate replicas of the RS component (or Ferguson record player knobs) and consist of a resin base and an aluminum sheet (which needs to be folded)
Michell Thumb Screw; custom made replicas in aluminum
Red LED lens caps;
Waders' boot studs; 3D printed ABS (you can replace these for vintage studs or steel replicas which I will offer later)
Potentiometer; this has an on/off switch and can optionally function for your electronics
Potentiometer knob; aluminum knob from RS components
Gear hub V8 model kit; 3D printed ABS
Bell cap; 3D printed ABS
Mulbrod Clip LS 108/65; I'm trying to source the real parts which are on backorder. It's not certain yet if this will succeed. For now I will offer a metal replacement clip with the same dimensions but slightly different geometry.
Photomultiplier tube dynode louvers; in the basic kit these are 3D printed ABS parts, but I will also offer a limited amount of kits with real photomultiplier parts, both the correct type and the mirrored type.
Label:
I will include a stencil sticker with the logo, both positive as well as negative if you prefer to paint it.


PRICE BASIC KIT: $190

PRICE WITH CORRECT VERSION REAL PHOTOMULTIPLIER LOUVERS: $240

PRICE WITH MIRRORED VERSION REAL PHOTOMULTIPLIER LOUVERS: $220
(5 bombs were made for ROTJ, some had the mirrored louvers)
Here is an image of the overlay of 3D model over the pictures of the prop: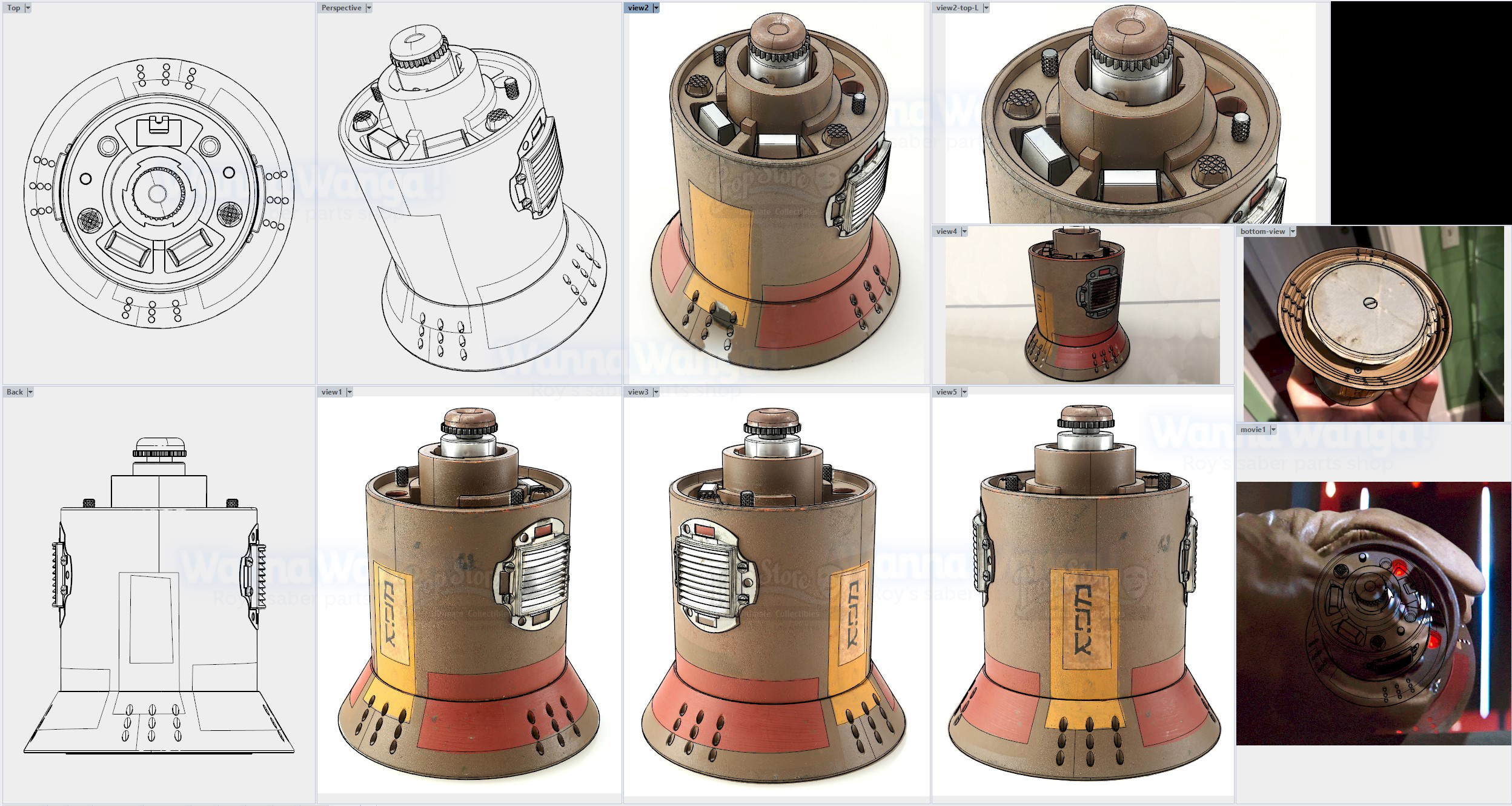 Here are a few rendered images of the 3D model: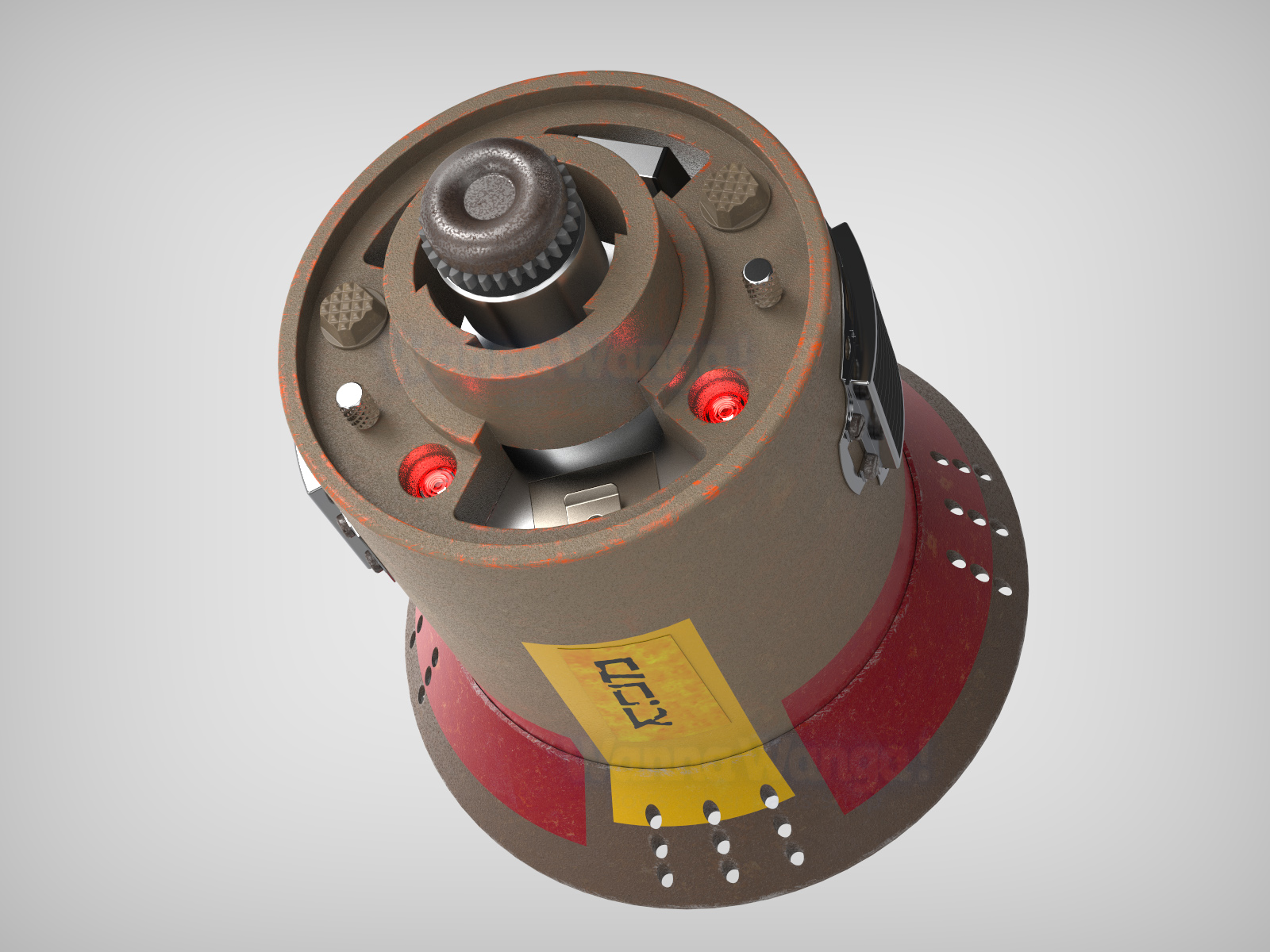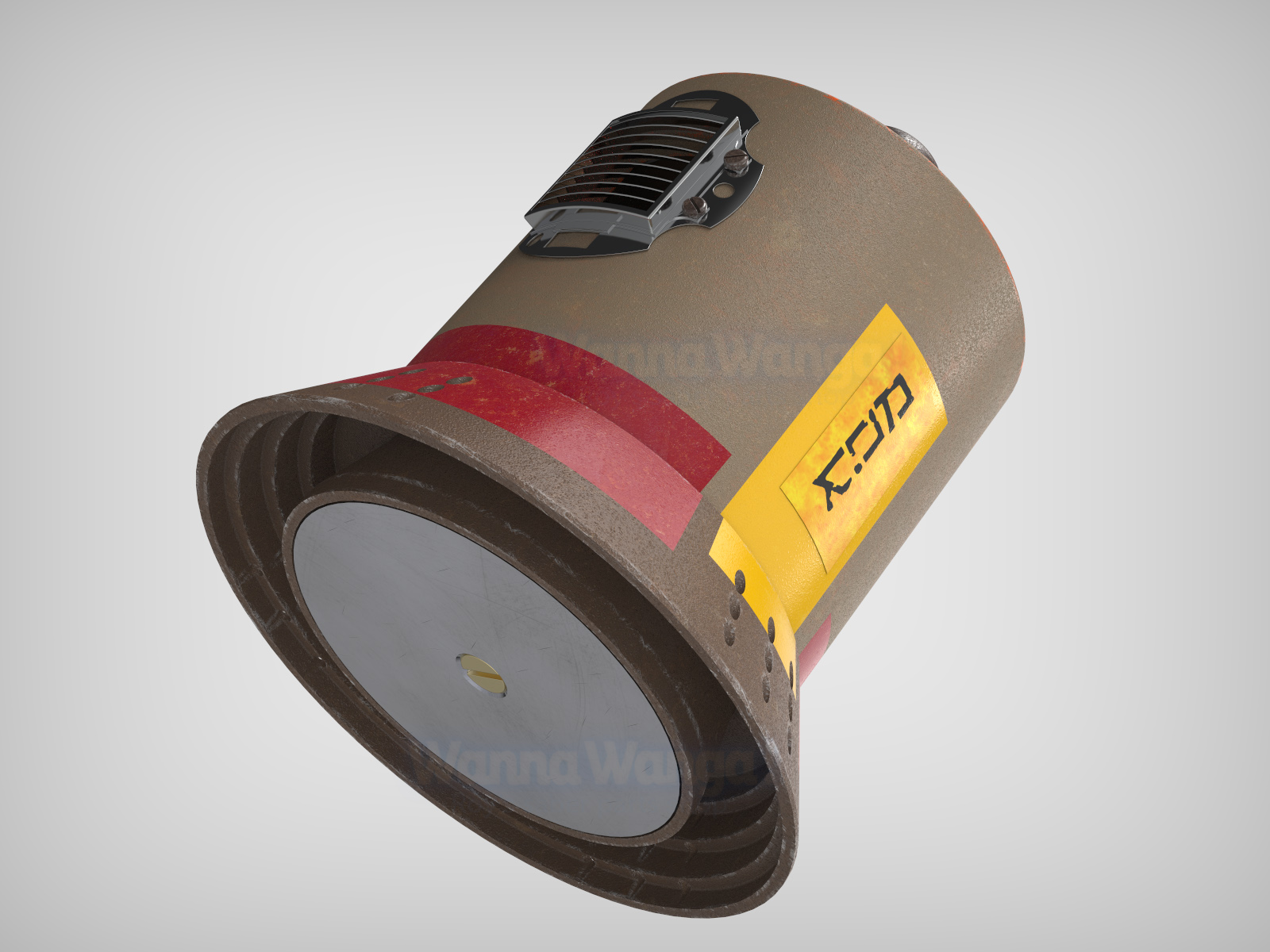 Here is an exploded view of the assembly:
And an animation to make it even more clear how to assemble it:
I hope you like it!
Roy
Last edited: