Ok, After a realy loooooooong prop/model break I'm finally gearing up to build some models again. Both subjects are TIE's! One is a wee one the other one is bit bigger.
Anyway, I've read thru a lot of old TIE threads, many which have been very active during my leave. A lot of cool info regarding colors but not much on individual markings and detailing. I decided to take a deep plunge into the wonderful world of TIE's and with my sorting hat on I went thru all my ref books as well as the pic collection on my hard drive. All in an effort to try and figure out what options regarding versions and markings I have for my two TIE's. I was actually rather surprised to see that there hasn't been that many different TIE models published in books or exhibitions. What follows are the different models I've been able to spot and also where some of them have been used. Please note that non of the exhibition pics were taken by me. They have all been published online but if the original owners don't want to see them used I'll take them down. Also, the scans from my books were all taken with my Iphone 4 camera and are only ment to illustrate which pictures I'm refering too since the quality are crap. They do not show the amount of details they do in the books. You need the same books to be able to see the pics properly.
Here's what I have so far. Please feel free to join in if you know of more models! Also, if this has been covered before and I totally missed it just let me know and I'll delete the tread. Yes, I'm aware that there's a looooot of TIE threads going on!
ANH TIE's
First up is that one featured in the Technical journal book. Sports a plain hull without any dark grey markings at all. Seems rather dull and boring but as far as I'm able to tell that seems to be the genaral rule (there is some exeptions) for ANH TIES. No dark grey markings what so ever. Since most seems to have been painted this way it's impossible to link any specific models to different publicity shoots or screen caps. They all look the same. Conclusion, ANH TIE's are boring!:lol EDIT: Well, not quite!:lol
Second. The Chronicles TIE. Now here's a interesting exception! This ANH bird does have certain details painted with a darker grey shade. Sadly I haven't been able to find a pic of this fighter from the rear so I have no idea what's going on back there. Another interesting thing about this one is that there is two small yellow square markings just above the right canon. These kind of small markings are also included in the Fine Molds decal sheet for there 1/48 model. Also, it seems like the mounts that holds the clear orange canon rods are left unpaintd black plastic. Does anybody know if better reference is availible for this model?
EDIT: Here's ascreencap which ID's this model as one of the birds that was used as Vaders wingman.
I've also come to the believe that this workbench picture from the ESB section of the Chronicles book actually shows this model from the rear (or possible the pentagon fighter).

Here's the FineMolds 1:48 scale decal and markings sheet for this version. It seems like it's actually rather accurate. FineMolds seem to have some rather good reference availible!
Thired. The Edlund damaged wing TIE. Not much to be said here no dark grey markings on the front. Has any rear pictures of this model been published? Seems pretty much like a standard ANH TIE.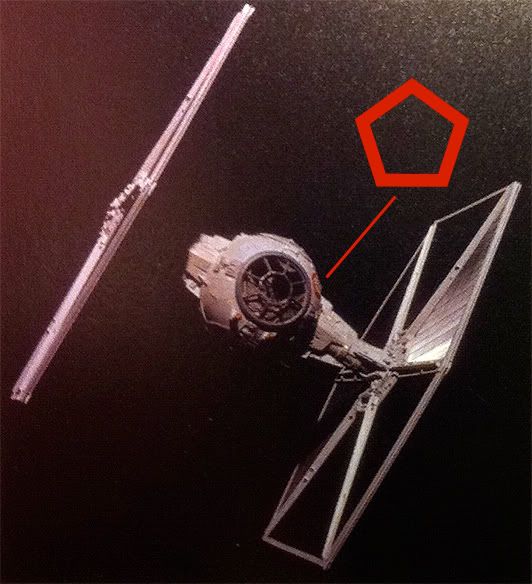 Fourth. The Pentagon TIE! Awesome ID made by "Jedimaster"! This version is actually included as an option in the FineMolds kit. Personally I figured it was some lame Expended Universe markings but as Jedimaster pointed out it actually excisted! Good score!
And here's the FineMolds sheet for this version.
ESB TIE's
First we have this beautiful model which I refer to as the ESB hero. Now this is how a TIE is suposed to look! A huge amount of reference pics of this model is out there since it toured the world several times. It's also the one featured on the Blu Ray turn table, although with a miss aligned wing. Plenty of dark grey markings but it also has the filed down cockpit dashboard which makes it simple to ID. As stated by others before, the file down was probably to allow a front mounting point.
I haven't been able to ID this one in the film but it can clearly be seen in this ESB ILM composit.
It was also used for this ROTJ ILM composit. I'm sure it was used for several other publicity composits that ILM did as well but it's hard to tell when the TIE's are small in the comp.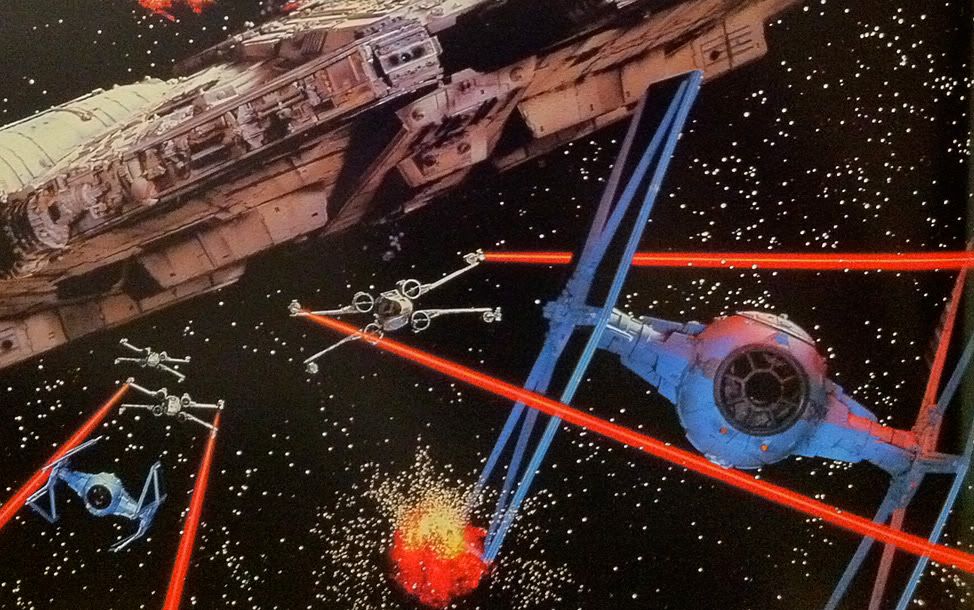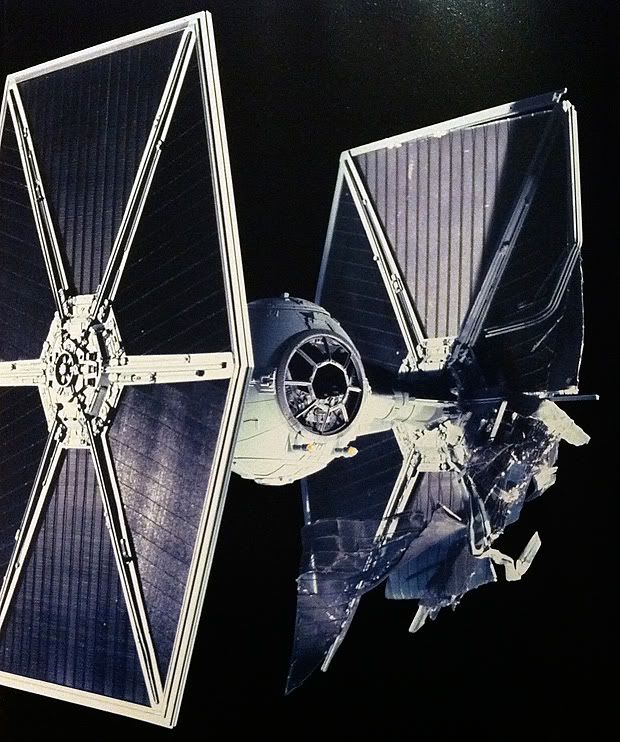 Second is the awesome damaged wing TIE featured in the Sculpting a Galaxy book as well as the Cronicles book. I'm actually willing to bet that this is the "ESB hero" hull reused! If one looks carefully it looks like the dashboard has the file down. Would also make sense since this model was filmed spinning both from the front and rear. Sadly all the ref I have on this one is rather over exposed which makes spotting the dark grey markings tough. Another interesting detail is that the damaged wing is an ANH left over.
ROTJ TIE.
I choose to place this mysterious but well documented model under ROTJ because that's how it appears today, with it's almost black window and Interceptor canons. However, this model appears both in the chronicles and sculpting book labeled ESB. An higly interesting point is that in the ILM (black background) reference photos it lacks both the orange ANH/ESB canon tips as well as the Interceptor canons. It just seem to have two brass tubes sticking out.
This model can be linked to at least one ROTJ ILM publicity comp.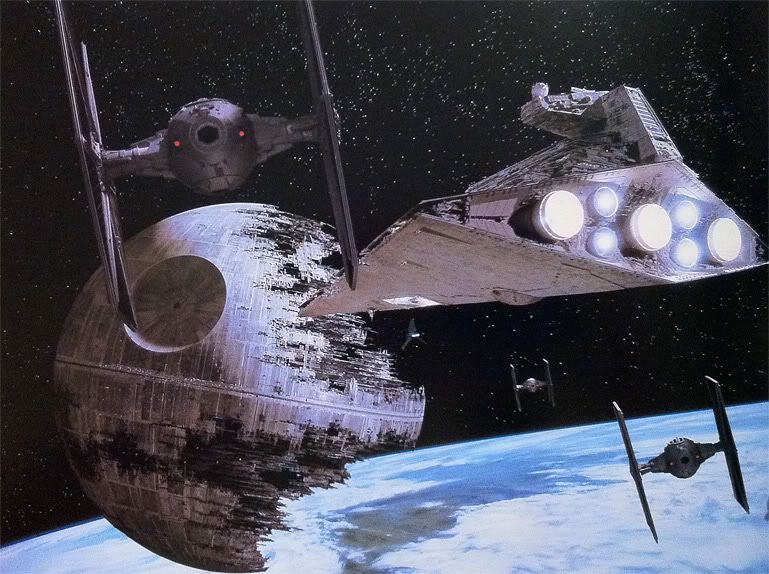 I guess the real mystery here is to figure out if this model was actually built for ESB and then refitted for ROTJ to serve as a TIE and maybe even interceptors? Could it be that the ILM pics of this model have been misslabeled ESB in both the above mentioned publications? Does anybody know if any new TIE's were actually constructed for ROTJ? Personaly I highly doubt that. The hull actually shares all the markings except for one with the interceptor that ILM shot against black for their main interceptor reference.
UPDATED 010517 NO ROTJ TIE's!

Seems like there wasn't any new TIE's built for ROTJ after all. The long running rumor about the ROTJ TIE's shared the same black canopy frame as the Interceptor can now be de bunked. The answer was in the film all along! Here's a quick comp of Vaders shuttle approach and two Interceptors freeze framed from the film. IMO there's no doubt that the two TIE's are clearly one of the ESB hero models re-used. Just look how pale grey the canopy frames are compared to the Interceptors. I'm convinced...Are you?
And finally, here's the famous post ROTJ table pic with Lucas and crew. Only two models seem to remain in the archive and it's indeed the two that's been touring the world. Both can be linked to the odd "Interceptor body" and the "Hero ESB.
If anybody has more pics or info that would help nail down more TIE models please chim in!
Cheers,
Steve.
Last edited: