Hi Hunters,
I got to spend the day yesterdaycausing some mayhem in Newcastle Upon Tyne. I didnt want to risk some moron damaging my suit in a club and couldnt find any good events to go to this year so when I was asked to make a guest appearance at a private showing of Predator at a cinema I jumped at the chance. I got up nice and early and drove to my friends house to get half suited up. We drove into the city centre and I finished getting changed. We were then ready to hit the main street of Newcastle city centre.....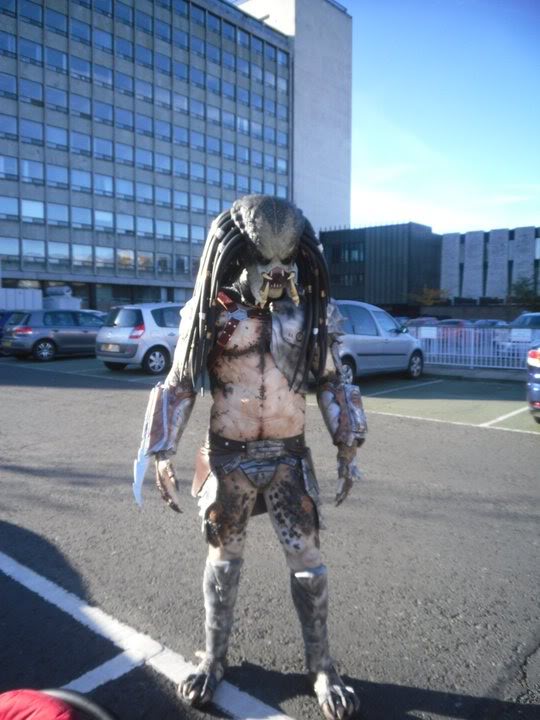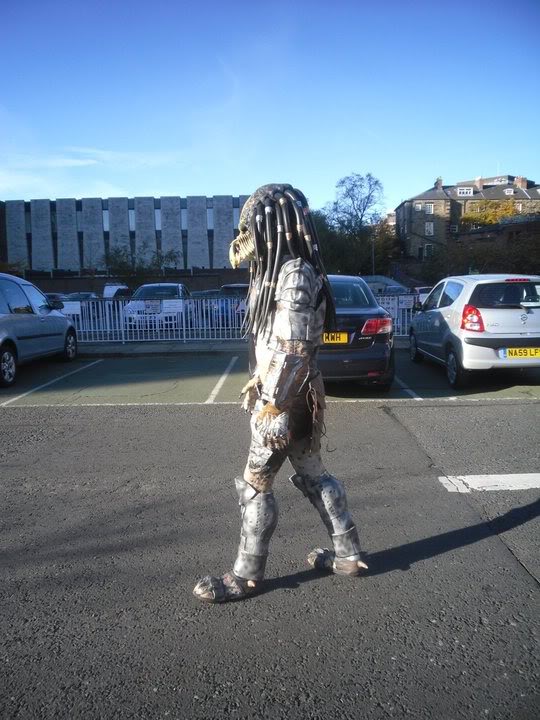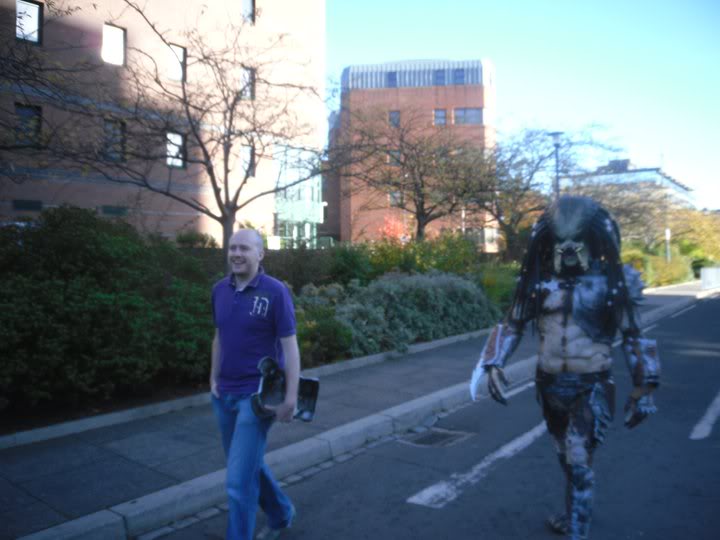 en route I was distracted by a strange small earthling.......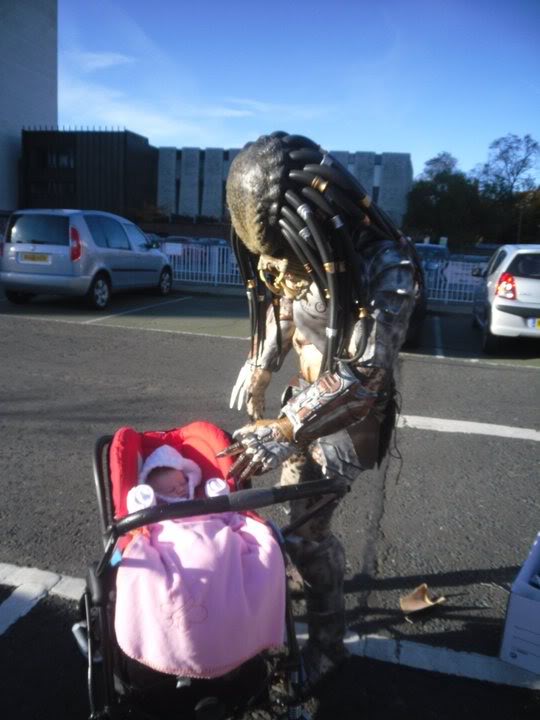 We then hit the main high street and the reactions were fantastic. Luckily I had my friends around me to be my eyes and keep people at bay. So we trooped off to the cinema.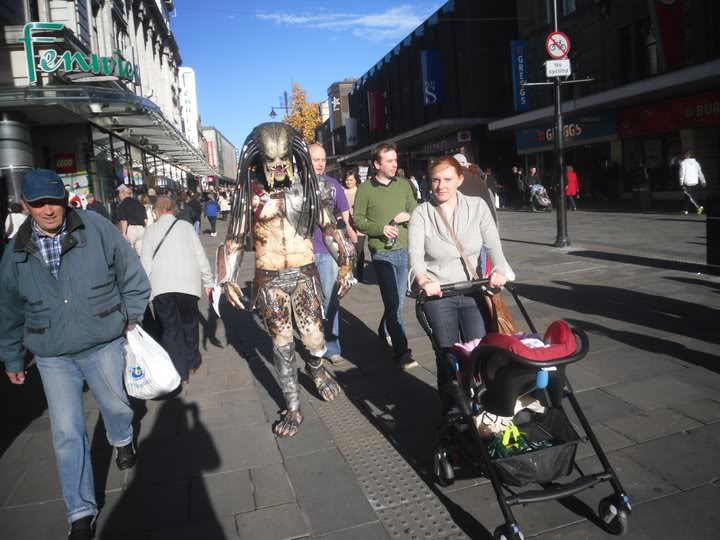 Once we arrived at the cinema I got the chance to stop for a few pictures with the public and the staff of the cinema who had thought the predator that was turning up would be some silly fancy dress costume and not a "hollywood standard" costume as they called it (which made me really pleased ).
We were given a room to chillax in for 20 mins and were then radio'd to tell us that the movie had started and we could make the entrance. So on went the bio and after navigating the steps the LED's were turned on and I paraded into the theatre as the opening credits had just finised rolling. It was fantastic, everyone cheered, laughed and applauled. So I milked it for a few mins and stayed in character. I examined the strange screen, played with my comp gauntlet a bit and whipped out some pred poses. Then when the audience calmed down a bit, turned away and removed the bio (I think at this point they thought you would just see the my actual face). Then when I turned and they seen the creature face everyone cheered again and applauded. After staying for a small part of the film (and getting concsious of the heat lol) I went for a bit of a walk around the building and caused a bit of mayhem, scaring kids and posing for pictures. It was great to get such an awesome reaction. Then when the movie was due to finished I went back to meet everyone in the theatre and stop for a few pics (im waiting to get these from the guys in the cinema but have one or two now).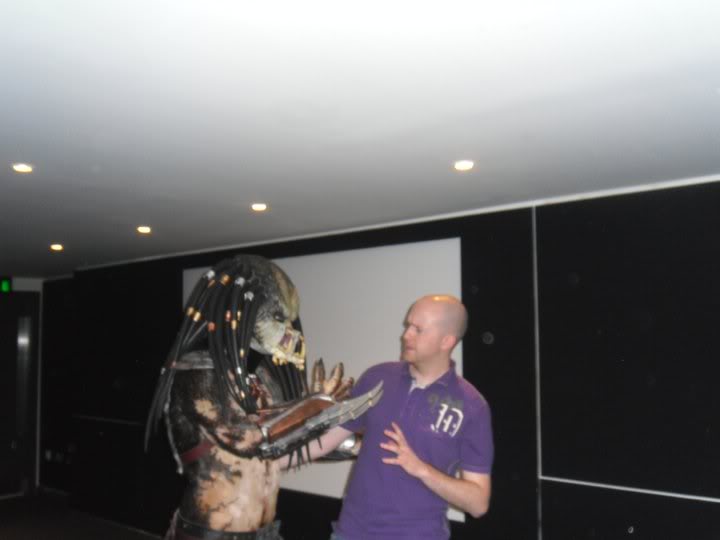 This poor member of staff in the theatre was very unsure of the Predator lol.
By this time I had been suited up for about 5 hours and was ready for a break, so with a bunch of guys who were on a stag party we were invited to go to a bar with them for a few mins and chat about the suit and I told them all about the lair and how I got into Pred costuming. En route I stopped to cause a bit more trouble with highlights involving stopping behind a kid at a set of traffic lights and when she realised she had someone in her personal space she turned round and screamed the city down (he he he he). Then once we reached the bar all passers by stopped for pictures, cars slowed down and so many people were full of compliments, it really made all the hard work, time and money thats gone into suit worthwhile.Then it was time to go, I got stopped for a few more pics whilst unsuiting and then the local law enforcement caught up with me....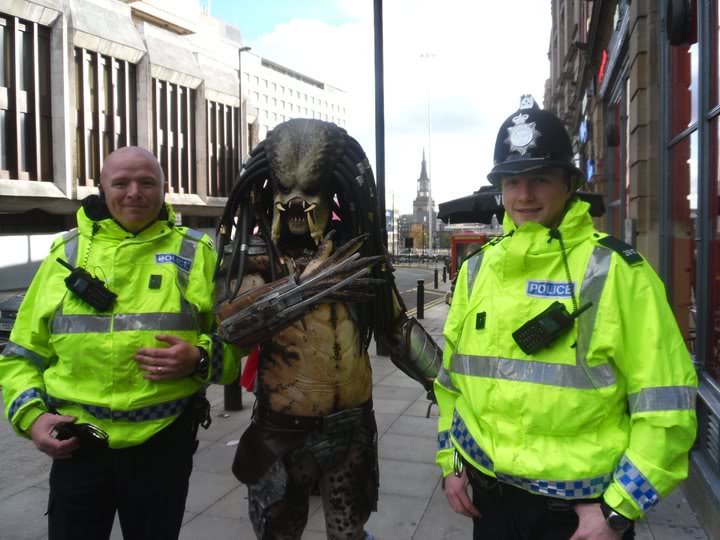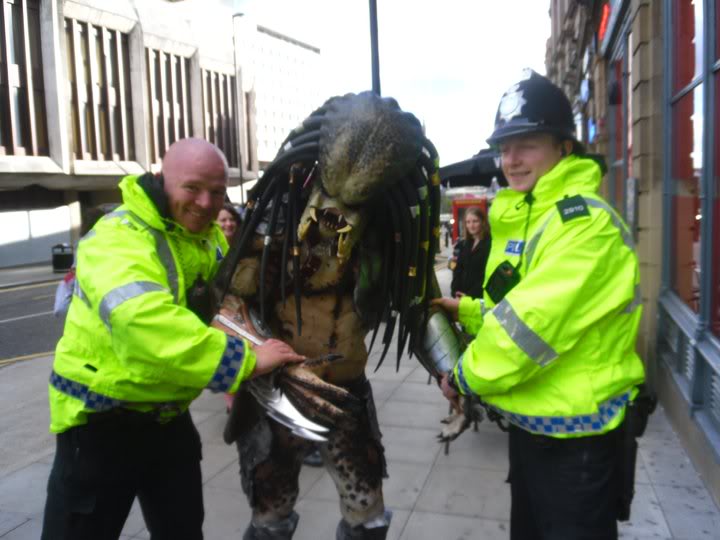 They were very cool to be far to be in a picture. Then it was time to go and have a shower and a much deserved cup of tea
(im English through and through). I have a nice video of sweat pouring from my hands and my struggling with my mask which ill upload).
I didnt enter or win any contests and although the day was very hard work and I dont want to suit up for a while (lol) it was worth it (the stag party lads had a whip round for me too and I made a nice £50 which was pretty cool to be fair). But I remember saying to myself a few times something Bovine wrote "remember you ARE the PREDATOR" which kept me going for a bit longer.
I hope I havnt gone on too much and you enjoyed reading this a little. Enjoy Halloween everyone, mines been wicked!!!