Hey everyone! As some of you may know, I've been lurking for a little while doing tons of research and asking around for advice. Sitting in stickam bugging jay, PMing people for advice... ha. It's finally time I start! These will be some progress pics of my build. I am sure parts will change and paintjobs will change. This is all my first go at it so any friendly advice is more than welcome! I'll try and update this main post with updates as much as possible!!! I apologize in advance for the awful pictures. I only have a camera phone
My Biohunter Elder Bio (thanks casey!)
Got the little parts attached and got her primered up!
Got her painted up. Just need to install the lenses and lasers. The lighting is awful... it washes out a lot of the weathering.
Lens installed
In a more natural light (but dim light)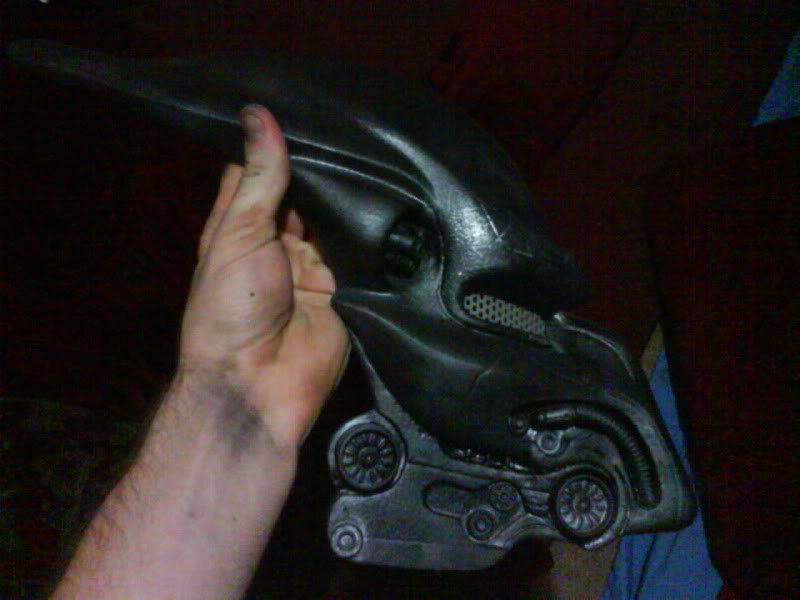 There is a lot more silver wear on my bio than appears in my crappy phone pics. I'll get better ones soon!
Here is my Usuper neckseal. Still unsure if I want to stick with the wolf one or go P1. I'll know more once the suit starts to come together (thanks kithunter!
Here are my gauntlets. Just needs blades installed (thanks again kithunter)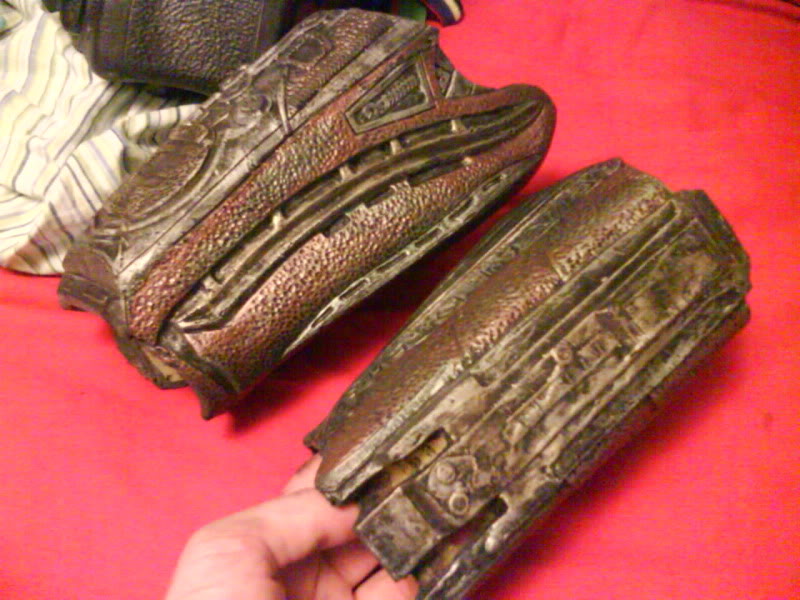 The dreads (thanks casey!)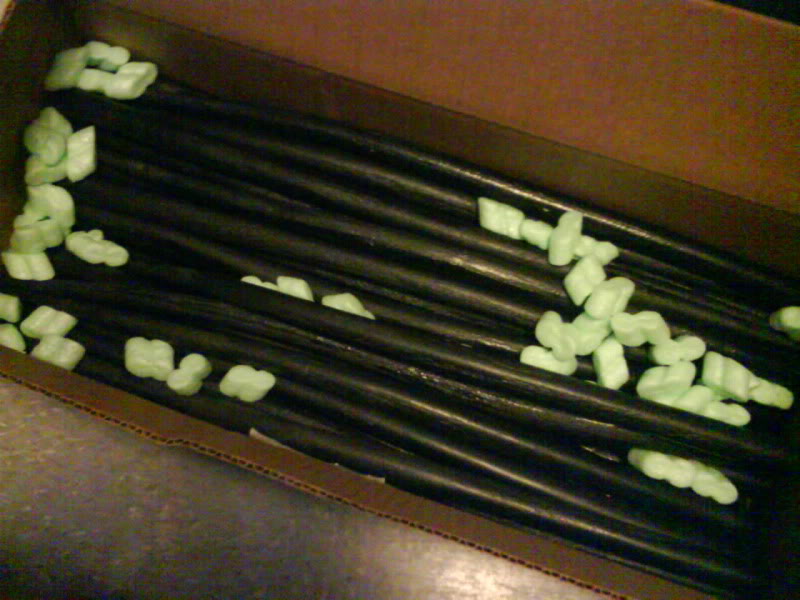 Here are a few of the P1 beads I got. Painted them up (Thanks froggy!)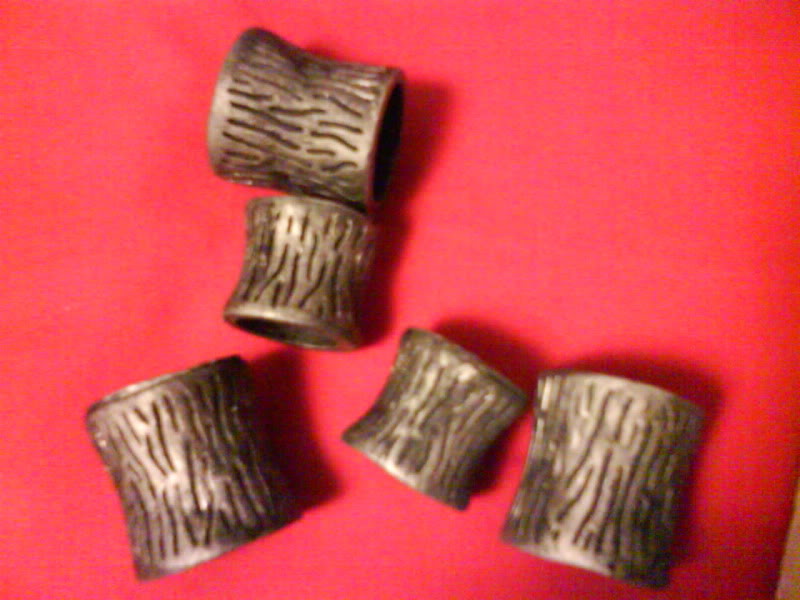 My Ruffkin wolfpack. Needs painted up (Thanks kithunter!)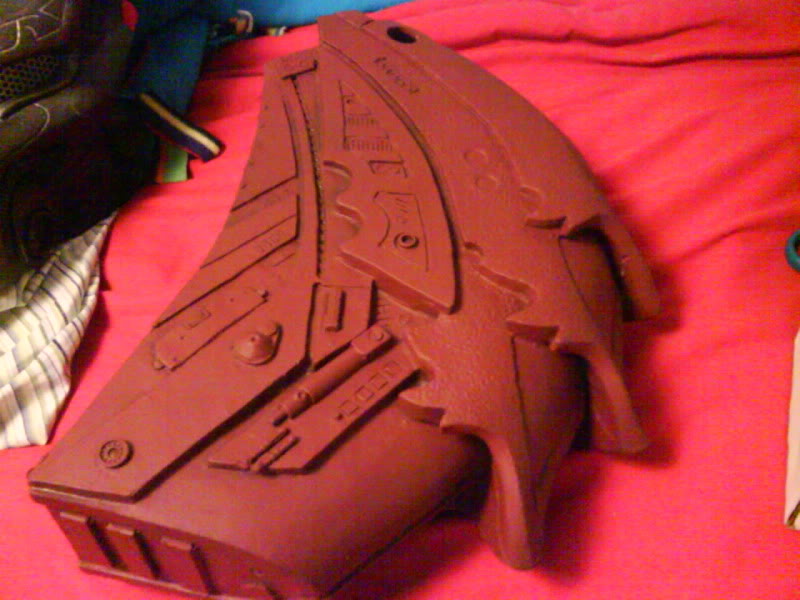 I got excited so I threw on some beads and held em up to my bio You get the idea atleast.
Got my xdmray half mask!!! Just gotta put padding on the inside and paint it up! I had to throw it on tho hahaha... It will fit better I promise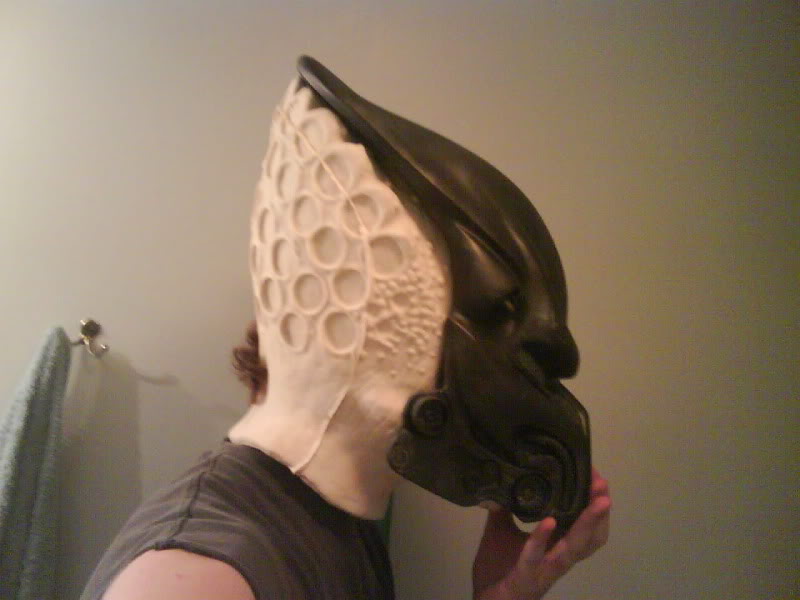 Some bones (I have many more) The spine beads are from Skunk! These are wicked awesome. Strongly suggest them! Thanks Lee
Painted up the medkit.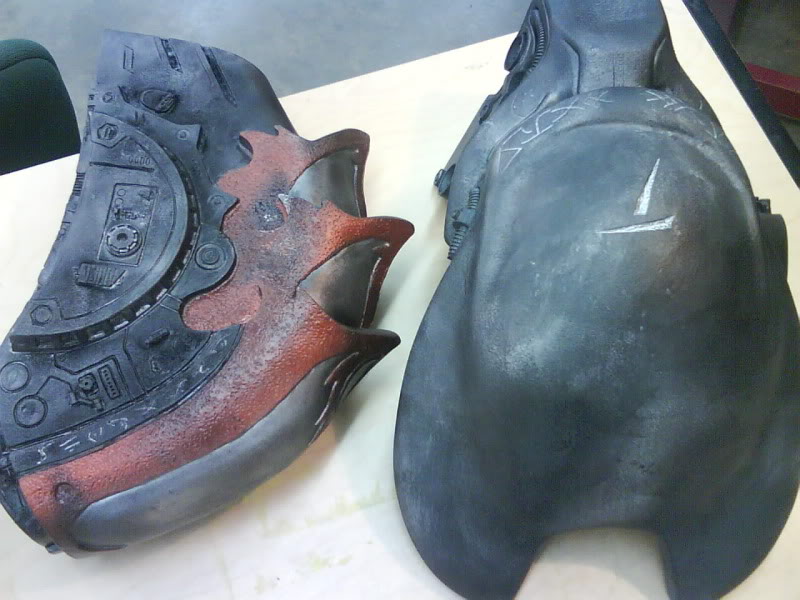 UPDATE October 4th, 2010
So I got my halfmask painted and I just need to get the permawet seal on it then I can attach the dreads and bio! Do you guys use velcro to attach the bio to the head? I padded the inside of the head and threw on random armor just to show you guys where I kind of want to go with this build. I already asked the question on my facebook but do you guys think I should go for the P1 length type dreads or longer? Well anyway... here is some random pics... I get excited and throw stuff on. I will be doing a lot of painting so my next updates will be around that. Let me know what you think... on the composition of the suit and quality, etc... I want it to be good! Also, keep in my the skins will bulk me up a bit
and the armor is not painted yet obviously lol
UPDATE October 10th
I got almost all my armor painted (dont have pictures yet... sorry!) and I just got my hands painted up. Let me know what you think... obviously it was my first time and I had fun with it! I apologize for the AWFUL pictures... my camera phone doesn't do the hands justice. Everything still needs permawet sealed... just waiting for it to come in The knuckles on the left hand have black/copper/and brown weathering but the terrible picture quality and lighting kind of wash it out.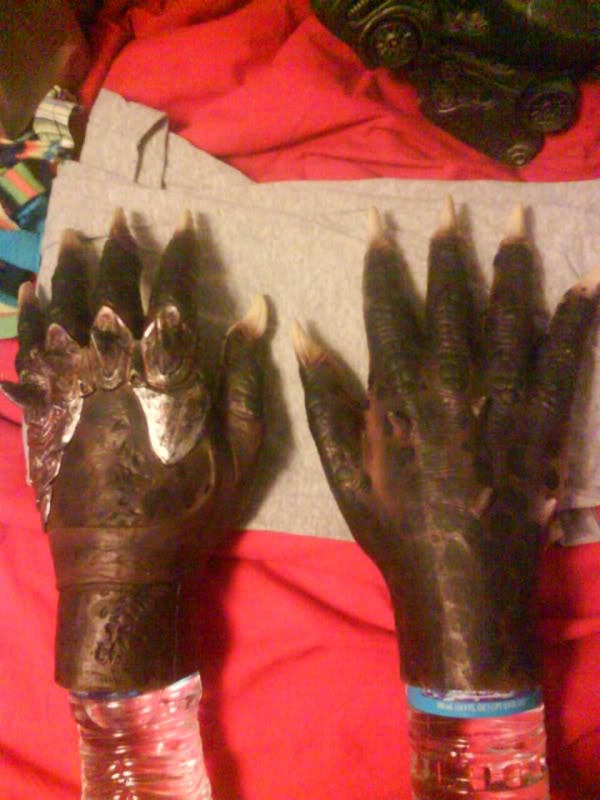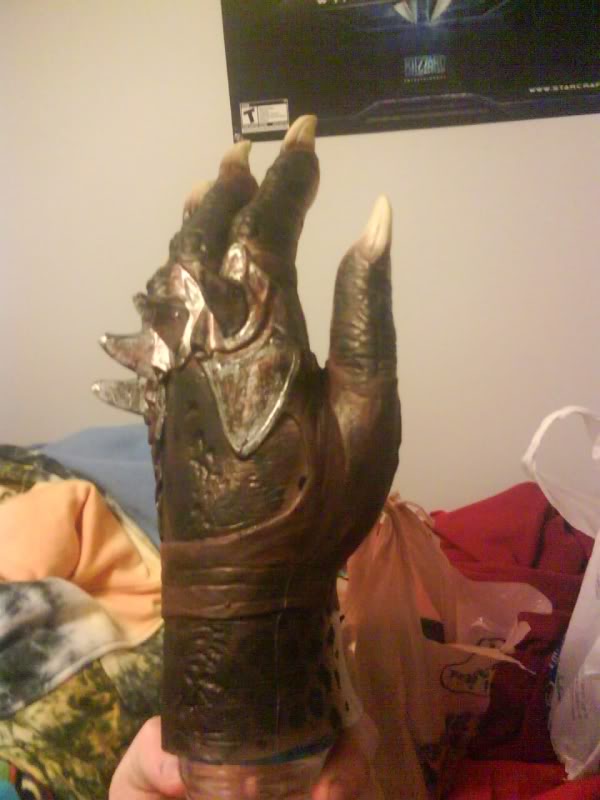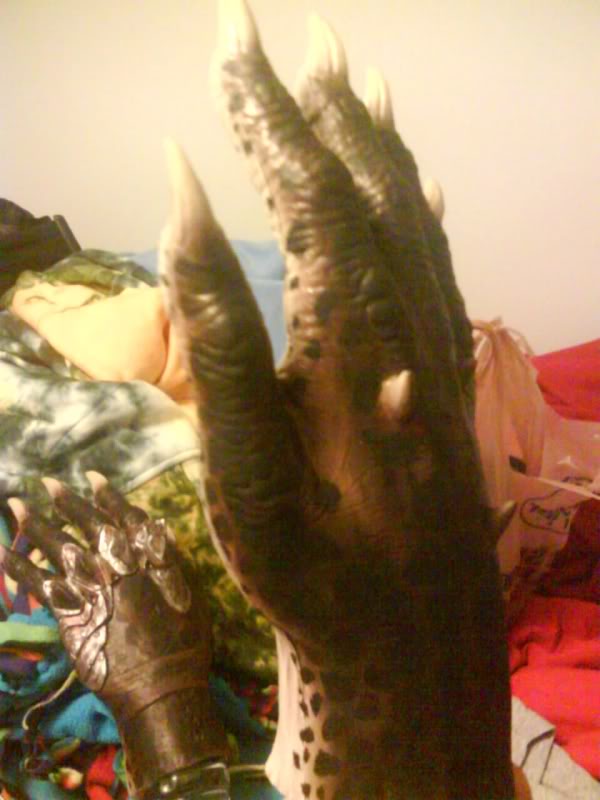 UPDATE October 13th
Hey guys. I got the head done! I just need to weather up the spine beads in my dreads. What do you think? I like how it turned out. That is the look I was going for. YES LEE! I know the neckseal is backwards... I like it like that hahaha. If it was an actual wolf suit I'd turn it around But yes... my clear is here so things will be getting finished much faster now!!! Any constructive criticsm is welcome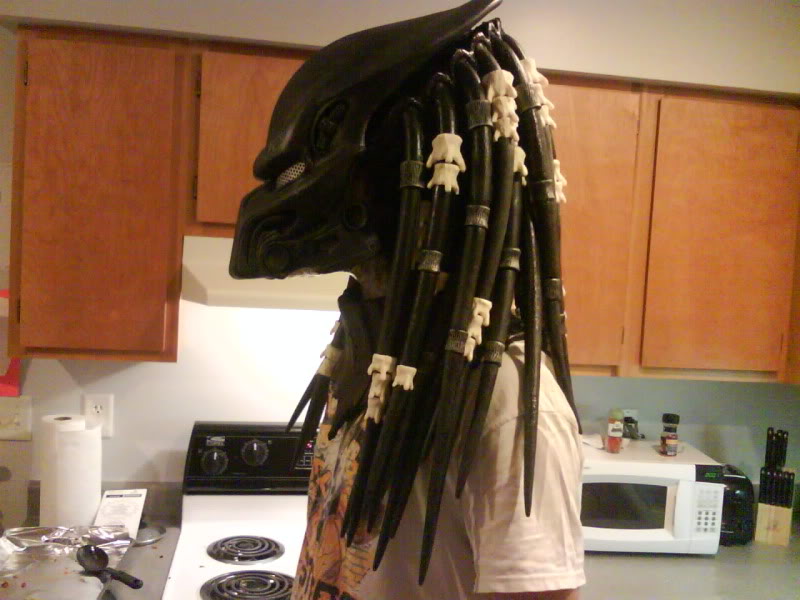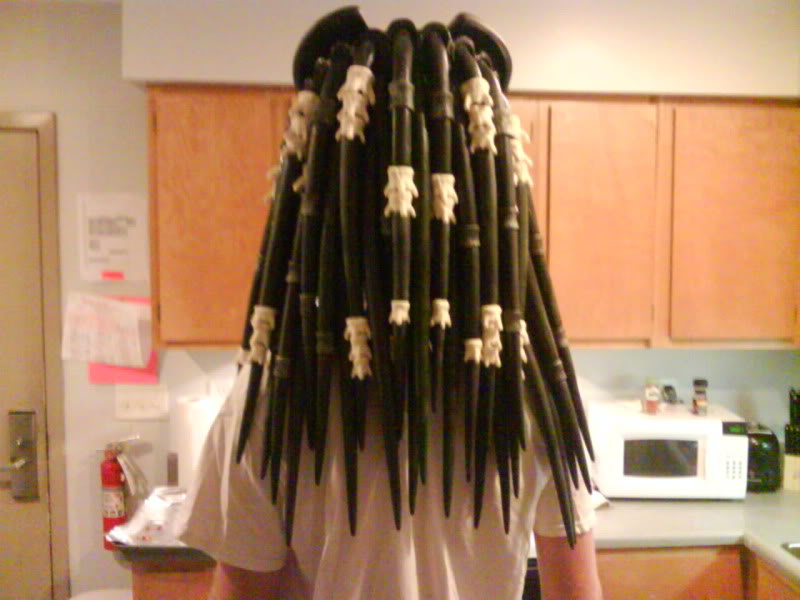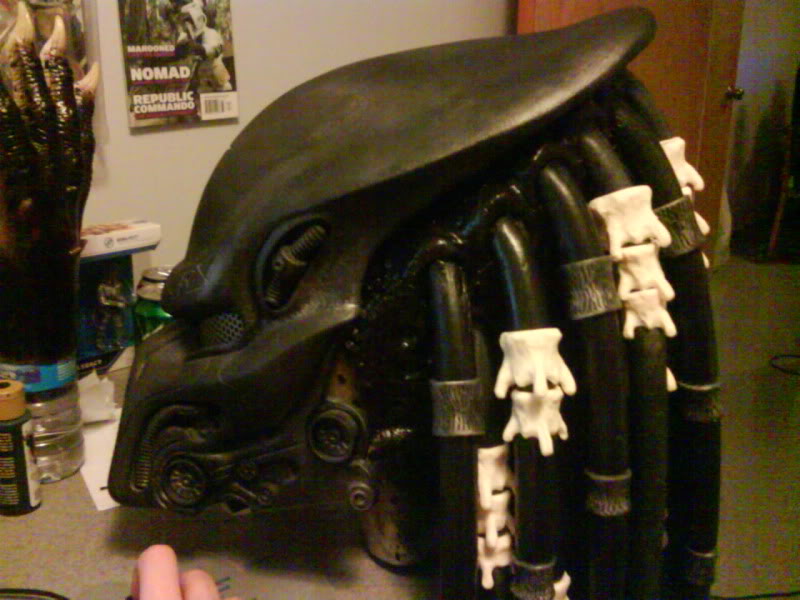 UPDATE: October 21st
I got a gift from Skunk (Lee) today!!!! He sent me little dreads/beads and a skull piece for my suit!!!! Terribly nice of you Lee... you didn't have to do that. Well I must say... these REALLY helped my mask out... looks AWESOME. I couldn't wait to get em on... so I did and took pics haha.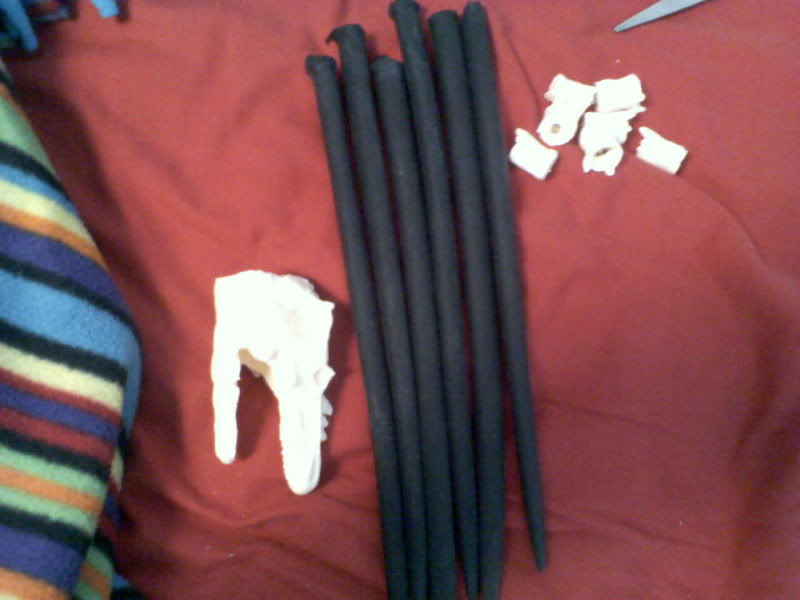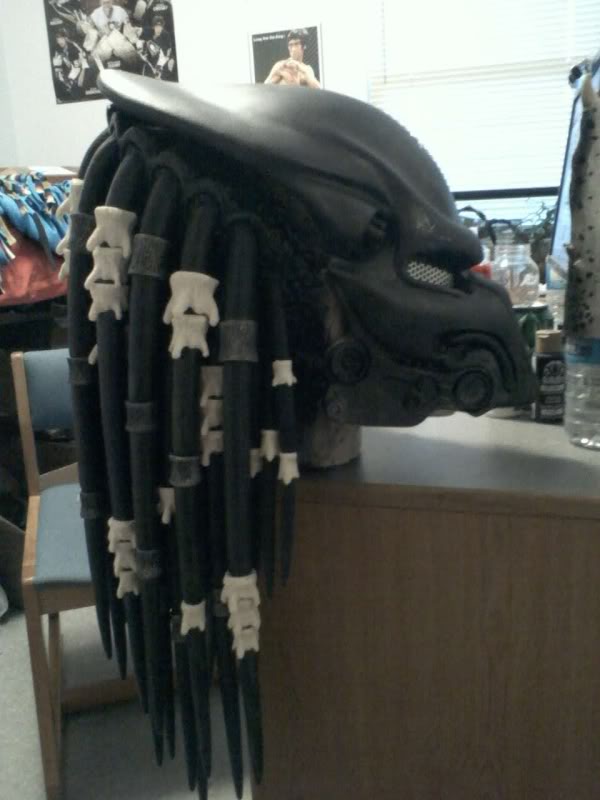 I love it... it really finished off my mask. Thanks so much Lee!
I am nearing the completion of my suit! Sorry I don't hvae pics of other things yet... I have been swamped with school work and girl friend... but I am drudging a long. Will update more soon
UPDATE: October 27th
... HUUUUUGE progress... my suit is about 90% complete... needs more weathering... need to get a backplate made so I can attach the medkit and cannon to it... I did a test fitting of what I got now to see how everything works... I just gotta make some adjustments to the legs and arm areas... thats it tho... other than that it works like a charm. I went with a little larger netting than usual.. I don't know why I just felt like it fit the look i wanted better... Anyway... constructive criticisim is always nice! I painted everything myself. First time doing something like that... onto the pics!!! (Sorry again for terrible picture quality... these are pics random people took with their camera phones on campus.... ALSO... I did this relatively quickly... i spent entire days working on it >_<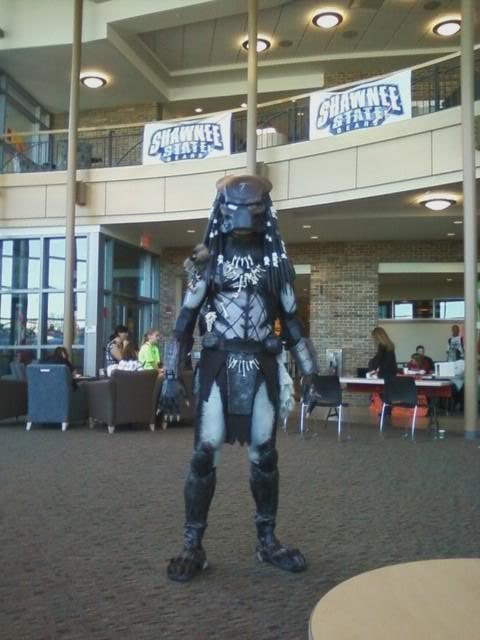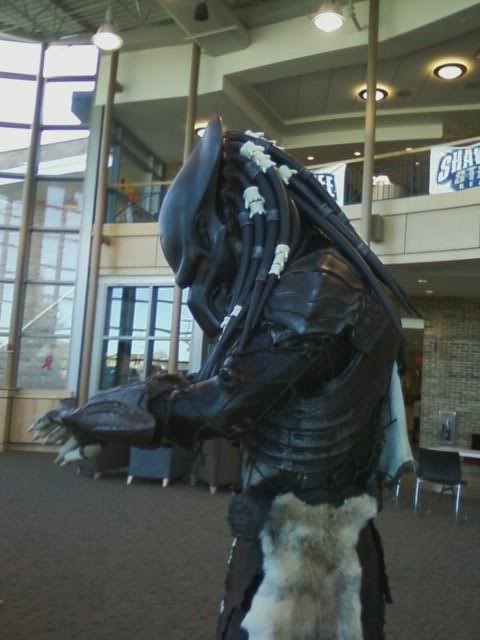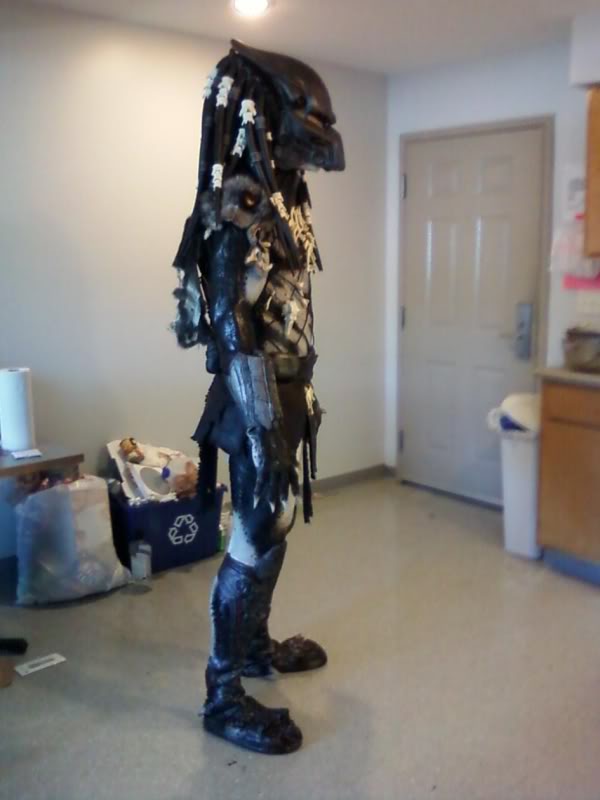 Me in our Motion capture studio! haha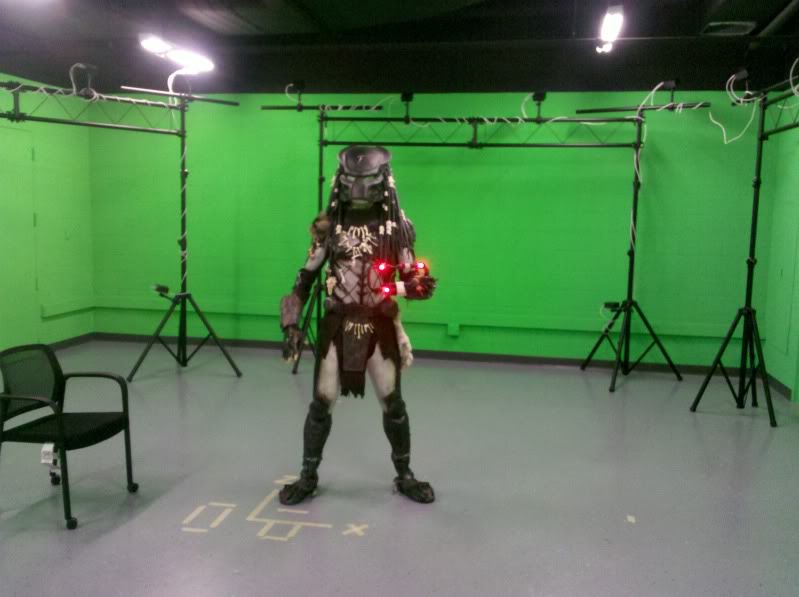 UPDATE DECEMBER 1ST
Just a small update... I have a deer spine. It looks kind of alien so I need to find a wild skull to put on top of it for a trophy to hang on my back. The crazy thing is, the bones of this spine came from two totally different deer... yet most of the joints fit perfectly. very crazy. But yes, here it is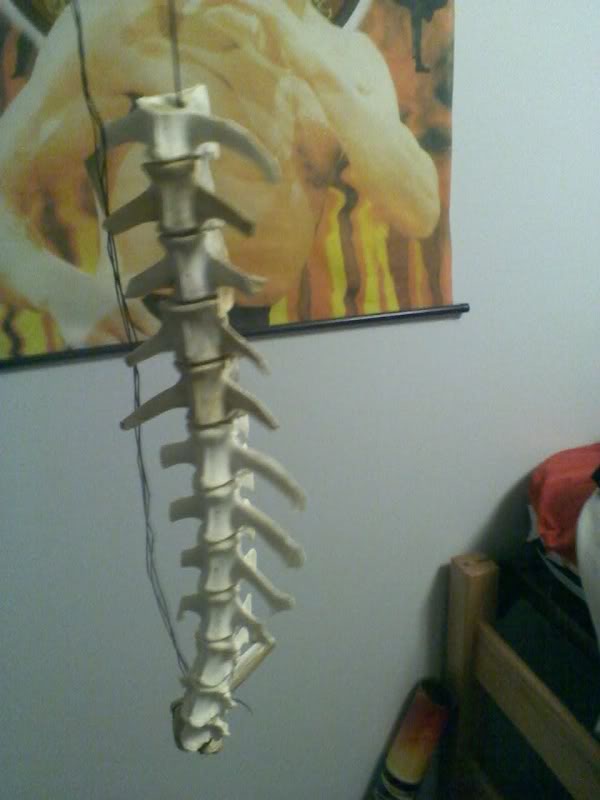 I am also slowly getting chicken and turkey bones, and cleaning them up for a necklace and sash. EDIT: I now have a ton of bones... hahaha
Any suggestions, please feel free to say them!
Thanks to everyone on these boards that made this possible for me!