I've spent a ton of time researching the various studio models used in the original Star Trek series and found that reverse engineering plans of them (as physical artifacts, not idealize fictional spacecraft) pretty straight forward... even without any special access to the models themselves. I doubt that I possess some unique ability that no one else has (I specialized in geometry/topology in school, but little of that is needed for these purposes), yet studio scale replicas of TOS subjects are almost nonexistent.
The only TOS studio scale replicas I know of are of the original Klingon battle cruiser. There is the Atomic City kit made from molds cast from the original model (though elements are now misshapen generations later) and the Custom Replicas models which are outstanding in nearly every measurable way.
And that is it. One subject... just one.
I've seen attempts at studio scale shuttlecraft... but they always seem to favor the large scale mockup for features over the original studio model. And then both Unobtainium and Master Replicas attempted to pass off 1/350 scale models of an idealized Enterprise based on the 11 foot model as
"Studio Scale"
replicas even though the models were neither the same size or design of the original studio model.
Amazingly the fans seem fine with this. I don't think anyone has been truly fooled into thinking they got a studio scale replica of the Enterprise from either Unobtainium or Master Replicas (even if they were advertised that way), and Round 2 made no attempt to pass off their 1/350 as
studio scale
.
So this has me wondering... is there no interest in studio scale models in Star Trek? I know the 11 foot model is way too big to replicate (and the only attempt I know of seems to be on hold), but other models aren't unreasonable in size. Why is this not as big a deal as it is with other Science Fiction franchises like Star Wars?
As some of you guys know, I'm working on building the first ever studio scale replica of the original Enterprise. The thing is, it has had a pretty passive reception (considering this hasn't ever been done before). I've had a few people ask if I'd make parts available, but considering that the model isn't the same size as the Round 2 kit (my model is 33.75 inches long, the Round 2 kit is about 32.4 inches as I recall) the parts aren't really designed to just attach to another model.
I realized after two smaller study models that I really needed to scratch build everything to truly capture the feel of the original studio model, and using elements intended for other models undercut that main goal. Even at this early stage (I'm a long ways from finishing), I've come much closer to resurrecting the original model than any of my previous attempts...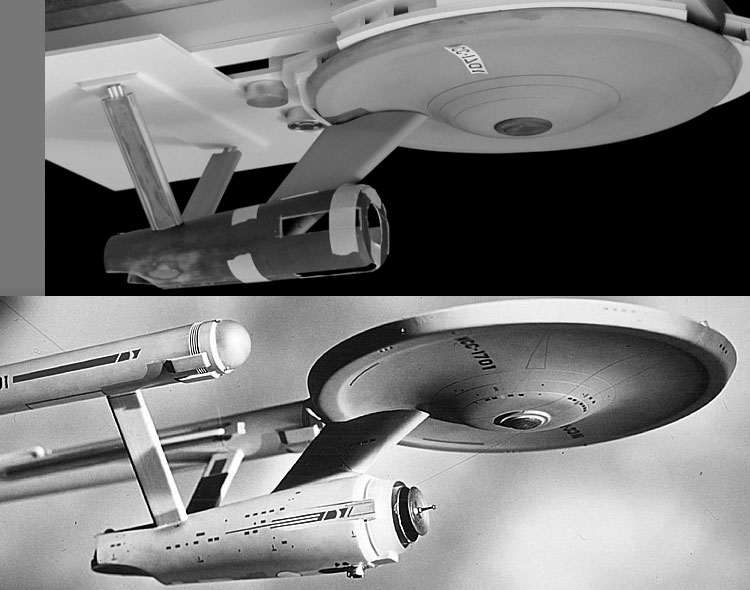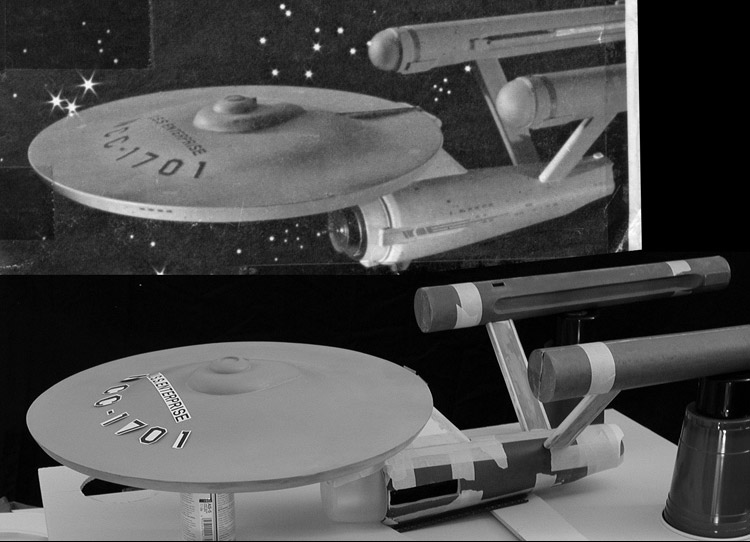 But the questions still remain... Why is this the first? Why hasn't there been any interest/demand for this in the past? Why the passive interest in it now?
And this isn't just the Enterprise, the same goes for the Galileo too. People don't seem interested in a model of the actual studio model, what they seem to want is a scaled down version of the large scale mockup. To me, this is like wanting a scale model of the large scale mockups of the snowspeeders from EMS rather than a model that looked like the studio models. From what I can tell, no one has ever wanted to do this (mainly because the large scale mockups were less interesting looking than the studio models).
So here is the thing, I was about to write off Trek fans as just not being interested in this type of stuff. What changed my mind is the amount of time and effort I've seen fans invest in various Trek props, which go beyond idealized versions and take the time to consider them as unique artifacts. Does this mean the interest exist with props, but not models?
Just curious if anyone else has had any thoughts on this (including those outside of Trek modeling).