Hello. I'm currently working on a new replica prop using the hypospray kit from Stapleton Productions.
I recently made an ODN scanner from Trekprops.de, so I needed something to do.
Currently, I've been able to paint the emitter and made colored liquids for the vials (pictures soon to follow) but ran into a weird issue with painting the body. I'm using a sandable primer spray and automotive spray paints (heard that was what they used in the show), and it worked great for the ODN scanner and the emitter head. The body... well, just take a look.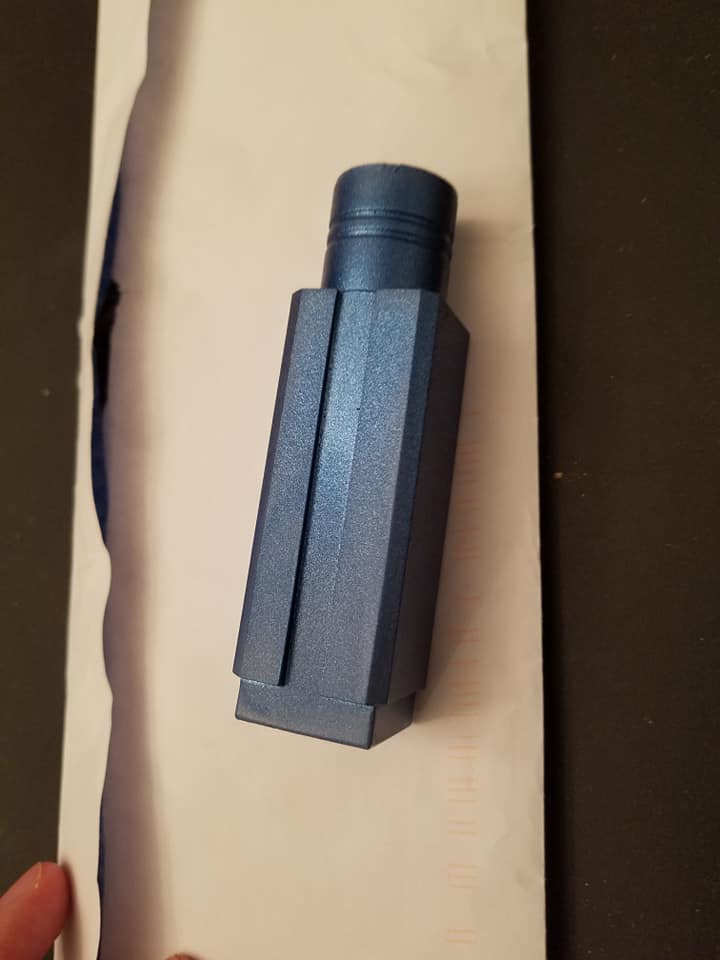 The paint is going on inconsistently. In the first pic, you can see a dull section at the very bottom. I figured that was from inconsistent painting, so I applied a second coat using the recommended light-light-medium wet process on the can. The second photo shows the result - what was just an inconsistency at the bottom is now halfway up the body. It should be uniform shiny, like the neck and top section.
Any idea what's causing this? I didn't wash the items after receiving, possibly a mistake on my part, but even if that was the case, why would the 2nd coat look worse when shouldn't it go on earlier paint? Note: for the 2nd coat I didn't paint the entire item, figured I could just focus on the dull portion at the bottom and it would even out.... now it looks like this.
Bad paint? Bad technique? Bad weather? I haven't got a clue.
The next step is to mask off the blue portions I want to save and paint the grips a nice steel gray. Same goes for the head, but I'm not going to even attempt that until I figure out what's the problem here.
I'm this close to sanding it down and starting from primer again.
Last edited: