A while back I decided to try my hand at doing a few Pepakura models for costuming. My first one was an Iron Man helmet from the new movie. While I like Iron Man, I'm just not into that design, and the model itself was VERY complicated, and I eventually scrapped it. My second one was going to be simpler to try and get a feel for the process, so I decided on a Predator Bio-Helmet file I found. I can't recall where I got the model, possibly on The RPF, but the file says it was unfolded by 'Boba Fett', but if anyone knows, I'd prefer to cite the correct person.
Cutting and gluing it together was fairly easy, due to the models simplicity. But I'm always unsure of what section I should 'start' at, so I eventually did the top and bottom portions separately, and then joined them with the eyes, nose and side areas. That was some tricky gluing, but it paid out in the end.
I'm aware the model itself isn't very accurate in the dome area. The Predator bio's from the first film are alittle wider in that section, and the dome alittle bigger as well, but, as it is, it does a pretty good job. Originally, I was going to work on it to try and make it more accurate to the first bio-helmet, but I've decided to go with how the model looks now, with some tweaking. Not exactly a P1 Bio-Helmet, but definitely in reference to it. I'll probably also use it as a basis to make other custom ones, and work on ones from the films as well, since i don't have a Predator head to do a better fitting too.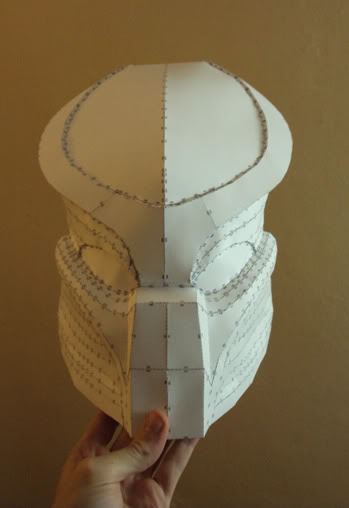 Thats how it was right after gluing. Right now its layers of resin (I went that route instead of fiberglass, as I'm living in an apartment, and winter is in full swing here in Providence), and working up on making the forms. I'll be getting more up to date picture on at some point!