Hi all well i have been lurking around and seeing some awesome bio's, so i started to design mine. Its been a long time since i have done any real art (apart from designing my tattoo, witch will be incorporated in some of the designs, you will see what i mean later).
So here are the pics of the design, as you can see a sort of Maori tribal pattern on the mask with pred lettering down one side of the "crown"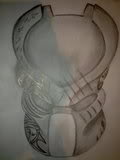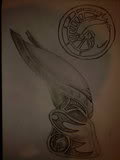 MY BIO CAME TODAY yea!!
So started to plot out the design on to the mask, the lines will be carved in to the mask and a few bits I will be moding on the mask (I am going to be using a combo of fibre glass and car filler to do this, unless any one has any better idea's).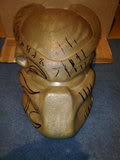 So any input or advice would be good thanks,
I will have pics of skin soon as well, not finished drawing it yea but i am aiming to put my tattoo on to the pred skin.