Alliance Fed Troopers Armor
The Alliance Fed troopers are an example movie costume recycling, and I thought it worked quite well. Although the armor was a huge let down in Starship Troopers because, well, yunno, it was supposed to be nuclear powered armor used by small units, not massed human wave attacks by yelling soldiers. But in Firefly, I felt the SST armor looked fairly business-like, even with the purple accents. One of my favorite pictures of the Alliance Fed troopers is the shot from The Train Job below.
Even at that, tho' I recognize the reality limitations of the SST armor. In the close ups below, besides a fierce looking Inara, it is fairly apparent that the sides of the SST helmets come down so low that it isn't really possible to get any kind of decent cheek-weld for sighting a rifle.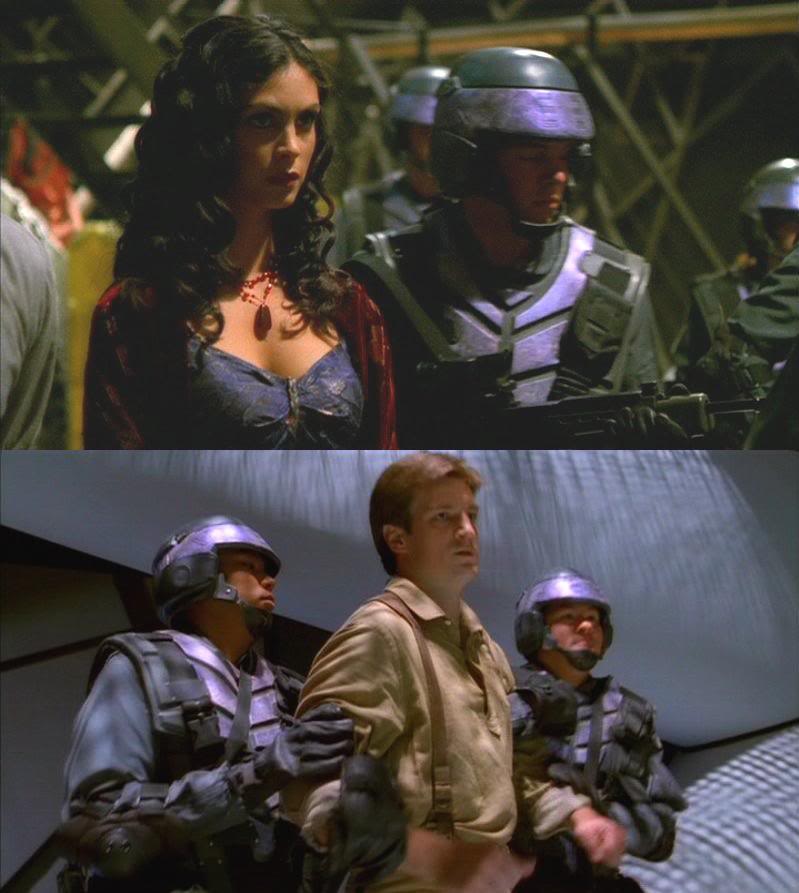 Blast from the past; here is the first set of armor I ever bought, along with my first gray flathat, and my, as-yet-unpainted, resin slush-cast SST helmet. I'm going to be selling 4 of my 5 SST/ Alliance armor sets, but I have no plans of ever getting rid of my first set. They aren't the best, but they are "mine".
I only ever wore it once, to a Can't Stop The Serenity event near Philly.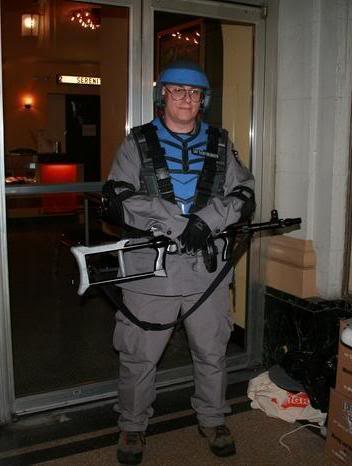 At that point, I was still trying to sort out the colors. Another collector, Justanuthercap, went with this: "The purple was acrylic folkart Outdoor Metallics 1666 Amethyst. The silver was acrylic Decoart Dazzling Metallics Elegant Finish Shimmering Silver. They're both just the flip top 2 oz. bottles. I sponged on a base of the metallic purple, then a bit of silver, then knocked the silver back down with a light coat of the purple." I think that looks great and will try it at some point. But for now, my armor looks pretty much like this:
You know you're just not right when: You own 4 sets of SST/Alliance Fed armor and 5 helmets. You see a great condition set of armor come up on eBay and you think, "If I got that cheap enough that would be a good deal and would go with the 5th helmet", just KNOWING someone will outbid you ('cuz you really shouldn't be spending that right now), and...you win it.....sigh... what........was I thinking?
I got two and two/thirds sets of armor from eBay, one and one/third sets from Reelclothes and one set from an RPF member. I got three helmets from the RPF, one from Reelclothes on eBay and one from a private owner on eBay.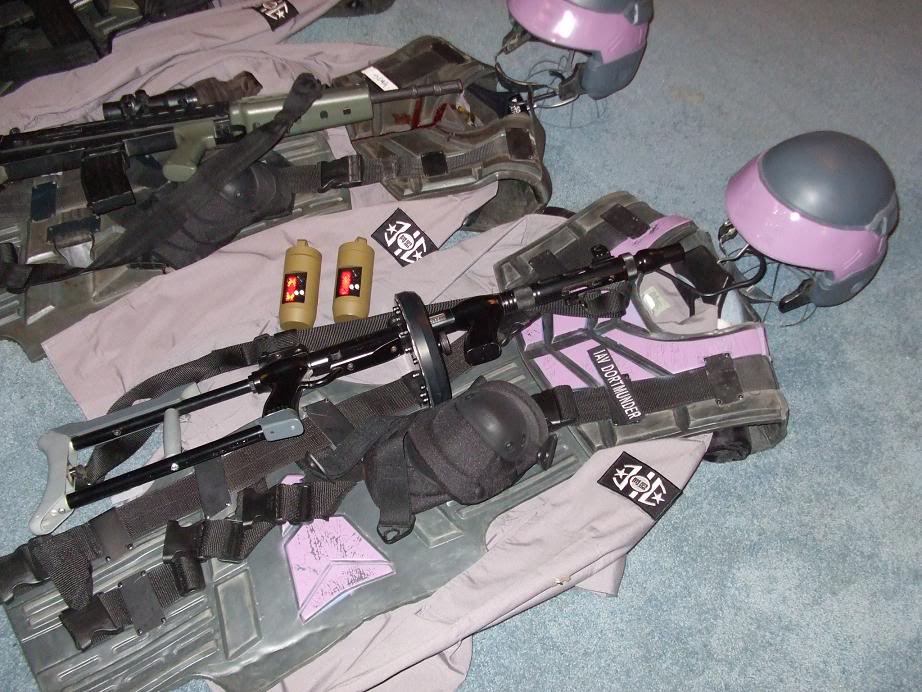 And now, with no fan film project to be used for, all that SST/ Alliance costuming just hangs around.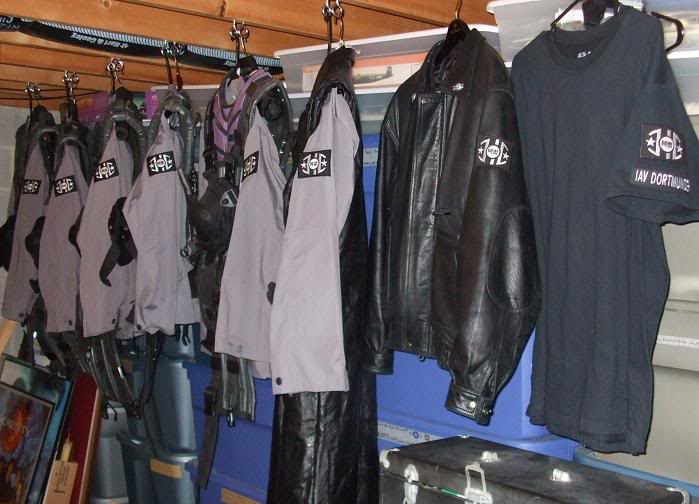 After all the gritty realism of the Starship Troopers armored Alliance Fed troops and the arch military uniforms designed with influence from Imperial Germany, it was quite a shock to see the huge change in direction that produced purple bling troopers and chrome-plated tin soldiers in the BDM Serenity.
The runway model purple costumes weren't QUITE as outrageous looking on screen, but the chrome plated troopers with their chrome plated paintball guns NEVER looked right to me. Clunky, clumsy, bright; may as well wear a straight jacket with a target painted on it. And for the uniforms, I mean, seriously, solid purple with black leather accents asymmetrically applied and huge, bright chrome blocks on baseball caps?
Shoot, ya might as well turn the bill of the caps to side to finish off the look. This is one more instance where I wish the television production people had been brought along to make the movie.
For more practical daily wear, I have two Alliance shirts; the Research and Rescue shirt a purchased item, and a FMT character shirt with all iron-on emblems.
Last edited: