BOO! So named by actor Adam Baldwin in an interview about his character. Oh, and the knife's name is "Binky". I built a total of four Jayne pistols.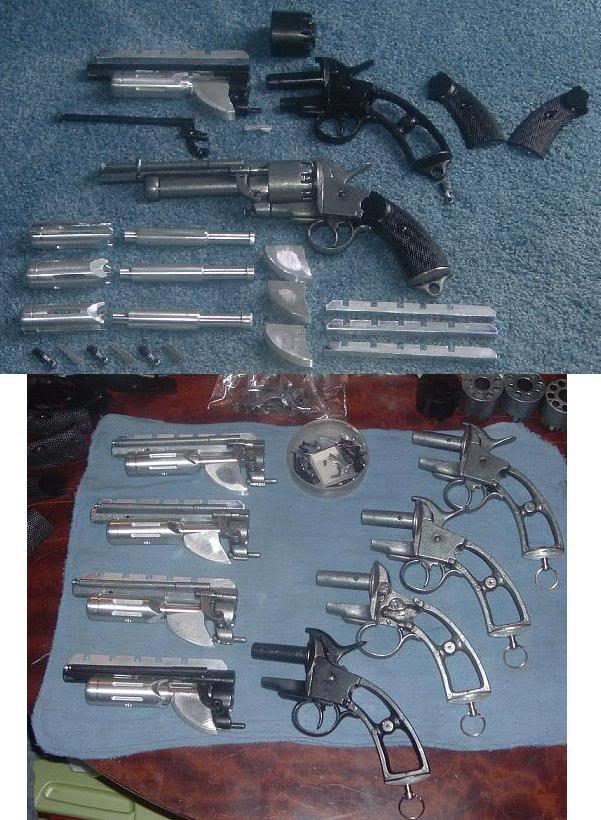 One for me, one for a fellow Browncoat, Matt, one for my son, one for eBay.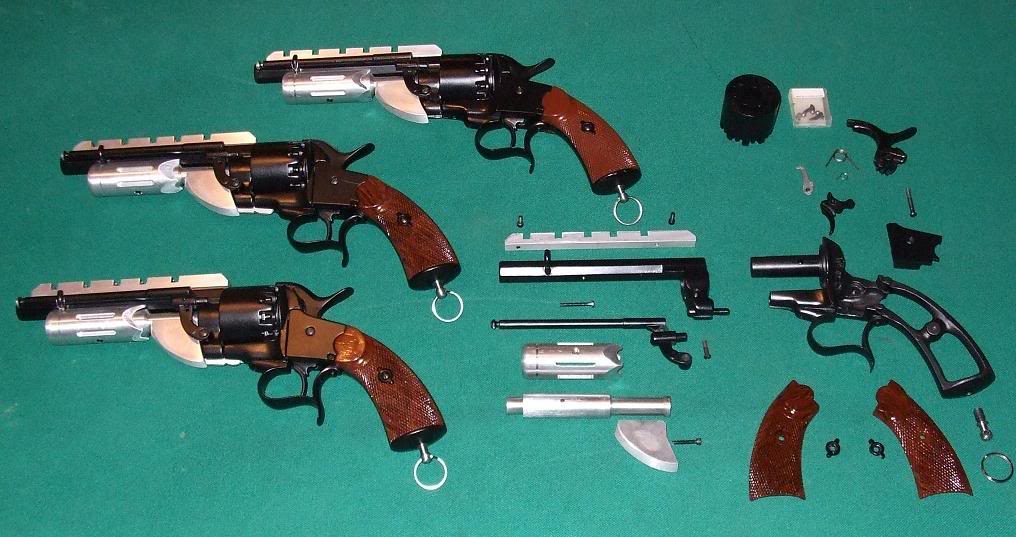 For anyone that asks, this is why I have painted the original plastic Denix grips rather than replaced them with a set of Pietta real wood grips.
And the new acquisition and project. I bought a replica of the Jayne "War Stories" apple spearing knife. I'm going to display it in a plastic apple with the caption: Wash, "But, these apples are good and healthsome." Jayne, "Yeah, grenades cost extra." Finally, I decided it wouldn't be too big a deal to make the "Jaynestown" knife. Time will tell whether I got that right or not... Far as the knives, I have no idea why I felt compelled to take on the Jaynestown knife when the whole idea of the work I'm doing is to finish unfinished projects. Well, actually, I do know. After I built the Jayne War Stories apple-spearing knife, (I bought it as a kit to avoid violating the Federal laws prohibiting shipping switchblades across state lines) I realized I only needed one more knife to be able to display all of Jayne's knives. Plus, it'll look good with the QMx Hero of Canton poster, the Jaynestown Knife
I based my sizes off the fact that the Jaynestown knife fit in Binky's sheath. (A fact that I later realized was EXTREMELY misconstrued.) Mine has an 8" long blade, 3/4" long black piece with a 3/8" thick brass hilt and a 5 1/4"-ish handle. I made the blade out of stainless steel and I'm making the handle out of wood; carved and painted to look like stag horn. The blade is basically done except for painting the grid and a final polish.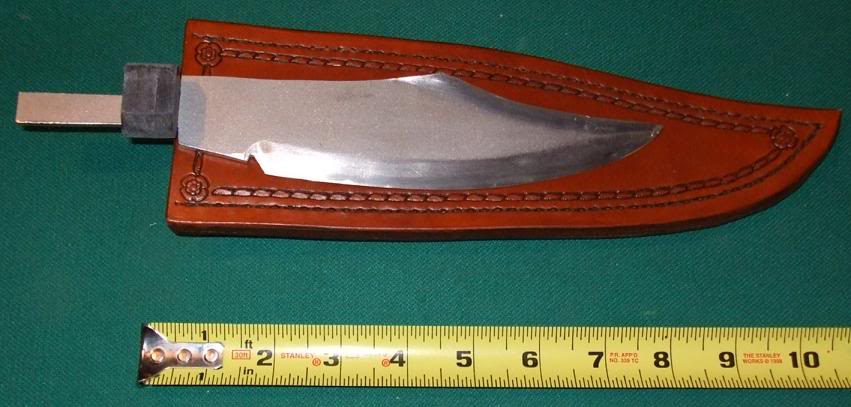 The brass hilt is done and the black plastic piece just needs paint. The "staghorn" grip is very in-process....
I've shown the other building steps; the one that didn't turn out so well was masking and painting the grid pattern.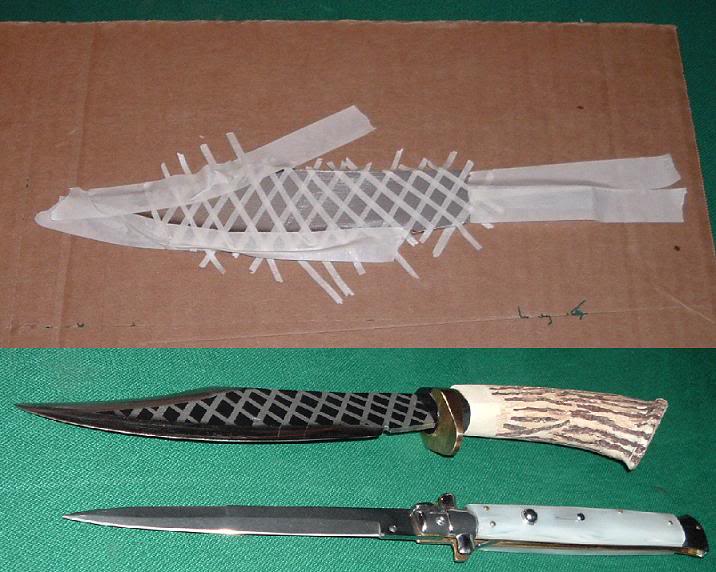 But, then it WAS finished in a timely fashion so, eh, I'm happy to have it in the display
And sometimes something comes along that is too good to pass up. Although I'm trying to not take on any new projects, when a Firefly collector/builder offered these castings, I couldn't say "no".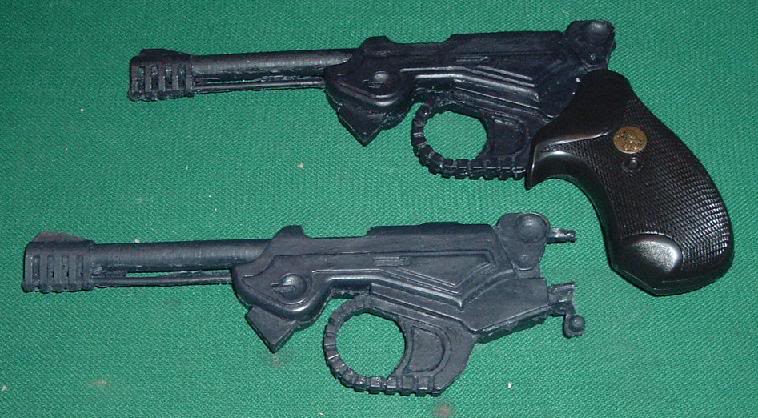 From the new, Firefly: Still Flying volume, this is a replica of the hideout pistol Jayne was so industriously taping to his stomach.
This makes for a very obscure prop, not just because of its limited screen time, but also because it is mostly covered up in the one scene in which it is shown. Given all the work that went into creating this "concealable plastic weapon", when a simple revolver butt would have sufficed, leads me to believe we would have seen more of Jayne's hideout piece later. I machined a few replacement parts to get started on that project.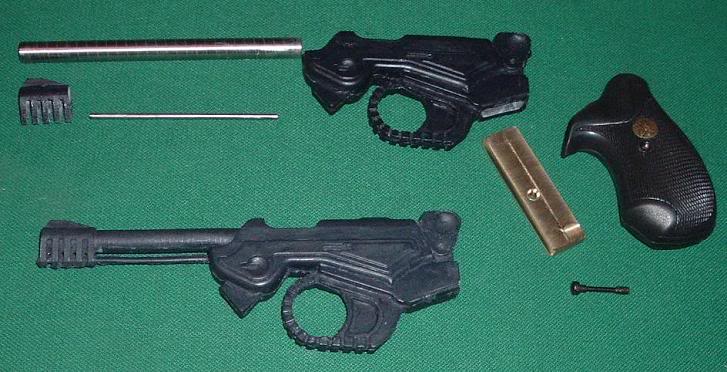 I couldn't pass up the fan-made version of Jayne's hideout pistol from the episode, "Jaynestown". I bought two of them, in case I messed one up. That turned out to be a good decision, but not for the reason I expected. A few months back, another Firefly collector/prop sleuth (phillipes, who cast the only Firefly Mal pistols from the original stunt pistols) found a mold he wasn't sure of the origins of.
He posted it on the Replica Prop Forum and most folks agreed that, while it was slightly different, it was the mold for the Jayne hideout pistol. The grip handle was different, it had a "hammer" that looked like one on the Jubal Early pistol, and there were details missing on the sides.
I bought one of these "cast-from-original-molds" pistols, cut down the grip handle to accept the proper Rossi/Pachmyer grips and machined the as-seen-on-screen detail in the sides. I then cut off the correction pieces from the fan-made pistol to complete the original in screen-used configuration. Both pistols have stainless steel barrels that I made in place of the wrapped carbon fiber of the originals. I'm hoping translucent gray paint will mimic the carbon fiber effect. I got the Tamiya smoke paint and a couple of shades of beige paint.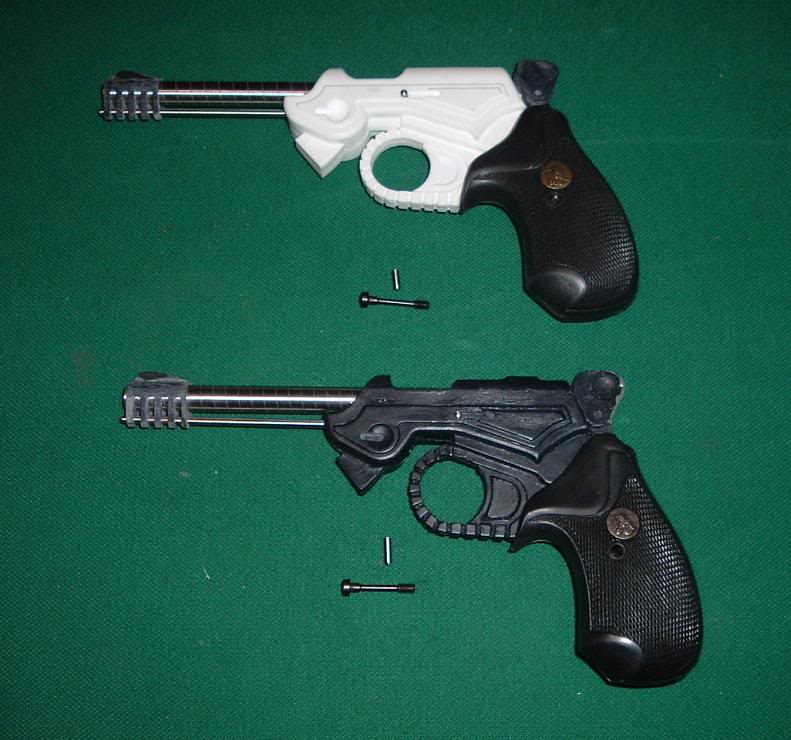 For Jayne, I'm building a rather large shadowbox to display his Firefly and BDM Serenity weapons, patches and a few pertinent pictures. This will be stained in a near clear to show off the light wood, and I'll use aluminum posts for the weapons and aluminum push-pins to hold the patches and pictures. I built the main box with a machined groove to glue the panels in and a machined groove for a removable (lifts up and out the top) Plexiglas front.
The items for display include Jayne's three knives, the holdout pistol, Binky, a replica of Jayne's movie .45 pistol and his "Shiny! Let's be bad guys," rig, two of the BDM Serenity grenades, Jayne's fake St. Lucy's ID from Ariel, a small version of the QMx Hero of Canton poster, a replica of his movie necklace and various patches from the series and movie. Not shown, but considered for inclusion are; a small Hero of Canton statue, Binky's sheath and a ten to twelve inch print of Vera.