So Ive been meaning to do a tutorial on this for sometime now ..and the perfect opportunity finally arose. Ive been working on a film with Mark Hamill the past month. Mark is an amazing guy who loves to tell great stories. It isnt the first time he has worked with our studio. We did all his stuff as CockKnocker for Jay and Silent Bob strike back. Turns out at the end of that film he never got the hand as promised to him by Kevin Smith. As a surprise, I made him one from the molds to give him as a gift. I felt this was a great time to document how we seam and fill latex and foam items.
I started by running a latex and polyfoam hand ( there is a stone core in the middle that was coated with polyfoam release so Marks hand will fit inside) Notice the large seam from casting this in two pieces, then placing the core inside before closing the mold for foam ..injected into a pour hole.
Next I use small curved cuticle scissors to remove the latex flash ...in some places, I actually cut the seam completely away so that there is almost a centimeter or two of gap between latex halves ..exposing the polyfoam.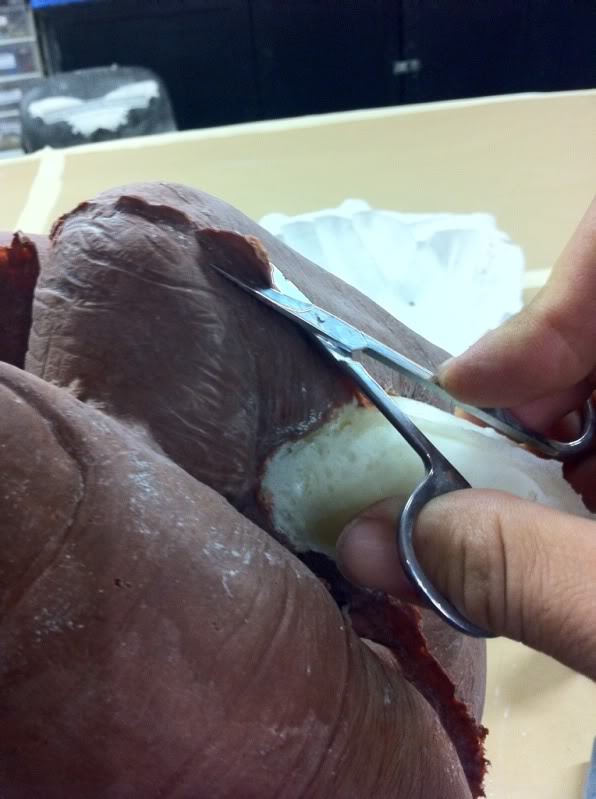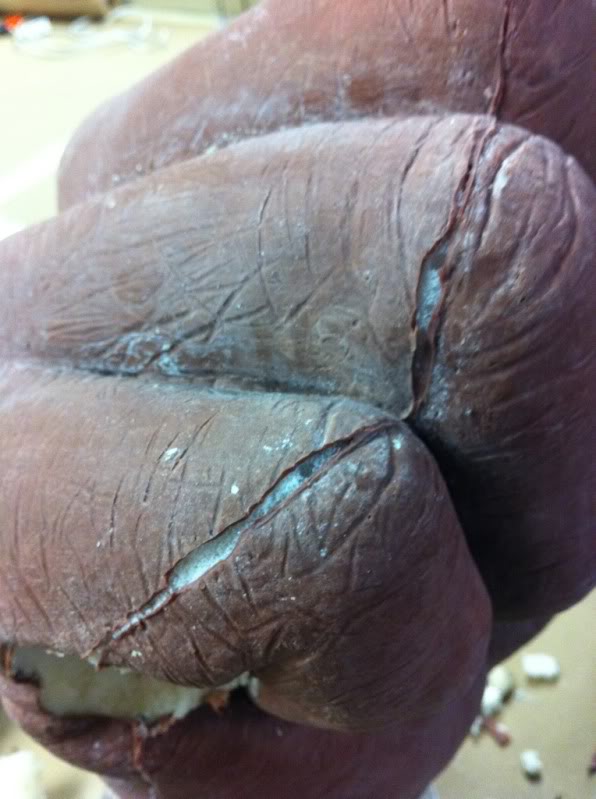 Ok ..trimming all done
Now Im gathering my materials to create latex bondo ( sometimes known as cabo patch).
you will need cabosil ( a silica filler much akin to fine ground fiberglass ) BE CAREFUL this stuff is very dangerous to breath when its in its fine dust state ..so wear a respirator when handling)
You will also need Prosaid, a small plastic cup and some stir sticks, a cup of water and some small sponges ( im using makeup sponges)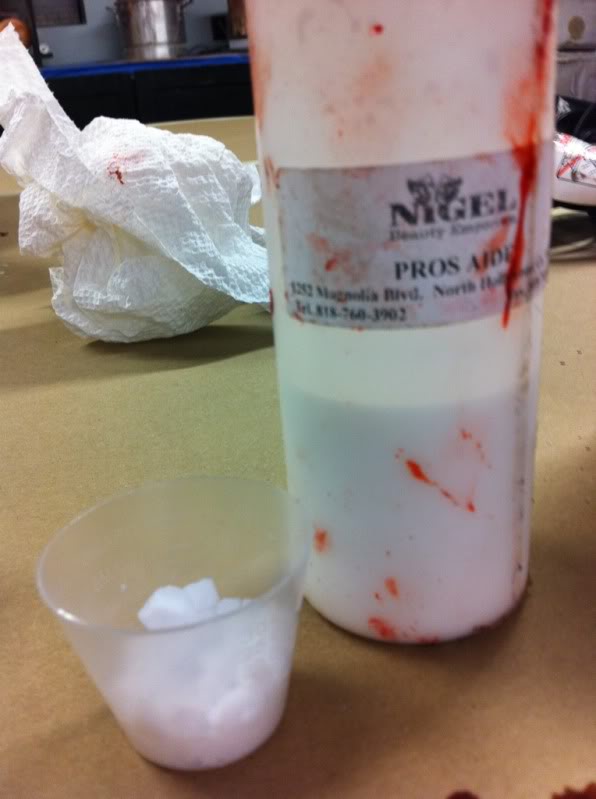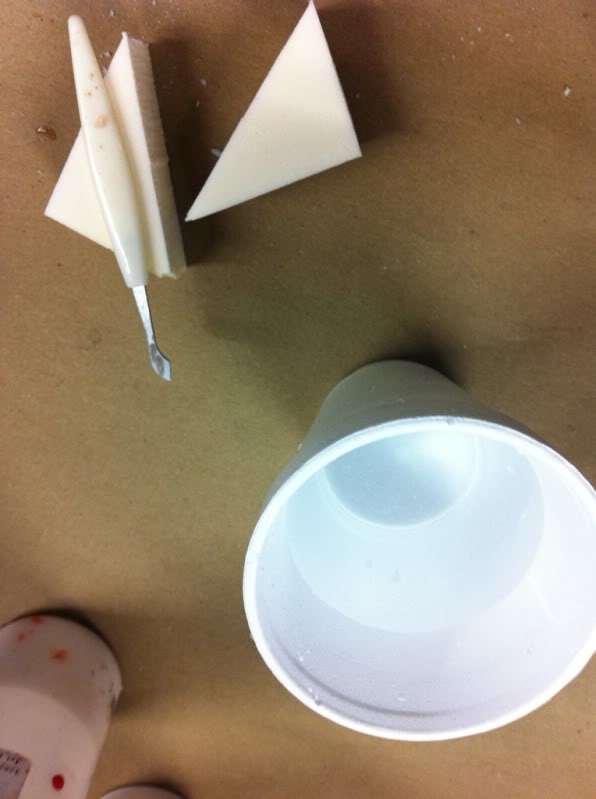 mix the prosaid and the cabosil until you get a frosting-like consistency
Using the stir stick I spackle heavily the seam area with the latex bondo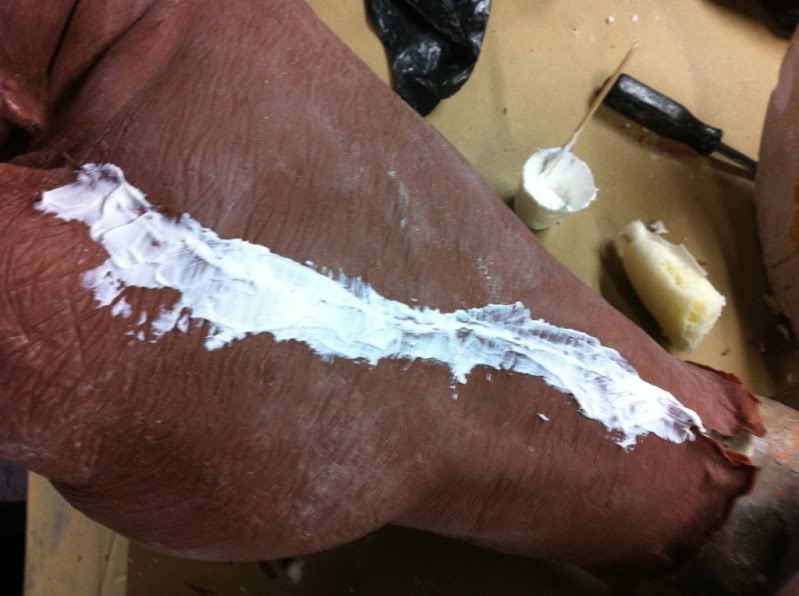 Now ..using a sculpting tool, I carve the texture lines back into the bondo, keeping consistent the patterns in the sculpt.
Using a wet sponge, I start to blend and feather the edges of the bondo ..and smooth out the body of the patch ( much like sanding an area of body filler on resin)
I then use a hair dryer to dry up the patch and excess sponge water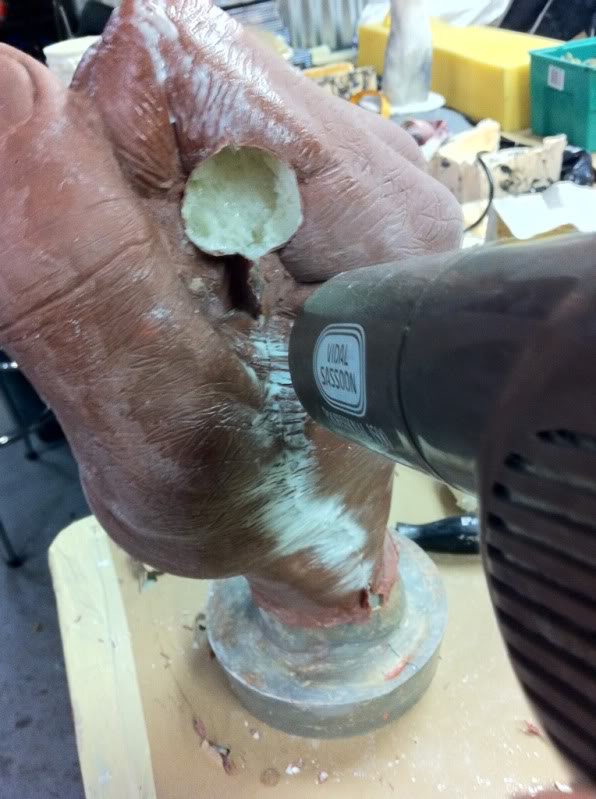 After a few minutes, I brush on some baby powder or talc to remove the tackiness of the bondo...then prep it for paint.
Trying it on for size.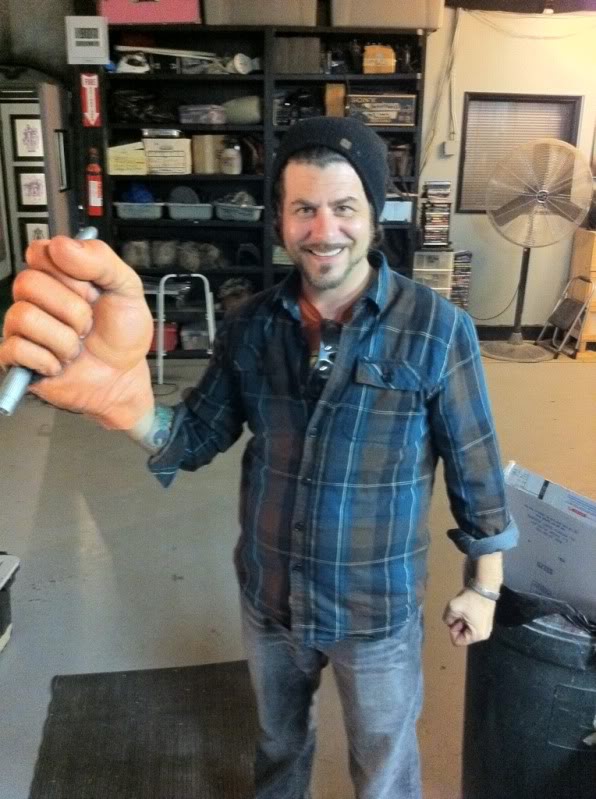 And the payoff. Mark was so ecstatic about the gift ..It was hilarious when he showed up on set wearing it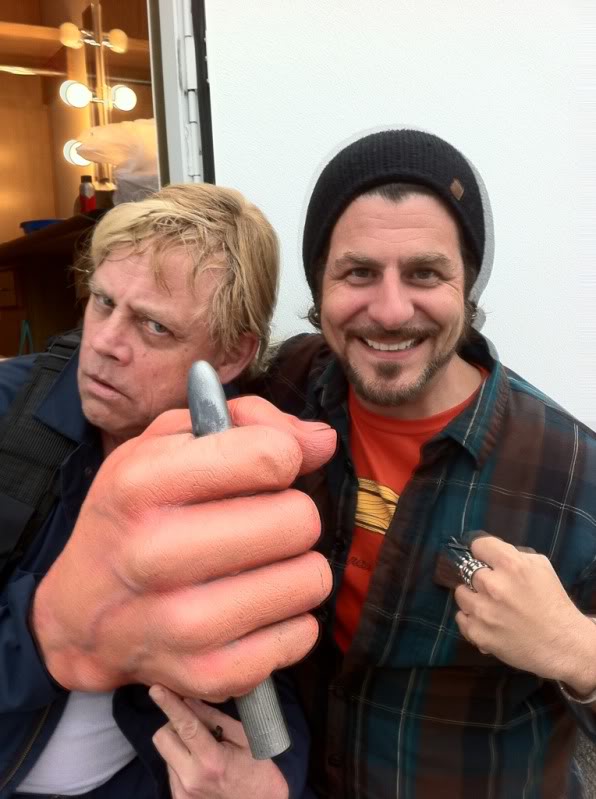 So theres my tutorial ..hope it helped a bit
...oh ...and keeping this a little on pred-topic ...look who else is on this film with me. Wish I could talk a little bit more about it..Ill share more when I can