Well, I'm new here, and I figured to gain at least some credibility I would post the biggest project I will ever tackle. Most of this stuff is already posted over on the Ghostbusters Fans forum, but as only a small portion of people who might appreciate this actually go there and track my build, I wanted to share it here.

I hope you guys enjoy this project as much as I have...this is a true labor of my love for Ghostbusters and their car and a day doesn't go by where I don't talk about this with at least someone.

The story begins back on April 10, 2011. I got a text message from a good friend of mine about a 1960 Miller Meteor hearse for sale in California on Craigslist. Everyone knows that the Ecto-1 was made from a 1959 Miller Meteor, but the early 1960 M&M has essentially the same chassis, and is the best alternative for an Ecto. With this in mind, I contacted the seller right then and within a few hours had an agreement to buy this car which I was hoping was in as nice of shape as I was led to believe through my conversation with the seller and the photos he supplied to me (I would ultimately find out that the car was in immaculate shape for its age, probably due to the fact that it was in New Mexico and Arizona for most of its existence)...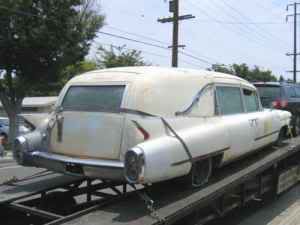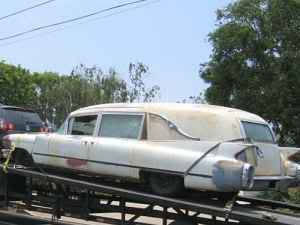 Now, as I said, this was a Landau hearse, which does not have the rear windows...so I had a RIDICULOUS task ahead of me...I had to find the window moldings and the rear curved glass windows for the back of my car. With a ton of luck and a few weeks of intense hunting, I found the ONE GUY in the world who had everything I needed. He would ultimately drive these parts to me peronsally from Wisconsin (yes, he wouldn't even risk shipping something impossible to replace...).

As this was all unfolding, I had preliminary discussions with a few people about how it would be one hell of a project to convert my 1960 M&M into an ambulance (which was being arranged already) and then into a 1959 (no small task)...well...it had to be done. I was connected to someone who was skilled enough to complete such a project - the guy is probably the only person from all accounts that could make my car an indiscernible 1959 from a 1960. When he agreed to take on this project, it was time to get the car ready for the rear glass...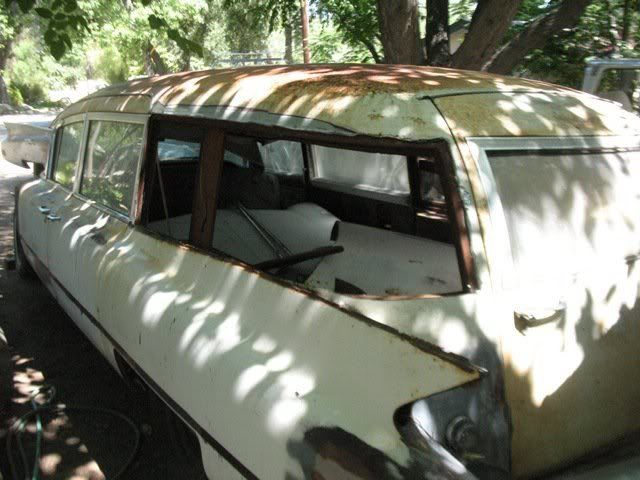 As you can see, the window spaces were cut perfectly, using the inside window seams that were actually present on all of the M&M's, even the Landau hearses that did not have windows.

Next it was time to remove the rust. Thankfully, my car was in terrific shape. The floors were not rotted out like most of these cars you'll find. Also, the guy in California who is working on my car (yes, it's still in California while I admire from across the country in Pennsylvania) said "This is the nicest 1960 car I've ever seen...I can't believe how little surface rust there actually was". It sure cleaned up nicely...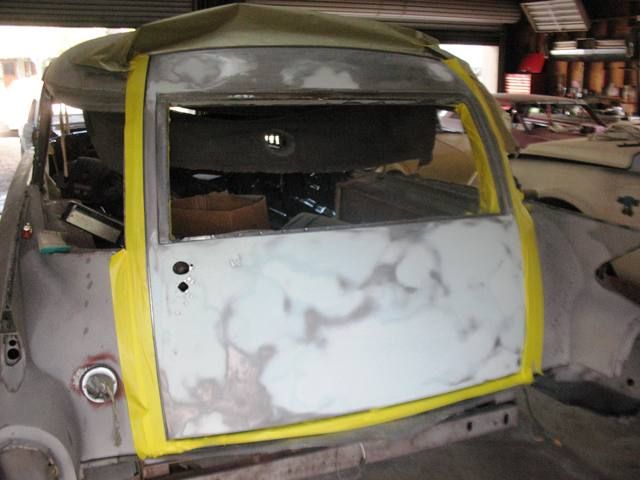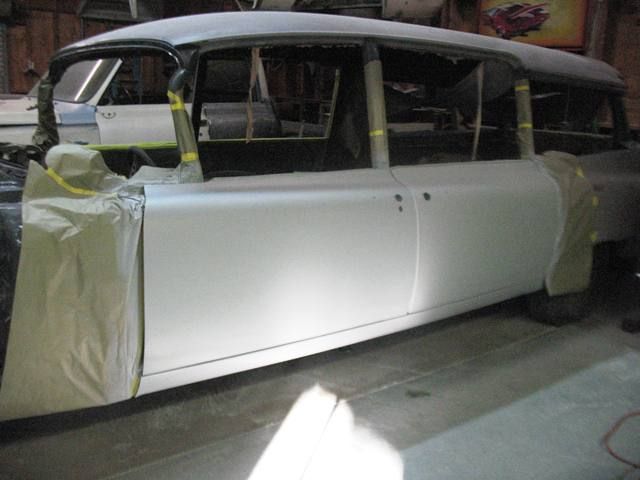 The car was starting to come together...and my excitement continued to grow with each passing day as my wallet continued to become emptier and emptier by the second (this process has been extremely expensive).

I will break up my posts so that I can keep track of all of the photos I am posting...this concludes post #1!