Hi Everyone, I am new to this forum, and super excited to share our project with you guys. One of my work colleagues is a die hard Blade Runner fan, and recommended this forum to share our project.
Our project was to re-create the White Dragon Noodle Bar from the original Blade Runner motion picture. We wanted to construct the bar in modular pieces so it could be transported to Burning Man. We had three goals,
1. Provide an authentic experience where people felt that they were transported to the scene from the movie where Harrison Ford had noodles from the White Dragon bar.
2. Provide the gift of delicious Ramen and Sake, completely free for guests of the Golden Guy Village.
3. Have an opportunity to get to know people, and have a genuine conversation.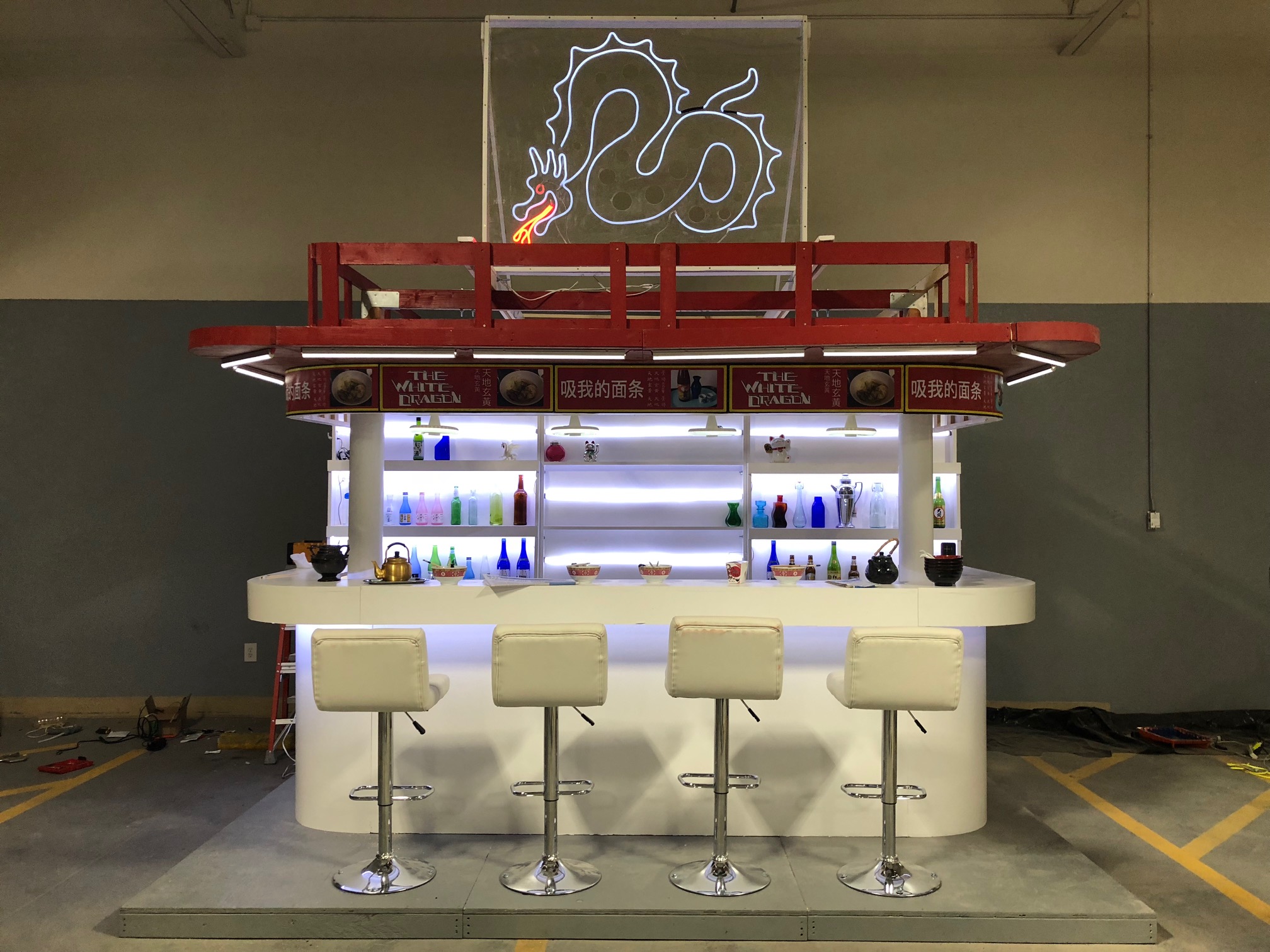 How long did the Bar take to build?
6 Months! We were a team of 4, and spent every Saturday for 6 months at the warehouse (12pm to 9pm), the last 3 months some of us went in every Wednesday night after work in addition to the Saturday. We also needed to factor in every morning and post work commute for design and planning.
One thing I want to point out before I start, this project was a massive amount of work! Thinking back, we were nuts! Trying to do this in 6 months with obligations of work, and being such a complicated first project with no experience? NUTS!
When I see other structures at Burning Man, I can in some sense now understand what goes into building them, many are year-long full-time jobs in themselves to build, and you're looking at big build teams (more than 50 in some cases). We went into this project very naive, also a bit afraid of how much work was involved, but we figured it out as we went. One important detail is that none of us had done any woodwork in the past, or done anything like this before.
How much did it cost to build?
The bar materials and parts totaled around $7000. Then you have to add the cost of Food, Drinks and Transportation of the bar (another 2k). How did we pay for it? we had a lot of support through donations, but quite a bit came out of pocket.
What and how did we serve?
We created a cool looking bar yes, but we wanted to wow people by GIFTING them ramen in an authentic ramen BOWL with CHOPSTICKS, and a spoon. We also made our own broth (thanks Nicole), we had condiments and high quality noodles. We served various kinds of Sake, and all of this my friends was for FREE. Crazy you may say, but this is the culture of burning man, and one we embraced.
It was so cool to see people walk in, be curious about the bar and then be shocked that we were serving ramen in a BOWL? what? that's unheard of some will say. You will find at burning man, most camps and bars that serve food will require you to bring your own cup/bowl and utensils.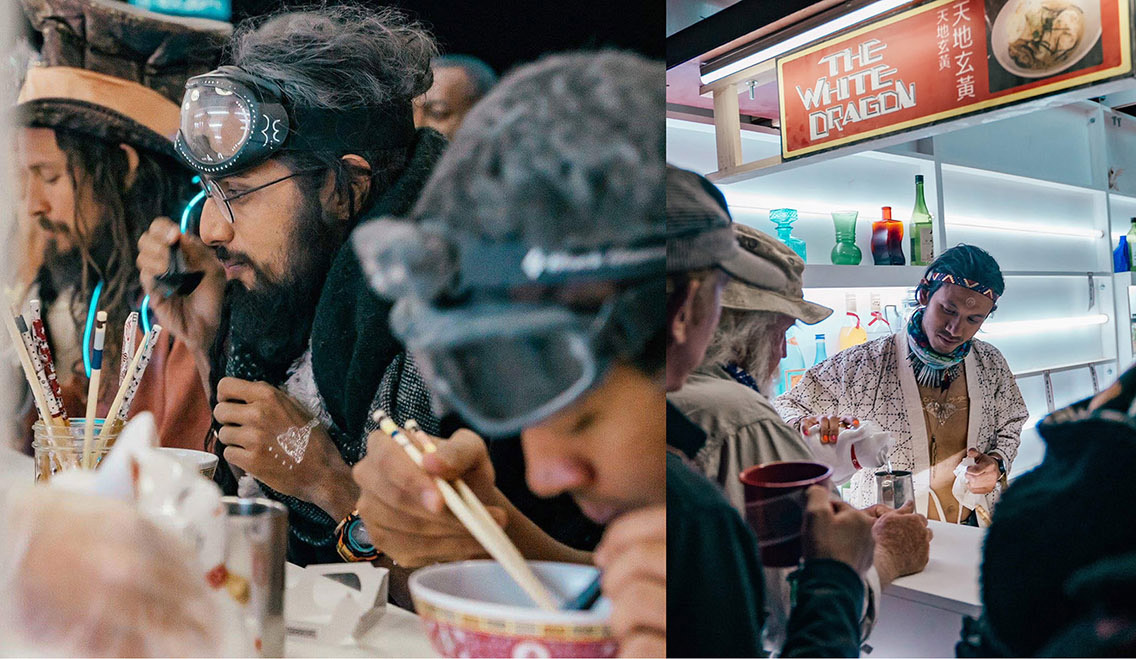 [Pics of us serving the noodles and sake]
Where the idea for the bar started?
At Burning Man (2017) ,My friends and I visited a small village hidden away in Black Rock City called Golden Guy. It had 6 bars that were 12 feet by 8 feet in dimension that formed a small alley. The Village creators had been inspired by the Golden Gai district in Japan, and wanted to bring the concept to Burning Man, to encourage people to connect with one another, and bring a closer more personable experience. We loved it, It got my mind racing as to the possibilities… after that year, I kept in contact with the Village leads , and we started planning, and thinking about what we wanted to build.
So BLADE RUNNER? I had a talk with Graham who was one of the original creators of the village, and the one guy whose bar Pickle & Eggs was a real inspiration when we first visited. I told him that I wanted to build something from the future, Katana Bar from Star Wars? Then he said "if you create the Noodle Bar from Blade Runner you will be everyones hero". At that moment, I was like yes! That's it.
I'll give Graham credit, it was his suggestion. I was a big Blade Runner fan, so there was no question about the decision. It was perfect, a perfect fit for Burning man. For those that have been to the event, they will know that the original movie practically inspired Burning Man, the fashion, the neon, the post apocalyptic feel!
Design Constraints
Constraints can help guide you, they can give you design boundaries. In our case it added so much complication to the project lol, however on the flip side the limitations gave us some direction and focus.
The constraints on the design were as follows
We had never touched wood machinery ever! we were total noobs ( I had done some elaborate costumes in the past, and made a Tiki bar of bamboo and string, but I had no experience in wood making). At the end we were pretty good, still learning but weren't afraid of the scary machines.
The bar had to be modular, it had to be broken down into small parts so it could be easily stored, but also transported to and from the event.
Materials and construction had to be LIGHT in weight, a 15 foot box truck can only take so much weight, plus the more weight.. would mean a higher cost in gas usage. Also the heavier the parts, the tougher it would be to put together.
It needed to be easy to put together, anyone who joins in on the project should be able to read the guide and put it together.
It needs to be able to withstand heavy dusty winds! it needs to be strong enough to endure one of many dust tornado's that sweep through burning man.
The layout of the kitchen had to be functional, it was part Art piece yes, but we needed to be able to serve Ramen and accommodate a team of 3 people to cook and serve.
The design needed to be accurate to the film, I was a bit of a **** about this, but we had to make concessions sometimes due to the nature of the constraints.
Electricity for the bar had to be completely 12V, we didn't want to go the route of a noisy generator to power the lighting. All lighting had to be using low power LED, this meant that we had to give the illusion that we were using NEON.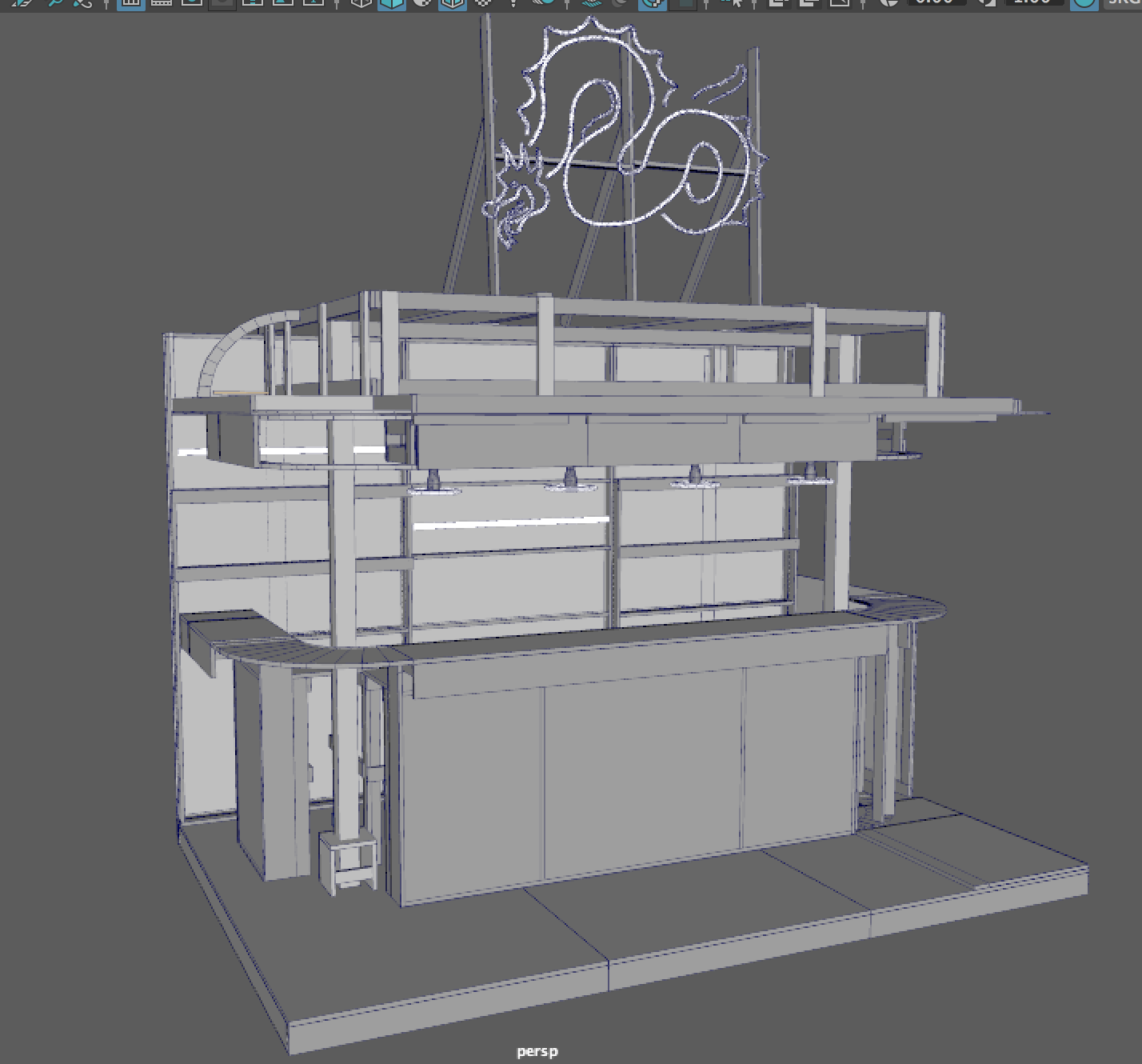 The evolving design
The bar was completely designed in a 3D software package. Each detail and measurement was super accurate, each inch in the software measured to the full scale. Every detail and decision had a reason, if you look at clips from the movie you should see that the design decisions we made were done to match the film set.
Early on we had a situation with the back wall, where I hadn't prepared measurements, and we wasted time arguing about how much room we needed for the bottles to stand… thus wasting the day. Detailed drawings with measurements, made things clearer for the team. Especially when we hadn't used wood machinery before.
The design was broken up into parts (Floor, Back wall, Bar Counter, Roof structure and the Sign. Each part probably went through 3 - 5 iterations before I figured out something that worked. It was a real challenge to design something that held up to the constraints outlined above. If I had built the bar to sit in my backyard for it's entire life it would have been so much easier, designing for ease of transport and assembly was a huge challenge.
One thing I will add, in the images below you are seeing a sample of structure design, this is after many many iterations and failures. I wouldn't say the structure design was perfect, but it took a long time to get to the design below.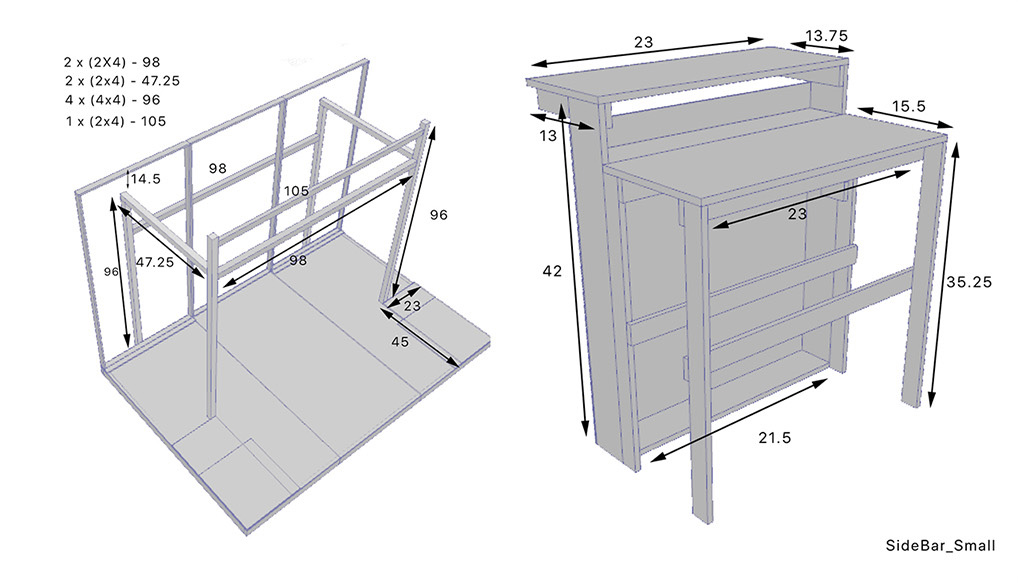 [Pics from a small sample of the design guides, prepared before each build]
Circular lights and Lighting
When it came to lighting I started with the circular lights. Lighting was so essential for the look of the bar, it was the gravy to all the work that had been poured into the bar construction. It took a month to get the lighting ready, the vision was in my head but the team hadn't seen it until the final build day. That's crazy I know! However I did have concept images that showed the lighting so it wasn't a complete surprise, but a lot of trust from the team was necessary to believe it would be great.
I had tasked my friend Salman to build the Iconic Sign that sat at the top of the Bar. This turned out incredible, he did such a great job, I will detail what went into it later, but first lets look at the circular light fixtures.
At first I felt that I could 3D print the entire circular light, It cost me $120 to find out that this wouldn't be the best way, plus it wouldn't look as authentic to the original and wouldn't be the most cost effective method. I would have loved to have got into 3d printing, and had my own machine, I didn't have time for this, and felt that it's best to get a pro who had worked out all the kinks with their system, and could provide me with a quality print. I went with the website
3dHubs.com
, who links you with local vendors who have their own printers. I really struck gold with a vendor called ISIS, she was able to produce the units for a decent price but also happened to visit our bar at burning man and see the fruits of her labor.
The other part of the light was the ring light which I sourced from AliExpress. I wasn't able to find a 12V LED version, so I had to remove the LED that was inside and install my own LED, it was a bit of work but in the end worked out.
There were 5 parts to the lighting, The circular fixtures, the dragon sign, the roof LED bars, The under counter lighting and the back wall light fixtures. I won't go into detail for each part but the way we set it up was that we obtained a custom power box from our previous camp that had 2 Deep cycle marine batteries, that was charged by two 100W Solar power panels. We had 4 12V Anderson outputs that branched the power to the light sources, and where needed we used splitters to branch the power to individual lights. The LED lights were bought off Amazon, I bought a few different types to work out the look and settled on a type that was used throughout.
Dragon sign lighting
Due to the power constraints, the lighting for the Dragon sign had to be 12V. This meant that we couldn't go with a traditional neon approach. We used Led Rope lighting, what this allows is a really nice dispersion of light, at full brightness you really got the feeling that the sign is made of neon glass. It is bendable, and you can cut it in many parts as you desire, perfect for our needs. I tasked this job to my friend Salman, who had previous experience with LED rope lighting. We all were really happy with the result, and kudos to Salman who was able to power through the challenges and complete it on time.
[Pic of the sign]
Bar Decoration and Staging
We spent quite a bit of time sourcing used Sake Bottles and bottles from thrift stores from the 1980's era. These would be displayed on the back wall. I was able to produce two replica Smirnoff De Czar bottles based off a youtube video that outlined the steps, one day the original bottles would be nice, unfortunately they are hard to come by. I also sourced two Newspaper Replica's from collectors that could allow people to feel like they were Harrison Ford, reading the paper whilst having their Ramen.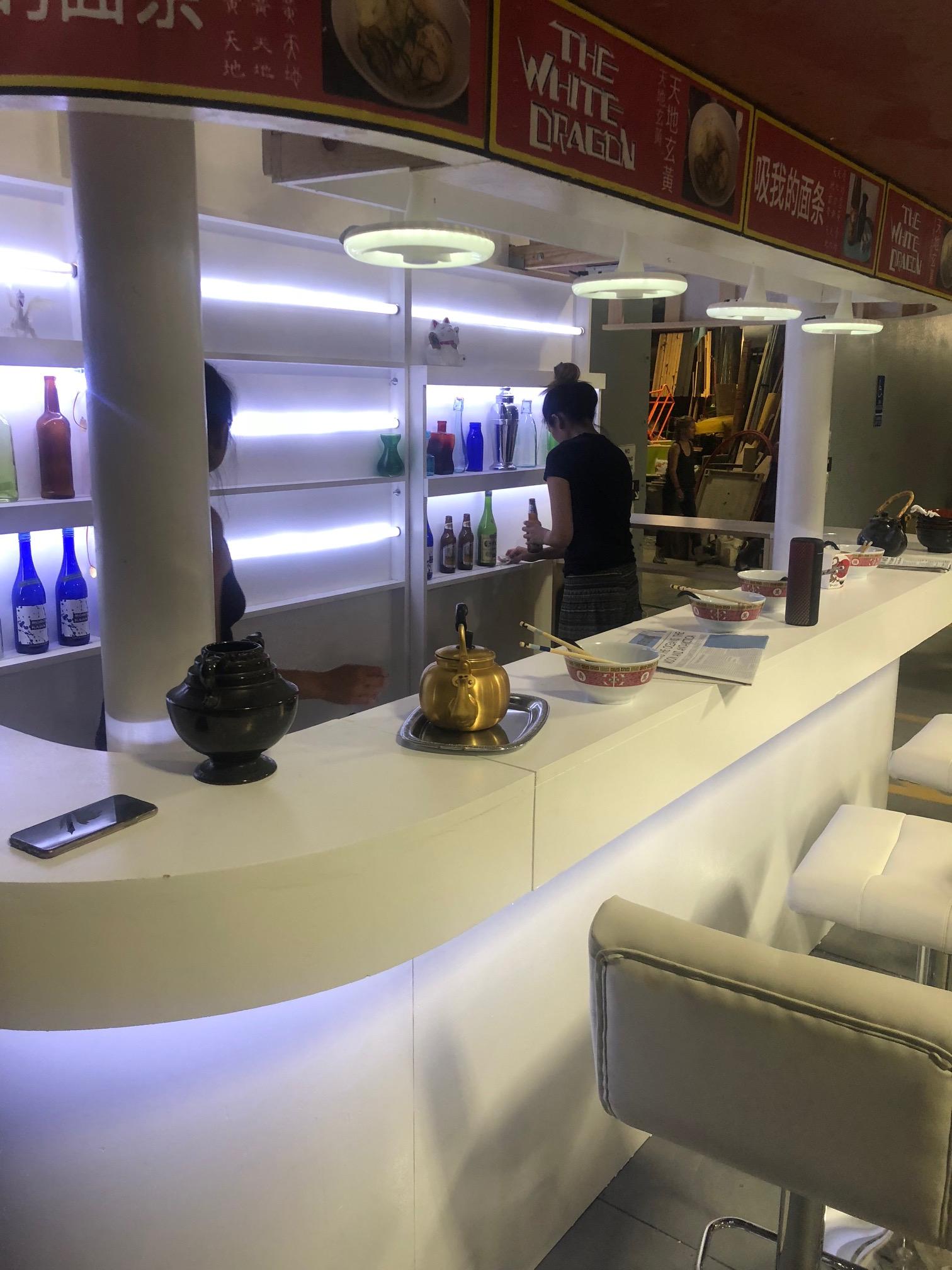 Burning Man 2018
The pictures below gives some indication on how things went at Burning Man. The effort it took to build, and get the bar to the Playa was re-paid with the gratitude and admiration we received. We had people from all over the city that were flocking in to see the village, and our bar. The village was a little hidden, so for people to find us, word had to spread quickly around the city. We had people coming from the far corners which is rare. It was great to see people wander into the Alley, and see their mouths drop with what they saw. You have to imagine, most of the city is full of tents and RV's, so when people go beyond one layer of tents and discover an oasis of intricately created bars, it's quite a shock.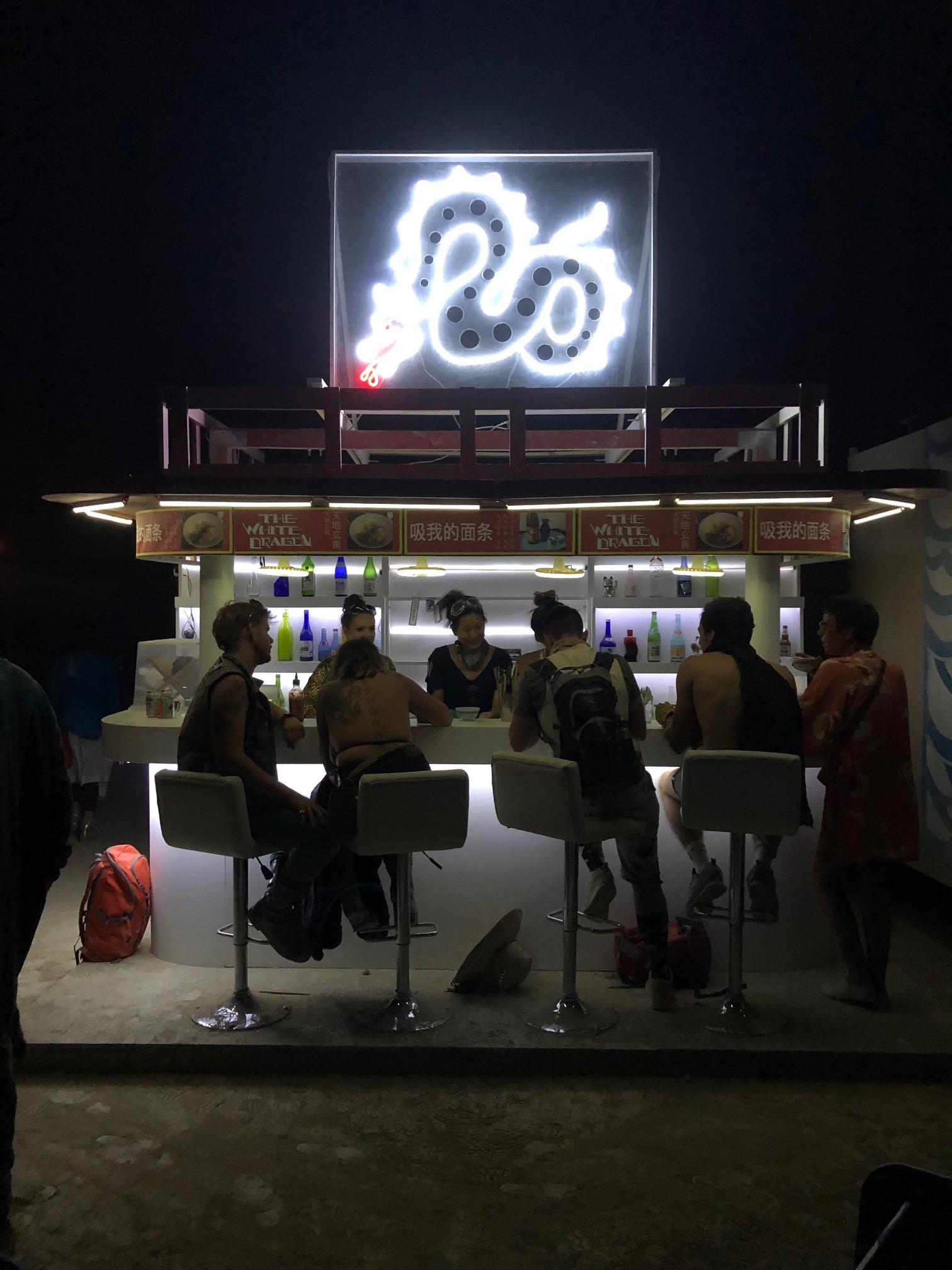 [Pics of the bar at Burning Man]
What's next for the Bar
As a team we were very burnt out after last years Burning Man, and the consensus was unanimous that we need a bigger team for this years event, so we can distribute the workload for a happier experience. So if there are any people out there who are inspired by this story, and want to help, we would love to hear from you. Please DM me.
We would also love to hear people's thoughts and ideas for ways we can improve the bar. Below is a list I am thinking about. We are thinking about regional events here in San Francisco that we can setup the bar, we just need to think about permits to serve Ramen and Sake. Due to the portability of the bar we can pretty much put it anywhere, we joke that we could set it up on the beach, and have a party for friends.
ideas for future
Curved Roof, with pattern from the film. I have the measurements set, ran out of time to achieve this properly but this would really make it feel closer to the film.
Steam generator under the counter for atmosphere
Add more detail for the back wall, add exhaust vents, pots and pans.
Clear Acrylic sushi container display as seen in the movie, this should hold a fake bowl of noodles like the film, plus the Smirnoff De Czar bottles.
Make the bar fully mobile, so it could have wheels to easily transport around the Playa. This would get us a lot of visibility around the Playa at Burning man and allow us to gift to a much bigger audience. Can you imagine being lost in the desert and stumbling across The White Dragon Noodle Bar, serving delicious Ramen and Sake at that time of need.
Special Thanks
A big thankyou to the team that took this project on an supported me with it. Salman, Jamie and Nicole… who went above and beyond. It really is remarkable what a small team is capable of to build a bar like this without any previous experience. Salman created the iconic Dragon sign, incredible job! Jamie who many a time should have just left me at the warehouse, she powered through it, and supported me along the way to help with the build process. Nicole killed it in the Kitchen, the ramen was so well received, she was also a building pro who could match anyone with the machinery. All the volunteers from our Golden Guy village camp mates, and close friends who supported us along the way.
The golden guy village crew were a special group of people, I learnt so much from them and bonded so closely with them along the way. Graham who I had mentioned earlier was especially helpful at every step of the way, George who was the village leader always made sure we could get access to the warehouse to work on the bar. It's a tough slog, but everyone in the village were super friendly and supportive. On projects like this you need a supportive group. For anyone that is interested in contributing and helping out the Golden Guy village, please get in touch with me by PM, and I can put you in touch with the right people.
Our supporters came up huge. We received a considerable amount of donations, this was invaluable to keep this project alive.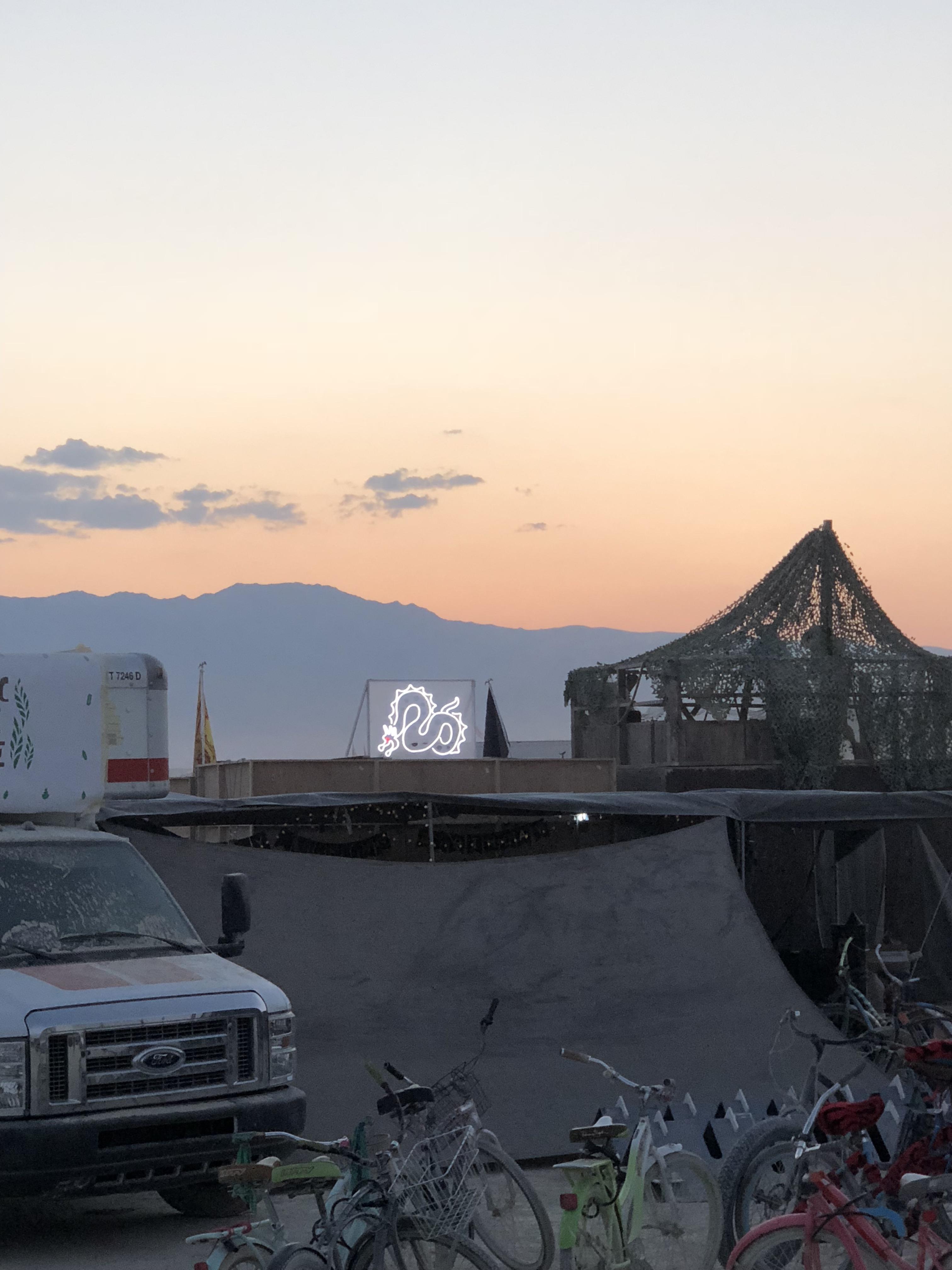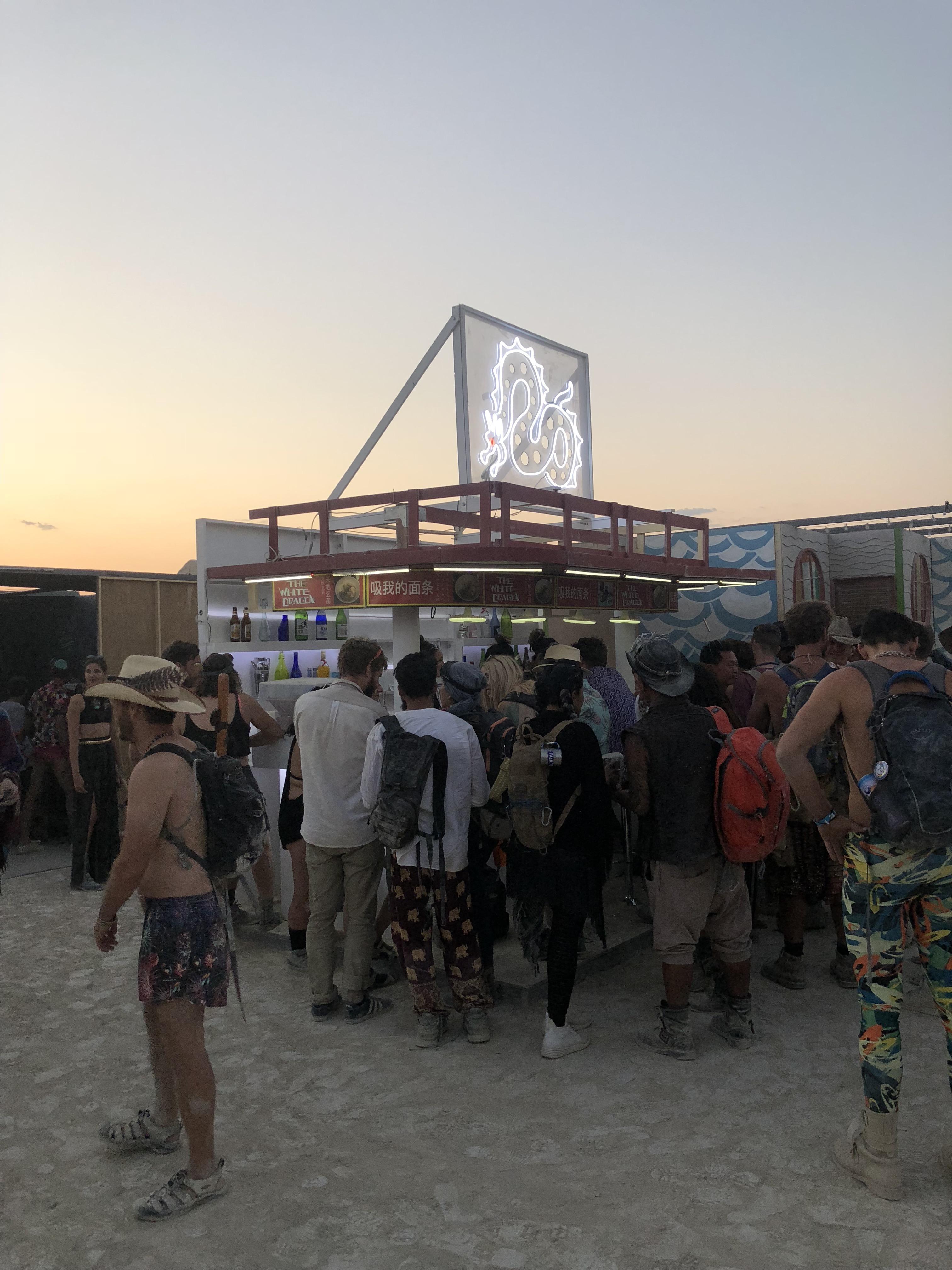 Last edited: