Okay, I've always been fond of the Dr. Evazan and Ponda Baba characters. Well, actually all the Star Wars villains, bullies, and bounty hunters.
And I've also been fond of the Dr. Evazan blaster. Which we all know looks like: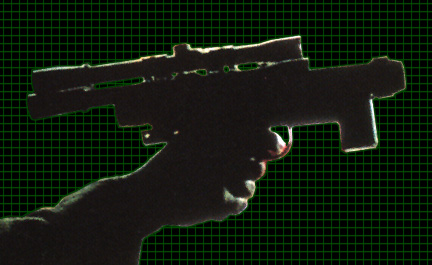 And is based on the Rexim Favor 9MM submachine gun. (credit to Parts of Star Wars for the pics):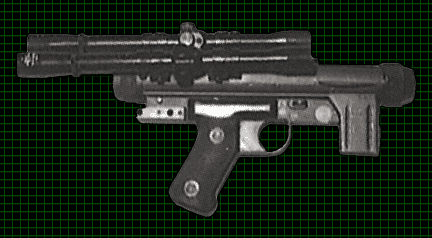 Now Ponda Baba's blaster, according to POSW, is supposed to look like this, and based on the AR-Y Explorer Survival rifle.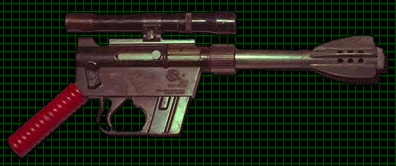 Much information is given on the POSW re: the modifications, including a mention of the differences between the preproduction version of Ponda Baba's and the film version of the blaster.
I've also seen this particular blaster replicated on various toys and representations of Ponda Baba.
However, I just recently watched that piece of the cantina scene and kept freeze framing, and it looks to me as though Ponda never even draws this blaster on camera, let alone do we see a shot of it.
The next thing we see is poor Ponda's arm lying on the floor, only now his flipper / hoof hands have magically disappeared and are replaced with werewolf looking hands, which are what are usually depicted on most action figures or representations of the character. But lying by Ponda's arm is his blaster, which is clearly the same as Dr. Evazan's:
So basically, it's a shared blaster. My question is where did the AR-Y based blaster ever get attached to Ponda Baba's character? I've looked for prepro pics of him with it and can't find a thing. And yet so many representations of him acknowledge the smaller mortar fin thing as HIS blaster. Where does this info come? Maybe Parts of Star Wars can shed some light? I'd love to know more info.