...and now a little in-universe ring history. Any data corrections are welcome.
When Green Lantern Abin Sur crash-landed on Earth and sustained fatal injuries, he commanded his power ring to find a worthy successor. It chose test pilot Hal Jordan. Accepting the responsibility thrust upon him, Jordan wore Abin Sur's ring and became the Green Lantern of space sector 2814 (SHOWCASE # 22).
Jordan wore Abin Sur's (V1-style) ring for several years, until the Guardians of Universe recalled the Green Lantern Corps to planet Oa to provide them with new and improved power rings (GREEN LANTERN/GREEN ARROW # 90). The new ring had all of the memories and data from Abin Sur's ring ported into it (or perhaps the "new" ring was even reconstructed from the old ring), including the alien wizard, Myrwhydden, who had been imprisoned by Abin Sur in his ring, years prior (ADVENTURE COMICS # 460).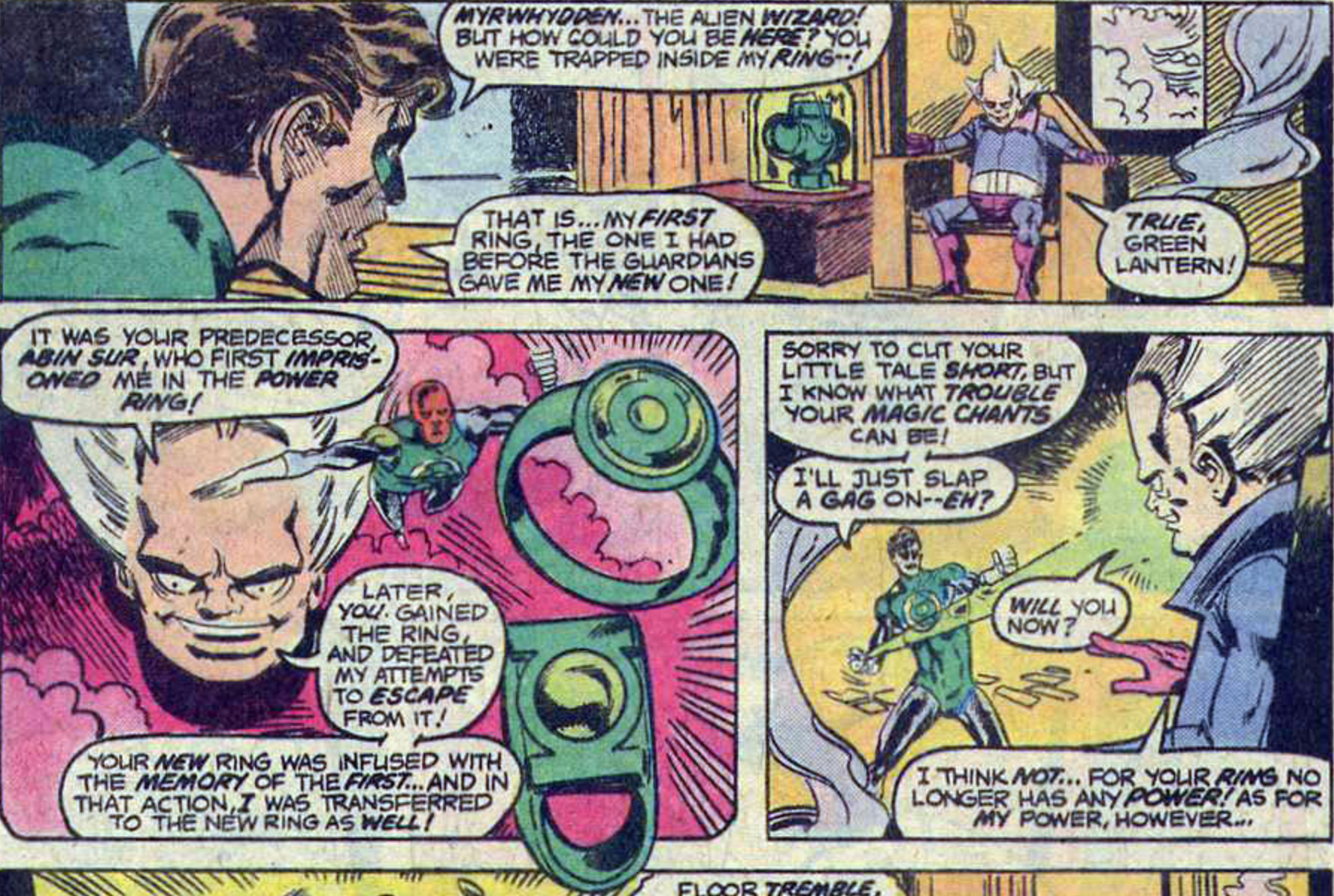 Jordan wore this V3-style ring (which later morphed into the more familiar V2) until he decided to quit being Green Lantern. The ring was then given to backup GL John Stewart (GREEN LANTERN Vol. 2 # 181-182, 185). At the end of the Crisis on Infinite Earths, the dying Tomar Re, Green Lantern of sector 2813, passed his ring to John Stewart so that Hal Jordan could get his own back (GREEN LANTERN Vol. 2 # 198, with the captions mistakenly describing Hal's ring as the one given to him by Abin Sur, and the art depicting it as a V3).
Jordan continued to wear his old V2-style ring in action as Green Lantern, even after the disbanding of the Corps and the destruction of the central power battery (GREEN LANTERN CORPS # 224), which left only Jordan, Guy Gardner, and Ch'p's rings functioning. However, Jordan's ring was soon after destroyed in combat with Lord Malvolio, a half-human madman who'd murdered his own father (an alien Green Lantern) and stolen his ring (ACTION COMICS WEEKLY # 634). Jordan seemingly killed Malvolio and took his ring in order to return home to Earth. Malvolio's ring was a V1-style (which Jordan took note of at the time), but his "death" was actually a ruse, and his master plan hinged upon Jordan to taking his ring, for purposes unknown. This plot thread was never followed up on, but, in the wake of "Emerald Twilight", many longtime readers assumed that Malvolio's ring was perhaps responsible for Jordan going mad and destroying the Corps.
Jordan subsequently wore Malvolio's ring throughout the slow rebuilding of the Corps, but then Coast City was destroyed. Jordan went mad with grief, and sought to take the Guardians' power in order to recreate his lost hometown (GREEN LANTERN Vol. 3 # 48-50). After absorbing the power of the central battery and becoming the villain called Parallax, Jordan contemptuously destroyed his old ring, but the pieces were recovered by Ganthet, the last surviving Guardian, and reformed into a new (V2-style) ring. This reformed ring was presented to artist Kyle Rayner, who became the last of the Green Lanterns.
Years later, when Earth was menaced by the fear entity called Parallax, Green Arrow revealed that Jordan had given him a spare (V1-style) ring, in case of emergency. By this time, Jordan had died saving the Earth, and had now been resurrected and revealed to have been corrupted by the Parallax entity, resulting in the events of "Emerald Twilight". The restored Jordan took possession of the spare ring, and resumed his role as Green Lantern (GREEN LANTERN REBIRTH # 1-6).
...and then a bunch of other wacky stuff happened. And I guess Jordan created a new ring for himself out of pure willpower. And Geoff Johns rewrote a bunch of the GL lore to include a ridiculous "emotional spectrum" of Lantern corps and other such poppycock completely at odds with the established lore. Since my sweet spot is the original canon from 1959-1994, the modern era is pretty much a blindspot, for me.
Last edited: